I truly believe that 'In every drop of water, there is a story of the ocean.' And that enchanting magic is exactly what awaits you in the mesmerizing world of aquamarine – a gemstone that embodies cool blue vibes and brings dreams of the ocean to life! Get ready to ride the tide of excitement as we dive into the amazing beauty and mysteries of aquamarine gemstones. This ultimate treasure is a perfect match for those March birthdays and all the epic milestones you're about to celebrate! So, put on your shades and get ready to soak up some sun-kissed knowledge about the stunning aquamarine!
1. Ready to Discover the Secrets of Aquamarine's Soothing Hues?
This beautiful gemstone is a total stunner! I mean, those chill blue-green colors scream clear ocean waters, and it's no surprise that jewelry lovers are going bananas for it! And guess what? Aquamarine is the ultimate gem for all the March babies out there – it's like being born with a splash of magic right from the start! Can you imagine wearing the essence of the seas and skies right on your finger or around your neck? Talk about having some serious gem game!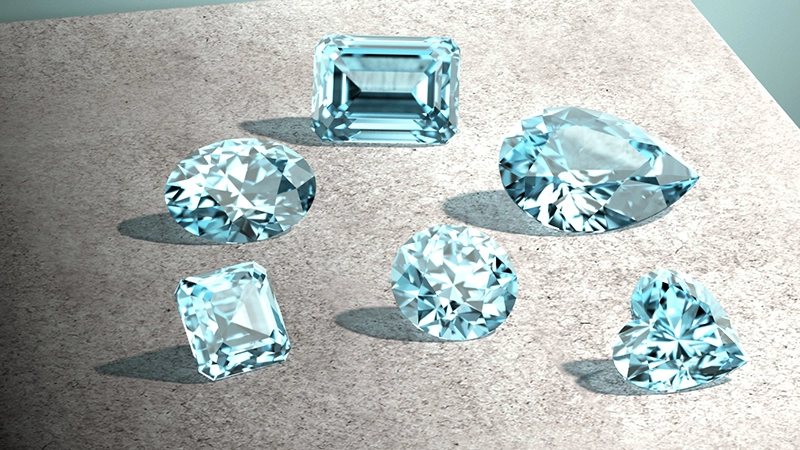 Oh, and let me drop some gem knowledge on you! The name aquamarine is the perfect match for this gem – it's derived from the Latin words "aqua" and "marina," which mean water and sea respectively. Whoever came up with that name was an absolute genius – on point, I tell ya!
But wait, there's more to this gem than meets the eye! Aquamarine has a history as epic as an action movie! Ancient civilizations believed this gemstone was a gift from the sea itself, and they associated it with various mystical properties. Sailors carried aquamarine talismans, believing these gems would protect them during treacherous voyages and ensure a safe return home. Even today, aquamarine is still inspiring tales of courage and hope!
2. Are You Ready to Dazzle Your Loved Ones with Aquamarine Jewelry?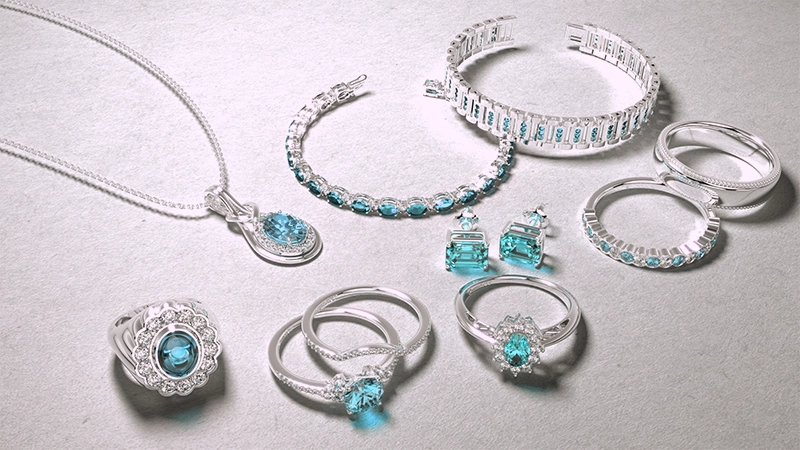 Ready to light up the room with aquamarine bling? Imagine strutting with a stunning aquamarine necklace or rocking those elegant aquamarine earrings – talk about an instant style upgrade! These pieces aren't just jewelry; they're like a warm hug of affection and admiration. Whether you're throwing a birthday bash, celebrating an anniversary, or just giving someone a dose of love "just because," aquamarine jewels will add that touch of magic to any moment. And guess what? The bling buffet is wide open! From delicate rings that whisper elegance to bracelets that demand attention, it's like having an entire ocean of choices at your fingertips.
And can we talk about how aquamarine jewelry is basically the gemstone equivalent of a BFF who gets along with everyone? That enchanting hue is like the ultimate matchmaker for all skin tones – no exceptions! For those who dig the subtle life, a dainty aquamarine pendant is the way to go, adding a touch of grace to your everyday vibe. But if you're ready to own the spotlight, an extravagant aquamarine cocktail ring is your go-to move for turning heads at any glam event. It's like sophistication and a "wow" factor in one dazzling package!
3. Aquamarine's Legendary Legends and Lore
This gem is like the ultimate communication champ! People say it's got the power to amp up those vibes of harmony and understanding in relationships. Trust and loyalty – that's what aquamarine is all about, making it the perfect gift for your ride-or-die squad and bae! And guess what? When you rock that aquamarine bling, it's like you're tapping into some serious emotion-balancing magic! It's all about empowering you to speak your heart out, no holding back! So, imagine gifting someone an aquamarine gem – it's not just about giving a beautiful piece of jewelry; it's like handing a heartfelt wish for good vibes and smooth sailing through life!
4. What Sets Aquamarine Apart from Other Gemstones?
It's all about the aquamarine's unique blue-green hue – totally mesmerizing! Unlike sapphires with their deep blues or emeralds with their flashy greens, aquamarine rocks a tranquil and gentle color that screams serene lagoon vibes. It's like wearing a piece of paradise on your finger! And you know what's even cooler? This gem complements ALL skin tones and styles! Whether you're all about that minimalist life or you're a fan of those elaborate designs, aquamarine will always steal the show!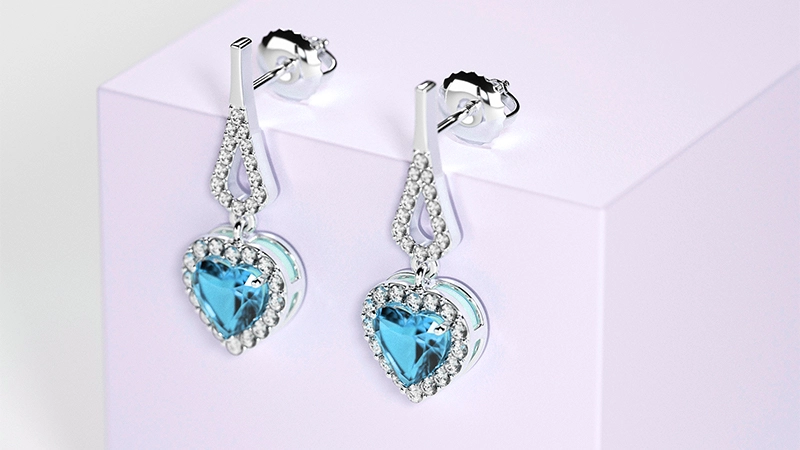 Now, diamonds may be a girl's best friend, but aquamarine is that refreshing BFF you didn't know you needed! Its subtle yet striking appearance is all about sophistication without being too extra. It's like that perfect balance between "Hey, check me out!" and "I'm too fabulous for words." Aquamarine is just killing the game, especially as an engagement ring – talk about symbolizing everlasting love and a commitment to tranquility! No wonder people are going gaga over it! Plus, you've got so many shapes and sizes to choose from, it's like a jewelry design playground! Endless possibilities, you know!
5. Are You Ready for an Aquamarine Adventure Around the World?
Aquamarine is found in the far corners, from the captivating mines of Brazil to the mystical depths of Madagascar. This gem is nature's precious gift! Mining aquamarine is a whole different level of artistry and dedication. Brave miners venture into dark and dangerous tunnels, determined to unearth these sparkling wonders from the very heart of the Earth. Talk about commitment! It's not all rainbows and butterflies; it's a challenging journey, but their unwavering spirit makes it all worth it!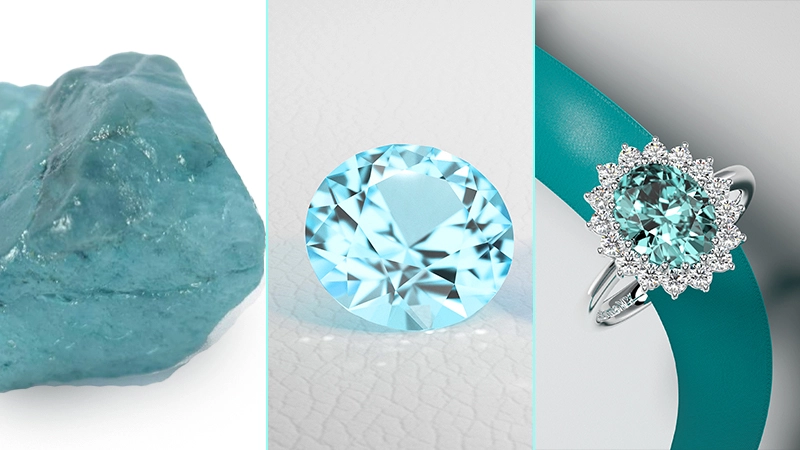 Once these dazzling gemstones are carefully extracted, it's time for some serious magic! Skilled artisans step in like superheroes, using their craft to shape and polish each aquamarine with utter precision and tender care. They've got the gift of turning rough stones into breathtaking pieces of art—it's like watching pure wizardry at work! So, let's raise our hats to these amazing miners and artisans because they're the real MVPs of this spectacular journey!
6. When Should You Surprise Your Loved Ones with Aquamarine?
The answer is simple, my friend: anytime life throws a reason to celebrate! March babies, you're in for a treat—aquamarine is your ultimate must-have gem, adding that touch of grace to your birth month like no other. But hold up, don't let that limit you! Aquamarine is the king of all gifts for anniversaries, graduations, promotions, or even those random "just because" moments when you wanna show some love!
And here's the coolest part – aquamarine jewelry is all about the personal touch! It's like giving someone a piece of your heart, wrapped in glittering goodness. How about an aquamarine pendant with their initials or a delicate bracelet engraved with a heartfelt message? Talk about creating memories that'll last a lifetime – personalized gifts for the win! So, go ahead and unleash your inner gift guru with aquamarine bling that'll make your loved ones swoon with joy!
7. How Do You Care for Your Aquamarine Treasures?
Caring for your precious aquamarine gem is like taking care of a cherished friendship – it's all about love and attention! So, let's spill the tea on how to keep your aquamarine looking dazzling for generations to come!
Work it, but not too hard: Take off your aquamarine bling before intense activities. Safety first, girl!
Shower it with TLC: Give your gem a spa day with a soft cloth and mild soap.
No harsh chemicals or hot temperatures for aquamarine!
Store it right: Keep it cozy in a secure place when not dazzling the world!
Keep the sparkle alive: Regular cleaning keeps the radiant glow going strong! It's totally worth it!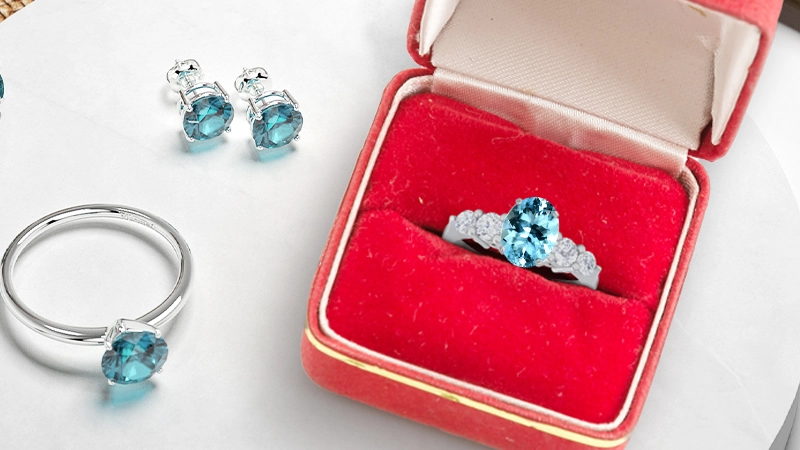 In The End
Aquamarine is the ultimate gift that's about to make your loved ones swoon and sparkle with delight! Whether it's a delicate ring or an opulent necklace, this gemstone is a one-way ticket to cherished and adored status!
So, dive into the magnificent world of aquamarine and watch as its mesmerizing beauty captures hearts and creates unforgettable memories. It's like the gem version of those mouthwatering ice cream flavors – once you try it, you can't get enough!
But wait, the best part is yet to come! You can find these fabulous aquamarine gems right at your fingertips at GemsNY," the gemstone jewelry place that's redefining the bling game! From classic elegance to modern chic, we've got everything you need to make your gifting dreams come true! So, don't wait another second, dive into the sea of aquamarine goodness and let the happiness spread! Happy gifting, our gem fam!