Are you ready for a tour to the captivating world of sapphire engagement rings? From their mesmerizing colors to their unique symbolic significance, sapphire rings offer a modern and unique alternative to diamond rings. Within the pages of this article, we'll unravel seven fascinating reasons why opting for a sapphire engagement ring can be the best decision for you. And be prepared, because the last reason will leave you spellbound and eager to clasp the allure of sapphire gemstones in your engagement ring. So, let's delve into this adventure without wasting any time.
Unique Color Variations of Sapphire
Sapphires, with their mesmerizing array of colors, permit you to craft a deeply personal and customized engagement ring. Sapphire is predominantly known for its iconic blue hue that represents the depth of your love, but this precious gemstone is also available in unique hues such as rich reds, pastel pinks, oranges which symbolizes passion and romance. This color variation allows you to select a sapphire that not just mirrors your partner's personality and individuality but also carries an emotional significance of your relationship.
Profound Symbolism and Metaphysical Properties
Sapphires have a rich history of profound symbolism, often linked with luxury, nobility, loyalty, and prosperity. They were thought to protect their wearers from negative energies and envy, making them a true token of your commitment to safeguard each other's hearts. This traditional belief adds a touch of mystery to the already profound symbolism. What better way to embark on an adventure with a gemstone that carries all these qualities? Sapphires are also said to promote wisdom and knowledge to their wearer. Proposing with a sapphire engagement ring can illustrate a desire for a future together filled with happiness and positivity.
Unique Designs
Sapphire engagement rings serve an unmatched possibility to creativity. You can select from a vast option of designs, from the Jazz-era inspired adornment, a minimalist, modern setting, to an amalgamation of diamonds & sapphires, each exuding its own beauty. The versatility of sapphire allows you to create a ring that reflects the unheard story of your love, ensuring it's a pure reflection of you and your partner.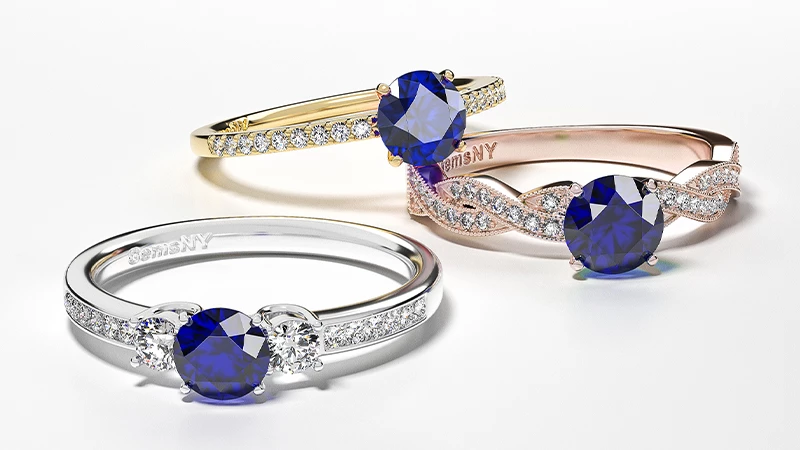 Emotional Significance of Sapphire Ring
Apart from its aesthetic appeal, a sapphire engagement ring also carries emotional significance. It turns into more than just a piece of accessory, it becomes an epitome of uniqueness, just like your love story. Every glimpse of the sapphire on your lover's finger will remind both of you of the journey you've embarked on, where love shines as brightly as the gem itself. Choosing a sapphire engagement ring illustrates your promise for a lifetime of togetherness.
Durability of Sapphire Gemstone
Sapphires are also considered one of the toughest gems and are rated 9 out of 10 on the Mohs scale. Their scratch resistance and unique hardness guarantee that your engagement ring will not just transcend the test of time but also persist to shine just like the day you first received it, which makes it a brilliant investment for the future.
Sapphire Affordability
When compared to exquisite diamonds, sapphires are more affordable, permitting you to save your money for the other aspects of your wedding. This opportunity opens your gateway to numerous possibilities in choosing your ideal sapphire engagement ring. You can go for a chunky and more statement sapphire ring or even a unique colored sapphire, without spending much.
The Surprise Element
Now, it's time for the surprise element! Sapphire engagement rings are quite a unique choice, which makes them a striking and unexpected option. In a society where unconventional diamond rings dominate, proposing to your partner with a sapphire engagement ring gives a modern twist. It expresses your thought and willingness to do something extraordinary. Imagine the surprised expression on your lover's face when they witness a dazzling sapphire ring instead of the unconventional diamond. It's an alluring way to start your voyage together.
Summing Up
Sapphire engagement rings serve a spectrum of benefits that make them a mesmerizing choice. From their undeniable color variations to their deep symbolic significance, durability, and affordability, sapphires give a peerless and personal effect to your engagement. And let's not forget the surprise element, which adds an extra magic to this beautiful moment. 
So, if you're looking for an engagement ring that whispers a story as extraordinary as your relationship, consider the ageless beauty of a sapphire engagement ring. It's a choice that showcases both classic and innovation, making it an emblem of your evergreen love and commitment.
Explore our website to place an order for your desired sapphire engagement ring, and grasp unique discounts.