Glorious, radiant, and stunning are the perfect adjectives we can use for the September birthstone. Sapphire is one of the most desirable gemstones in the world. Ranking a solid 9 on 10 on the Mohs scale of hardness, sapphire proves to be one of the hardest and the most durable color gemstones worldwide. Sapphire can be used on an everyday basis because of its durability and toughness.
Sapphire comes in a variety of shades – from lemon yellows to flamingo pinks to charcoal black and more. The ravishing gemstone will never stop surprising you with its rainbow colors! Styling a piece of sapphire jewelry like sapphire earrings with your fashion style is quite easy! How? Because sapphire gives us an edge in pairing it with anything and everything because of its vast color options. The royalty gemstone is here to slay and make you look sensational.
One is never fully dressed without jewelry! Wouldn't you agree?
Styling your sapphire earrings with different clothes can be a challenge for some, but fret not because this article is going to put an end to your dilemma.
Keep reading the article and learn more about styling your sapphire earrings with any attire.
1. Color Guide
With a long list of different shades of sapphire, choosing a sapphire earrings color can be a little daunting. The color guide we've given here is going to make your life a little easier in choosing your forever sapphire shade.
Blue Sapphire Earrings
Whether it is the color of the sea or the sky, sapphire comes in every shade of blue. The blue shade complements light shades like white, yellow, green, pink, light blue, etc. If you have dresses in these shades, then pairing blue sapphire earrings will make you look stunning wherever you go.
Yellow Sapphire Earrings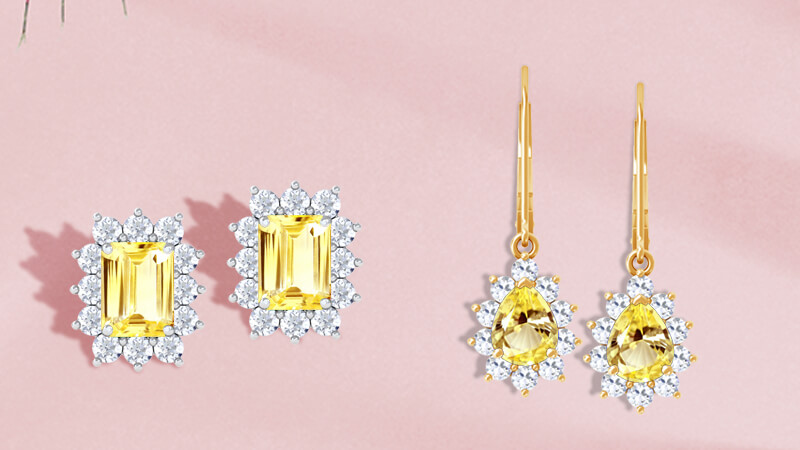 Brighter than the sun, yellow sapphire glistens. Yellow sapphire earrings will look good with dark-colored dresses, it will look super gorgeous with brighter shades too. Go chic and elegant with yellow sapphire earrings.
Pink Sapphire Earrings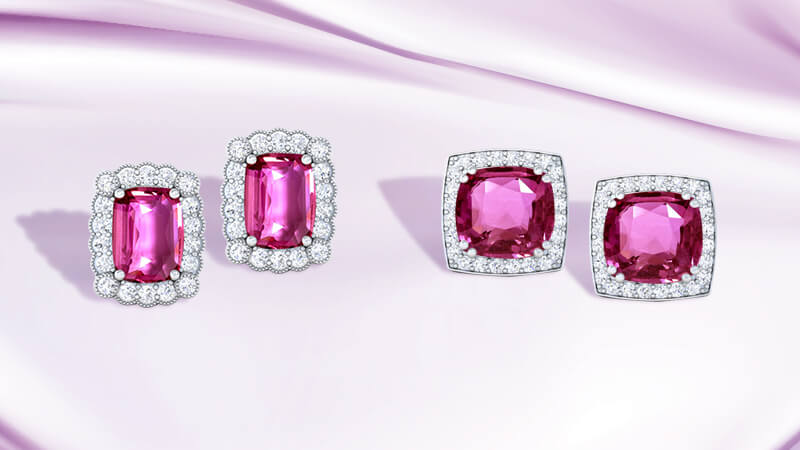 Pretty in pink, sapphire earrings will look dazzling with attires in shades of blue, pink, and black. Be the talk of the town with the glamorous pink sapphire earrings.
2. Attire Guide
Little Black Dress
Don't know what to wear to a party or on a movie night with friends or family? Little black dress is there to the rescue!! LBDs are the go-to attire for every woman when they don't know what to wear.
Pair up your little black dress with yellow, pink, or peach sapphire earrings, and voila, you're good to go! These are the basic must-haves in every girl's vanity. You can never go wrong with the basics! Yellow sapphire is a symbol of knowledge and luck and if you want to boost these aspects in life then investing in one is a great idea!
Casual Cafe Dates
Casual cafe dates call for casual, comfortable attire. A white tee, blue jeans, or a cute jumpsuit sounds like the best fit for a cafe. Accessorize your fit for the night with a minimalist pendant and a pair of blue sapphire earrings.
Blue, purple, yellow, or pink sapphire earrings paired with jeans and a tee would look perfect. If you want to be the talk of the town these are the accessories to invest in!
Boss Lady at Work
Work calls for a sharp look and going fancy-schmancy is not a good idea, but that doesn't mean you can't look sharp with a little bit of bling on!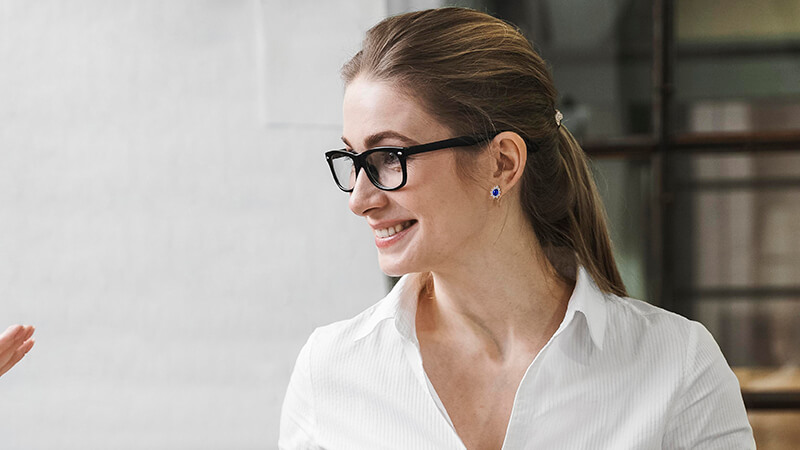 To get a boss lady look – wear your stunning grey/blue pantsuits with glittering sapphire earrings of any bright color and there you go, all ready to conquer your professional world! You can put your hair up in a ponytail and show off your newly gained confidence along with your glistening sapphire earrings.
Glam-Girl Evening
On a Saturday night, when it's time to relax and party in your fancy gown and heels, dangle sapphire earrings will be the best accessory to top off your evening look. It is said that beauty is who you are and jewelry is just the icing on the cake but guess what, sapphire earrings are really the cherry on the top!
Pairing your sparkly evening gown for a party with long dangle sapphire earrings in the shades of blue, black, or pink will make you stand out from the crowd. Put your hair up in a bun and there you go…all set to fire up the evening with your look.
Sapphire earrings, minimalist studs, or fancy dangle earrings, will always be appropriate wherever you go. Sapphire earrings are a must-have in every girl's vanity! What are you waiting for? Invest in your favorite shade of sapphire earrings to go from plain to glam within seconds!