Our world is filled with millions of rich and colorful gemstones, of which many have been used by us as adornments for thousands of years. Through most of this time, these precious gemstones could be obtained by one method: mining them from natural sources. 
However, technological and scientific advancements made in the last few decades have given scientists the ability to replicate these gems in labs while maintaining the same look and feel of a natural gemstone. Many customers often inquire about the origin of gemstones and whether it is beneficial to purchase a natural or lab-created one – here are some tips when looking to add to a collection.
1. Lab-Created Gemstone
The term "lab-created" gemstone refers to a gemstone that has been made in a laboratory and has the same chemical composition as its natural counterpart. This term is synonymous with "synthetic", "man-made", or "lab-grown" gemstones.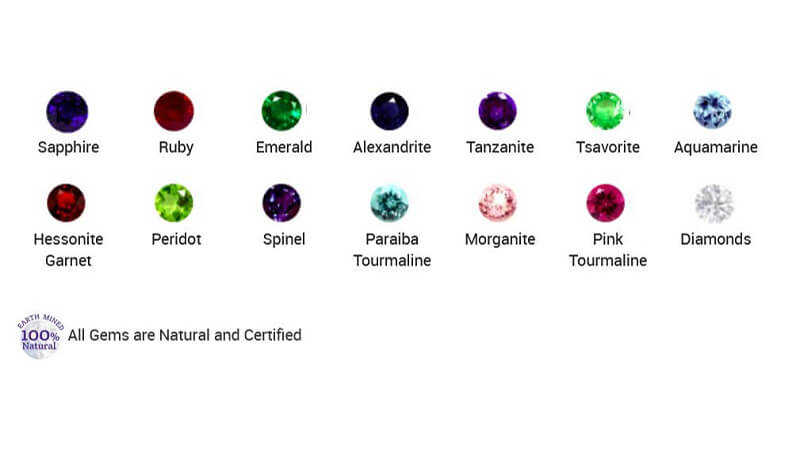 It should not be confused with "simulated" or "imitation" gemstones, which are meant to give the appearance of a gemstone but are chemically different (such as being made of glass or plastic).
How are lab-created gemstones made?
Science and technology are now so advanced that it is possible to create gemstones in laboratories. Usually, there are two methods to replicate a gemstone.
HPHT (High-pressure, High-temperature): This is one of the oldest methods to create gemstones in a lab. The HPHT process uses heating treatment to mimic natural gemstones in a lab in a fraction of the time it takes for a natural diamond to form. Components of natural gemstones are exposed to extreme heat and pressure to form a gemstone that has the same physical and chemical properties as a natural one.
CVD (Chemical Vapor Deposition): In this method, gemstones are grown layer by layer in a chamber using a small component from a natural gemstone.
Is it easy to identify the lab-grown gemstones?
Lab-created gemstones are no different from natural ones. Only a trained gemologist with the right equipment can identify the origin of the gemstones. Also, the refractive Index (RI) of lab-created gemstones (which measures brilliance) is the same as natural gemstones.
However, it is important to purchase lab-created gemstones from a reputed jeweler. We have an extensive range of stunning lab-grown certified diamonds.
2. Natural Gemstones
Natural gemstones are any gemstones that have been formed in nature and have not been tampered with outside of being mined, cut, and polished. Most in the industry would recognize natural gemstones as those that have not been treated for inclusions or color enhancement in any way.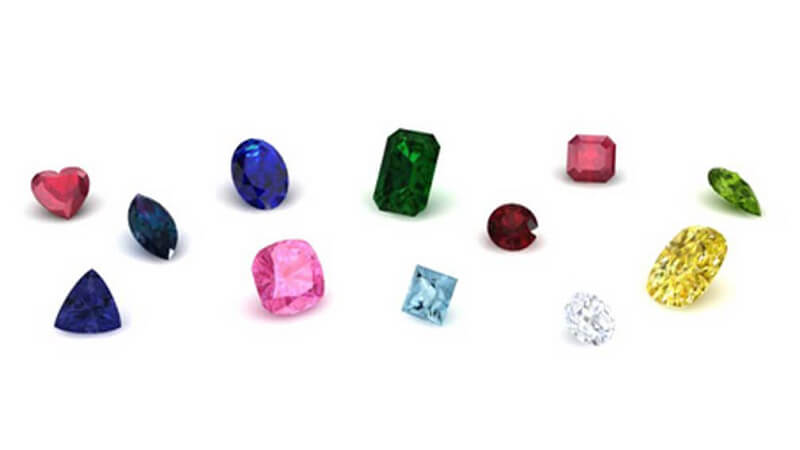 Gemstones that are formed in nature but have undergone any type of treatment process are generally referred to as "genuine" gemstones. Because of the extreme rarity of most natural gemstones, "genuine" gemstones have long been a universally accepted aspect of the trade.
3. Which is Better?
As is with all accessories, the choice always comes down to the wearer's personal preferences. Both natural and lab-created gemstones have their pros and cons depending on what aspect of the gemstone is emphasized.
If cost is the most important factor, then a lab created gem is most likely the best option. Because they are not scarce, lab-created gemstones are sold at a fraction of the price that their natural counterpart would command. It is much more possible to work with a smaller budget when it comes to lab created gemstones.
For appearances, both are ideal depending on the desired look. If you are striving for a perfect look, lab created gemstones are best as they are free of inclusions and display the best possible color. If you are looking for something unique, natural/genuine gemstones are ideal. They vary greatly in appearance and color, suiting their owner's unique taste.
If you want something that is rare and authentic, natural gemstones are hands down the only choice. Some gemstones are extremely rare and can only be found in certain parts of the world. Others have been passed down for generations and represent lifetimes of connection.