In today's fast-paced and hectic lifestyle, where on the one hand, people are getting used to handling pressure and becoming more productive than ever to cope with rising work pressure and meet their work deadlines, many of them have lost grip on living their life on their own terms without being stressed. They have been operating like mechanical robots ignoring their emotional health which in turn is taking a toll on their physical and mental capabilities, leading to a rising number of cases of depression and anxiety in people of all ages. In this blog, we have discussed a few gemstones and crystals which are beneficial in stress relief; so let us learn more about how gemstone therapy for anxiety and stress can bring positive changes in a person's depressed life.
How Gemstones Combat Anxiety Issues?
Events such as job loss, the demise of a near one, health challenges, or relationship problems can cause negativity, stress, anxiety, depression, or mental & emotional trauma in an individual. While we recommend you to consult a psychologist in case your symptoms worsen, it is advisable to wear gemstone jewelry with spiritual properties to combat initial signs of anxiety, depression, and stress. These crystals can bring positivity and peace to your life by converting negative vibrations into positive vibes through their invisible aura and spiritual energy.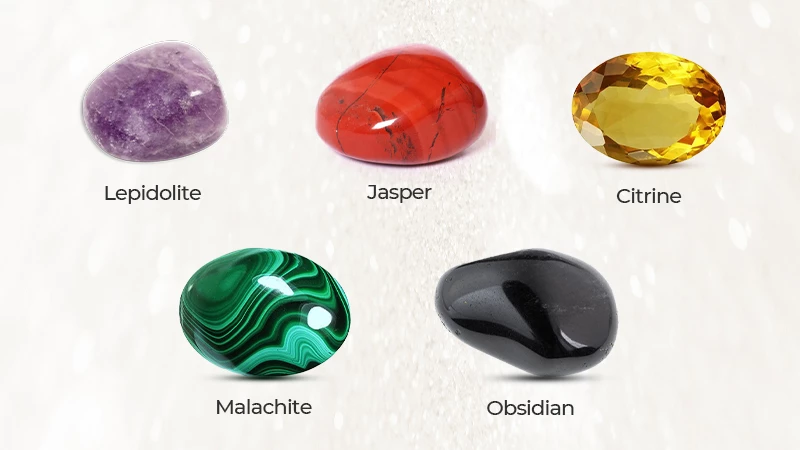 Lepidolite
The aesthetic lilac hues of lepidolite are not only pleasing to the beholder's eyes but also have a magnetic effect on hearts sunk into depression and loneliness. The stone can negate all the negative feelings initiated in your heart and balance your worrisome brain cells & tensed nerves. It can elevate your self-confidence and germinate the seeds of self-love & self-care in your heart. You can wear it during meditation, as a piece of jewelry, or keep it in your bedroom to get influenced by its radiating positive energy.
Jasper
The "supreme nurturer" multi-hued jasper has the ability to elevate the depleting levels of self-confidence and courage in an individual along with adding dynamism and creativity to their life. The stone can be your ultimate protector in turbulent times by releasing all the negative energy around you which is a reason why jasper is one of the most effective stones to combat depression and anxiety disorder. Always keep a piece of jasper with you in the form of jewelry to stay harmonious and enjoy every moment of your life while appreciating the things around you the way they are.
Citrine
The vibrant yellow hues of citrine can create an environment of joy & optimism in the life of its wearer and inculcate self-confidence & enthusiasm in them. In case you are struggling with negativity, fear, or loss of motivation to keep going, you can wear a citrine or keep it inside your purse or pocket to receive a constant replenishment of energy and faith to lead a stress-free life.
Obsidian
The black-colored obsidian is a powerful shield against emotional instability. It can make you emotionally strong and clear your mind cluttered with negative thoughts. You can always carry the stone with you in the form of a piece of jewelry or can place it at your workplace or at home to get benefitted from its positive energy. Being one of the best stones for manifestation, obsidian is an ideal crystal for bringing emotional tranquility through meditation.
Malachite
If you are dealing with terrible mood swings, then this enchanting crystal can do wonders in healing your emotional state of mind and releasing you from painful memories or traumas haunting you all along. It can not only beautify your personality and multiply your charm but also be used as a home decor item to attract peace.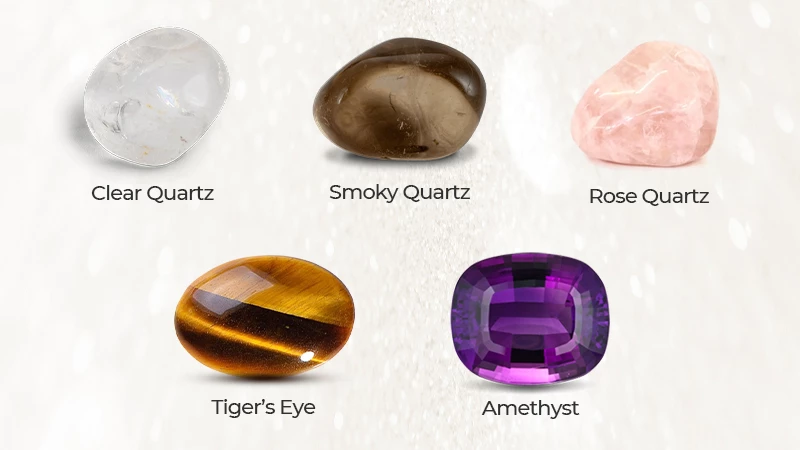 Clear Quartz
This "master healer" of a stone can uplift humans at mental, emotional, physical, and spiritual levels. Pairing it with other crystals can create a good luck charm that can help you cope with depressive behavior and thoughts. It has extreme cleansing properties that can introduce balance in each phase of the wearer's life and hence is extensively used in energy healing procedures and meditations.
Smoky Quartz
Known for being one of the most influential stones to deal with anxiety, fear, and apathy, smoky quartz has the capability to keep its wearer's energy level at the top. As such, keeping smoky quartz near you can help you combat depressive and suicidal thoughts. It can be worn as a pendant or ring or you can simply carry it around in your purse or pocket or use it during meditation to level up or heal your aura with positivity.
Rose Quartz
How to remain mentally and emotionally balanced under difficult circumstances is what the rose quartz teaches us. It infuses feelings of compassion and self-care in the heart of its wearer and relaxes the mind, body, and soul when kept near while meditating. Keeping rose quartz crystals in the bedroom or in the office space can bring positivity and peace to any individual.
Tiger's Eye
A mind clouded with self-doubt, anxiety, and other insecurities can be controlled by the mystical traits of the power booster tiger's eye. If you are into the mesmerizing color combination of this stone, then flaunting a piece of jewelry made out of it will be no less than setting up a new fashion statement. The stone is also extensively used in meditation processes and as decorative pieces in homes & offices to welcome good omen.
Amethyst
If you are going through a rough patch because of your personal life relationships or you are under a lot of stress due to work pressure, then wearing this lavender-hued gemstone can introduce relaxation and clarity of thoughts in your life. Keeping an amethyst near you in your bedroom, office, or during meditation can attract tranquility and overcome anxiety in your heart, thus instilling the joy of living in your dull life.
Parting Thoughts
Be it school or university students, working professionals, or homemakers, stress is equivalent in everybody's life while the individual's attention toward their psychological well-being is negligible. All of us have become so obsessed with keeping up with the fast-transforming world that many of us neglect its effect on our daily lifestyle in the form of poor eating habits, changing sleep patterns, fatigue, loss of concentration, and lack of interest in everyday activities. So check out our exclusive collection of gemstones for anxiety relief in the loose gemstones section of our website and bless yourself and your loved ones with the gift of a happy and carefree life.