The breathtaking violet-blue tanzanites are a gem to cherish for life. What makes this rarest of rare stones so precious is the fact that they are mined only at one location throughout the world, in Tanzania. Their rarity and rich blue hues are what enchant people the most and this is also the reason why Tanzanite jewelry has become so popular among the younger as well as the older generation these days. 
And especially when it comes to designing the most promising jewelry of their life, a wedding ring or an engagement ring, tanzanite rings are the talk of the town among to-be couples. If you are also curious to know more about this enticing gemstone and wish to get one augmented as your engagement ring's centerstone then this blog is for you.
Tanzanite Mineral Composition & Brief History
Tanzanite is primarily made up of the blue variety of the mineral zoisite containing small proportions of vanadium and it is found only in a limited mining space reserved near the Merelani Hills of the Simanjiro District in Tanzania. This makes the stone relatively newer as compared to other gemstones which are known and adorned by humans for centuries now. On top of that, only a single deposit of this stone is available in the whole world which makes it over a thousand times rarer than flawless diamonds.
The magnificent tanzanite gets its name after its country of origin, Tanzania in Africa where it was first discovered in 1967. It was Tiffany & Co. which launched the stone in 1968 in the commercial marketplace and named it "tanzanite".
Tanzanite's Royal Hues Anybody Would Die For
Rough tanzanite stones appear reddish brown in color in their original form. However, the natural heating process inside the earth's crust or any artificial heat treatment removes this red layer after which the actual blue-violet hues of the gemstone are visible. 
The remarkable ability of any substance to reflect different shades of color when seen from different angles is called pleochroism and this is what gives tanzanite its charismatic ability to appear violet, blue, and burgundy at different settings. Different crystal orientations and lightning effects enable tanzanite to display such a spectacular optical phenomenon alongside its axes. For instance, the stone gives an exceptionally vibrant blue sheen when observed under fluorescent light whereas its violet tones are visually pleasing to every eye when it is placed under incandescent light.
Determining the Value of Tanzanite Gemstone
The price of the tanzanite gemstone depends on its color, saturation, clarity, and carat size. In general, stones with bright blue-violet saturation command the highest price in the international market. The untreated stones reflect myriads of hues, from blue to yellow, red, orange, etc. but the treated ones only have the blue family shades on display. While heat treatment reduces the worth of other gemstones, it does not affect the price of tanzanite since it is necessary to bring out the true colors of the stones and hence, the treated ones are considered equally valuable. In most of the cases, it is observed that the stones with less carat weight have low saturation hence, those over 5 carats must be preferred if you wish to enjoy the royal blues of the stone.
In terms of clarity, most of the stones in the market are eye clean, that is, devoid of any inclusions that could be seen with the naked eye. So even if they are visible when placed under a magnifier, such stones are prized higher as compared to those with eye-visible defects or fractures which are sold at heavily discounted prices. Discussing stone-cut, oval and cushion-cut are the most sought-after, though you would find a wide range of shapes available in the market.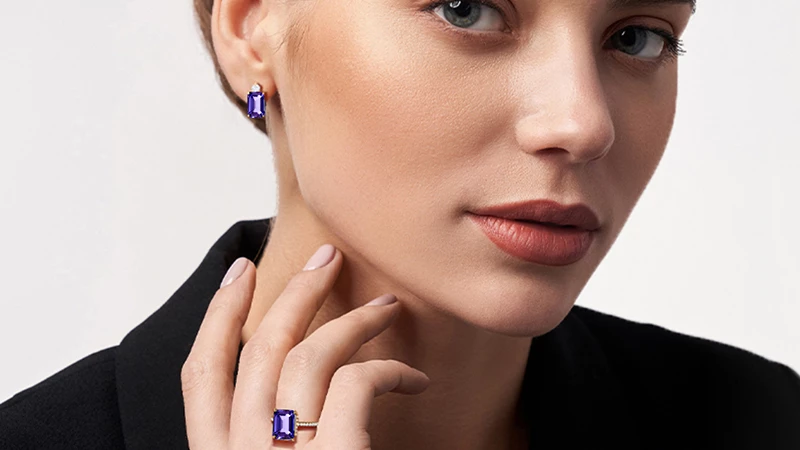 Significance of Mighty Tanzanites 
The craze of customized jewelry is getting momentum with innovative designs in the market. The changing preferences of the customers are also the reason why even jewelry designers are taking the initiative to design jewelry out of the box. Not to mention, tanzanite is the new trend in the market for getting some exquisite jewelry. So, if you are into colored gemstones and blues are still missing from your jewelry case, then a tanzanite necklace, ring, bracelet, or a pair of earrings, would make you look and feel bright.
Rated between 6 to 7 on the Mohs Hardness Scale, the flickering tanzanites have the rarity that makes them as priceless as your love for your beloved. Its vibrant blues would instill serenity and calmness in the heart and the mind of its wearer while the vivid violets would bless them with loads of wisdom and spiritual energy. But, since the stone is not as durable as some of its contemporary gemstones, it is advisable to wear it with a little bit of extra care. Make sure you keep it away from materials or substances that may cause damage to it and put them in a separate jewelry case to prevent scratching.
Gift Ideas for Tantalizing Tanzanites 
Those born in the month of December and ruled by Sagittarius are indeed the privileged ones since they have this dynamite of the gemstone to give their exceptionally charming behavior and personality a complementary look. Here are some Tanzanite jewelry gift ideas you would love to hear.
In case, your partner is a December born or Sagittarius being, then a customized tanzanite ring would be the perfect piece of jewelry to wish them your 24 years of togetherness and many more to come ahead. A tanzanite bracelet could be the most prideful gift your father could ever receive on his retirement. Your doting little sister's happiness would know no bounds with your priceless tanzanite earrings at her graduation ceremony. And mark our words, your mother would never forget how special she is to you for your rarest collection of exquisite tanzanites that would curl around her neck on her birthday or on Mother's Day.
How to Create Your Own Customized Tanzanite Jewelry?
Wearing custom jewelry is always a pleasure since it is exclusively made for you, to complement your charm and enhance your style statement. So now, if you are sure enough that your next or probably the first custom jewelry will be made out of cheerful tanzanites, then here's a list of pointers you must check on before moving ahead with the things:
Setting up Budget 
Keep aside the finances you are willing to invest in your custom jewelry. Since high-quality tanzanites would cost more, you must be ready to spend a few extra bills on them.
Collecting Loose Tanzanite Gemstones
If you still haven't gotten a fair idea of how to identify the best quality tanzanites for your custom jewelry piece, then do take into consideration the color, saturation, clarity, and carat size while choosing your gems. Now, this also depends on what type of jewelry you wish to have made since you would probably need a different tanzanite cut and carat size for a bracelet than you would choose for your necklace.
Designing Your Custom Jewelry Piece 
The next step would be to develop the virtual design of your jewelry piece. For this, you could take the help of a professional jewelry designer or you could even create a rough sketch of your preferred design and share it with your designer for further modifications or recommendations.
Looking for a Prospective Jeweler
With the stones and design ready, the next phase would be to look for a reliable jeweler to carve the metals into your desirable design and embellish it with tanzanites. The metal choice could be made with reference to what your jeweler suggests or alternatively what suits the best to your liking or skin type.
Revising Your Design & Getting It Made
The last step would be to get your design revised, if required, as per the suggestion of your jeweler. Otherwise, you could straight away negotiate the manufacturing price with your jeweler and wait patiently for them to mold your design into your dream jewelry piece.
Parting Thoughts
The blue-hued tanzanite, known for its violet and purplish undertones, will continue to rule hearts forever with its distinct natural compounds and magnetic vibes. Its vivid shades would crave you to demand one from your beloved or get one specially customized for your sweetheart. So we, at GemsNY, would love to introduce you to our extravagant event of exciting tanzanite jewelry sale with remarkable deals and exciting offers. Don't miss the chance to make them groove at your every glance.