Ruby is one of the most stirring gemstones of all time. Period. Be it the gemstone's arousing red color or its remarkable hardness score on the Mohs scale, everything about ruby is so attractive that it appeals to the masses. That's the reason why jewelry embellished with ruby is coveted by many. Out of all the different types of ruby jewelry, ruby earrings are fancied the most by the majority of people. That's because decorating your ears with the matchless charm of ruby uplifts your facial features, keeping you the center of attraction all the time.
However, making up one's mind concerning a pair of ruby stud earrings isn't as easy-peasy as it seems. First of all, you need to decide whether you need an everyday pair of earrings or ones that you'll only wear occasionally. After that, you need to set a budget for your ruby earrings. And then, you need to pick a pair that goes with your facial shape. Furthermore, the magnificence of ruby makes the whole task so difficult because they beautifully fit all types of settings and designs.
So, all these things keep you in two minds regarding getting a pair of ruby earrings. But now that you're here, you don't need to worry at all because in this article, I've prepared a list of 5 jewelry pieces that you'll love. Each of the ruby earrings from this list will take your beauty to a whole different level.
Vintage Floral Ruby Stud Earrings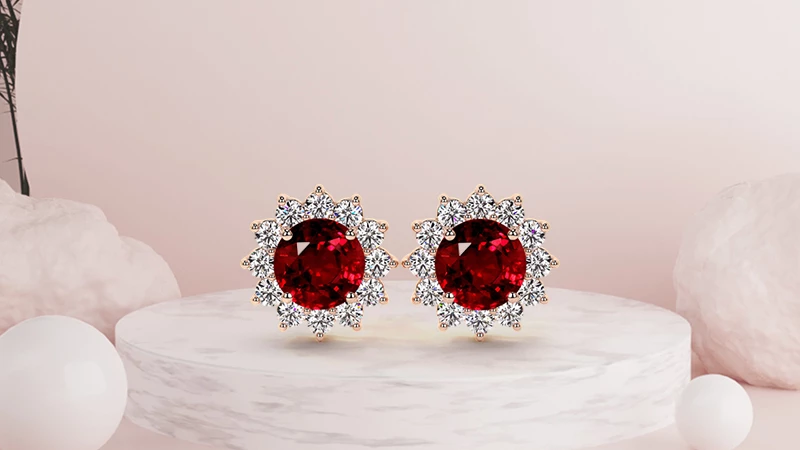 You can never go wrong with a pair of vintage floral ruby stud earrings. These pieces will elevate your look in a unique way by giving the impression of glory adorning your ears. The AAAA medium red natural rubies of this pair emanate an aesthetic that captures the imagination like nothing else does. What's more striking about these ruby earrings is their floral design. The accent diamonds fashioned in the handcrafted contemporary design leave you spellbound with their luster. These earrings will be the perfect cherry on the cake for your party-wear. To best style these ruby earrings, you can pair them with a maroon bubble dress. So, what do you think of this pair?
Pear Shaped Ruby Stud Earrings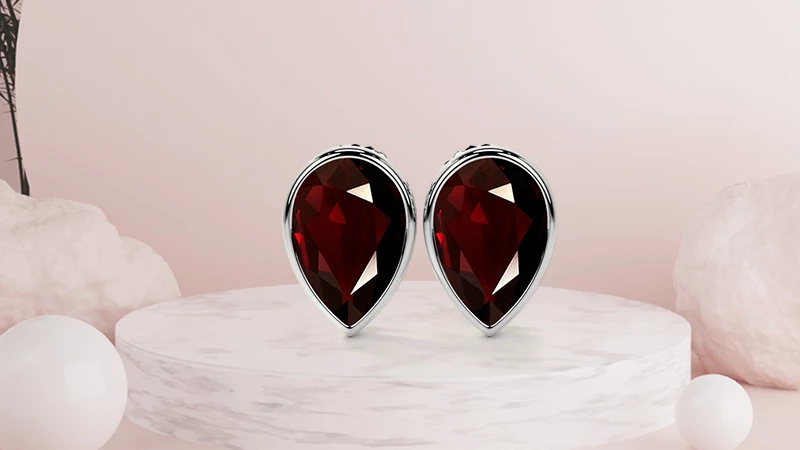 Simple yet bold, this pair of ruby stud earrings is best as your everyday jewelry piece. The elegant 14k white gold gemstone setting seems as if it's made to conquer the world. The two pear shaped ruby gemstones in this pair are too hot to handle and remain in the limelight all the time. A blend of the 'king of the gemstones' and a minimalist design, this pair of ruby earrings will surely make an impact on the beholders the moment they look at you. The X-factor of these earrings is that these earrings will amplify your look no matter what you're wearing. For instance, these ruby stud earrings will complement everything from stylish sleek gowns to comfortable casual tops. Aren't these ruby earrings a complete package?
Round Shaped Ruby Stud Earrings
These ruby earrings are a classic illustration of traditional beauty. With minimal design intervention and round-shaped rubies, this stunning pair will help you achieve your desired look, whatever it might be. What artfully showcases the true elegance of this pair is its prong setting. This setting effectively displays the brilliance of ruby while securing it from abrasions and scratches. Round Ruby stud earrings like this one are ideal for power dressing if you want to express your personality in a sophisticated way. So, if you're thinking of wearing these earrings with an arresting black backless gown then you're good to go.
Marquise Cut Ruby Stud Earrings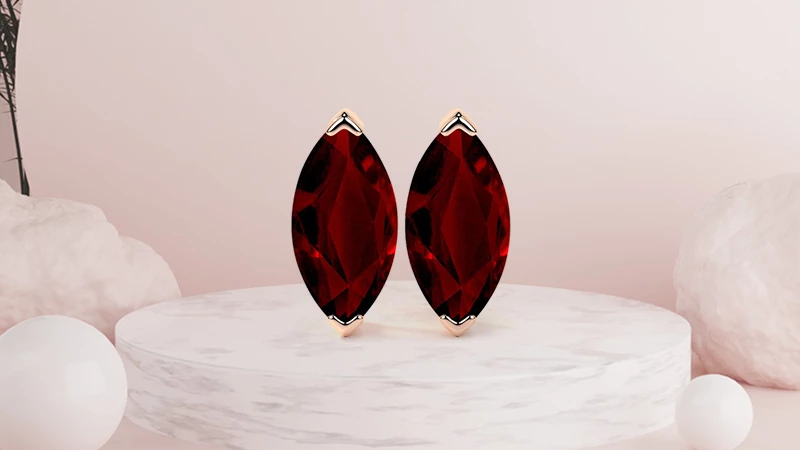 The no-nonsense appeal of this pair of marquise-cut ruby stud earrings will catch everyone's eye in a moment. Whether you're dressing for a party or styling yourself for a casual outing with your best buddies, these ruby earrings will perfectly accessorize all your dresses. The glittering gemstones and sleek design of these earrings hold the power to make everything better. The natural rubies fashioned in these earrings have a color intensity of medium red with slightly included clarity characteristics. An evergreen piece of jewelry, this pair of ruby earrings will best adorn your amiable and excellent character.
Heart Shaped Ruby Stud Earrings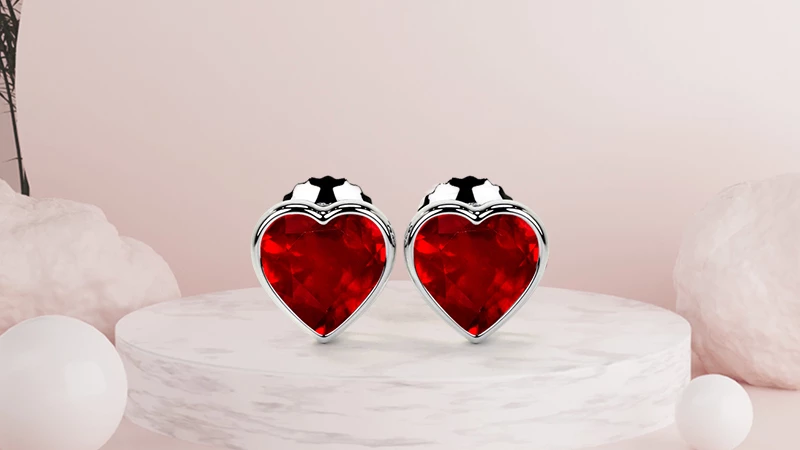 Ruby earrings in the heart shape have something more than meets the eye, don't you think? Well, heart-shaped rubies are natural for allure. Two heart-shaped rubies stare at you in all their greatness, set in an irresistible 14k white gold setting that adds to their reputation. Once you wear these earrings and go out with your friends, everyone from your girl gang will start drooling over them. The timeless splendor of these heart shaped ruby stud earrings will up your jewelry game among not only your friends but also your colleagues. You can wear this pair of ruby earrings with a silken tie-waist dress for maximum appeal.
The Bottom Line
These were some of the best ruby stud earrings that you can choose to make a statement. From minimalist jewelry pieces to stylish pairs, ruby earrings from this list encompass various designs to satisfy all your vibes. If you feel a special connection with nature then you can adorn your ears with the vintage floral ruby stud earrings from this list. If you want to shop for a minimalist pair then you can pick anyone from the pear shaped earrings to marquise cut studs from this list. Similarly, if you want to make an impression in front of your crush then I'd suggest you pick the heart shaped studs.
Whichever jewelry piece you choose from this list, make sure that you wear it with confidence because confidence is the key when you're trying to make an impression. To get the best out of your purchase, I think you should pick the one that goes with your aura, budget, and the occasion for which you're getting the pair. Now that you know it all, I hope you've made up your mind yet. So, which pair of ruby earrings are you thinking of getting?