Introduction
Gemstone jewelry fascinates everyone, but it is not easy to choose one because when it comes to purchasing gemstone jewelry, finding a reputable and trustworthy jeweler is crucial. Gemstones hold significant value, both monetarily and sentimentally, and selecting the right jeweler ensures that you receive genuine gemstones of high quality. This article highlights essential factors to keep in mind when choosing gemstone jewelry so that you can make an informed decision.
1. Reputation and Experience
One of the first things to consider is the reputation of the jeweler and the experiences of other customers with it. Look for jewelers with a long-standing presence in the jewelry industry, as they have likely built a strong reputation for delivering authentic gemstones and excellent customer service. Read online reviews, seek recommendations from friends and family, and research the jeweler's background to gain insights into their expertise and credibility. If you find anything fishy about the jeweler, do not put your money in.
2. Gemstone Knowledge
A reliable gemstone jeweler should possess in-depth knowledge of gemstones. The jeweler should be able to educate you about the different types of gemstones, their characteristics, grading systems, and how to assess their quality. A knowledgeable jeweler will guide you through the selection process, answering your questions and helping you make an informed choice, but to access the knowledge of gemstone jewelry, you should also be aware of the basics of gemstones. So it is a good idea to acquire knowledge about the basics of the gemstone world before going to a jeweler.
3. Certification and Authenticity
Ensure that the jeweler provides proper certification for the gemstones they sell. Reputable gemstone jewelers often work with certified gemologists or have their gemstones independently certified by recognized gemological laboratories. Certifications, such as those from the Gemological Institute of America (GIA) or the American Gem Society (AGS), offer assurance of the gemstone's authenticity and quality. Reputed jewelry sellers such as GemsNY allow customers to check all the authenticating certificates online.
4. Range and Quality of Gemstones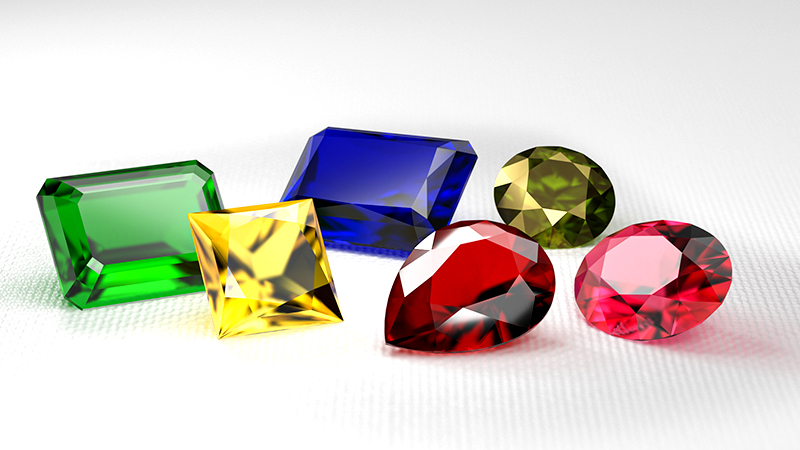 Always choose a gemstone jewelry supplier that can provide you with a  variety of gemstones. Consider the variety and quality of gemstones available at the jeweler's store. An efficient jewelry seller would offer a wide selection of gemstones, including popular choices like diamonds, sapphires, rubies, emeralds, and more. They should also provide detailed information about the origin, color, clarity, and cut of each gemstone. High-quality gemstones should exhibit excellent craftsmanship, brilliance, and durability. So this is how you get different options of gemstone cuts, carat weight, color, and clarity to choose one from.
5. Customization and Design Expertise
If you are looking for customized gemstone jewelry, choose a jeweler with design expertise and the ability to bring your vision to life. The jeweler should have skilled artisans or designers who can create unique pieces tailored to your preferences. You can check the artwork of a jeweler from either the product catalogs available on its website or from the jewelry pieces displayed in the jeweler's showroom. When it comes to personalizing a jewelry piece, you should always choose a jeweler with a setup to showcase how exactly your jewel will look after the personalization. Some reputed online jewelry sellers such as GemsNY provide you an easy interface to create your own jewel. On their website, you can also virtually try out a jewel customized by you.
6. Ethical Sourcing and Sustainability
With growing awareness about ethical practices, many customers prefer jewelers who source gemstones ethically and support sustainable practices. Learn about the jeweler's sourcing policies, such as their commitment to conflict-free diamonds and their efforts to ensure fair trade practices. Look for jewelers who adhere to responsible mining standards and support initiatives that benefit local communities and the environment. With the involvement of technology such as blockchain, it has become easier to track the gemstone from its source. Ethically obtained gemstones are also a good investment, so you should always choose them to grow your investment.
7. After-Sales Services and Warranties
Consider the after-sales services provided by the jeweler. Do they offer warranties, resizing options, or maintenance services? Reputable jewelers often offer warranties to cover manufacturing defects and provide cleaning or repair services for the jewelry they sell. Clear communication about warranty and return policies is essential to ensure a satisfactory purchasing experience. A reputed jewelry seller is the one who provides warranty documents or a warranty card along with the purchase. To make the customer experience delightful, some jewelry sellers also provide free resizing options on various jewels.
Conclusion
Choosing a jeweler requires careful consideration to ensure you receive genuine gemstones of the highest quality. By evaluating various factors, you can make an informed decision. Remember, investing time in selecting the right jeweler will enhance your buying experience and result in cherished and enduring gemstone jewelry. Gemstone jewelry pieces are not merely stones studded in metal but rather great investment options with sentiments associated with them. GemsNY is a reputed jewelry seller that fits all the criteria of a dependable jewelry seller. So, we can say that your search for the best gemstone jewelry seller ends here.