Get ready to fall head over heels into a world where sapphires are more than just gems; they're your cosmic companions, your wisdom keepers, and your style confidantes.
Think of sapphires as the romantic poets of the gemstone universe, crafting verses of elegance and charm. Their deep blue tones mirror the vastness of the night sky, inviting you to dance among the stars.
As we journey together into the heart of sapphire birthstone jewelry, you'll discover that these gems are the embodiment of cosmic love. Get ready to be swept off your feet in a celestial love affair like no other. 
Why is sapphire birthstone bling such a vibe, you ask?
Sapphires are like a portal to another dimension, fam. With those enchanting blue shades, they're basically the OG sign of wisdom, royalty, and cosmic protection. No wonder sapphires have been dazzling jewelry lovers since forever!
The word 'sapphire' itself is a flex, coming from the Greek 'sappheiros,' which sounds low-key magical. And when you gaze into that deep blue hue, it's like peering into the night sky—total celestial vibes, ya know? Plus, rumor has it that sapphires level up your brainpower and spiritual game. So, if you're all about that cosmic glow-up, sapphire jewelry is your thing!
1. Why Are Sapphire Rings the Ultimate Style Flex?
Imagine flexing your style with a sapphire ring – it's like having a slice of timeless beauty right on your finger! Whether you're vibing with that regal deep blue or wanna rock a bold sapphire surrounded by a sparkling halo, these rings scream sophistication with a dash of flair.
Low-key, sapphire rings have been around the block for ages, like since ancient times when they were legit thought to be like, bodyguards for their peeps! Nowadays, they're all about commitment and loyalty vibes, making them, like, the ultimate go-to for those engagement ring goals.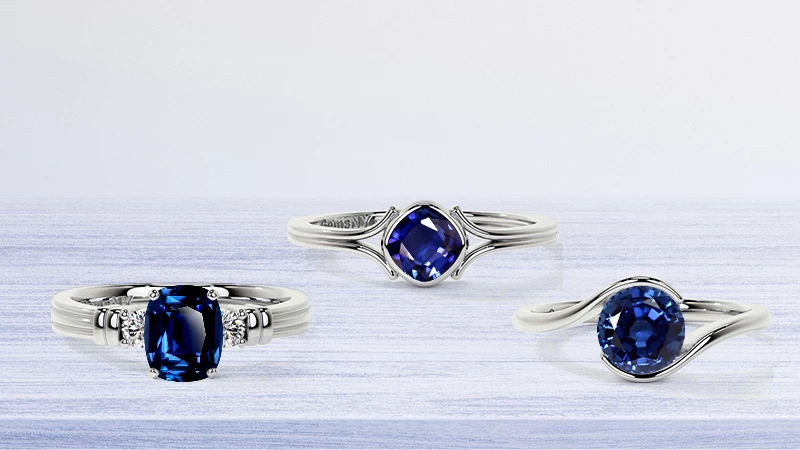 2. Slayin' in the Sapphire Game: Blinging Necklaces
Ready to flex your sapphire obsession with some next-level bling? Enter the world of sapphire necklaces! Whether you wanna keep it low-key or go all out, these babies got your back, and they're here to slay any occasion.
Sapphire necklaces are not just playing around when it comes to options. You've got the chill solitaire pendants that ooze simplicity, and then there's the wild side with intricate designs decked out in diamonds. Your jewelry game is as versatile as your mood, so there's always a necklace to level up your outfit game.
3. Sapphire Earrings: Sparkle or Drama?
Step up your style game with sapphire earrings that go from cute studs to totally extra chandelier vibes! These aren't just your run-of-the-mill accessories but they're like tiny bursts of your personality and fashion flair. Whether you're feeling that classic vibe and wanna go for sleek, elegant studs, or you're ready to unleash your inner drama queen with jaw-dropping drop earrings, sapphires got you covered. 
So, go ahead, rock those sapphire earrings and watch heads turn like you're walking the runway of life!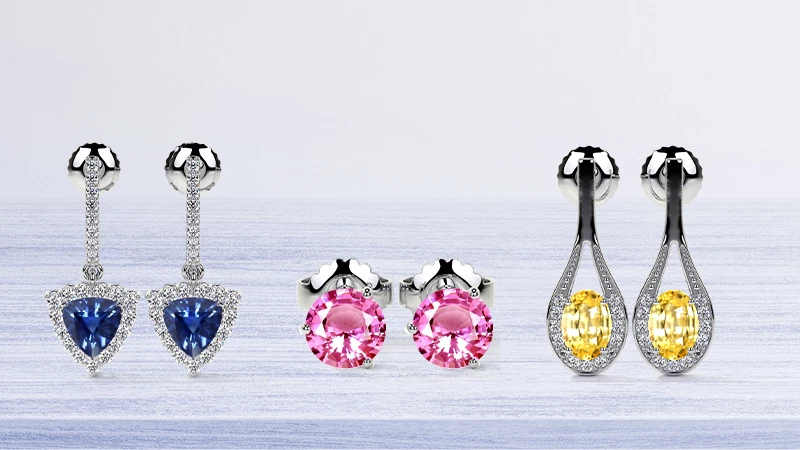 4. Bling O'Clock: Sapphire Watches
Alright, peeps, let's talk about sapphire watches – these are not your grandma's time-tellers! These stunning beauties don't just keep you on schedule, they bring some serious wrist game.
So, picture this: you've got a sapphire crystal front and center, and trust me, that stuff's like superhero-level tough. It laughs in the face of scratches, so no more worrying about bumping into stuff and messing up your timepiece swag.
But wait, there's more! Add in some sapphire bling on the bezel or dial, and boom, you've got a watch that's not just reliable but also a certified jaw-dropper. Time's ticking, and you deserve to look fly while keeping it on point!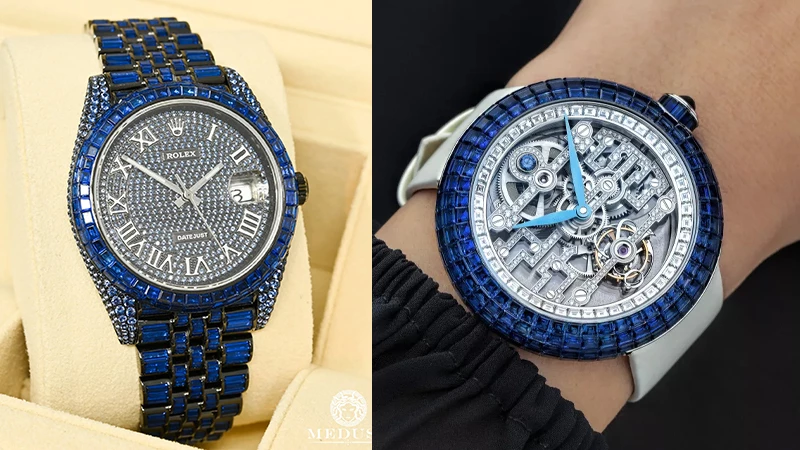 5. Ready to Elevate Your Style? Why Not Try Sapphire Bracelets?
If you're looking to inject a burst of color into your daily style, sapphire bracelets are the way to go. Whether you decide to rock a sleek tennis bracelet for that timeless elegance or go all out with a statement bangle, these gems are here to turn heads and steal hearts.
But wait, it gets even better. Sapphire bracelets aren't just a one-trick pony. You can flex them solo for that minimalist chic vibe or stack 'em up to create your own wrist-party masterpiece. The beauty of sapphires lies in their versatility.
From those classic tennis bracelets that keep the bling coming non-stop to the intricate designs that mix and mingle different gemstones, sapphire bracelets are like a fashion chameleon. They effortlessly adapt to your vibe, making sure you shine, no matter the occasion. 
6. Is Sapphire Jewelry for Men a Stylish Choice?
Dude, forget those outdated stereotypes! Sapphire jewelry ain't just a girl's thing anymore. Fellas, it's time to level up your accessory game with some sapphire swagger – think slick cufflinks, tie pins, and amazing rings that rock those blue gems.
Wearing sapphire jewelry is like wearing a badge of confidence and class. Whether you're suiting up for a fancy shindig or just want to sprinkle a little luxury on your daily drip, sapphire accessories are the move.
7. Is Sapphire and Diamond Jewelry the Ultimate Power Combo?
Sapphire and diamond bling is like the swag of luxury and sophistication rolled into one. Whether it's about rocking a sapphire and diamond ring, flexing a sapphire necklace, or dripping in some bomb earrings, you're basically bringing the party to any special occasion. These gemstones are all about that everlasting love and celebrating the individual vibes of each stone. So, the next time you wanna add some extra pizzazz to your style, remember, it's all about that sapphire and diamond magic, fam!
8. Is Custom Sapphire Jewelry Your Style Game Changer?
Why settle for the basics when you can rock the extraordinary? Dive into the world of custom sapphire jewelry and let your unique style shine.
Custom sapphire jewelry is about expressing your individuality in a major way. You get to link up with an expert jeweler and cook up something that's straight-up one-of-a-kind. We're talking hand-picking that sapphire gem like you're in a video game, and then laying down the design like an artist. What do you end up with? A legit masterpiece that's all you, for real.
9. Ready to Time-Travel in Style? Explore Antique Sapphire Jewelry
Imagine time-traveling through the ages with these vintage sapphire jewels– they're like little history books with a dash of romance.
You see, antique sapphire jewelry is the real deal  with intricate designs and cuts that'll transport you to another era faster than you can say "time machine." Think Victorian sapphire brooches and Art Deco sapphire cocktail rings – each one a living relic with its own epic tale.  So, if you're up for some time-tripping style, these pieces are where the magic happens.
10. Which Sapphire Color Sets Your Love Story on Fire?
When it comes to sapphire engagement rings, it's not just about sticking to the classic blue (although blue is still a total stunner). Nope, you've got a whole palette of colors to choose from:
i. Classic Blue Sapphire: This is the show-stopper, the one that's been stealing hearts for ages. It's like having a piece of the sky on your finger, and it's a symbol of wisdom and royalty.
ii. Pink Sapphire: Channel your inner romantic with a blush pink sapphire. It's all about tenderness, compassion, and adding a touch of sweetness to your love story.
iii. Yellow Sapphire: If you want to bring some sunshine into your life, go for yellow. It's all about joy, positivity, and good vibes.
iv. Green Sapphire: Green is for growth, harmony, and balance. It's like carrying a piece of nature with you, a constant reminder of the beauty in simplicity.
v. Fancy-Colored Sapphires: Now, if you're feeling extra adventurous, you can explore the world of fancy-colored sapphires. These gems come in all sorts of shades like orange, purple, and even black. They're like the rare Pokémon of the sapphire world, and each one tells a unique story.
So, there you have it! Sapphire engagement rings aren't just blue; they're a kaleidoscope of emotions and personalities. Pick the color that speaks to your love story, and you've got yourself a ring that's as unique as your relationship.
Sapphiriffic Wrap-Up
And voilà! Sapphire birthstone jewelry isn't just about adding a dash of bling; it's about letting your inner sparkle run wild. Whether you're crushing on the deep blues or vibing with the stories sapphires whisper, you're diving into a realm of everlasting allure. Dive right in and check out our handpicked fabulous 10 – they're practically a treasure trove of elegance that's going to leave you swooning!
Now, where do you get your hands on these gemstone goodies? Well, hang on to your hats, because GemsNY is where the magic unfolds! We've got an entire galaxy of dazzling sapphire jewelry and loose sapphires, just waiting for you to explore. So, why wait? Let's get the sapphire party started and bedazzle your world together!
Ready to make a sparkling statement? Click on over to GemsNY and let your sapphire adventure begin!