When it comes to December birthstone jewelry, December is blessed with intoxicating blues. Its three designated birthstones, zircon, turquoise and tanzanite present themselves as delightful options, but if they were to be pitched against one another, tanzanite would emerge the clear victor.
Tanzanite is an enigma. The gemstone is found exclusively at the foothills of the Mt. Kilimanjaro. Its mere sight evokes a deep, ritualistic music of tribal drums. Its color is born of a complex interplay between blue, purple and red, typically manifesting in a decadent blue complexion with hues of deep lilac and fiery flashes of red.
Since the conditions for its genesis are very specific, the likelihood of tanzanite being discovered elsewhere is abysmal. Meanwhile, its only reserve in Tanzania will be exhausted soon, making tanzanite quite rare and extremely valuable. Therefore, tanzanite isn't only one of the most gorgeous creations of the planet, but also a lucrative investment opportunity. 
Here are some of the ways you can incorporate it into trendy December birthstone jewelry.
Emerald Cut Ring
Originally tried out on Emeralds, the Emerald cut exudes the "We've got mad money and we don't talk about it" aura. It has a distinguishable rectangular shape, the small step cuts lead up to the flat, open top and create a "Hall-of-mirrors" effect. With water being mankind's first natural mirror, this effect is well suited for tanzanite's shades of blue. The long sides reflect light in broad flashes, bringing subtle sophistication to the table.
Pear Shaped Earrings
Pear shaped earrings are cult classics. Belgium's gift to the world, the pear shape retains its beauty in asymmetry. The rounded bottom softly curves up to the sides which taper into a pointed tip. Pear shaped tanzanite earrings look like frozen drops of mystical waters. Smaller studs will frame your face well and serve as daily wear while drop earrings are better suited for a glamorous night out.
Platinum Bracelet with Oval Tanzanite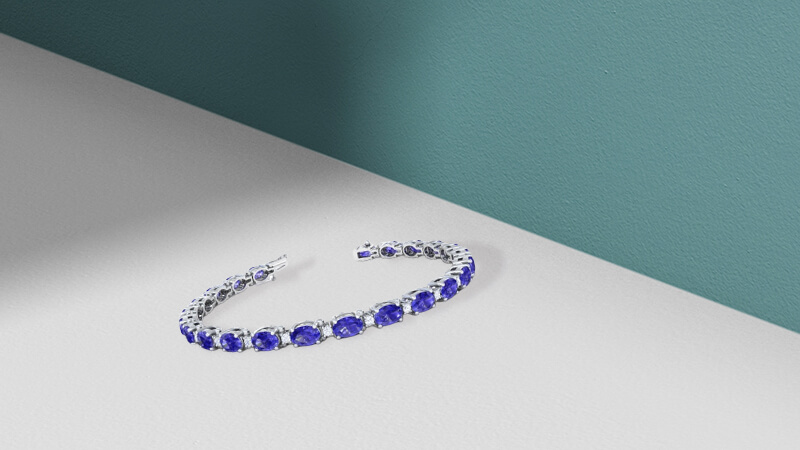 The painful truth is that evil eyes have become overused (dare I say Cheugy?) but that doesn't mean we're over them. One of the ways to mimic that style is an oval tanzanite bracelet. You don't have to be invested in warding off evil in order to choose this piece; it doesn't need any pomp or fanfare because it is remarkable as is. The cool tones of platinum and tanzanite complement each other while the oval shaped stone is a hallmark of elegance.
Two Stone Ring
Two stone rings stand out as they aren't that common. You know what else stands out? Tanzanite! A gold ring embellished with tanzanite is bound to make a stunning statement piece. Since we are dealing with more than one stone, several avenues open up in the realm of design. Let the shank snake around your finger and dance the stones into place. You'll love it!
Ruby and tanzanite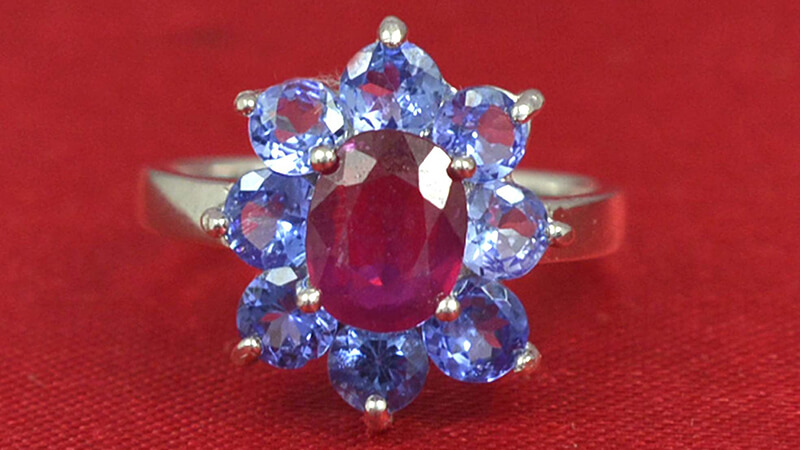 Roses are red
Violets are blue
If you like stunning combos
This one's for you
If inspected technically on the color wheel, red and blue are triadic and therefore extremely compatible. As the stones of passion and positivity, Ruby and tanzanite create a liberating aura. While you still have to go to therapy to eliminate the toxicity from your life it is still advisable to get yourself some ruby-tanzanite jewelry because
It. Is. Stunning.
It's a whole vibe.
Halo Ring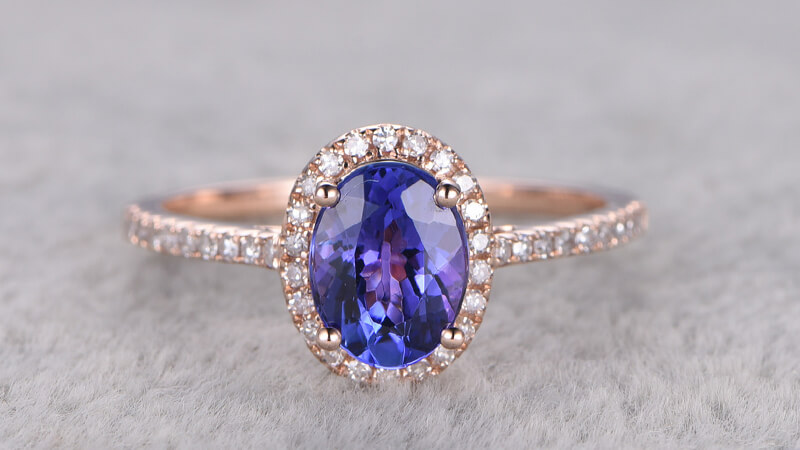 Tanzanite must be accorded the reverence it deserves. Setting it as a center stone in a Halo ring is one way to do that. Framing tanzanite in a circle of smaller diamonds or any other gemstones will heighten its beauty and draw attention to its incredible color. You could go the extra mile and embellish the shank as well. When designing your jewelry, doing it right means doing what you like.
Go Purple
You are probably not grasping just how varied the shades of tanzanite really are. Sometimes it's the menacing blue of Hades' hellfire and other times, a sheer blush of lavender. If you are ready to turn self-care into an investment and not yet sure about what you want your tanzanite to look like, here's a tip: go purple. There are many other varieties of distinctly blue gemstones, such as Sapphire, Aquamarine, Zircon etc. This decision is entirely dependent on your personal predilections, but tanzanite gives you a chance to stray from the common standard of Red, Green and Blue and invest in something precious and purple.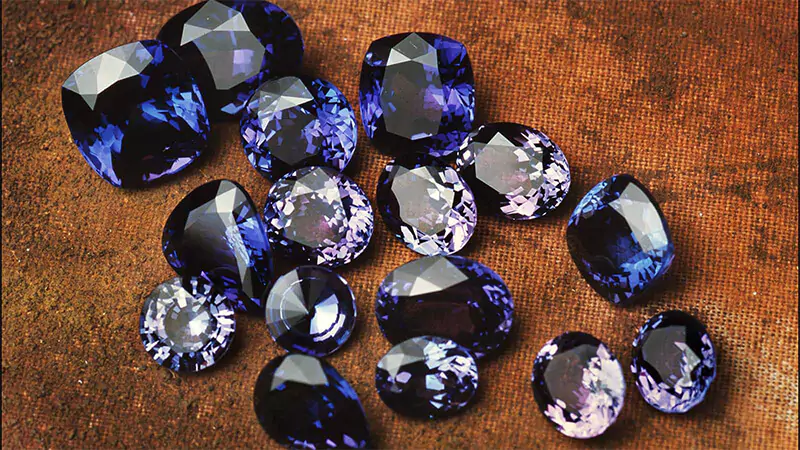 Still can't decide on a piece of jewelry but don't want to miss out on the opportunity of investing in tanzanite? We got you. Check out our collection of loose gems and order yourself a December birthstone jewelry i.e. tanzanite today.