Getting to choose your favorite birthstone is not always an option for some, why? Because some months have only one birthstone. Not December babies though, they are lucky enough to have quite a few options! There are 3 absolutely stunning gemstones that rule the month of December – Tanzanite, Zircon, and Turquoise.
The December birthstones offer a variety to choose from – from the purple to bluish-purple shades of tanzanite, to the intense green-blue of turquoise to an array of colors of zircon, there is a shade of blue and purple for everyone.
Rarer than diamonds, tanzanites have won our hearts because of their velvety tone of colors! Tanzanite is a new gemstone compared to other colored gemstones.
Zircon gemstone has achieved its unique name from the Persian word "zargun", meaning "gold-hued". This gemstone is found in a rainbow of colors. Yellow, red, and orange zircons are known as hyacinth, a name derived from the flower Hyacinthus.
Turquoise – the unique blue-green gemstone has been around for more than 3000 years and has made a place in people's hearts because of its breathtaking hues of colors.
All three December birthstones are unique and have special characteristics. We are here to help all the December babies decide on which to choose.
Tanzanite
The blue and violet variety of the mineral zoisite is the rare gemstone Tanzanite. The December birthstone is believed to symbolize dignity, truth, and wisdom. The rare gemstone is also popular for its unique characteristic of pleochroism, which means the gemstone displays different colors when viewed at different angles and in different lighting.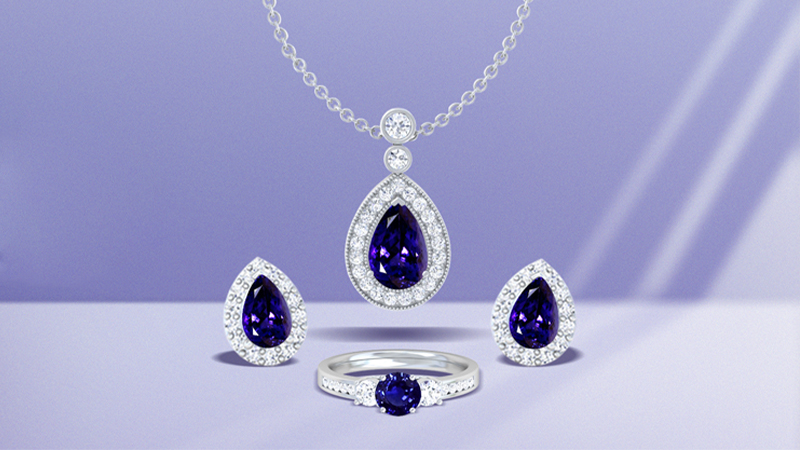 Tanzanite can be found in only one part of the world – Tanzania! These gemstones are considered rarer than diamonds. The purple-hued stone is measured 7 out of 10 on the Mohs scale of hardness. While it may not be as hard and durable as sapphires or rubies, it is still durable enough to wear as jewelry, including engagement rings.
Tanzanite jewelry is unmistakable due to its glamorous appeal and the gemstone itself is quite affordable compared to the 'Big Three' colored gemstones. GemsNY has the best and finest quality loose tanzanite gemstones as well as jewelry that can be molded as per your requirement.
Facts about Tanzanite
Tanzanite was discovered for the first time in 1967 in Tanzania
The largest mined tanzanite is called 'L'Heure Bleu'
The gorgeous gemstone can be gifted on the 24th-wedding anniversary
Zircon
The other exquisite December birthstone is Zircon. It derives its name from a Persian word, zargun, which means "gold-hued". Zircon can be obtained in an array of colors – from colorless, to reds, blues, yellows, etc.
Zircon gemstone is scores 7.5 out of 10 on the Mohs scale of hardness. Although compared to other colored gemstones it is softer, this gemstone is still durable and can be used as an everyday wear accessory. Remember, taking care of softer gemstone jewelry will help in increasing its life. Zircon is also used in different industries. It is used as a refractory material in many casting applications because it is very stable at high temperature
This extraordinary gemstone can be found all around the world. Countries like Sri Lanka, Cambodia, Vietnam, Myanmar, Australia, etc. are the major producers of zircon.
Facts about Zircon
Colorless Zircon looks quite similar to diamonds.. Zircon is said to be denser than diamond, which means that a 1-carat zircon will be smaller in size when compared to diamonds.
Zircon is believed to enhance innocence, purity, and constancy. It is also believed to increase stamina and perseverance, heals injuries, and soothes pains.
Zircon has been on the face of the earth for more than 4.4 billion years, making it the oldest mineral on the planet.
Turquoise
Another gorgeous gemstone used as the birthstone for December is Turquoise. Turquoise bears many different names. The word turquoise, however, is derived from the French word 'turquois' meaning "Turkish" as this gemstone was first brought to Europe from Turkey.
Turquoise is measured 5-6 out of 10 on the Mohs scale of hardness making it one of the softest gemstones when compared to other color gemstones. Turquoise is known for its beautiful blue-green hues. Though softer, turquoise can still be used as a daily adornment but needs to be taken care of to increase its life.
Turquoise is believed to be a holy stone for ages and is known to be a bringer of good fortune. In ancient times in the Persian Empire, turquoise was worn around the neck or wrist to protect one from unnatural causes of death.
Facts about Turquoise
Turquoise is the only gemstone that has a color named after it.
The Nepalese and Tibetan people call this beautiful blue stone the "sky stone"
The December birthstone is known to change its color if kept in bright light.
GemsNY is a bespoke jewelry company and we carry more than 50,000 natural gemstones from around the world in various shapes and sizes. Although we do not carry the gorgeous December birthstones – Zircon and Turquoise, we can always source them for you and make the jewelry just like you dreamed. We have different shades of tanzanite gemstone and if you would like own one, there is no better place. Click here to explore more!