Have you ever wondered what can profoundly portray a perfect picture of cherished moments of your relationship? While there are a lot of ideas that can emblem your love, eternity bands outcast them all.
But the question is, where did the eternity bands come from?
Eternity bands have a long and rich history. They date us back to the old era of Egyptian times, almost 4,000 years ago. In the 1960s, eternity bands became insanely popular when men started to gift their wives eternity bands as a token of their everlasting love for them. Since then, women have been adorning themselves with eternity bands.
Want to know why eternity bands will never go out of style? Here are some solid reasons why they never will.
1. They Alone can Run the Entire Show
Why do you need another ornament when you have an eternity band that encompasses all the sparkle you need to dazzle? Every part of an eternity band displays a significant amount of shine, making people roll their eyes at your ring.  
The fact about eternity bands is that you don't need to pair them with any other jewel to hoist your appearance; they alone can run the entire show.
2. Unimaginably Unique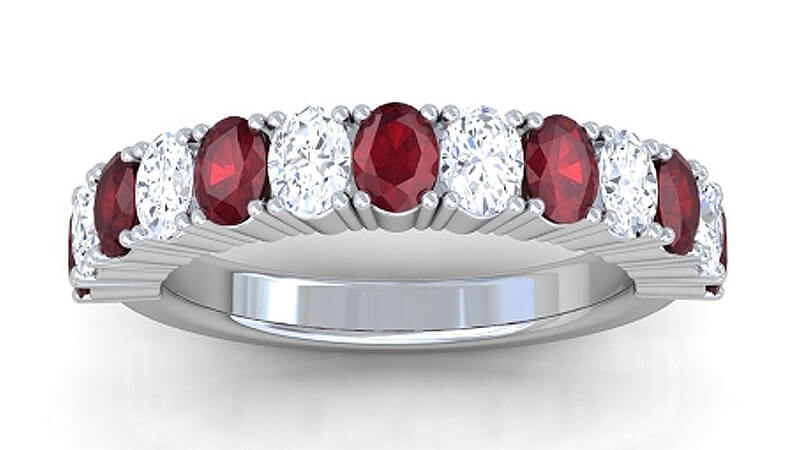 Eternity bands are unique! But why? This question always tickles our minds, doesn't it?
Let's start with the emotional factor of eternity bands. Eternity band is a true-to-life bioscopic show of the time that you have spent together. When you place an eternity band on her finger, you commit her to stick together through all ups and downs.
Now, let's jump to the style factor. You can be as creative as you want to be with your eternity band. Every design is unique when it comes to an eternity band. You can either go with the prong setting that allows the stones to show their sparkle or the bezel setting that secures the stones by encasing them in metal.
If you already know her liking, then it's time to get her a dazzling eternity band to signify your endless love for her. We, at GemsNY, are savvy at designing your dream eternity band that will be a true sign of your love for her.        
3. Every Stone is A Center Stone
Wait… what? Every stone in an eternity band is a center stone?
Yes, each stone in an eternity band works as a center stone. Generally, the center stone disappears under your finger when you spin your ring, which is not the case with eternity bands. Eternity bands are embellished with gemstones all over the shank, making every stone a center stone. So, enjoy spinning your ring and let each stone take the pleasure of being the center stone.  
4. They Last Like Your Love
Eternity bands are a gesture to commemorate the moments you and your partner lived together. The circular shape of the eternity band symbolizes the circle of life and never-ending love for your life partner.
An ordinary jewelry gift can't be enough to show your significant other how much you love her, but an eternity band is the one that will witness your love for years to come.     
Conclusion
Finding true love might be a tough row to hoe but a show-stopper eternity band isn't. Take an excursion to our enticing collection of eternity bands featuring diamonds and other gemstones. Also, you can connect to our experts if you want to customize your eternity band by yourself.         
Let us know what you think in the comments.