What is your perfect blue – sky blue, ocean blue or cornflower blue? Everyone has a preference when it comes to choosing the perfect blue. These predilections also reflect in people's choice of blue sapphire which is often termed 'the powerful gemstone'. It's not just the beauty of this splendid gemstone but also the astrological prowess associated with sapphire that everyone wants to have as flawless stone as possible within one's budget. With so many online and offline stores selling blue sapphires, it sometimes becomes confusing to pick the right one. This guide about how to buy a blue sapphire will put to rest all of your confusions.
Color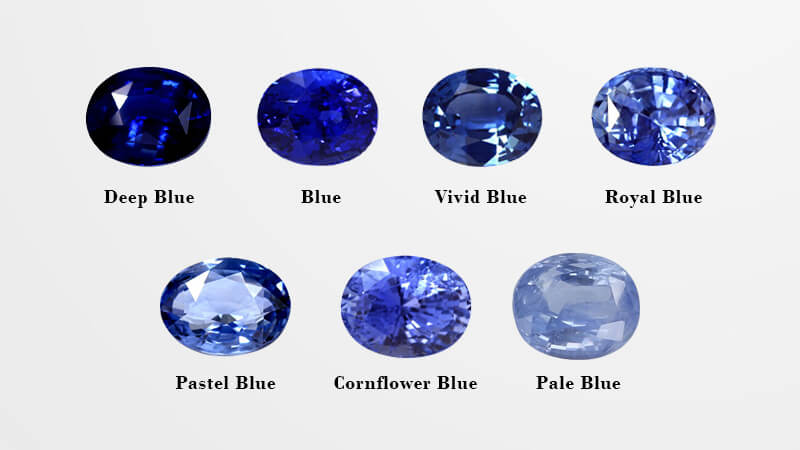 As with all color gemstones, sapphire also derives its value primarily from its color. The brighter and more vivid the color, the higher the price of the stone. The most prized shade of blue is the strong velvety blue which is also referred to as the cornflower blue.
The blue shade of sapphire can be anywhere from pale blue to violet blue. It really boils down to your own preference of the shade. However, while scouting for the perfect color, keep in mind to compare various shades of blue sapphire against a white background such as that of a white paper to properly discern the difference in shades.
Color Saturation
Color saturation simply means how pure a color appears in a sapphire. Different blue sapphires have different color saturation. It is similar to the difference between two television sets where in one you find colors to be more vivid and bright as compared to the other, for a given setting. Likewise, when you look at two sapphires under the same lighting you may find one to exhibit better purity of color while the other may be veering towards gray or some other shade.
Sapphires with cornflower blue shade and a high degree of saturation command a higher price as compared to others. Look for a sapphire that has the purest shade of blue according to your taste and which has an even spread of color throughout.
Clarity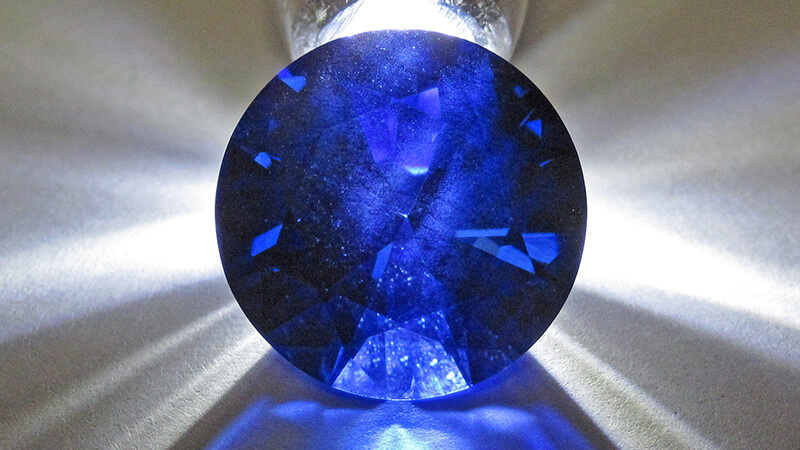 Consider two glass jars with colorless water but in one you can see some small fragments of leaves or other particles whereas the other is free from such visible impurities. This is what clarity means and the same idea applies to the world of gemstones as well. Many people confuse clarity with transparency but the two are distinct optical attributes.
In the case of blue sapphires, you might come across some stones wherein you can see some blemishes or other materials trapped inside. Such stones should be avoided as they are not valued well. When you buy a blue sapphire, one way to look for such impurities (called inclusions) is to hold the blue sapphire against a light source and tilt it in various angles for proper inspection.
Transparency
When a stream of light entering a gemstone is equal to the stream coming out of the other end without significant scattering, the stone is said to be fully transparent. A stone with fewer inclusions may have the same transparency as the one having the same clarity but more flaws. Likewise, two blue sapphires may not have any inclusions and yet may vary in transparency.
Transparency is also dependent on the precipitation of blue color. A light shade of blue may be more condensed in a stone as compared to a dark shade with less color density. The opposite of transparency is opacity and a sapphire will eventually look opaque if the color density becomes too high irrespective of its shade. Such stones are valued extremely modestly. So, when you buy a blue sapphire, give enough thought to this aspect.
Cuts and Shapes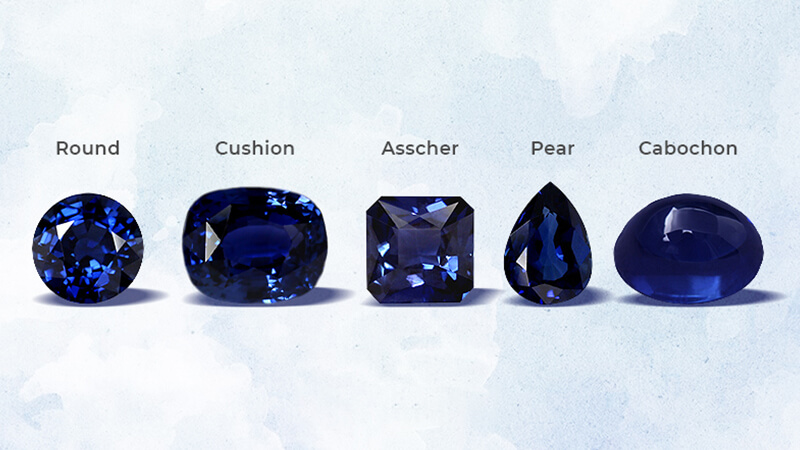 The next consideration in our blue sapphire buying guide is the cuts and shapes of the gemstone. Quite often cuts and shapes are confused for one. Let's say you are looking for a round blue sapphire. If from above you look at a cabochon cut stone and a brilliant cut stone, both will appear round but the difference lies in their cuts or facets. A cabochon usually has no facet except the flat bottom whereas a brilliant cut has 58 facets. Similarly, many other combinations of cuts & shapes can be found.
In order to achieve maximum sparkle, a stone needs to be faceted in precise geometrical fashion. The perfection of craftsmanship in achieving those angles significantly increases the time and effort involved thereby increasing the price of the stone. Achieving the perfectly faceted surface also leads to compromising the material of the stone thereby leading to a rise in price per carat.
Symmetry
Symmetry in the shape of a blue sapphire or for that matter any other gemstone enhances its overall appearance and feel. A symmetrical sapphire does not have flaws such as 'fish-eye' or a window as it is commonly called. If there is an offset culet (the pointy part where the bottom facets meet), it leads to a window or a fish eye letting the light pass through thereby reducing the sparkle of the stone. Further, asymmetry can lead to a stone being lop-sided.
One way is to look at the stone carefully under magnification to see whether the width of the girdle is uniform and pavilion facets (the bottom facets) meet at the right point leaving no culet. Another way is to look at the stone measurements & data related to crown (the top part), girdle (the middle part) and pavilion (the bottom part).
Carat Weight & Size
The carat weight of two blue sapphires may be the same even though their sizes may appear different. This is because a shallow cut gemstone occupies a broader surface area as opposed to a deeper cut stone which appears to be smaller.
The deeper cut stone, however, exhibits more sparkle due to its ability to hold in more light. Now it is entirely your call whether you like to trade-off a bit of sparkle for size or vice-versa. Therefore, in order to make the right decision, it is better to look at carat weight in conjunction with the measurements of the stone.
Treatment
Blue sapphires are treated in many ways to either enhance their color or improve their structural integrity. Heat treatment is the most common, traditional and accepted type of treatment performed on blue sapphires to lend them better color and clarity.
A sapphire is subjected to extremely high temperatures similar to that responsible for its genesis. Exposing sapphires to temperatures ranging between 1200 and 1700 degrees Celsius dissolves certain inclusions, making the gemstones clearer and enhancing their color.
Other treatments such as Beryllium treatment, surface diffusion, and fissure filling with gas also exist. There is a significant difference in the price (of up to 50%) of heat treated sapphires and those treated in other manner. So, a full disclosure is mandated on a seller. Untreated heirloom quality blue sapphires are extraordinarily rare and thus command a premium price. Insist on knowing the full details of any treatment before you buy a blue sapphire.
Origin
The decision to buy a blue sapphire is also influenced by the origin of the gemstone because gemstones from certain origins command a premium price. The reputation of an origin to produce exceptional quality blue sapphires serves as a sort of benchmark.
Besides, lore and legends associated with a source also create a perception of high value blue sapphires coming from there. For example, Kashmir Sapphires from India are regarded as the best in class against which the price of all blue sapphires is measured even though the mines in Kashmir have long been depleted, making the stone a collector's item and a prized possession.
Blue sapphires are mined in various parts of the world such as India, Sri Lanka, Myanmar (Burma), Thailand, Australia and Madagascar.  As a buyer, you should be more concerned about the quality of a blue sapphire as entailed above than about its origin because all origins are known to produce both low and high grade blue sapphires. If you want to learn more about grading of a blue sapphire, click here. 
Certification
Certified blue sapphires might cost you a few dollars extra but a certificate establishes the identity of the stone.  You can be sure that the blue sapphire you are buying is indeed a real natural sapphire and not a fake or a simulant. A certificate typically has information related to the mineral composition, shape, cutting style, transparency, color, dimensions and carat weight of the blue sapphire. 
Some of the most reputed independent gem certifying labs are Gemological Institute of America (GIA), American Gemological Laboratories (AGL) and International Gemological Institute (IGI). Many jewelers of repute such as GemsNY, also issue their own certificates which command a high goodwill in the market. Therefore, before you buy a blue sapphire, make sure that it has a certificate of authenticity.
Price & Budget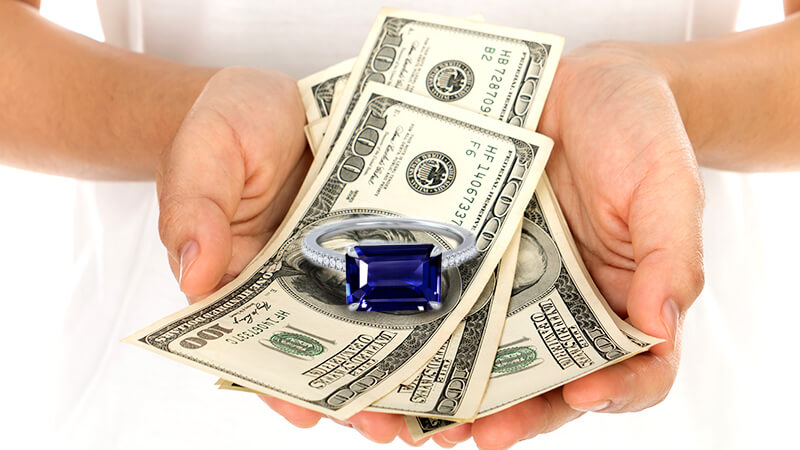 Keeping the overall grade constant, the price per carat of a blue sapphire does not move in linear fashion but rather it keeps on rising at an increasing rate due to the fact that larger gems are increasingly rare to find. So, extrapolating the price of a bigger gem based on a smaller stone can lead to serious underestimation.
If you want to buy a blue sapphire of size but are running on a limited budget, you can choose a cluster setting for your ring or other jewelry piece. A setting that features many small blue sapphires clustered together more than makes up for the compromise on size, by being more affordable and more exuberant.
Purpose
Why do you want to buy a blue sapphire? The purpose of making the purchase can have a lot of influence on what you buy. For example, if you are buying a blue sapphire for the legacy and history it carries, then you should be willing to invest a sizable amount of money.
On the other hand, if you want to gift a blue sapphire jewelry to someone on her graduation, then perhaps you would want it to be simplistic. It would not be the same case for an engagement ring where you would probably want it to be swanky.
This means that the purpose governs your budget which in turn determines the size and other parameters of the stone you want to buy.
The enigmatic beauty of blue sapphires has got us all hooked for a very-very long time and it's no surprise that everyone wants a piece of that sublimity. Now that you have a fair degree of understanding, you can confidently go ahead to buy your perfect blue sapphire. And if this article has helped you in any way, then do follow us on Instagram, Facebook and Pinterest to see your favorite gems in various avatars.