A ring on a man's finger may appear inconspicuous but it certainly adds a je ne sais quoi to his persona. And if it's on the ring finger of the left hand, it sends out an instant message that your man is off-market. Therefore, something so significant must be your top priority. After all, your significant other is going to wear the wedding band for the rest of his life!
We've rounded up some great options for you to consider. These wedding bands are perfect for a lifelong association. 
Metal Bands
Metal wedding bands are not dependent on changing fashion trends, they are evergreen. They come in a variety of styles and finish such as matt finish, bead works and filigree. These bands are also available in a variety of precious metals such as classic gold, white gold, rose gold, platinum etc. Additionally, these bands come in a variety of widths for the perfect look. All these choices allow your significant other to find the metal band that will be truly cherished.
Gold is perhaps the oldest of metals used in jewelry. Classic gold is instantly recognizable due to its unique luster.
Brooklyn Beckham, the son of the famous soccer legend David Beckham and fashion designer Victoria Beckham, wears a plain minimalist gold band with a single diamond.
The classic yellow gold bands, created by expert goldsmiths at GemsNY will be a perfect choice, if your man desires the traditional look. 
Other than classic gold, white gold bands have been trending and are a great affordable alternative to platinum. They are also slightly lighter than platinum, so for those who want a lighter feel, this is a great option.
Rose gold is becoming a popular choice especially with women who love pink and want their man to wear a matching band. People today want to experiment with new metals and colors, bringing rose gold high in their list of favorite metals.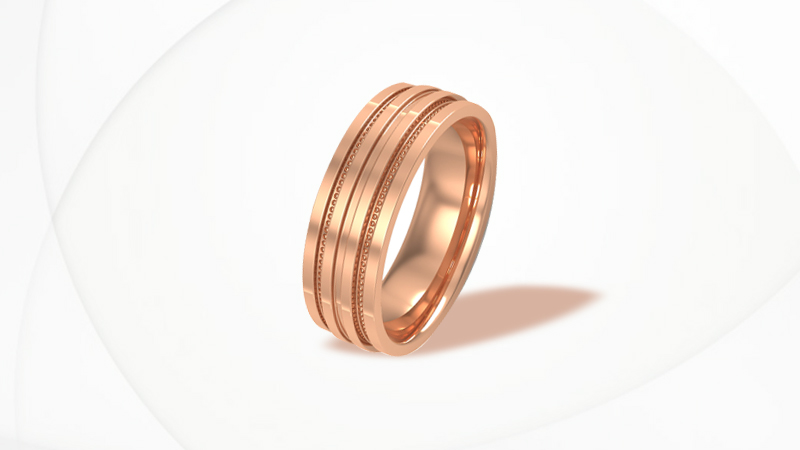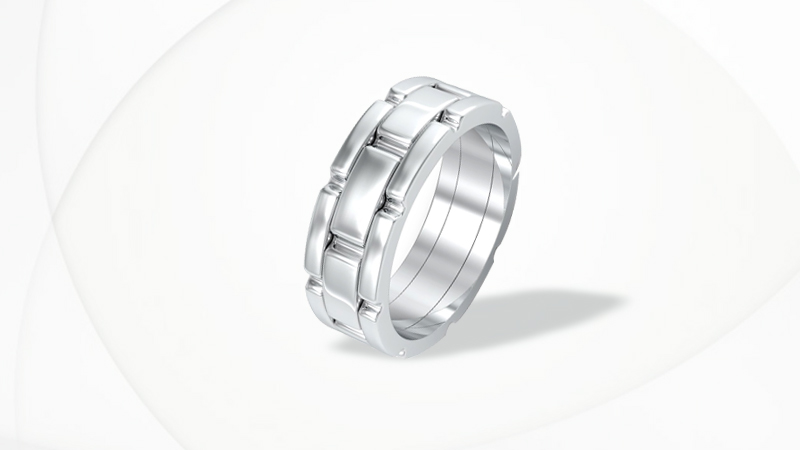 Platinum is denser and stronger than gold or any of its alloy. Its strength and durability makes it the best choice for your man's wedding band.
Prince Harry, the Duke of Sussex and a royal of the modern times, wears a textured platinum band to show his marital status.
George Clooney and his wife both wear a minimalist platinum wedding band matching each other's.
GemsNY's collection of platinum wedding bands is no less of a show stopper. Explore here.
Sapphire Bands
Sapphires are truly amazing due to the myriad of colors they are available in. The royal blue, which is the most popular color, is perhaps the men's most preferred color. Our bands are created with alternating sapphires and diamonds, which create a great contrast and make the sapphires pop even more!
Ruby Bands
Rubies are known to symbolize the passion and commitment in a relationship. According to some legends rubies are fire that's been hardened and they hold the power to reconcile the differences between lovers and rekindle love.
Emerald Bands
The magnificent green of emerald represents the beauty of spring. The bold and unique wedding band encrusted with clear natural emerald will surely add to the style of your man.
For a sensational emerald wedding band your search ends here. You can take cue from our recent bespoke emerald bands.
Diamond Bands
Diamonds don't need any introduction. They are the most durable and most popular choice for wedding bands. The versatility of diamonds makes them an excellent choice for your to-be husband's diamond wedding band. Diamond wedding bands signify the strength and permanence of a relationship. 
Dwayne 'The Rock' Johnson's wedding band gets its bling from diamonds studded onto rock-solid gold.
You can set a diamond in a wedding band in a solitaire setting or with side-stones; each one will look astoundingly classy. Diamonds set in a channel setting with a sapphire or a ruby will be a sight to behold.
Whether you want a minimalist look with a single diamond or set out to make a bold statement with your extravagant dazzler, you may bookmark our page for that perfect piece.
How would you like to select a wedding band for your to-be-husband? Will you follow a trend or set one? Irrespective of the route you choose, it's better to start your search early. In fact, you don't need to search because you'll find whatever you desire, right here on our platform, GemsNY. You can also bring your own design and we'll be glad to shape it for you.