The flare of nationalism could be sensed in the air the civilians of a free nation breathe in. After facing years of struggle & resistance in terms of tons of bloodshed & rebellion, the unity of a nation's forces and its undeterred belief in patriotism wins independence for its nation and its people. This priceless moment brings an immense sense of joy and pride to every citizen of a democratic country.
Remembering the Glorious Stars and Stripes on US Independence Day
The fourth of July every year is a federal holiday in the United States of America for a reason all of us feel blessed and secure. This glorious day marks the remembrance of the moments when the thirteen colonies under the rule of the British monarch, King George III were declared independent and united on 4th July 1776, giving each American a ray of hope and a reason to celebrate freedom for the centuries ahead.
Since then, this national day is celebrated with utmost zeal and sincerity throughout the nation by people of all ages and beliefs to pay tributes to the legends who sacrificed their lives while earning freedom for the nation from British forces. There are concerts, carnivals, fairs, parades, barbecues, etc. organized as public and private events with huge fireworks displays and political speeches given by leaders.
Celebrating the National Unity with Timeless Jewelry
National Independence not only preaches us the relevance of unity and freedom in our lives but also teaches a lesson in how essential it is for each individual to follow personal goals while respecting others' preferences and beliefs.
So, are you also excited to join the celebrations and festivities around the nation on the 4th of July? Have you been planning your outfit and accessories for the day? Then below are a few trendiest jewelry accessories that could make you stand tall and proud as you greet your nation's pride, your national flag.
Ruby Jewelry
Red crystals of ruby resonate with the red stripes of the "Old Glory" and hence could be opted to grab the eyeballs at the Independence Day carnival. A ruby necklace will give a more elegant and crystalline look when matched with a flawless white gown. Rubies would give you the perfect glam-up for a barbecue party, so amp up your look with either minimal-sized stones or massive ones to steal the show.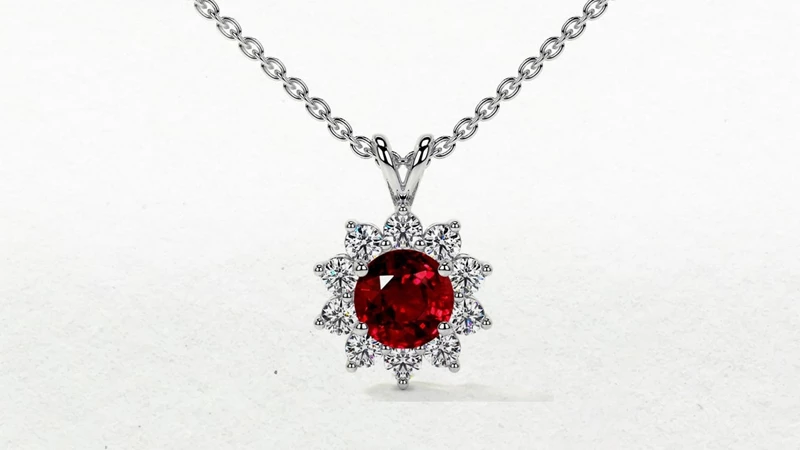 Alexandrite Jewelry
Known for its mystical color-shifting properties, alexandrite is a dream possession for every soul living on this planet. These mesmerizing stones display tones of red and green when viewed under different sources of light which makes them popular among fashion enthusiasts. An alexandrite ring can give you the warmth of rubies at night and the soothing of emeralds during the day, hence it's a perfect gem to treasure and a perfect treat to offer at the Independence Day celebration.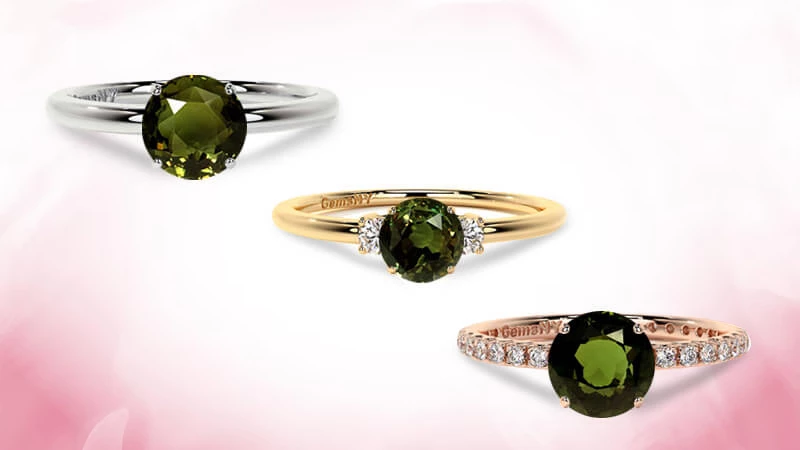 Emerald Jewelry
The natural greens of the all-time favorite emeralds are a privilege enjoyed by the royalties and high profilers. Emerald gemstones could gather undivided attraction for its ability to blend well with all the metal colors and gemstone-cut settings. The intricate design of an emerald tennis bracelet or the eternal charm of an emerald solitaire ring would make your greens stand out in the crowd at the Independence Day fair. So, get ready to complement your emerald jewelry with the classic red and white striped top and dark blue pants to make every eye dazzle.
Sapphire Jewelry
Blue sapphires represent the royal blues flowing through the stars studded on the American national flag, hence pairing a blue sapphire ring with dainty diamonds aligned close to it will give you an effortless look for the Independence Day concert. So, if you already have your tri-colored inspired attire ready, then curate all the blues out of your sapphire collection to tag along with your style and confidence.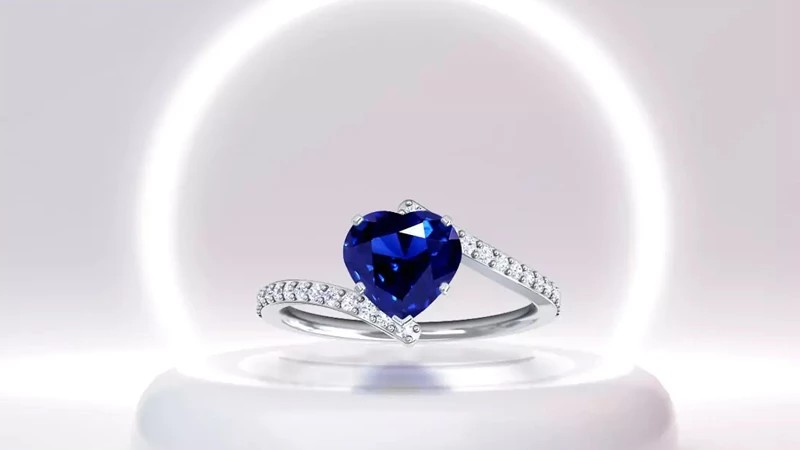 Tanzanite Jewelry
If you cherish dark-colored blue gemstones, then tanzanite would do the needful for you to grace your look in this Independence Day parade. This is another blue-hued stone that is as adorable as the blue-colored sapphires. But the best part of owning a tanzanite is that it is cheaper than the sapphires which makes it more acceptable as a substitute for the blue ones. So, pair your Independence Day outfit with a Tanzanite bracelet and witness the attention you would eventually grab.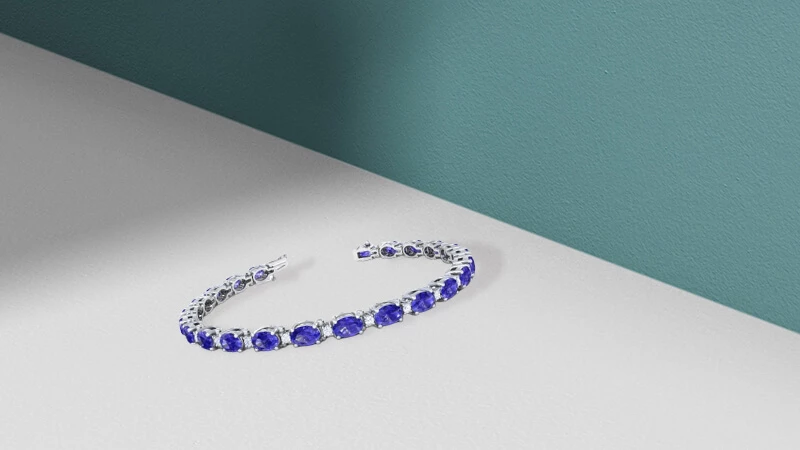 Silver Jewelry
Silver is a natural color with inherent shine which makes it suitable for any occasion. The best part of wearing silver jewelry is that it would complement all colors in your dress and would double the grace of any gemstone that is augmented in it. A huge silver pendant slipped into a link chain could make you the center of attraction at any gathering and pairing it with dangling silver earrings & a glowing silver ring would complete your party look for the Independence Day fireworks show.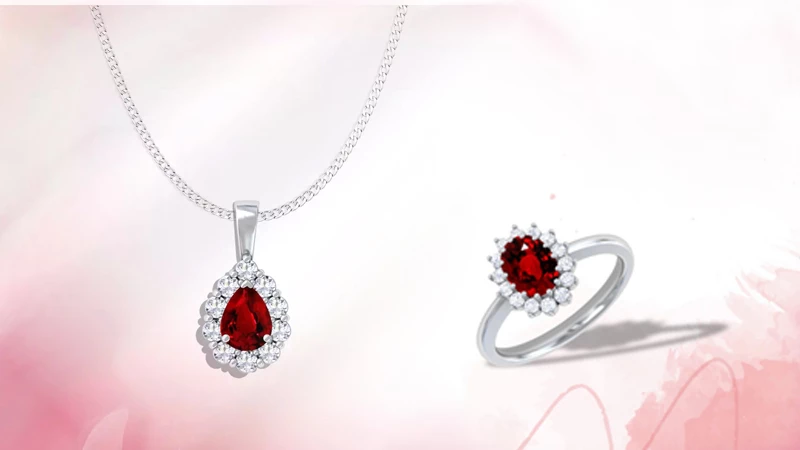 American Flag-Inspired Jewelry
While the traditional style jewelry is in possession of millions and could grace any event with its timeless elegance and ceaseless charm, the best jewelry you could ever wear on the occasion of Independence Day is the one influenced by the national colors of the US flag. The market is brimming with pendants, earrings, bracelets, etc. drenched with the hues and patterns of the stars and the stripes and we believe that the best occasion to wear them would be while attending the Independence Day parade. So select your pick from the ones available in ceramics, enamel, and beaded styles apart from the regular gemstone jewelry.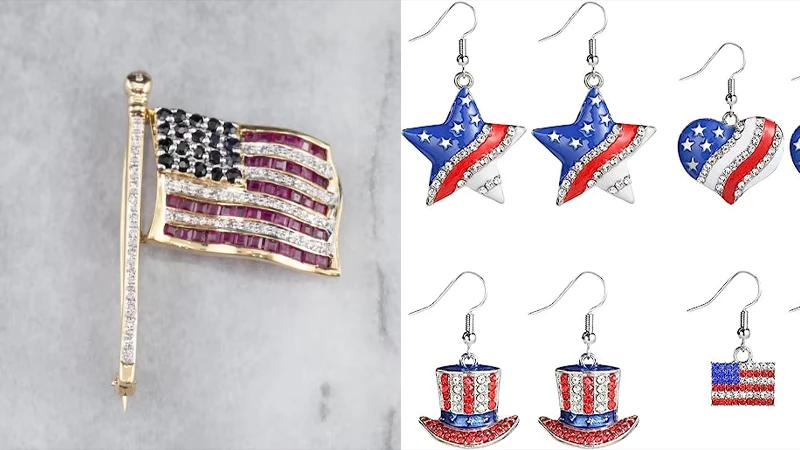 End Note
There's no way you could enjoy a celebratory event without cladding in elegant attire and pairing it with some matching jewelry accessories. Be it a wedding night, anniversary celebration, birthday event, or something as prideful as the Independence Day union, we have a perfect set of gemstones for you to greet your guests and flaunt your flawless style. Browse our extensive collection of alexandrite, emerald, ruby, sapphire, and tanzanite jewelry designs and pick the best for yourself.