When discussing the expression of affection, selecting the ideal gift can pose a challenge. Nonetheless, a spinel necklace possesses qualities that render it a remarkable option. With its enchanting aesthetics, profound symbolism, and lasting allure, a spinel necklace encapsulates the essence of love in an extraordinary manner. This article delves into the distinct characteristics that make a spinel necklace an impeccable choice for conveying sentiments of love. Spinel pendant necklaces undoubtedly represent finely crafted gems and tokens of affection, but what underlies the practice of gifting gemstone jewelry? Let's begin at the inception.
Gemstones have captivated humanity for ages due to their exquisite attractiveness and mystical allure. Across history, gifts of gemstone jewelry have held significant meaning, symbolizing emotions such as love, power, and protection. Across ancient civilizations and into contemporary cultures, these precious stones have featured prominently in various customs and ceremonies.
Historical Origins
The intrigue surrounding gemstones traces back to ancient times when they were thought to possess magical attributes and supernatural powers. For instance, in ancient Egypt, gemstones like emeralds, lapis lazuli, and spinel held immense value. These gemstones are believed to bring protection, prosperity, and good fortune to their wearers.
In the ancient Greek and Roman cultures, gemstones were linked to deities and often worn as charms to invoke good luck. Greeks perceived these gems as possessing unique powers aligned with planets and constellations. Similarly, in India, gemstones were associated with energy centers known as chakras, believed to confer spiritual and healing benefits. This made gemstone jewelry an ideal gift for various occasions.
Symbolism and Emotions
Gemstone jewelry has long been regarded as potent symbols of emotions, making them popular choices for special moments. Each gemstone carries unique meanings, often representing qualities such as love, bravery, wisdom, and luck. For example, red spinel signifies enduring love, while rubies embody passion and vitality. Sapphires are linked with wisdom, and emeralds represent rebirth and fertility.
Birthstones, assigned to each month, have been exchanged as personalized gifts for centuries. These stones are believed to bring good fortune and safeguard the wearer, rendering them cherished tokens of affection and triumph.
Cultural and Spiritual Significance
Gemstone jewelry also holds cultural and spiritual importance in various global traditions. In many Eastern cultures, gemstones were used to balance energies, facilitate healing and attract positivity. These stones often find a place in practices such as meditation, energy healing, and spiritual rituals.
In Chinese culture, jade carries profound cultural significance as a symbol of purity, wisdom, and prosperity. Jade jewelry is frequently handed down through generations as a family heirloom and is believed to bestow good luck and protection.
Modern Significance
In contemporary times, gemstone jewelry remains cherished for its aesthetics and emotional value. These treasured pieces can become family heirlooms, representing traditions, memories, and connections. Whether as an engagement ring, pendant, or bracelet, gemstone jewelry frequently marks significant milestones such as engagements, anniversaries, and birthdays.
Furthermore, the rebirth of alternative healing practices and crystal therapy has sparked renewed interest in gemstone jewelry. Astrologers suggest that wearing specific gemstones can enhance well-being, foster positive energy, and offer emotional support by influencing planetary effects on an individual.
What Elevates a Spinel Necklace as an Ideal Love Gift?
With that said, let's explore the factors that position a spinel necklace as an exceptional expression of love
The Enchantment of Spinel
Spinel, a gemstone renowned for its captivating allure and remarkable radiance, is a fitting choice for a necklace. Its vibrant color spectrum, ranging from deep reds to captivating blues, makes it a perfect option. The lustrous transparency of spinel gives rise to an exquisite sparkle reminiscent of precious gemstones like rubies and sapphires. The allure of spinel lies in its capacity to capture and reflect light, producing a dazzling presentation that commands attention and admiration.
Symbolism of Affection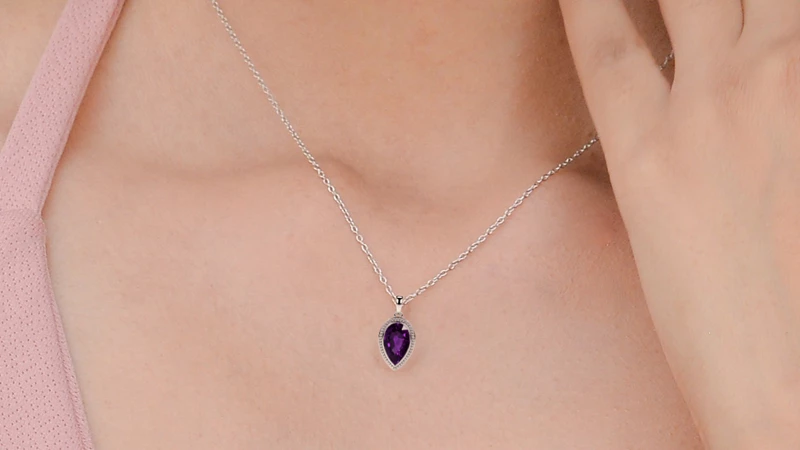 Gemstones have historically been linked with profound symbolism, and spinel is no exception. In the realm of love, spinel symbolizes devotion, passion, and energy. Its deep red hues evoke sentiments of love and yearning, rendering it an ideal gemstone to convey heartfelt emotions. A spinel necklace serves as a timeless embodiment of the intensity and wholesomeness of one's affection for another.
Sturdiness and Timelessness
A remarkable attribute of spinel is its extraordinary durability. With a hardness score of 8 on the Mohs scale of hardness, spinel is notably resilient against scratches and everyday wear, meaning a spinel necklace can withstand the test of time. This durability serves as a metaphor for love's enduring nature, making a spinel necklace a suitable gift to symbolize an everlasting and enduring bond.
Adaptability and Elegance
A spinel pendant necklace boasts versatility, effortlessly complementing various styles and occasions. Be it a formal event or casual outing, the elegance and sophistication of a spinel necklace add a touch of allure to any ensemble. Its flexibility permits it to be cherished and worn over a lifetime, serving as a continuous reminder of the affection shared between two individuals.
Personalization and Sentiment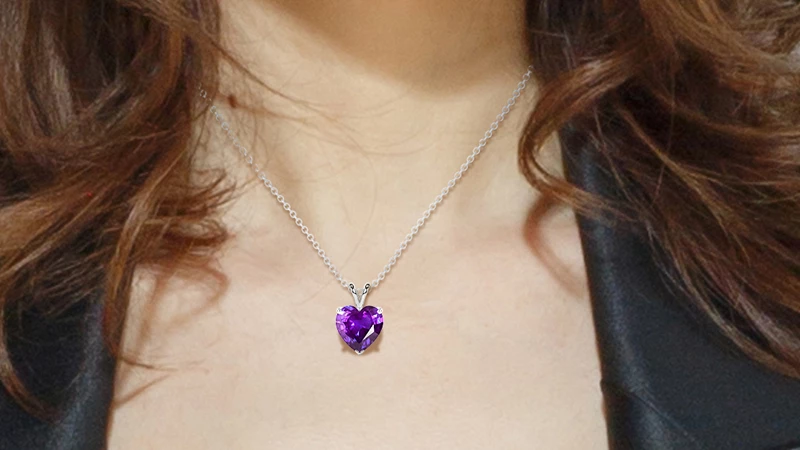 The presence of a spinel necklace can be elevated further through personalization. You can amplify the sentimental value of a spinel pendant with thoughtful engravings and designing it creatively along with incorporating colored gemstones as accent stones. This personal touch renders the gift uniquely tailored to the recipient, reflecting their individuality and the depth of the giver's love.
Conclusion
Gemstone jewelry gifts boast an ageless allure that transcends cultural and generational boundaries. From their ancient origins steeped in mythology to their modern symbolism, gemstones occupy a meaningful space in human history. Cherished for their beauty and esteemed for the emotions they symbolize, gemstone jewelry gifts make enduring tokens of love, celebration and spirituality. When the objective is to express love, a spinel necklace emerges as an exceptional choice. Its captivating aesthetics, profound symbolism, durability, and versatility collectively present it as an apt representation of love's essence. A spinel necklace serves as a tangible emblem of devotion, passion, and lifelong commitment, encapsulating the profound emotions shared between two individuals.
By presenting a spinel pendant necklace, you can add a memorable milestone in the journey of your love life. So, what are you waiting for? Pick a unique spinel pendant necklace from GemsNY with the assurance of a lifetime warranty.