When we talk about gorgeous gemstones, only a few can compete with the allure of rich and electrifying blues of spinel and sapphire. These two gems have mesmerized people for ages, prettifying the crowns of royals and the fingers of lovers. In this blog, let's embark on a voyage to compare the peerless beauty of blue spinel and blue sapphire, unveiling their distinctive qualities and discovering the mysteries that make them stand out.
Often mistaken for its famous counterpart, blue spinel carries an enchanting hue that ranges from creamy midnight blue to bright azure tones. One of its most unique characteristics is its excellence, which can compete against even the most gorgeous gemstones. Whether incorporated in a beautiful pendant or a bold ring, blue spinel's dazzle ensures to creates a buzz.
In recent times, blue spinel has gained immense popularity in the realm of exquisite jewelry. Its uniqueness and rarity adds a touch of exclusivity, making it a treasured gem among collectors and those seeking something extraordinary. Its hardness and durability makes it a brilliant choice for numerous types of jewelry pieces, from a pair of earrings to necklaces, ensuring that its alluring beauty transcends the test of time.
The Ageless Charm of Blue Sapphire: The Forever Classic
No conversation about exquisite blue gemstones is complete without the ageless charm of blue sapphire. Regarded for its rich and mesmerizing blue color, sapphire has been a token of glam and elite for years. It's no wonder that many engagement rings feature this gorgeous gem as the centrestone, symbolizing the commitment of evergreen love.
The beauty of blue sapphire lies not just in its hue but also in its fascinating history and lore. For centuries, this gem has decorated the favorite jewelry of royalty and famous celebrities, making it a symbol of splendor and strength. In ancient times, blue sapphires were said to offer protective and healing properties. It was also believed to be associated with wisdom, loyalty, and nobility which elevates its aura, making it a gem that carries emotional values as well.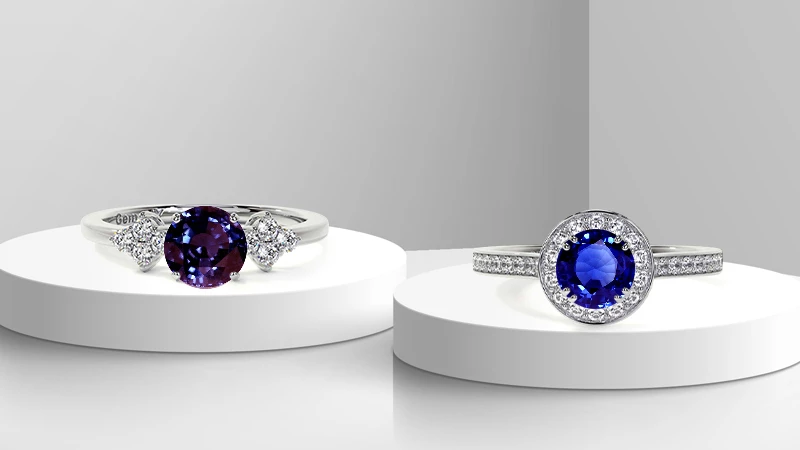 Genesis of Blue Beauties
Blue spinel is shaped under intense heat and pressure. Its vivid blue color comes from the existence of iron and cobalt in the crystal. The spectrum of color, from subtle pastels to rich blues, makes each blue spinel a peerless masterpiece of nature's artistry.
On the other hand, blue sapphire's enchanting blue tone mainly stems from the presence of titanium and iron. What sets Blue Sapphire apart is its connection to numerous cultures across the globe.
Battle of the Two: Excellence and Tradition
When it comes to making the final choice amidst blue spinel and blue sapphire, the decision eventually goes down to personal taste and preference of the individual. Blue spinel's unique excellence and rarity are admired by those who seek an extraordinary gem to extend their collection. On the contrary, blue sapphire's ageless charm and profound history makes it a perfect choice for those who appreciate tradition and classic.
While blue spinel is a new gemstone to the spotlight, blue sapphire has celebrated centuries of acknowledgement. Moreover, both gems share the same thread of exquisite blue tones that brings out the essence of tranquility and serenity. Whether you admire the mysteries of blue spinel or the timeless charm of blue sapphire, both gems carry the potential to grab attention and command admiration.
Blue Gemstones in Jewelry
Blue sapphire's rich and creamy tones hold the ability to prettify a huge array of jewelry designs. From retro-inspired pieces to contemporary, elegant settings, blue sapphire jewelry has the power to surpass time and trends. Whether it's a delicate pendant necklace that rests gracefully on the collarbone or a pair of gorgeous earrings that twirl with every movement, blue sapphire gemstones always leave an everlasting impression. Particularly, blue sapphire engagement rings have maintained a special spot in the hearts of many. The stunning juxtaposition of blue gems against dazzling diamonds or precious metals creates an exquisite piece that represents lifelong love and commitment.
In contrast, blue spinel jewelry symbolizes contemporary luxury with vibrant brilliance. Spinel with its gorgeous blue color can adorn bold rings, delicate pendants, and a pair of earrings, giving a modern twist on classic elegance. Adaptable to every precious metal, blue spinel's peerless charm adds a hint of sophistication and glam to any ensemble. A choice that mirrors the fashion style of individuals seeking unique, trendsetting pieces, blue spinel jewelry effortlessly merges tradition with modern charm.
Final Thoughts
The comparison between blue spinel and sapphire offers us a tough yet delightful challenge of selecting between contemporary excellence and timeless beauty. Both gems have their own peerless characteristics that make them treasured gemstones in the world of jewelry. Whether you're seeking a gem to whisper a tale of rarity and uniqueness or admire a tapestry woven with elegance, both blue spinel and blue sapphire ensure to leave a remarkable impression.
The choice between both gems is a will to the myriad aesthetics that nature has presented us, providing an array of blues to prettify our lives with radiance and opulence. Whichever gem you opt, both are said to add a hint of magic to your jewelry collection, ensuring that the shine in your eyes aligns with the sparkle of your gems.
To order precious gemstones, including blue spinel and sapphire, browse the website of GemsNY and enjoy great discounts.