Every love story is unique, so why shouldn't your engagement ring be?
With endless engagement ring options out there, finding the perfect one can be daunting. You are probably looking for something one-of-a-kind to celebrate your unique love and relationship. So, why not design your bespoke engagement ring?
Customized engagement rings are becoming quite the rage. Take Avril Lavigne's engagement ring, for instance! Mod Sun proposed to the Canadian singer-songwriter with a gorgeous heart-shaped diamond ring with 'Hi Icon' engraved on it. While these two words might initially not make sense to you, you'd be surprised after realizing that these are the first words Mod ever said to Avril! Doesn't this customization give the engagement ring such a romantic touch?
You can make your engagement ring truly unique by choosing a colored stone. After all, every other person goes for a diamond one, which does not exactly scream one-of-a-kind. How about a peridot ring? The beautiful olive-green hue of this gem stands out among others. If this gemstone has caught your eye, here's what you need to know about designing your dream peridot engagement ring!
Peridot Gemstone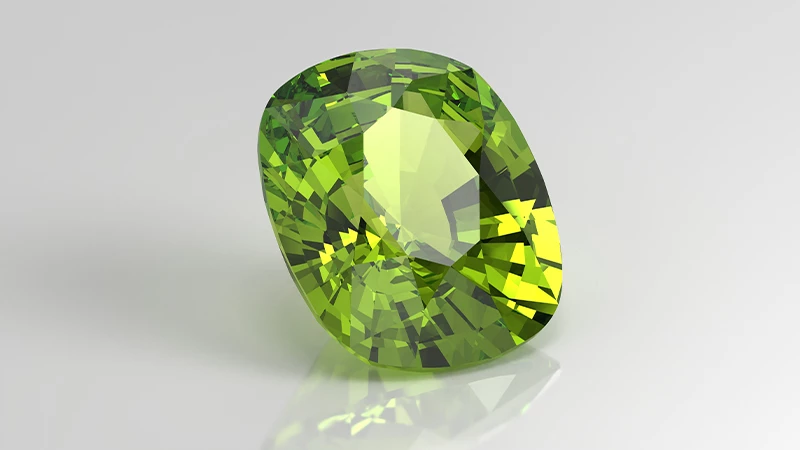 Peridot, a semi-precious stone, is a yellowish-green transparent variety of olivine. It comes from the peridotite rock and can be discovered in lava, meteorites, and the earth's mantle. This suggests that some of these peridot stones are quite old, with some experts speculating that they are a byproduct of the formation of our solar system. The fact that comet dust containing peridot particles was brought back by an automated spacecraft further adds to the stone's allure of mystery.
Peridot is a moderately durable gemstone, with a score of 6.5 to 7 on the Mohs scale of hardness. Your peridot jewelry can last for years when you wear it with care and avoid bumping or scratching it.
Symbolism of Peridot
Peridot is one of the birthstones for August. It is also the traditional gemstone to honor the 16th wedding anniversary. Not only does this stone represent these two milestones, but it also stands for peace, compassion, and strength.
A peridot engagement ring is known to symbolize love and fidelity and bring happiness, abundance, and good fortune to the wearer.
Peridot: A Ray of Sunshine
In the past, many people believed that peridot gems contained sun rays, which is why they have such an exquisite hue. While we know that it's not true, you can't help but agree that personalized jewelry featuring this green stone looks truly marvelous and ethereal.
The 4Cs of Peridot Gem
Color
Peridots are only available in green color, where the hues may span from bright green to pale green and greenish-yellow. Peridots that are purely green are rare to come by. Those stones with a slight yellow or brown mix are considered to be of medium grade. The poorest quality peridots are those that are yellow.
Cut
Peridot stones are available in a variety of cuts and shapes, ranging from standard shapes like round, cushion, oval, and pear to designer cuts like marquise, trillion, etc.
Clarity
The term 'clarity' describes a stone's transparency, which can affect how much light it transmits. While most peridots are clear and clean to the naked eye, some lower-quality ones can have tiny black dots. So, ensure to check for the gemstone's clarity before you make the purchase!
Carat
While most other colored gemstones above 3 carats are hard to find, especially when you look for richness and purity of color, peridot is available in the finest olive green hues even for stones weighing 10 carats or more.
Designing an Engagement Ring Featuring Peridot Gemstones
Now that you are familiar with peridots, their symbolism, and grading, let's learn how to design your dream peridot engagement ring.
Set a budget
Your budget plays a crucial role in designing a custom ring. It prevents you from overspending your money as well as is a time-saving approach. When you know your budget, you know exactly what to look for in terms of metal, gemstone carat, and ring style and design.
Choose the style and setting
You want to propose to your beloved with a ring that complements her style. For someone with a simple taste and lifestyle, you might want to go for a ring that features peridot in simple yet elegant cuts like oval, pear, or round.
If she likes things fancy and dramatic, a marquise or trillion-cut ring will definitely put a radiant smile on her face.
To make your engagement ring sparkle more, you can opt for a diamond halo or add diamond accents on either side of the center stone.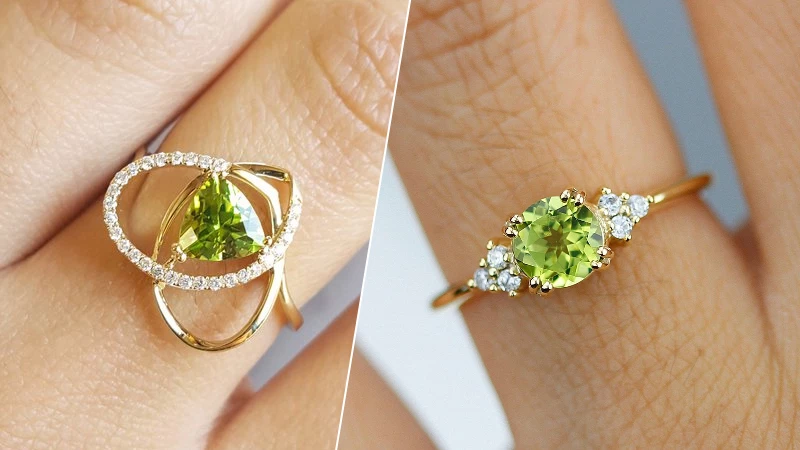 Pick a metal
While you can find different metals, ranging from silver, platinum, gold (rose, yellow, and white), titanium, and more, cooler tones complement the olive green hue of peridots the best.
Engraving a special message
Are you and your significant other hopeless romantics? Surprise her by proposing to her with a truly unique engagement ring. Customization allows you to put your creativity on display. You can engrave a special message or date on the band of the engagement ring to give it a romantic touch. Every time she'll look at the ring, she'll be reminded of your affectionate and thoughtful gesture, which will put a smile on her face.
Are you ready to design your dream engagement ring?
Who would've thought that designing customized engagement rings could be so easy and fun? If you too are excited to design one for your beloved, you have come to the right place! At GemsNY, we offer you a variety of high-quality and exquisite gemstones. Design your ideal engagement ring today!