What is marriage about, really? Sharing your life with someone who loves you in spite of your weird little self. Someone who will laugh at your jokes even when they are not funny and remind you that you're out of milk. Someone who understands you completely and holds your hair back on a windy day because you don't have a hair tie and want to eat a donut. That pretty much sums it up, right?
Marriage is about you and the person you are choosing to spend your life with. Everything at your wedding should be reflective of that, especially your engagement ring. That seems to be the general consensus in jewelry fashion these past few months as toi et moi rings have taken the internet by storm. 
'Toi et moi' means 'you and me' in French. Toi et moi rings are essentially two stone rings where the two stones represent the coming together of two distinct individuals. Here are some famous toi et moi ring designs that could help you create your own:
1. Josephine's pear-cut sapphire and diamond ring 
The first truly famous and well documented toi et moi ring was a pear cut diamond and blue sapphire two-stone engagement ring with which Napoleon Bonaparte proposed to Josephine in 1796.
The two pear-cut gemstones are set inverse to one another, with the tapered end of the sapphire pointing downwards and the diamond facing upwards. The ring is a cult classic when it comes to engagement rings and has inspired many imitations. 
2. Megan Fox's pear cut emerald and diamond ring
Machine Gun Kelly (Colson Baker) started the new year by proposing to Megan Fox with a pear cut diamond and emerald toi et moi engagement ring that nearly broke the internet. Emerald's are Megan's birthstones while diamonds are Baker's. The stones are set on double white gold bands which are magnetic: holding the two stones close together. Baker put a new spin on an old classic and designed a truly modern and thrillingly unique toi et moi engagement ring.  
3. Ariana Grande's oval cut diamond and pearl ring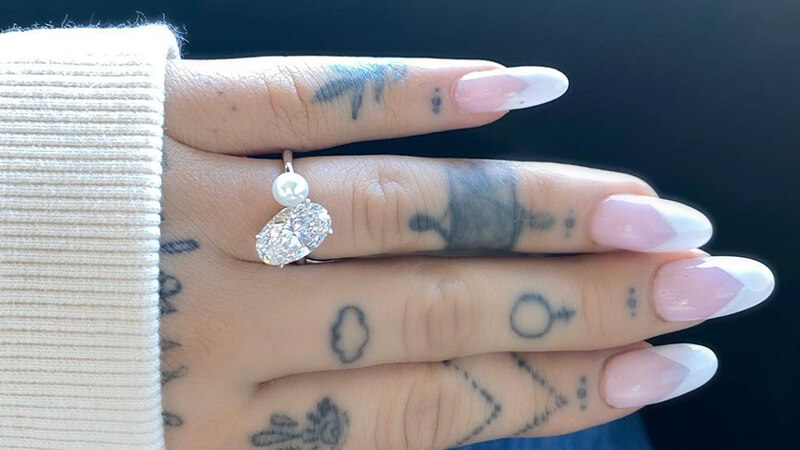 Pop icon Ariana Grande's toi et moi engagement ring features a pearl and an oval cut white diamond placed alongside each other on a sleek yellow gold band. After her beloved grandfather's death in 2014, Grande's grandmother gifted her a ring made out of her grandfather's pearl tie pin. Fans speculate it is the same pearl. The ring obviously holds great sentimental value and is also one of the most gorgeous toi et moi rings.
4. Jackie Kennedy's designer emerald and diamond ring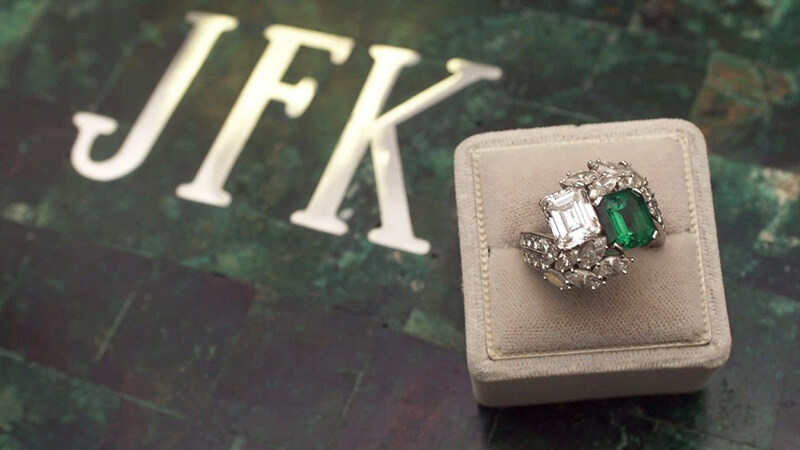 Jackie Kennedy will always remain an icon. Her engagement ring was originally a bypass toi et moi featuring a 2.88-carat emerald-cut diamond and a 2.84-carat emerald-cut emerald. In 1961, the First Lady redesigned her ring by adding two laurel wreaths made of marquise cut white diamonds.
They were placed below the original diamond and above the original emerald. The rest of the exposed shank was embellished with round cut white diamonds. The Jewel is currently housed in the John F. Kennedy Presidential Library and Museum, Boston.
5. Kylie Jenner's double diamond ring
'Gorgeous gorgeous girls need toi et moi rings, gorgeous gorgeous girls don't need a reason for that bling'. Although toi et moi rings have emerged as symbols of romance, they don't necessarily have to be engagement rings.
The 24-year-old beauty mogul, Kylie Jenner had matching toi et moi diamond rings custom-made for herself and her daughter, Stormi. Both rings feature a pear cut diamond and a radiant cut diamond nestled close to each other. The duo flashed their rings in an adorable picture on Kylie's Instagram.   
Toi et moi rings are all about the details and the special meanings you attribute to them. Customize your very own toi et moi engagement ring to communicate and celebrate your love through jewelry.