The month of May is just around the corner, and with it, comes a million possibilities. May is a celebration that summer is coming, and it is just divine to see the green leaves germinating on trees that have been hibernating all winter. It is the month when we finally start seeing fields of green everywhere. It is quite fitting, then, that the enchanting emerald is the May birthstone. Emerald, the symbol of love, rebirth, and renewal comes in an array of green hues. It is a symbol of constancy and true affection. Some cultures believe that emeralds bring good fortune and youth.
History of Emerald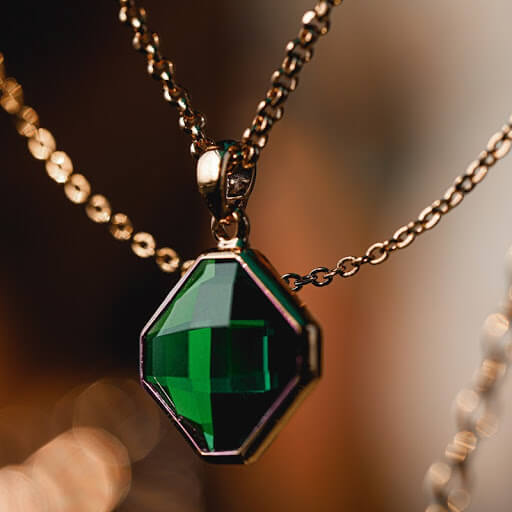 The word "Emerald" is derived from the Greek word 'Smaragdus' which means 'Green'.
From Egyptian pharaohs to Inca emperors, the emerald has enchanted royalty. Cleopatra is known to have a passion for emeralds and used it in her royal embellishments. The legendary Crown of the Andes, fashioned in colonial South America, is one example of how the Spanish revered the May birthstone.
In the past, the green emerald birthstone was also thought to have magical powers. By placing it under the tongue, one could see into the future. Some believed it made one an eloquent speaker and exposed lovers who made false promises.
How are Emeralds Formed?
Typically mined in Brazil, Zambia, Columbia, and Afghanistan, emeralds are formed from the mineral Beryl. When the Beryl is pure, it doesn't have any color. It gets its lush green color from the impurities of Vanadium, Chromium or both. With the assumption of having enough space, this mineral can be formed under the right pressure and temperature with the help of beryllium, silicon, aluminum, and oxygen.
Want to Learn more about Emerald? >>
Why Emeralds?
Emeralds are one of the four most rare precious gemstones next to diamonds, rubies and sapphires. An emerald, however, has qualities that cannot be ignored. Why should buy an emerald? Well, there can be many reasons apart from the aesthetic it provides to your persona. Here they are:
Investment value: carat for carat, a fine untreated emerald may be two to three times as valuable as a diamond.
Emerald promotes friendship and enhances the unity and purity of love. If you are searching for a gift for your May born friend or your love, then a piece of jewelry like a ring, pendant, bracelet, or earring with an emerald adorning it, will be a good option. 
This stone is a favored gift for the twentieth and the thirty-fifth wedding anniversary. 
On the Mohs scale of hardness, emeralds rank 7.5/10, making it durable for everyday wear.
An emerald requires minimal upkeep.
Healing Properties of Emeralds
Emeralds have always been considered magical stones that possess mystical healing properties. Legend has it that emeralds possess the power to treat diseases related to kidneys, pancreas, and immune system. The revitalizing green color of emerald brings you a stroke of luck and prosperity in your life. 
It is believed that the ancients used to put emeralds under the tongue to ward off the negative energies and reveal the truth. They also believed that if you soak emerald in water overnight and pour that water over the eyes, it will treat many eye-related illnesses.
Emerald is also a symbol of undying love and care for your loved one. If you want to show your eternal love to your special one, wrap a piece of beautiful emerald birthstone jewelry and gift it to her. Emerald symbolizes loyalty and faithfulness in a relationship.
Our Preset Emerald Engagement Ring Collection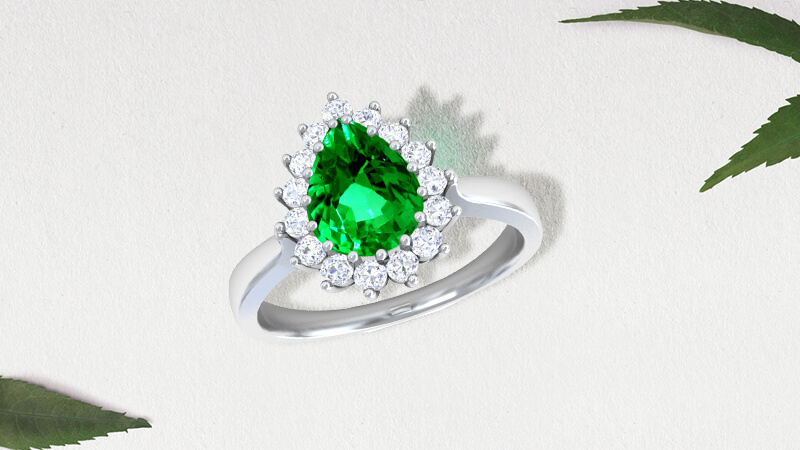 Our preset emerald engagement ring collection offers you beautiful engagement rings in three precious stones: Ruby, Emerald, and Sapphire. If you don't have time to design your engagement ring, preset rings are a perfect match for you. 
How to Care for Your Emerald Jewelry?
Your May gemstone jewelry is precious, and you really want it to last long. It is not really rocket science to take good care of your beautiful emerald jewelry. Clean your emerald jewelry with lukewarm water and a soft brush. Avoid using harsh soap to clean your emerald jewelry. You should clean your emerald jewelry with a soft brush, but don't soak your jewelry in thinner, alcohol, or any type of petroleum-based material. Soaking your jewelry in any kind of chemical can damage the natural beauty and shades of the stone.
Also read, FAQs About Emerald Gemstone
Where to find the Finest Emerald Jewelry?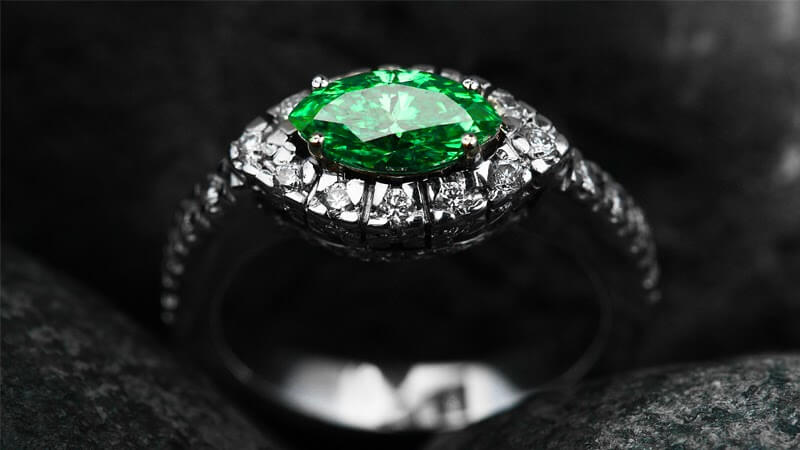 At GemsNY, we own our entire inventory, so you can rest assured that you'll be getting exactly what is described. We have the largest inventory of natural untreated emeralds, so you also have that choice. To sweeten the deal, we allow you to customize your own pieces around any of our emerald gemstones. We believe that our quality of work stands out and we assure you that you will acquire the finest gems and jewelry from us.
Have you checked our latest May birthstone jewelry collection yet?
Also Know about June Birthstone, here.