"La beauté est dans les détails"
This profound quote by Ludwig Mies van der Rohe meaning "Beauty lies in the details" perfectly encapsulates the essence of the mesmerizing alexandrite gemstone. Welcome to GemsNY, where beauty and craftsmanship come together to give rise to enchanting pieces of jewelry. In this blog, we will embark on a journey to explore the wonders of alexandrite engagement rings. As we delve into the comparison between natural and lab-grown alexandrite, we unravel the secrets behind this remarkable gemstone that has captivated hearts for centuries. Join us as we uncover the hidden depths and ethereal charm of alexandrite, a gem that truly epitomizes the magic of transformation and beauty.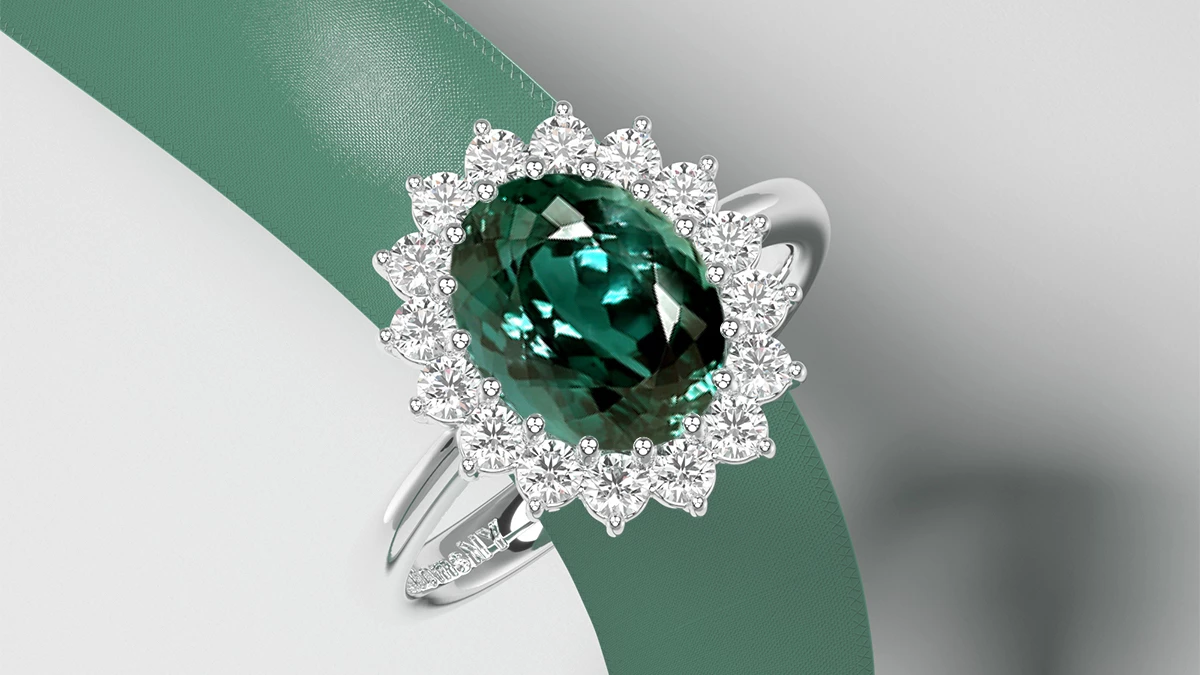 1. The Captivating Allure of Alexandrite
The world of gemstones is home to many stunning creations, but few can rival the mesmerizing beauty of alexandrite. With its remarkable color-changing ability, alexandrite is a gemstone that exudes elegance and mystique. Its unique property of displaying different hues under varying lighting conditions makes it a truly extraordinary choice for an engagement ring.
2. Natural Alexandrite Rings: A Gift from Nature
Natural alexandrite is a precious gemstone that forms deep within the Earth over millions of years. Mined from select locations around the world, such as Russia and Brazil, these gemstones carry a sense of exclusivity and heritage. With their rarity and natural origins, natural alexandrite rings are cherished for their timeless beauty and investment value.
3. Lab-Created Alexandrite: A Modern Marvel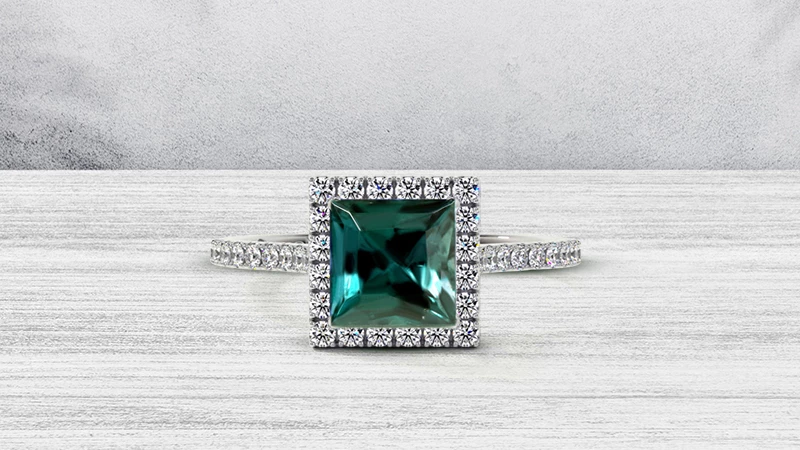 Advancements in technology have given rise to lab-grown alexandrite, a fascinating alternative to natural gemstones. Created under controlled conditions in a laboratory, these gems possess the same physical and chemical properties as their natural counterparts. Lab-created alexandrite offers an ethical and more affordable option without compromising on the gemstone's enchanting color-changing ability.
4. Alexandrite Engagement Rings: Symbolic Significance
An engagement ring represents a profound commitment and symbolizes the eternal love between two individuals. Alexandrite, with its color-changing magic, carries a symbolic significance that mirrors the ever-changing emotions and transformative nature of a relationship. Whether you choose natural or lab-grown alexandrite, your engagement ring will serve as a testament to your unique love story.
5. Color: Unveiling the Magic of Alexandrite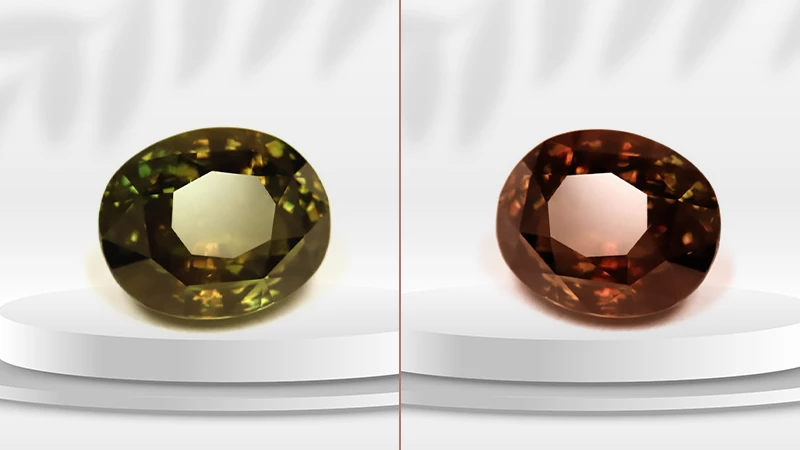 Prepare to be enchanted by the color-changing property of alexandrite, a gemstone that holds a world of magic within its composition. When basked in natural light, alexandrite reveals a captivating spectrum of green to bluish-green hues, drawing you into its mesmerizing embrace. But that's not all. Step into a dimly lit room, and watch in awe as alexandrite transforms before your eyes, unveiling a breathtaking reddish-purple shade under the warm glow of incandescent light. The interplay between light and color in alexandrite is truly awe-inspiring, casting a spell of wonder and making it an exceptional choice for engagement rings that leave a lasting impression.
6. Durability: A Rock Solid Choice
When choosing an engagement ring, durability is a crucial factor to consider. Natural and lab-created alexandrite both possess excellent hardness, ranking high on the Mohs scale. This makes alexandrite a durable gemstone, suitable for everyday wear. Whether it's a natural or lab-grown variant, an alexandrite engagement ring is sure to withstand the test of time.
7. Rarity and Value: The Quest for the Extraordinary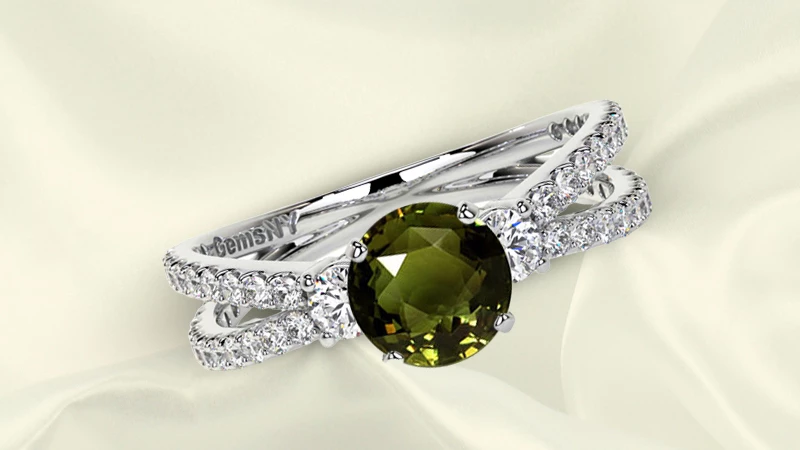 Natural alexandrite's rarity and exquisite beauty contribute to its significant value in the market. Due to its limited supply and high demand, natural alexandrite rings are considered rare and highly prized. On the other hand, lab-grown alexandrite offers an affordable alternative without compromising on its captivating allure, making it an excellent choice for those seeking both value and beauty.
8. Ethical Considerations: A Responsible Choice
For individuals who prioritize ethical sourcing, lab-grown alexandrite provides a responsible alternative. Mined gemstones may come with environmental concerns and potential human rights issues. By opting for lab-created alexandrite, you can enjoy the gem's splendor while making a conscious choice that aligns with your values.
9. The Price Factor: A Matter of Budget
Price is often a crucial consideration when selecting an engagement ring. Natural alexandrite rings command a higher price due to their rarity and exclusivity. Lab-created alexandrite, however, offers a more affordable option, allowing you to achieve the same captivating beauty within a budget. Whether you choose natural or lab-grown, alexandrite engagement rings are available in a range of styles and prices to suit your preferences.
10. Making the Right Choice: Natural or Lab-Grown Alexandrite?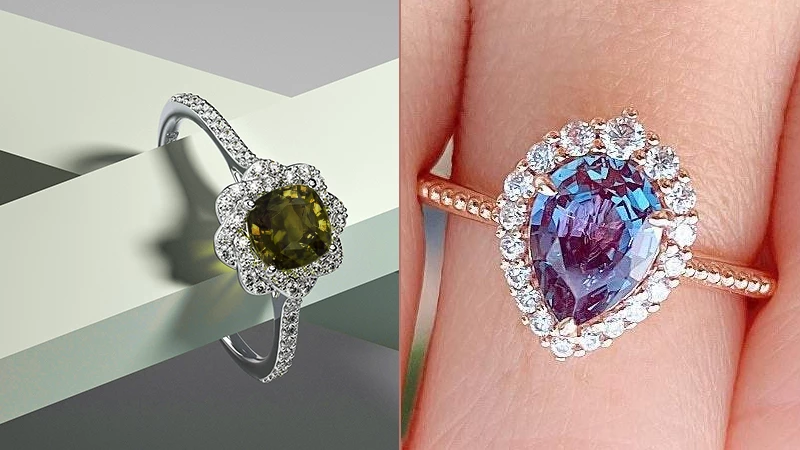 Choosing between natural and lab-grown alexandrite ultimately depends on your personal preferences, values, and budget. Natural alexandrite offers a sense of heritage, rarity, and investment potential, while lab-grown alexandrite provides an ethical and cost-effective option without compromising on the gemstone's remarkable beauty. Whichever option you choose, your Alexandrite engagement ring will become a symbol of joy and happiness, commemorating a lifetime of love and cherished moments.
In a Nutshell
At GemsNY, we believe that the search for the perfect engagement ring is an extraordinary voyage, one that transcends mere adornment and becomes a testament to your unique love story. Whether you're drawn to the timeless allure of natural alexandrite or the ethically-conscious beauty of lab-grown gems, our collection holds a treasure trove of options that will capture your heart.
Step into the world of GemsNY and prepare to be captivated by the splendor that awaits. Our artisans have carefully crafted each piece, infusing it with the essence of elegance and individuality. With a kaleidoscope of designs to choose from, each meticulously detailed, you'll find a ring that mirrors your style, reflects your values, and becomes a cherished symbol of your eternal love.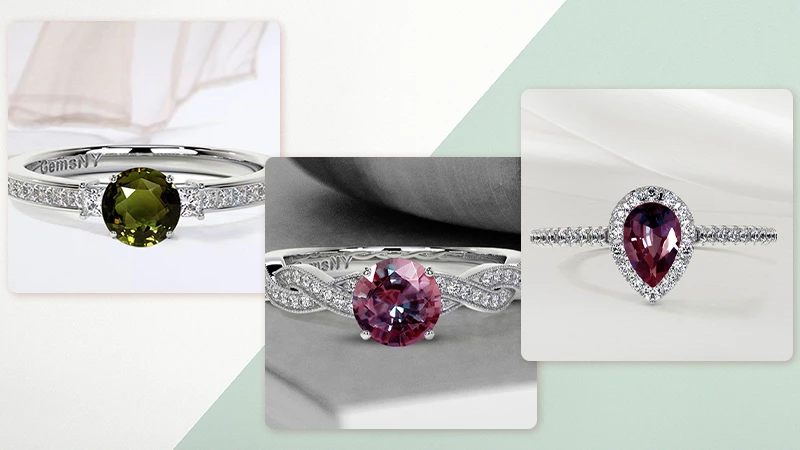 Immerse yourself in the enchanting allure of alexandrite, a gemstone that dances with the hues of nature itself. Let its captivating colors wrap around your finger, reminding you of the magic that exists within the world. Whether you opt for a natural alexandrite ring, boasting heritage and rarity, or a lab-grown alexandrite ring, embracing ethical values without compromise, your choice will forever echo the depth of your commitment. At GemsNY, we invite you to discover the extraordinary, to celebrate the beauty that lies within every detail, and to find the ring that will forever ignite the flame of your love.
Topic
Description
Introduction
A captivating introduction to the world of Alexandrite engagement rings
Natural Alexandrite vs. Lab-Grown Alexandrite
An exploration of the differences between natural and lab-grown Alexandrite
Symbolism and Meaning
Uncovering the symbolic significance and meaning behind Alexandrite
Color: Unveiling the Magic of Alexandrite
Delving into the mesmerizing color-changing property of Alexandrite
Durability of Alexandrite
Exploring the durability and maintenance considerations for Alexandrite rings
Ethical Considerations: A Responsible Choice
Examining the ethical considerations of choosing lab-grown Alexandrite
The Price Factor: A Matter of Budget
Discussing the price range and budget considerations for Alexandrite rings
Making the Right Choice: Natural or Lab-Grown Alexandrite?
Summarizing the factors to consider when choosing between natural and lab-grown Alexandrite
Final Words
A final reflection on the beauty, uniqueness, and love symbolized by Alexandrite engagement rings

A showcase of GemsNY's exquisite Alexandrite engagement ring