Calling all fashion enthusiasts! Are you on the hunt for jewelry that truly speaks to your personality and style? Look no further than personality-based jewelry, the latest trend taking the fashion world by storm. With endless possibilities for gemstones and designs, you can create a look that is as unique and unforgettable as you are.
The best thing about personality-based jewelry is that it's all about personal expression. Choose the gemstones, metals, and designs that fit your style, and let your jewelry tell your story. Curious to learn which gemstones and designs are perfect for your personality? Then let's explore together the enchanting world of personality-driven jewelry!
The Adventurer: Unleash Your Wild Side with The Daring Designs
Do you have a brave and bold personality? Are you always looking for new experiences and pushing the boundaries? Then you're an adventurer at heart! For those with a go-getter attitude, gemstones such as ruby and alexandrite are perfect for adding a touch of drama and glamor to any outfit.
The ruby draws all eyes with its intense red hue and makes a statement. The ruby is a gemstone that has been associated with passion and power for centuries. Alexandrite, on the other hand, is a rare and fascinating gemstone that changes color depending on how the light hits it. It's perfect for people with a dynamic and adventurous spirit.
When choosing personality-based jewelry for an adventurer, look for pieces with sharp lines and unexpected shapes. Choose designs that are edgy and fearless. A chunky alexandrite ring or a ruby-studded necklace will add the perfect touch of drama to your outfit.
The Dreamer: Let Your Imagination Fly with These Dreamy Gems
If you have a more laid-back and bohemian style, then earthy gemstones like tsavorite and moonstone are perfect for you. Dreamers who value peace and serenity often gravitate towards these stones. They're associated with a sense of equanimity and spirituality which are perfect for a dreamer's soul.
The tsavorite is a striking green gemstone that can be found in a range of hues, from a deep forest green to a bright, vivid green. Moonstone emits a gentle, iridescent light that is reminiscent of the night sky when lit up. In other words, these gemstones are ideal for those who enjoy a little mystery and magic in their lives.
A dreamer should wear jewelry with designs that have organic and flowing lines. Mix metals for a look that's both whimsical and free-spirited. For instance, a moonstone bracelet with a leather strap or a tsavorite necklace with mixed metal pendants can bring the ideal amount of bohemian flair to your ensemble.
The Sophisticated: "Elevate Your Style with These Elegant Pieces
If you have a classic and refined style, then platinum and white gold are the metals for you. These metals are timeless and elegant, making them the perfect choice for those who prefer understated, yet sophisticated jewelry. When it comes to gemstones, choose diamonds, sapphires, and emeralds for a touch of luxury and glamor.
Diamonds are the most popular gemstone when it comes to sophistication and glamor. They're a symbol of love and commitment, making them perfect for engagement rings. Sapphires, on the other hand, come in a range of colors from blue to pink to yellow. They're durable and stunning gemstones that will add a touch of royalty to your outfit. Emeralds are another gemstone which are associated with sophistication and luxury. Their beautiful green is perfect for adding a touch of color and elegance to your outfit.
When buying personality-based jewelry for a sophisticated person, look for elegance and refined style. A diamond tennis bracelet or a necklace with a sapphire pendant will add a touch of luxury and glamor to your outfit. A pair of emerald stud earrings or a platinum ring with a small diamond can enhance your outfit and make it look more sophisticated.
The Trendsetter: Stay Ahead of the Game with These On-Trend Accessories
Are you always up-to-date with the latest fashion trends? Do you love experimenting with bold and daring styles? Then, you're a trendsetter at heart! For those who love standing out in a crowd, gemstones like amethyst and citrine are perfect for adding a pop of color and style to any outfit.
Amethyst is a beautiful purple gemstone that's perfect for adding a touch of royalty and sophistication to your outfit. It's a versatile gemstone that can be paired with both silver and gold jewelry. In contrast, citrine is a bright and sunny yellow gemstone that's perfect for adding a touch of cheerfulness and positivity to your outfit.
Consider selecting jewelry with distinctive and striking designs for a trendsetter. Pick jewelry with unusual metal and gemstone assemblages. For instance, bold, geometric mixed metal earrings or a necklace with amethyst and citrine can add the ideal amount of style and trendiness to your outfit.
The Romantic: Wear Your Heart on Your Sleeve with These Enchanting Jewels
If you have a soft and romantic style, then rose gold and pearls are the perfect choice for you. These metals and gemstones are delicate and feminine, making them the perfect choice for a romantic soul. When it comes to gemstones, choose pearls, pink tourmaline, and rose quartz for a touch of romance and charm.
Pearls are a classic gemstone associated with love and purity for centuries. They're a beautiful gemstone that comes in a range of colors from white to pink to black. On the other hand, pink tourmaline and rose quartz are gentle pink gemstones that add a touch of charm and romance to any ensemble.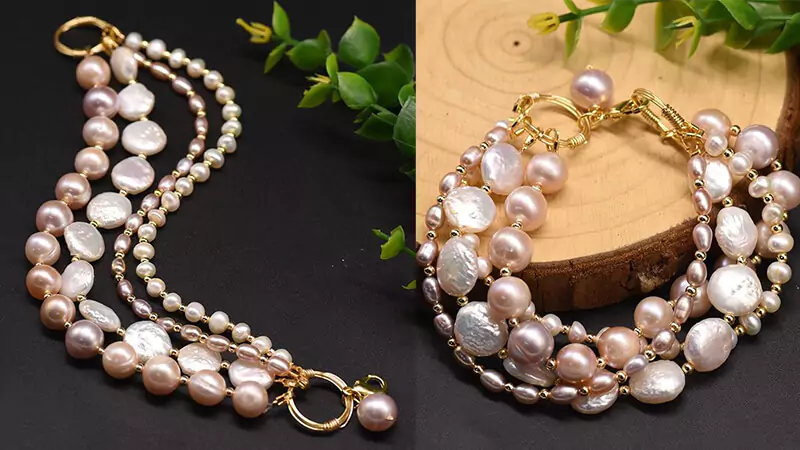 Look for jewelry that is both delicate and feminine when shopping for a romantic. Go for patterns with a lot of tiny, intricate details. A pearl bracelet with a rose gold clasp or a necklace featuring a pink tourmaline pendant is just two examples of the kinds of accessories that can make your outfit more alluring and romantic.
Final Thoughts
"Discovering the perfect gemstone and design to match your unique personality isn't just a trend, it's a transformative journey towards a more authentic, self-expressive you."
Jewelry by personality types is a fun and exciting concept that allows you to express your individuality through your accessories. Whether you're an adventurer, dreamer, sophisticate, trendsetter, or romantic, there's a gemstone and design that's perfect for you. So, go ahead and experiment with different combinations of metals and gemstones to find the perfect match for your personality. With personality-based jewelry, you can create a look that's uniquely you and perfectly reflects your style and personality.