Earrings are essential pieces of jewelry for every woman. But buying a pair online can get a little daunting when you can't examine their length as regards your ears. What's the length of these earrings? Will these look too long on my ears? What's the ideal size of stud earrings for my earlobes? If all these questions float in your mind whenever you try to look for that perfect pair online then I suggest you sit tight and peruse this article in its entirety. From basic studs and dangle earrings to classic chandelier and hoop earrings, I'll enlighten you about all in this article.
Learning about the different types of earrings and their length is the prerequisite to shopping for that pair of your dreams online. It's always good to take the plunge when the drill is a walk in the park for you, agree? Well, let's jump right into it then.
Stud Earrings
If I'm not wrong, stud earrings are probably your very first type of earrings and you're not the uninitiated when it comes to these. Typically the first option for every woman after she gets her ears pierced, stud earrings are tiny things of beauty that sit cozily on the earlobe. They stay on the earlobe without dangling from the ears. Because of how poised stud earrings are on the ears, these offer a kind of gender-neutral style.
That's the reason why men also wear this type of earrings. The common sizes of stud earrings vary from 0.25 to 4 cm. A 1 cm stud sufficiently fits the earlobe at a general rule. However, if you're still confused with respect to the size of your stud earrings then you should know your lobe size. To know the size of your lobe, use a straight ruler and measure the length from your piercing to the edge of your earlobe.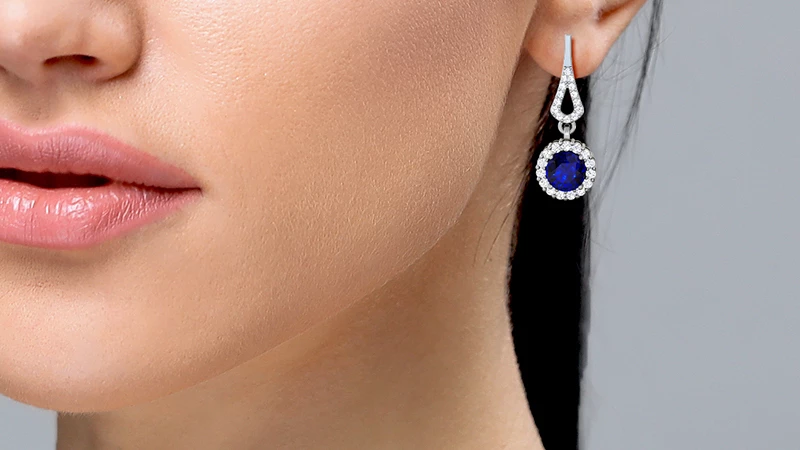 Dangle Earrings
As the name suggests and contrary to the studs, dangle earrings hang from the earlobe dramatically. This style of earrings presents an intricate design that makes them look all glitzy and ritzy and typically have more movement to them compared to any other type of earrings. Swinging to and fro with a slight change in your facial gestures, dangle earrings are mainly popularized by celebrities on the red carpet.
Choosing the length of dangle earrings is a personal choice. Depending on the style of the pair, dangle earrings can either hang a few inches below the earlobe, end right below it, or even extend to the shoulders. There is no ideal length for such types of maximalist earrings.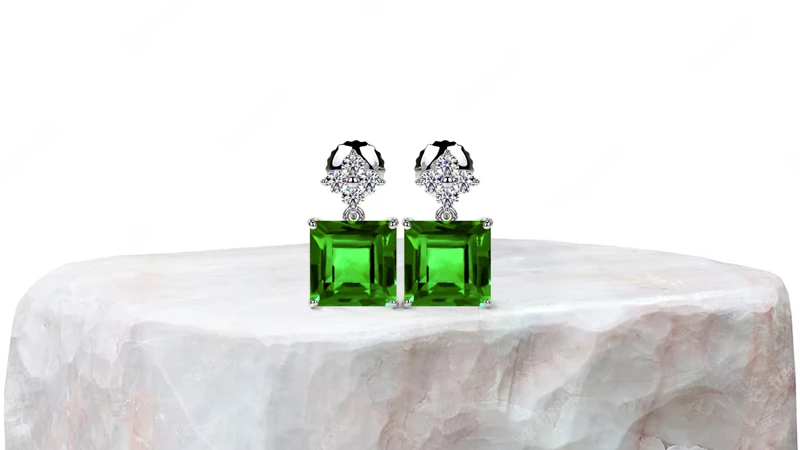 Drop Earrings
Typically featuring a longer and slimmer design with the centerstone lodged at the bottom, drop earrings have become a must-have jewelry piece in the present times. Though this type of earrings might sound quite similar to dangle earrings, drop earrings are not to be confused with dangle earrings because the former are typically stationary compared to the latter ones. 
Confused? Understand it like this, dangle earrings sway like nothing else does. On the contrary, drop earrings do have little movement but they don't swing as much as dangle earrings. While there's no ideal limit to the length of drop earrings, just like the case with dangle earrings, the comfortable length falls somewhere around 4 to 6 cm.
Hoop Earrings
Shaped like hoops, as the name implies, hoop earrings are usually circular. However, they also come in other shapes like oval, square and triangle, to name a few. This type of earrings loop from the front of the earlobe to the back, creating a decent yet arresting look. The common length for hoop earrings should land somewhere between 15 mm to 25 mm. Having said that, choosing the length of your hoop earrings is ultimately your decision. If you want to create a maximalist look then you can go with a pair of 25-30 mm hoops.
On the other hand, if you're the kind of person who likes to keep it simple and apt, it's better that you choose a pair of 15 mm hoops. However, your choice of length of your hoop earrings should also depend on the occasion for which you're getting the pair. For instance, if you're getting it for everyday wear then a pair of 15 mm hoop earrings are perfect for you. But, if you're getting the pair for a special occasion, nothing should stop you from going overboard and picking a pair of 30 mm hoops. Speaking of special occasions, let's move on to the next type of earrings on our list.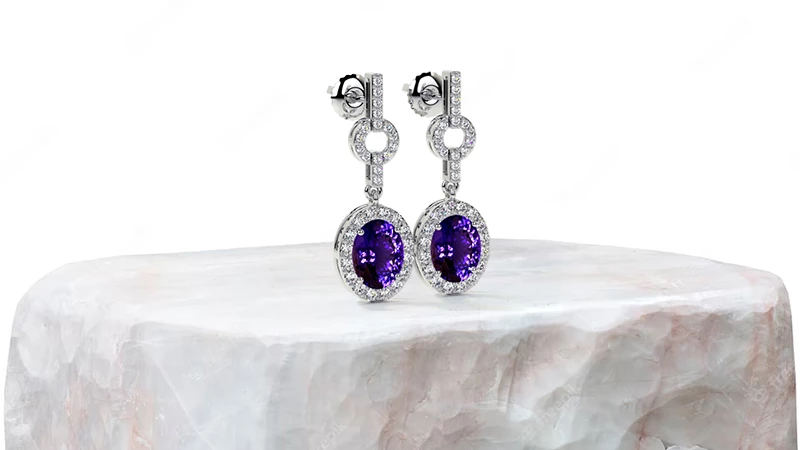 Chandelier Earrings
As the name suggests – well, it's getting to be a habit now as most of them are named after their shapes – chandelier earrings resemble the shape of a fancy chandelier. They hang and swing back and forth from your earlobe dangle earrings and emanate sparkle to a strikingly great extent. Prior to the 1920s, chandelier earrings were referred to as girandole earrings and got their nickname because of their decorated chandelier-like design.
With their filigree fashioned with accent gemstones like diamond or pearls, chandelier earrings are best suited for special occasions. As for the length of chandelier earrings, there's no specific approach to it. You can get a pair hanging from your earlobe and resting somewhere close to your shoulders or a pair that ends somewhere in the middle of your neck. You know, it all depends on how conspicuous of a queen you are as regards your jewelry.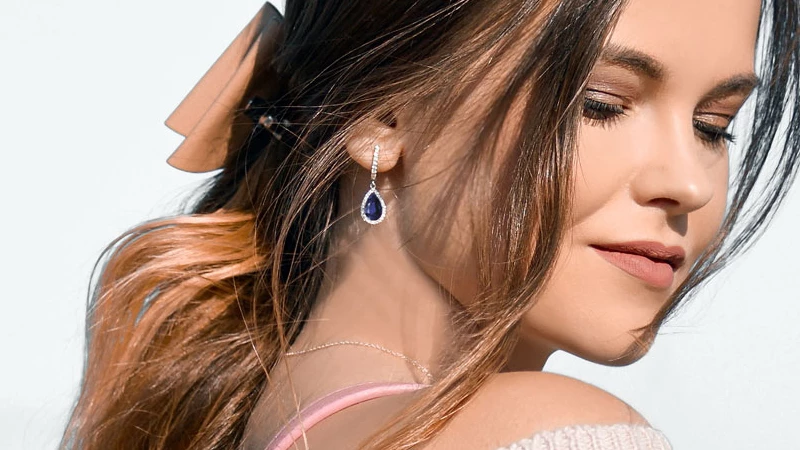 The Bottom Line
Reading this article, I hope, has enlightened you about some of the most popular types of earrings and their length, but what'll ultimately help you in choosing a pair for yourself is deciphering what kind of person you are. Sometimes we just buy things because they look pretty but regret the decision later because they don't match our vibe.
The idea is to get a pair of earrings that fits well with your attitude and style. For instance, if you can't help but want people to notice you all the time, a pair of chandelier earrings is what you need; if you don't wish to attract the unadulterated attention of the beholders then you should pick a pair of minimalist studs. Remember, whatever you pick, make sure it matches your vibe So, there you go!