Famously known as the' king of gemstones' ruby is the red variety of corundum. The word ruby traces its roots to the Latin word 'ruber', which means red. It is an uncontested fact that ruby is the finest red gemstone known to mankind. Rubies have been used in traditional jewelry for thousands of years and are known for their durability. Here is a beginner's guide to buy a ruby gemstone online:
Guide to Buy a Ruby Gemstone Online
Source 
It is important to note the geological origins before buying rubies. Rubies are mainly sourced from Asia and Africa with the most famous mines located in Burma, Thailand, Mozambique and Kenya. 
Pigeon blood red Burmese rubies are considered the finest variety and have been mined for over a thousand years. They are now extremely scarce and extremely valuable. If you are buying rubies as investments, Burmese rubies are bound to have the most lucrative returns.
Color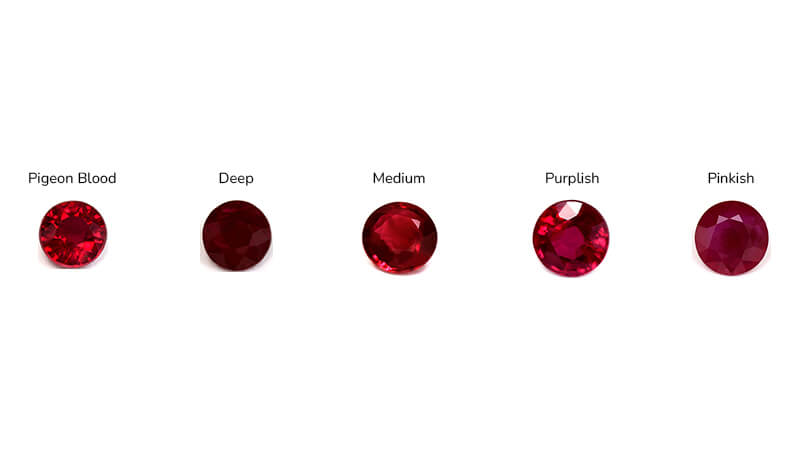 The color of a natural ruby is its most distinguishing feature and an essential component of every ruby buying guide. While rubies are red, the shades of red vary vastly.
Hues are secondary colors and rubies are known to have pink, purple or orange hues. Rubies usually have a deep or medium color saturation. Pigeon blood red is the most desirable color in a ruby gemstone.
Carat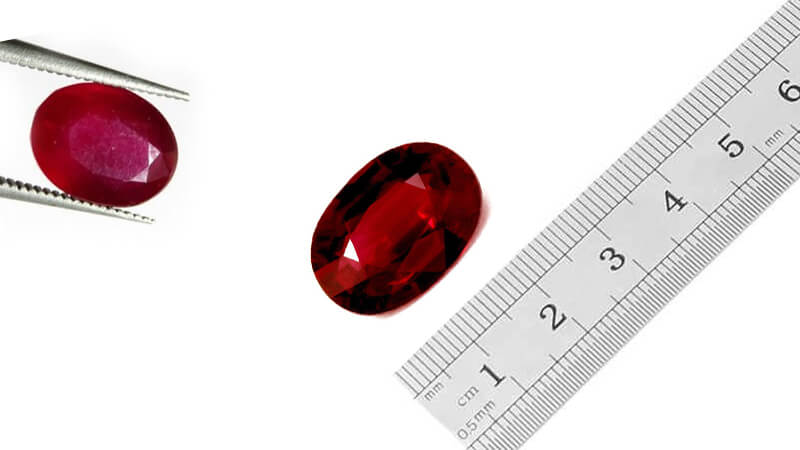 Ruby crystals occur in small sizes. They usually weigh only one or two carats. Naturally occurring rubies that are larger than 3 carats are even rarer than diamonds and consequently, they are also extremely sought after. Two one carat rubies will cost significantly less than one one-carat ruby of the same grade.
If you have a strict budget, combine multiple rubies of smaller sizes rather than going for one big ruby. This will keep your purchase fairly economical while creating a stellar piece of jewelry.
Cut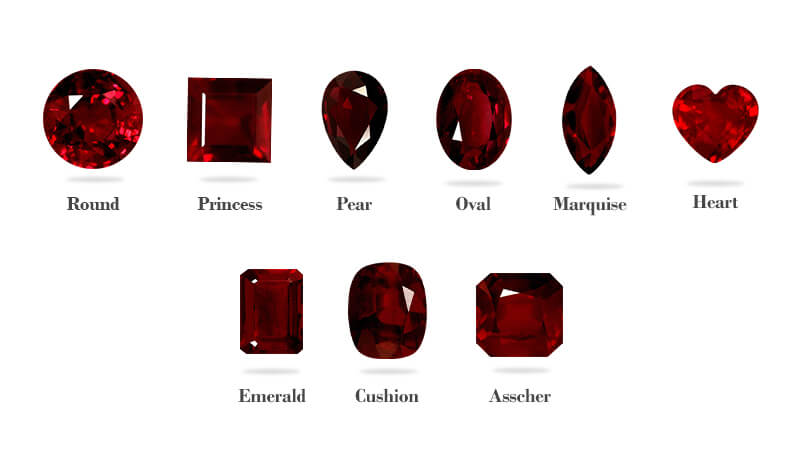 The cut is the shape given to a gemstone by a cutter. The cut of a gemstone depends on the size, inclusions, color, quality of crystal in its rough state and most importantly the discretion of the cutter. Round, oval, pear, cushion, asscher, marquise, trillion, emerald, square, princess and heart are some of the most common shapes. 
Rubies can also be shaped into fancy cuts: which are essentially shapes that don't fall into the commonly available categories, for example- A ruby cut into the shape of lips. An oval cut, emerald cut and marquise cut have an elongating effect and can make the ruby appear larger for its carat weight.
Clarity 
Flawless rubies that are completely transparent are extremely rare. It is unrealistic to expect a regular buyer to find them online. Almost all gemstones have some degree of inclusions. If the inclusion is small in size and located in an area that is not immediately visible, don't let it deter you from buying the ruby.
Treatments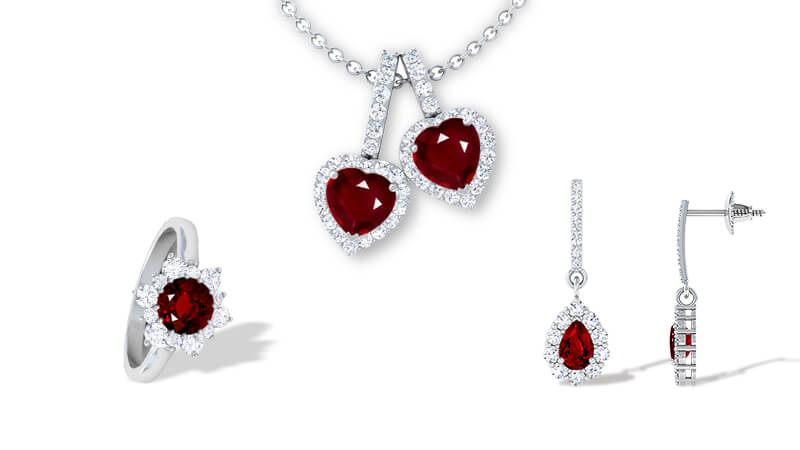 Putting gemstones through chemical treatments to enhance color, clarity and to maintain structural integrity is a common practice in the industry. Over 90% of all natural rubies are subjected to heat treatments. It is a permanent and stable treatment and does not diminish the value of a natural ruby.
Price
"Pigeon blood red Burmese rubies can go upto a million dollar per carat "
Rubies from Mozambique are fairly new, and gaining a great deal of popularity. If Burmese rubies are out of your budget but you still want high quality rubies, Mozambique rubies offer a solid alternative. 
Prices of ruby, like any other gemstone, vary on the basis of their quality which is determined on the basis of color, cut and clarity. Before buying rubies, it is necessary to refer to ruby buying guides and set a budget beforehand.
Certification 
While chemical treatments do not pose any problems, beware of glass filled rubies. Lower grade rubies are disguised as high-quality rubies by filling in fractures with glass. These rubies break over time and are much less valuable.
If you are buying rubies online it is essential to buy from a reputed retailer who offers official certification and a lifetime warranty. The prominent certifying bodies are GIA, IGL GCAL etc. It is also necessary for the seller to have a sound return policy. After securing the ruby you can take it to a trusted color gemstones specialist to have everything verified.    
Now that you know how to buy the perfect ruby, check out our state-of-the-art collection of loose ruby gemstones.