Diamonds are the De Facto engagement ring gemstone. But since when does Hollywood do anything the mainstream way? From naming their children after directions to drinking vials of each other's blood at their wedding ceremonies, the rich and the famous sure do keep it exciting. Not everything is a takeaway from that lifestyle, of course, but if you are trying to decide on an engagement ring, start taking notes because these celebrity engagement rings are simply ravishing.
10 Celebrity Engagement Rings with Colored Gemstone
Megan Fox's toi et moi ring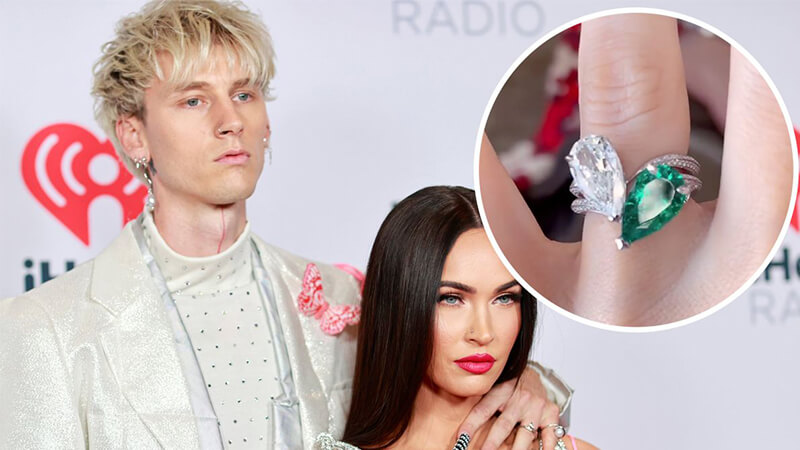 In the first month of 2022 Machine gun Kelly proposed to Megan Fox with a two stone emerald and diamond ring. The two pear cut stones are meant to represent two halves of a heart and are held together by magnets.
Scarlett Johansson colored diamond ring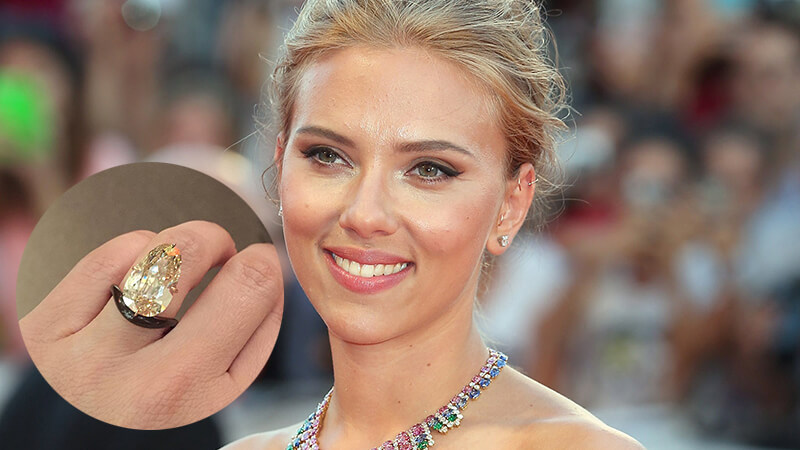 Scarlett Johansson is famous for keeping a low profile as far as her love life is concerned. Her engagement ring echoes this mystery as SNL's Colin Jost picked out a rare cut light brown diamond set between a curling black band. The design is inspired by art deco.
Kristen Bell's cognac colored diamond ring
Kristen Bell's center stone is a rare 3 carat golden-brown emerald cut diamond. Five white diamonds frame the center stone vertically on the left and the right. The band is also embellished with 3 of the same white diamonds lined horizontally along the shank, right next to the vertical set of side stones.
Anna Kournikova's pink pear cut diamond ring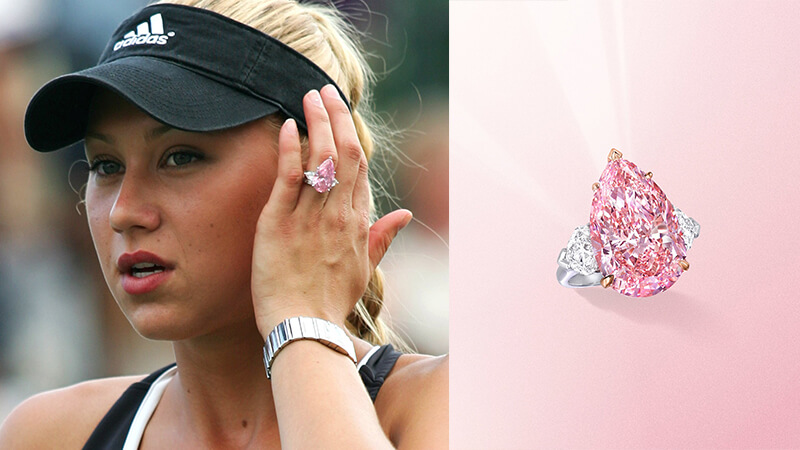 Enrique Iglesias lived up to all his love songs by picking out an 11-carat pear cut pink diamond from Australia. The phenomenal center stone is flanked by two trillion-cut diamonds on the sides. All 3 stones are held together by prongs.
Penelope Cruz's vintage sapphire halo ring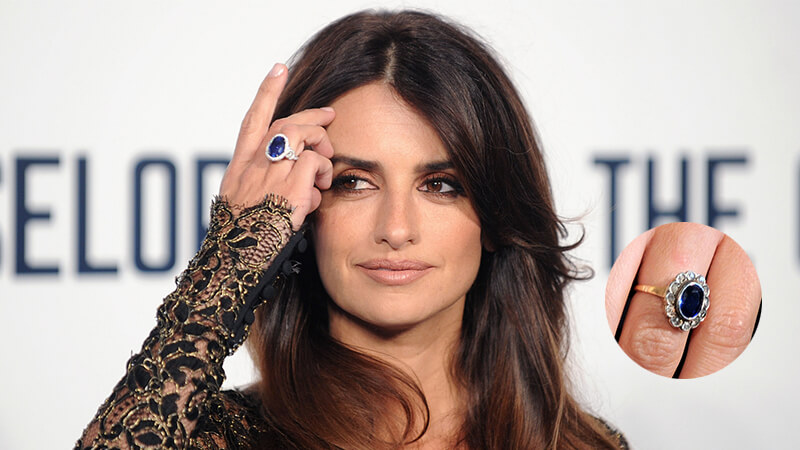 Cruz's husband Javier Bardem seems to have picked a ring resonating with his wife's personality. The three-carat oval cut blue sapphire is surrounded by 12 white diamonds which are set to resemble a flower. The gemstone engagement ring immediately exudes a sense of history and is probably an antique piece.
Eva Longoria's halo ruby ring
Longoria's husband Jose Antonio Baston picked out a round cut ruby surrounded by a halo of brilliant white diamonds. The design may be simple but it is wrought in elegance. It is a gemstone engagement ring done right.
Katy Perry's floral ruby ring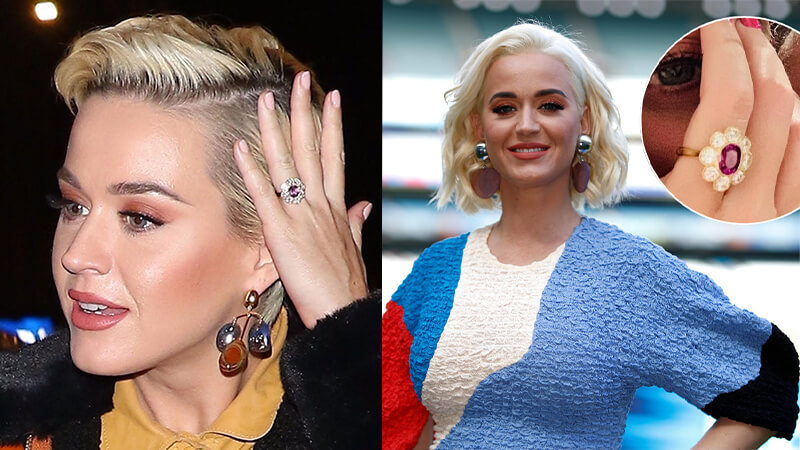 Pop icon Katy Perry's engagement ring has stepped right out of my teenage dream. The oval cut ruby center stone is surrounded by 8 round cut diamonds that are arranged like petals. The "bloom" captures the spirit of the artist perfectly and makes for a splendid natural gemstone engagement ring.
Kate Middleton's sapphire halo ring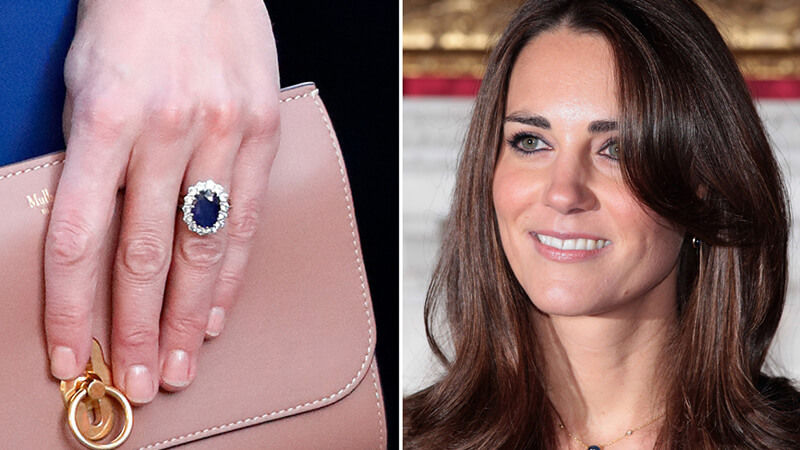 Kate Middleton wears her late mother-in-law's 12-carat Blue Ceylon Sapphire ring, which is the most famous engagement ring in history. When Diana first wore the ring in 1981, it instantly became iconic and inspired thousands of copies. The Duke and Duchess of Cambridge picked Princess Diana's ring to honor her memory.
Princess Eugenie's Padparadscha sapphire ring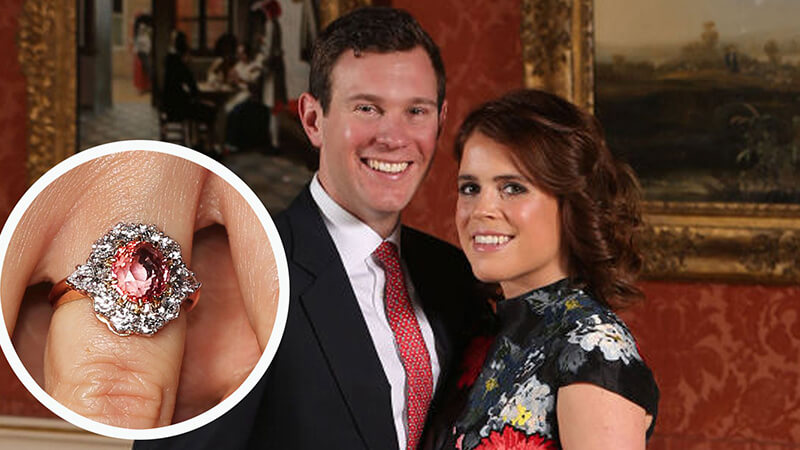 Other Royals have also tried to keep abreast the natural color gemstone engagement ring trend. The Princess of York and her husband Jack Brooksbank designed the ring together. The design draws from her mother, Sarah, the duchess of York's ring resembles a flower. The salmon pink Padparadscha sapphire is from Madagascar.
Heidi Klum's Three Stone Ring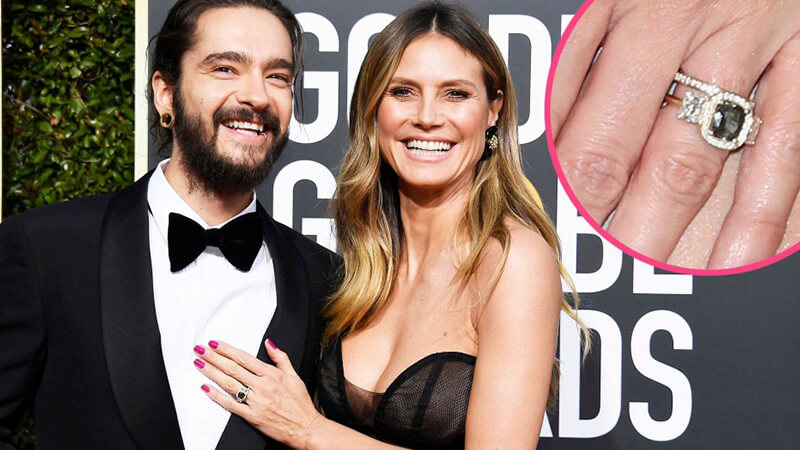 The America's Got Talent judge sealed the deal with German musician Tom Kaulitz with a custom designed gemstone engagement ring. The center stone is either a cushion cut teal sapphire or alexandrite and is surrounded by a halo of white diamonds. Two square cut diamonds also grace the sides.
These ethereal color gemstone rings are inspirational. At GemsNY, your gemstone engagement rings also can be customized to look like them.