Congratulations on your radiant emerald engagement ring! You've begun a wonderful journey filled with love and happiness, and it's vital to keep your precious gemstone glowing just as brightly as the day it graced your finger for the first time. Emeralds, with their stunning green hues that whisper tales of nature's splendor, hold a truly remarkable place in the world of gemstones. In this delightful guide, we'll explore some simple yet effective ways to care for your emerald engagement ring to preserve its timeless beauty and breathtaking brilliance for the years that lie ahead.
A Closer Look at the Enigmatic Emeralds
Emeralds, part of the beryl family, boast a killer quality that sets them apart—their vibrant green hue. And guess what? It's all thanks to the presence of chromium (and sometimes vanadium) that gives these gems their mesmerizing color. Now, when it comes to toughness, emeralds are no pushovers, scoring a solid 7.5 to 8 on the Mohs scale, making them pretty durable. But here's the thing: don't treat them like your average gemstones. Emeralds have their own natural inclusions called "jardin," adding a unique touch to each gem and making them deserving of extra care.
Now, let's talk about the emerald gemstone's amazing clarity. Skilled gem cutters work their magic using various techniques, but the most popular cut for emeralds is the rectangular step cut, famously known as the "emerald cut." With its parallel facets, this cut creates a mesmerizing interplay of light within the stone that will leave you in awe. So get ready to be blown away by the sheer awesomeness of emeralds. Their remarkable properties and that jaw-dropping green color are nature's way of saying, "Hey, look at me—I've got style!"
1. Handling with Care 
Emeralds are relatively softer gemstones compared to diamonds and sapphires, which means they require a gentle touch. When handling your emerald engagement ring, remember to avoid any rough or sudden movements. It's best to remove your ring before engaging in any strenuous activities or household chores that could potentially expose it to damage.
2. Regular Cleaning 
To maintain the brilliance of your emerald ring, regular cleaning is essential. However, it's crucial to be cautious as emeralds are sensitive to harsh chemicals and sudden temperature changes. The easiest way to clean your ring is by using a soft, lint-free cloth and warm, soapy water. Gently wipe the surface of the gemstone and the metal setting, ensuring you remove any dirt or residue. Finally, rinse the ring with lukewarm water and pat it dry with a clean cloth.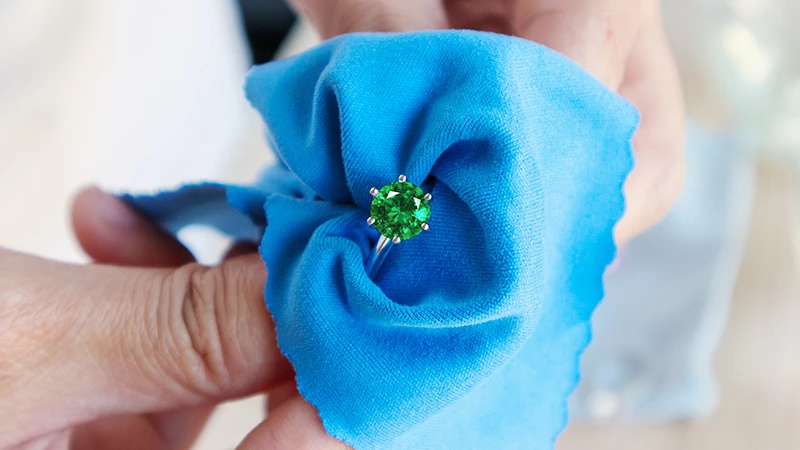 3. Avoiding Exposure to Chemicals
Chemicals and your emerald engagement ring? Not a good mix. To preserve its beauty, avoid using cleaning agents, perfumes, or cosmetics while wearing it. These substances can dull its shine and cause discoloration. Remember to put on your ring in the end after you are done with your beauty routine, for a flawless sparkle. Your emerald gemstone deserves the utmost care, so shield it from harm and let its May birthstone brilliance shine through.
4. Storage and Protection 
When your emerald ring is off-duty, proper storage is a must. Keep it in a soft, fabric-lined jewelry box or a dedicated compartment to prevent scratches and damage. Store it separately from other jewelry pieces to avoid friction or impact. For an extra layer of protection, consider using a jewelry pouch or an individual ring box to shield your precious gemstone.
5. Professional Maintenance 
While you can take several steps to care for your emerald engagement ring on your own, professional maintenance is essential for its longevity. Plan periodic visits to a reputable jeweler who specializes in gemstone care. A professional can inspect your ring, check for loose settings, and perform professional cleaning and polishing to keep your emerald ring in pristine condition.
Final Words
Your emerald engagement ring holds a special place in your heart and tells a story of love and commitment. By following these care tips, you can ensure that your emerald gemstone continues to shine brilliantly, capturing the essence of your everlasting bond. Treat it with tender care, pamper it with regular gentle cleanings, and provide it a safe haven when not adorning your finger.
At GemsNY, we understand the significance of your emerald ring and we are here to be your trusted guide on this enchanting journey. Our extensive collection of exquisite emerald jewelry awaits, offering you the opportunity to find the perfect piece that resonates with your style and captures the magic of your relationship. Let us assist you with our expertise and knowledge, ensuring that your emerald engagement ring remains a timeless symbol of your love, radiating beauty and captivating all who behold it.