Hey there, folks! When it comes to celebrity engagements, one thing that always steals the spotlight is the jaw-dropping rings they exchange. And guess what? Jennifer Lopez, the ultimate diva, has done it again!
Her latest bling is none other than a stunning green diamond engagement ring that has got everyone talking. Luckily, this blog is your backstage pass to explore this mesmerizing piece of jewelry. Trust me, you won't want to miss it! We'll unravel the story behind J-Lo's unique choice, delve into the symbolism of green diamonds, and uncover the legacy of her past engagement rings. So, get ready to be dazzled as we embark on this sparkling adventure together. Let's go!
1. A Unique Choice: The Green Diamond Engagement Ring
Jennifer Lopez's engagement ring from her partner, Ben Affleck, stands out for its creative choice of a green diamond center stone. Designed by the renowned jeweler Ilan Portugal, this ring is a true masterpiece. Rumored to feature an impressive 8.5-carat green diamond, the ring also boasts two exquisite white trillion-cut diamond side stones. The combination of vibrant green and sparkling white diamonds creates a mesmerizing contrast that accentuates the ring's beauty.
The allure of a green diamond engagement ring lies in its rarity and striking color. Green diamonds are exceptionally rare, ranking as the second rarest hue for diamonds, with red being the most elusive. The scarcity of green diamonds makes them highly sought after by collectors and jewelry enthusiasts alike. Their unique color, ranging from light green to deep forest green, adds an element of individuality and exclusivity to the ring.
2. The Rarity and Symbolism of Green Diamonds 
Alright, listen up, folks! We're about to dive into the rare and meaningful world of green diamonds, and let me tell you, it's fascinating! For Jennifer Lopez, these stunning gems hold more than just rarity. In her newsletter, On The J-Lo, she spilled the beans on her love affair with the color green. She even called it her lucky charm! Can you believe it? Apparently, incredible things have happened to her while she rocked that vibrant shade. Talk about some serious good vibes!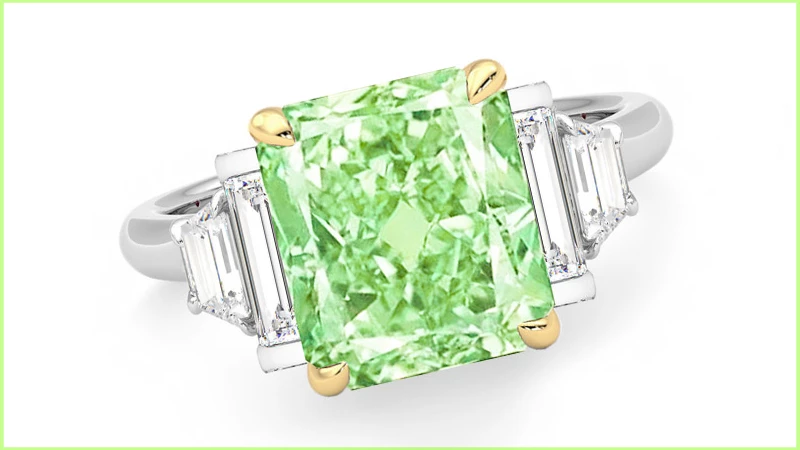 But wait, there's more! The symbolism of green diamonds goes way beyond their scarcity and J-Lo's personal connection. We're talking about nature, growth, and harmony here, my friends. Green is all about renewal, balance, and a fresh sense of rejuvenation. It's like a breath of fresh air captured in a gemstone! And by choosing a green diamond for her engagement ring, Jennifer Lopez not only flaunts her impeccable style but also embraces the deep symbolism behind this captivating gem. Wow, just wow! It's like wearing a little piece of nature's magic right on her finger. Who wouldn't want to be a part of that enchantment?
3. The Iconic Pink Diamond Engagement Ring of J-Lo
Throughout J-Lo's life,  she has rocked some seriously breathtaking bling. But let's take a moment to rewind to 2002 when Ben Affleck popped the question with a mind-blowing 6-carat cushion-cut pink diamond ring. Talk about making a statement! This sparkler, adorned with those fancy baguette-cut side stones, sent shockwaves around the globe. Yep, that's right—it became the symbol of their sizzling romance and had all the tabloids going wild. The iconic duo, affectionately known as "Bennifer," had the whole world swooning.
4. The Beauty of Diamond Engagement Rings 
Diamond engagement rings are like a charm that never goes out of style! They're sparkling, durable, and simply gorgeous, making them the go-to choice for couples starting their love adventure. Whether you fancy a classic solitaire or a jaw-dropping intricate design, diamond engagement rings have a magical power to steal hearts and narrate your one-of-a-kind love story.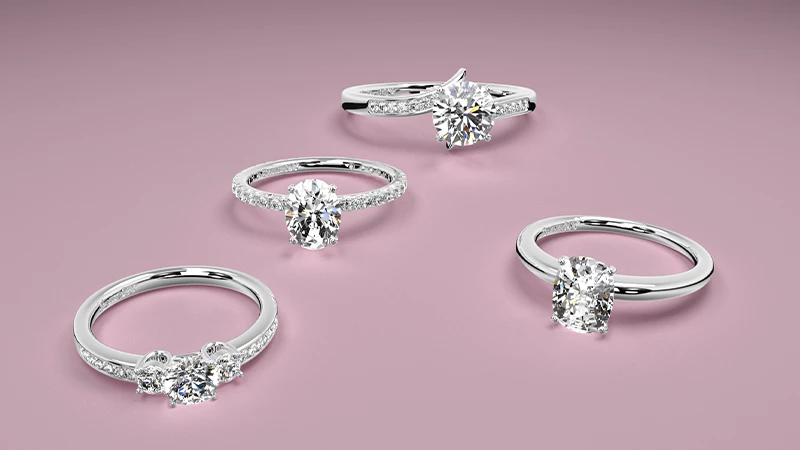 And here's the cherry on top: the radiance of these diamonds represents the eternal nature of love. When you slip a diamond engagement ring on her finger, you're making a precious memory that will last a lifetime, not just a commitment. Each glance at that gleaming gem will remind you of the priceless moments you've shared with her and the unbreakable bond you've formed.
5. The Gorgeous Green Diamond Jewelry 
Green diamonds aren't just rockin' engagement rings only; they're also making waves in a variety of other stunning jewelry pieces. From diamond earrings to necklaces, these exquisite gemstones offer a vibrant and lively touch, allowing individuals to show their love for all things green while making a bold and fashionable statement.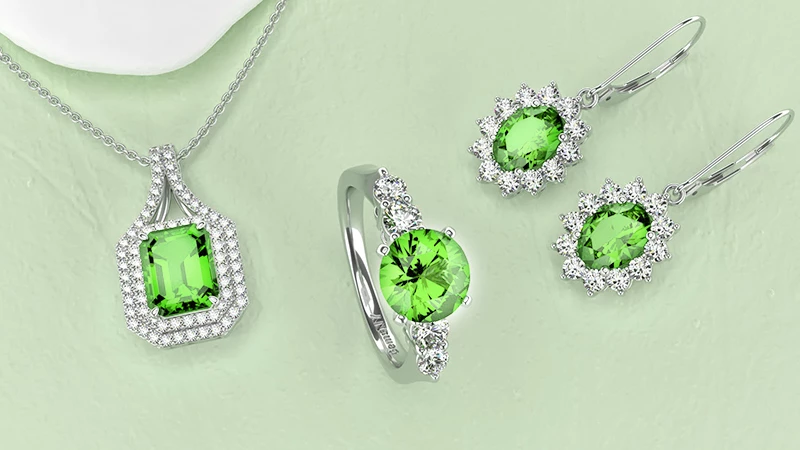 Here's something fascinating: Jennifer Lopez was gifted a pair of light green diamond earrings rimmed with pink stones by none other than Ben Affleck for her birthday! Talk about a power couple with impeccable taste. When paired with her natural green diamond engagement ring, these earrings create an ensemble that is truly jaw-droppingly stunning. It's all about achieving that perfect harmony, folks! Just like Jennifer, you too can rock the green diamond game and embrace the beauty they represent.
Final Words 
Dear readers, we've journeyed you through the glitz and glamor of J-Lo's stunning green diamond engagement ring. This ring is more than just a sparkler—it's a symbol of love, rarity, and personal significance. Jennifer Lopez has always been a  trendsetter, and she has once again mesmerized us with her unique choice. The green diamond center stone exudes an aura of elegance and mystery, capturing the essence of her radiant personality.
Now that you know all the fascinating details about Jennifer Lopez's remarkable engagement ring, it's time to get your hands on your own exquisite piece of jewelry. And here's a little secret for you: if you're dreaming of your own show-stopping diamond ring, GemsNY is the place to go! 
GemsNY, like J-Lo's ring, has the power to leave you in awe, making jaws drop and heads turn. We have a stunning collection of engagement rings that will leave you spellbound. So, why wait? Let us make your diamond dreams come true today!
* Credit Source –
Image 1st – https://www.weddingsutra.com/celebrity-weddings/engagement-rings/jennifer-lopez/
Image 2nd – https://taylorandhart.com/us/blog/jennifer-lopez-engagement-ring