When it comes to precious gemstones, few can rival the beauty and allure of tanzanite stones. Named after its country of origin, Tanzania, this magnificent gem has captured the hearts of jewelry enthusiasts around the world. Renowned for its mesmerizing blue-violet hues and remarkable rarity, tanzanite is a true testament to the natural wonders found on the African continent. Let us understand more about this fascinating gemstone.
Origin And Mineral Composition 
Tanzanite belongs to the mineral species called zoisite, and it was first discovered in 1967 in the Merelani Hills near Mount Kilimanjaro in northern Tanzania. The discovery itself is quite remarkable, as tanzanite is found in only one location on Earth. This exclusivity adds to its allure and makes it even more prized by collectors and jewelry enthusiasts.
Color
What sets the tanzanite center of the stage is its captivating color. Tanzanite exhibits a pleochroic nature, meaning it can display different colors, Ranging from deep royal blues to vibrant violets from various angles. The gem's enchanting hues are a result of its trichroism, which refers to its ability to transmit blue, violet, and burgundy colors based on the crystal's orientation. This dynamic interplay of colors gives tanzanite an unmatched depth and richness.
Tanzanite owes its unique color due to the presence of vanadium, a trace element in its crystal structure. The gem's blue component is particularly prized, as it showcases a vivid intensity replica to sapphire. In fact, tanzanite is often mistaken for sapphire or blue spinel due to its similar coloration, but its distinctive hues and rarity set it apart as a gemstone of extraordinary beauty.
Size And History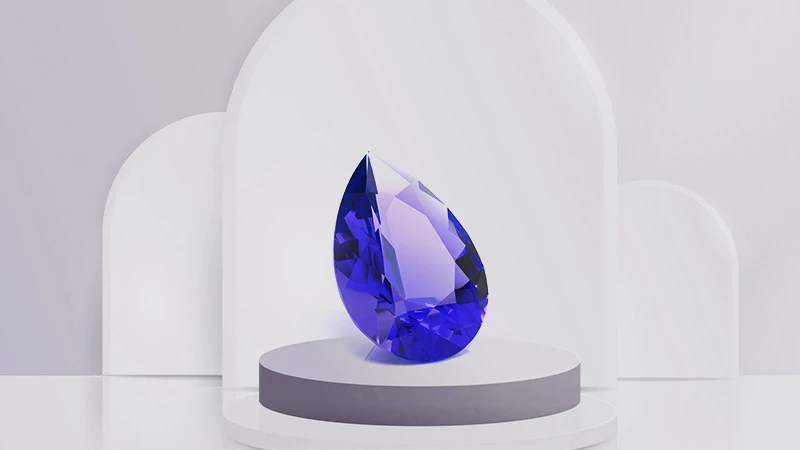 Gem-quality tanzanite is typically found in smaller sizes, with most stones weighing less than five carats. Larger tanzanites are exceptionally rare, and those exceeding 50 carats are considered extraordinary discoveries. The gemstone's scarcity contributes to its desirability and has led to its classification as a birthstone for December, alongside blue zircon and turquoise. Due to its relative newness in the world of gemstones, tanzanite has a relatively short but eventful history. It gained popularity in the late 1960s and early 1970s when Tiffany & Co., the renowned jewelry company, recognized its exceptional beauty and began promoting it. Tiffany's marketing campaign introduced tanzanite to a global audience, elevating its status as a sought-after gemstone.
Symbol Of Sophistication And Elegance
Tanzanite has become a favorite among jewelry designers and collectors as a symbol of sophistication and elegance. It is frequently incorporated into a variety of jewelry pieces, including rings, earrings, necklaces, and bracelets. The gem's deep blue tones beautifully complement both white and yellow metals, offering a myriad of design possibilities.
Cultural And Economic Significance
Beyond its aesthetic appeal, tanzanite holds cultural and economic significance for Tanzania. The gem has become an integral part of the country's identity and a valuable source of income. Tanzanite mining has created employment opportunities and contributed to the local economy, empowering communities in the region.
Care And Maintenance
The gemstone's delicate nature requires careful handling and protection from extreme temperatures, sudden temperature changes, and ultrasonic cleaners. Additionally, its continuous exposure to sunlight light exposure can cause fading or altering of color over time. Therefore, tanzanite jewelry should be treated with care and stored appropriately to maintain its brilliance and vibrant color.
Now let us understand how tanzanite stones are different from other stones.
Origin And Rarity
One of the primary factors that differentiate tanzanite stones from other gemstones is its limited geographic origin. Tanzanite is found exclusively in the Merelani Hills of northern Tanzania, making it a geologically specific gemstone. This exclusivity makes tanzanite stones significantly rarer compared to other gemstones that have multiple mining locations around the world.
Captivating Color
Tanzanite's most striking characteristic is its captivating color. While many gemstones exhibit a single dominant color, tanzanite boasts a unique trichroic property, displaying a stunning range of blue, violet, and burgundy hues. This play of colors is a result of tanzanite's crystal structure and pleochroism, where different colors are observed from various angles. It sets tanzanite apart from other gemstones that typically showcase a single hue, giving it a special identity in the world of gemstones.
Healing Properties
Gemstones have long been associated with metaphysical properties and are believed to possess healing energies. Tanzanite stone, with its deep blue-violet color, is also associated with various spiritual and healing benefits. It is said to promote inner peace, calmness and harmony while also enhancing intuition and spiritual awareness. The add-on astrological benefits of tanzanite differentiate it from other gemstones, as each gem is believed to have its own unique energetic qualities.
Birthstone And Anniversary Stone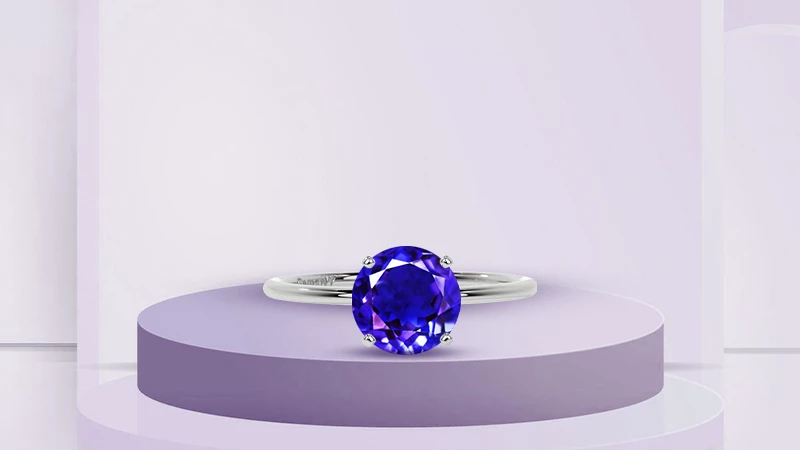 Tanzanite holds a special place as a birthstone for December. It shares this honor with blue zircon and turquoise. Tanzanite as a birthstone further highlights its exceptional quality and sets it apart from other gemstones. Additionally, tanzanite is also recognized as the gemstone for the 24th wedding anniversary, offering couples a meaningful and rare option to celebrate their enduring love.
Durability And Care
Tanzanite's physical properties contribute to its distinctiveness compared to other gemstones. While tanzanite ranks at around 6.5 to 7 on the Mohs scale of hardness, it is relatively softer than gemstones like diamonds and sapphires. This means that tanzanite requires a little more care and attention to protect it from scratches and potential damage. It is essential to handle tanzanite jewelry with care and avoid exposing it to high temperatures or harsh chemicals.
Market Value And Investment Potential
Tanzanite's unique combination of rarity, captivating color, and limited supply has positioned it as a gemstone with significant investment potential. The gemstone's value has consistently increased over the years and it is considered a valuable addition to any gemstone portfolio. The best part is that this gemstone is still underrated and thus not very pricey. The scarcity of tanzanite, combined with its growing popularity, sets it apart as a gemstone that offers not only aesthetic appeal but also potential financial gain.
In conclusion, tanzanite's origin, captivating color, metaphysical properties, and market value make it stand out among other gemstones. Exclusivity and limited supply of tanzanite stone, combined with its remarkable blue-violet hues, make it a unique gem that continues to capture the admiration and fascination of gemstone enthusiasts worldwide. Whether admired for its beauty, spiritual significance, or investment potential, tanzanite remains an extraordinary gemstone that sets the bar high for other gemstones.