An engagement ring is traditionally considered the domain of a girl but this perception is changing very fast and if someone like Brooklyn Beckham is seen making a statement with a ring after his engagement, then it surely bolsters the trend of men's engagement rings.
An engagement ring is a sublime symbol of love and commitment. Presenting a ring that embodies those profound feelings forever is a joy in itself. But how would you buy something as important as an engagement ring that you can connect to, something that inspires you about your relationship with an everlasting energy? In order to assist you in making this monumental purchase of your life, we've brought you a guide to buying men's engagement ring.
Think of a Design – Classic or Trendy
You might be swayed by the flamboyance of trendy designs but it's a good idea to stick to the classic, timeless design for the engagement ring because you don't want the ring to appear outdated anytime soon.
Classic plain rings are beyond any fashion fad and go with any attire. On the other hand, the motifs such as leaf or filigree work render a vintage look to the ring. You can take cues from the interests and styling patterns to discern what type of ring he would love to wear for the rest of his life.
Pick the Right Gemstone
Diamonds are the first thing that immediately strikes us when we think of a gemstone. Though diamonds set the benchmark for strength and represent timelessness, there are many color-gemstones which you can consider for that special ring. Gemstones such as sapphire, ruby, emerald, alexandrite have special symbolism associated with them which you might want to factor into your decision. Also, considering a birthstone can be a terrific idea because wearing a birthstone is supposed to align your energies to the cosmos and induce harmony in life.
Take a look at this bold and classy ruby ring that will make him feel like a rock-star. You can reinvent this ring in any color gemstone of your choice.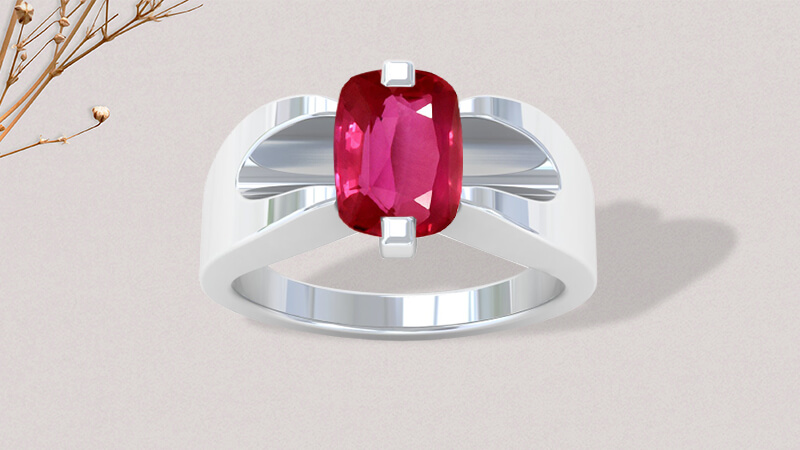 Choosing a Guardian Metal
For men's rings in general, it used to be so simple in the olden days with questions like "what it's going to be – yellow gold or white gold?" Then platinum also entered the equation. But now men's rings are forged using a variety of non-conventional elements such as tungsten, carbon, silicon, wood and even iron!! Apparently, there is no one right-way when it comes to choosing a guardian metal for your finger. What matters is that you should get your ring made of something that doesn't put you in any discomforting situation, matches your style & lifestyle, and complements your skin tone.
At GemsNY, we craft men's rings for your memorable occasion with a touch of sophistication. You can explore our designs in 14k/18k white gold, yellow gold and rose gold in addition to platinum which is a denser and stronger metal.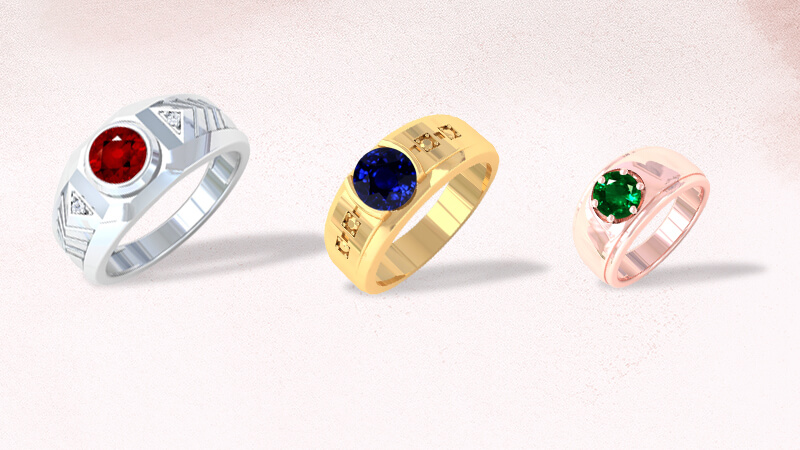 Right Size Matters
Who in the right mind would buy a ring that doesn't fit? But in spite of our best intentions and meticulous measurements, ring size issues are more frequent than you can imagine. GemsNY recognizes this common yet annoying problem and so we offer a one-time free resizing of your ring within 90 days of your purchase.
Not everyone is Johnny Depp who started wearing the engagement ring of his girlfriend, Amber Heard, because it didn't fit! Would you wear an undersized ring of your man? And do you think that men also deserve sparkly engagement rings?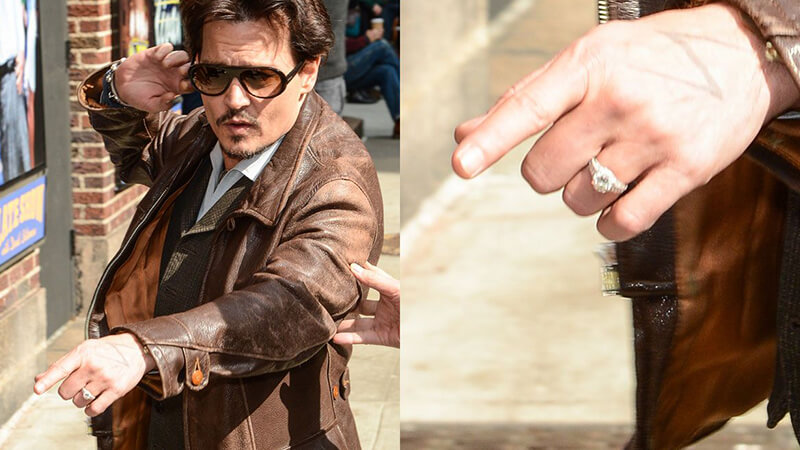 What's an Ideal Budget
When it comes to the question of how much to spend on an engagement ring, the truth is that there is no exact science. Some may prefer a minimalist setting which is sometimes nothing more than a metal band whereas some people would like to go with a more swanky and never-been-done-before kind of a ring.
The ideal budget would be something that you can afford immediately plus the present value of a yearlong EMI. Applying this formula will leave you enough leverage to enjoy all the moments of your beautiful relationship without being under constant financial stress. GemsNY offers you interest free financing and many other options.
Consult a Jewelry Specialist
It is not uncommon to see people confounded with a flood of ideas when they are about to make such an important buying decision of their life. The confusion is also oftentimes due to the emotions running high, making the task even more daunting. Working with a jewelry consultant might just be the touch of magic you need to take the aesthetics of the ring to a whole new level. In addition, it will help you to avoid many afterthoughts.
GemsNY has in-house expert gemologists and jewelry consultants who will be with you at every step of your journey to make it a truly unforgettable event.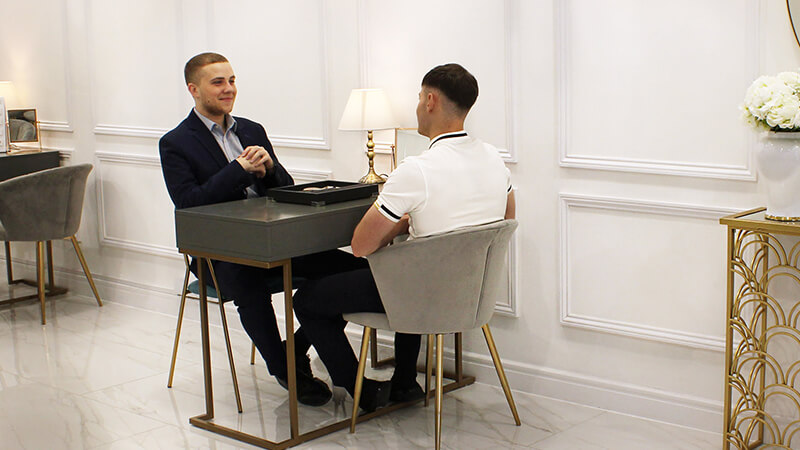 Buying a men's engagement ring for your beau might appear intimidating at first but if you relate to his persona and sartorial sense, then finding an engagement ring for him will turn out to be quite fun and when you see your partner smile by stealing a look at that engagement ring, you know that you couldn't be more right.