In a world filled with constant noise and overwhelming choices, it's no wonder that many individuals find solace in simplicity. Minimalism has emerged as a popular lifestyle choice, focusing on decluttering, streamlining, and embracing the essence of what truly matters. This philosophy has also found its way into the world of fashion, particularly in the territory of jewelry.
Minimalist jewelry has captured the hearts of those who appreciate clean lines, understated elegance, and a touch of timeless appeal. It's the perfect choice for lovers of simplicity, offering a refreshing departure from the over-engraved and extravagant designs that often dominate the fashion scene. With its understated charm, minimalist jewelry allows the wearers to make a statement without overwhelming their personal style.
The essence of minimalist jewelry lies in its simplicity. Delicate, refined, and natural, these pieces possess a quiet sophistication that transcends trends and stands the test of time. Minimalist jewelry focuses on clean, geometric shapes and often incorporates simple elements in circles, squares, or straight lines. The absence of excessive adornment highlights the beauty of the design itself, allowing the jewelry to seamlessly blend with any outfit or occasion.
Here are some benefits of choosing minimalist jewelry:
One of the key benefits of minimalist jewelry is its versatility. Whether you are attending a formal event or going for a casual outing, a minimalist solitaire ring effortlessly complements any ensemble. The understated nature of such jewelry ensures that it never overpowers your overall look, instead acting as the perfect accent to enhance your style. From dainty necklaces and stud earrings to sleek bracelets and halo pendants, minimalist jewelry offers a wide range of options to suit every taste and preference.
Another advantage of minimalist jewelry is its ability to evoke a sense of mindfulness. It encourages us to appreciate the beauty in the small things by embracing simplicity and paring down to the essentials. Each piece becomes a reminder to focus on what truly matters, reminding us to slow down and enjoy the present moment. In a world that often values excess and extravagance, minimalist jewelry acts as a gentle nudge toward a more mindful and intentional way of living.
When it comes to materials, minimalist jewelry often favors quality over quantity. Sterling silver, rose gold, and yellow gold are popular metal choices, as their clean and lustrous finish perfectly complement the minimalist aesthetic. Additionally, gemstones such as diamonds, pearls, and clear quartz are frequently incorporated, adding a touch of elegance without overpowering the simplicity of the design.
Minimalist jewelry also offers a sense of individuality. While the pieces may appear simple at first glance, they allow for personalization and self-expression. Layering delicate necklaces, stacking slim rings, or mixing metals can create a unique and customized look that reflects your personal style. With minimalist jewelry, you have the freedom to curate your own collection and create combinations that resonate with your individuality.
After knowing these advantages of choosing minimalist jewelry let us find out how to choose the perfect jewelry piece for yourself that reflects your personal style.
Define Your Style: Before diving into the world of minimalist jewelry, take a moment to define your personal style. When it comes to metals (e.g., silver, gold, rose gold) and overall aesthetics, consider your preferences. Do you prefer delicate and dainty pieces, or do you lean towards slightly bolder designs? Understanding your style preferences will make the selection process easier.
Consider Versatility: One of the key aspects of minimalist jewelry is its versatility. Look for pieces that can seamlessly transition from day to night and from casual to formal occasions. Simple stud earrings, delicate necklaces, metal bands, and sleek bracelets are versatile choices that can be easily mixed and matched with various outfits.
Pay Attention To Quality: When it comes to minimalist jewelry, quality is essential. Since the designs are often simple, the craftsmanship and materials should be of high quality to ensure durability and longevity. Opt for pieces made from materials like sterling silver, platinum, or solid gold, as they are known for their durability and timeless appeal.
Start With Staple Pieces: If you're new to minimalist jewelry, start by investing in staple pieces that can form the foundation of your collection. Classic designs such as a simple pendant necklace, stud earrings, and a slim bracelet are versatile choices that can be worn on a daily basis and complement a variety of styles.
Consider Your Skin Tone: While minimalist jewelry is generally known for its simplicity, you can still consider your skin tone when choosing metals. Silver tends to complement cool undertones, while yellow gold and rose gold can enhance warmer complexions. However, don't be afraid to mix metals if you prefer a more eclectic look.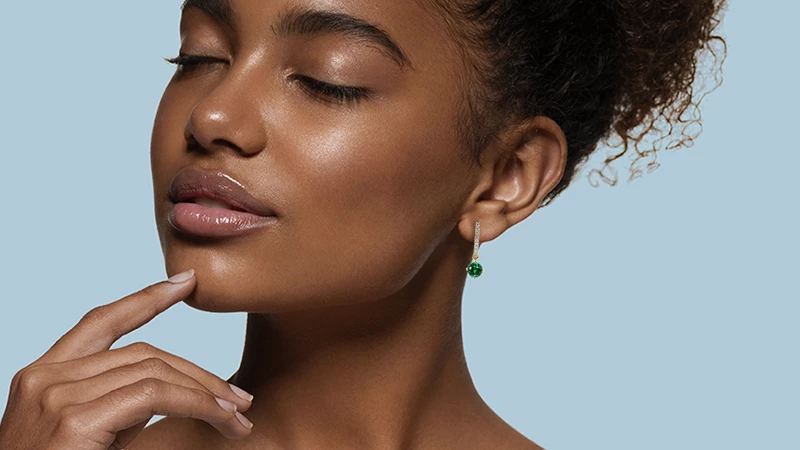 Trust your Instincts: Ultimately, choosing jewelry is a personal decision. Trust your instincts and choose pieces that resonate with you. If a certain design catches your eye and makes you feel confident and comfortable, it's likely the perfect choice for you.
Consider the Occasion: While minimalist jewelry is versatile, it's worth considering the occasions you plan to wear it for. If you primarily need jewelry for formal events, opt for pieces with a touch of sophistication, such as a simple pendant necklace with a small gemstone or a delicate pair of drop earrings. For everyday wear, focus on pieces that are comfortable, lightweight, and can withstand daily activities.
Some Minimalist Jewelry Ideas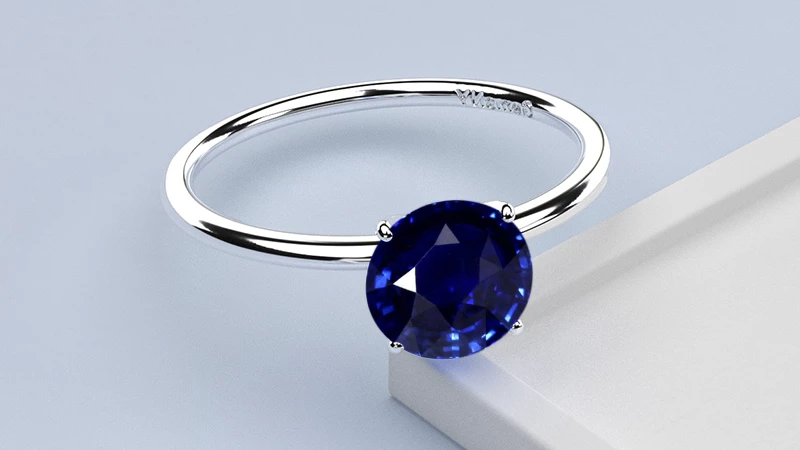 This ring features a big size sapphire as the center stone and when sapphire is the center stone of your ring you do not need any other embellishment in the jewellery piece. The worth of sapphire is enough to make a jewelry piece special.
Halo Pendant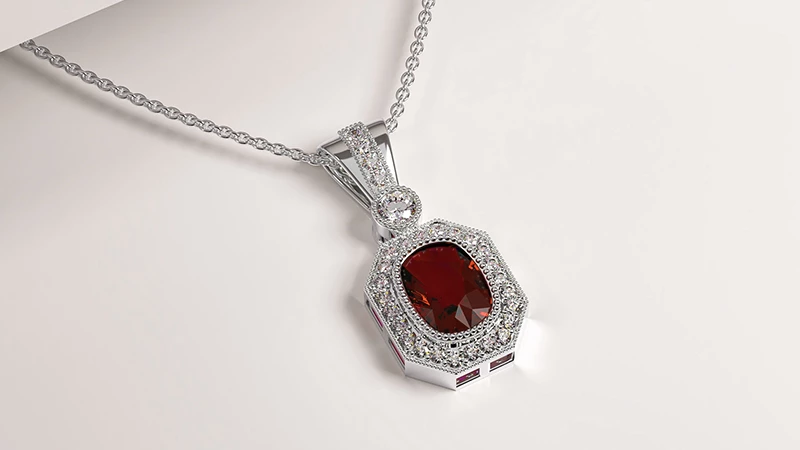 You can consider an emerald halo pendant as minimalistic jewelry if it is paired with a simple chain. You can choose any gemstone of your choice for the pendant. Wearing a birthstone pendant can also benefit you in many ways.
Stud Earrings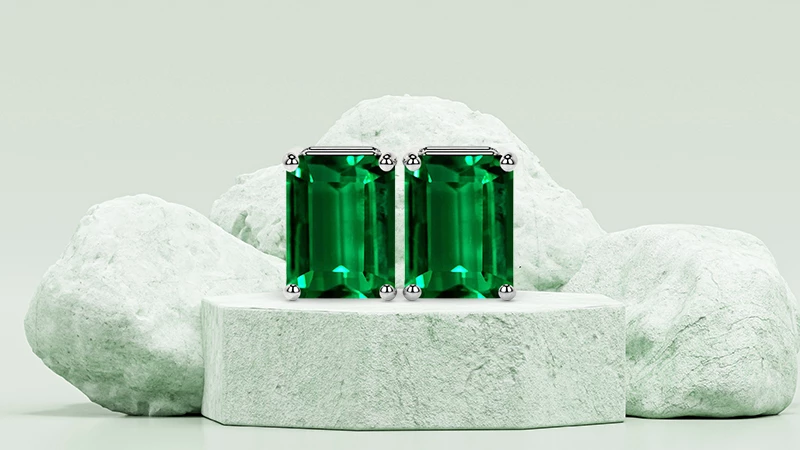 Stud earrings are an everyday wear minimalist jewelry piece. Just a tiny diamond or any other gemstone can add sparkle to your earlobes. Stud earrings are very easy to maintain and they go perfectly well with all your attire.
Remember, minimalist jewelry is all about embracing simplicity and allowing the beauty of the design to shine through. By considering your personal style, quality, and versatility and experimenting with layering, you'll be able to curate a collection of minimalist jewelry. Your collection perfectly reflects your individuality and complements your style with understated elegance. So pick a minimalist jewelry piece to shine with simplicity.