When the warmth of August embraces us, the time to celebrate the birthstone of this beautiful month arrives – the mesmerizing peridot. Regarded for its gorgeous green color and fascinating history, peridot has grabbed attention for ages. In this article, we'll explore the realm of peridot jewelry to discover the best pieces to prettify yourself with the enchanting gemstone.
The True Symbolism of Peridot
Apart from its alluring beauty, peridot holds symbolic meaning that aligns with its wearers. It is believed to be associated with healing properties, rejuvenation, and positive energies. In the bygone eras, peridot gemstone was said to provide harmony to relationships and amplify inner peace. Its vivid green color is often linked with revival, renewal, and growth. Adorning peridot jewelry can work as a constant reminder to glorify transformation, seek positivity, and foster one's self-exploration journey. 
A Sneak-Peek into the Fascinating History
Peridot's history is as fascinating as its hue. This precious gem has been cherished for centuries and holds a significant place in numerous cultures across the globe. In ancient times, Egyptians labeled it as the "gem of the sun", believing that peridot carried the aura of the sun god Ra. They also thought it was a stone of protection, and capable of warding off evil spirits and nightmares. Peridot's enchanting green shine was even considered to mirror the charmness of the moon, lending it an otherworldly quality.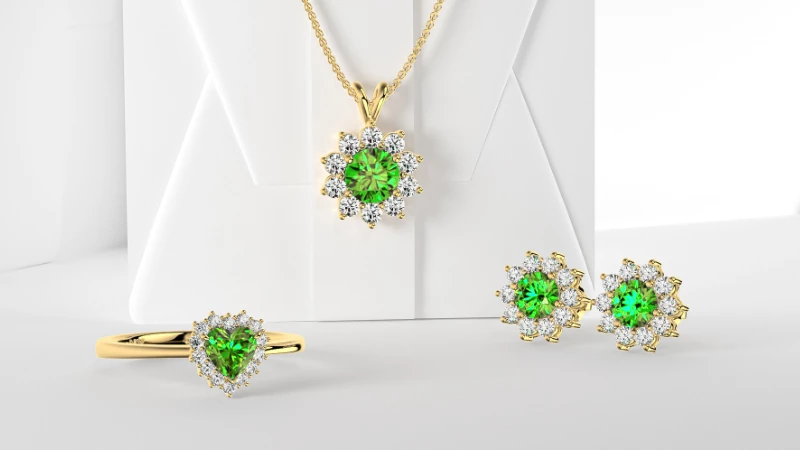 A Glimpse into the World of Peridot Jewelry
Peridot, also known as the "evening emerald", carries a peerless and mesmerizing allure. Its gorgeous green hue is reminiscent of thick forests and bright summer landscapes. Whether you're seeking a bold piece or an elegant ensemble, peridot jewelry offers a spectrum of options suitable for every taste and style. 
The Elegance of Peridot Ring
A Peridot ring is an extraordinary way to showcase the August birthstone. The bright green gemstone bedecked on any precious metal such as classic gold, white gold, or platinum creates a dazzling contrast that strikes the eyes. Peridot rings are a token of renewal, making them a perfect choice for the August-born. The vivid hue is a tapestry woven with enthusiasm and happiness identified with this summer month. 
The Charm of Peridot Earrings
Earrings incorporated with peridot gems add a hint of glamor to any outfit. Whether you admire studs, hoops, or drop settings, peridot earrings add a pop of color that amplifies both casual and formal attire. The vibrant green tone of peridot is a perfect conversation starter, permitting you to carry an essence of August wherever you go. 
The Allure of Peridot Pendant
For a touch of elegance yet equally glamorous look, peridot pendants are an ideal choice. The gorgeous green gem suspended from a sleek chain rests gracefully on the collarbone, creating an enchanting amalgamation of nature and glamor. Whether you style it solo or layer it with other necklaces, a peridot pendant ensures to exude the natural beauty of August.
The Art of Customization
The real beauty of peridot gemstone lies in its versatility. Jewelry designers use peridot to craft custom jewelry that mirror individual styles and preferences. From enchanting vintage-inspired settings to modern minimalist designs, custom-made peridot jewelry enhances the wearer's persona and the spirit of their birth month. 
Finding the Perfect Piece of Peridot Jewelry
When selecting peridot jewelry, consider your fashion style, taste, and preference, and the event for which you're purchasing the piece. Whether you're attracted towards contemporary designs or retro-inspired settings, the huge array of peridot jewelry ensures you acquire the perfect piece for yourself. Remember the importance of 4Cs which are cut, color, clarity, and carat weight of the gem to make sure you're getting a premium quality piece that truly exudes its excellence. 
Caring Tips for Peridot Jewelry
To preserve the brilliance of your peridot jewelry for future generations, it's crucial to care for it properly. According to the Mohs scale, peridot is rated 6.5 to 7 for hardness, which makes it moderately durable, and vulnerable to scratches. To avoid damage, keep your peridot jewelry in a separate jewelry box or wrap it in a muslin cloth. Periodic cleaning with a mild soap solution will help maintain its shine. Avoid exposing this precious gem to toxic substances or ultrasonic cleaners, because these can harm the beauty and structure of your peridot jewelry. 
Final Words
When we clasp ourselves with the allure of August, peridot jewelry stands as a testament to the unique wonders nature has to offer. From elegant rings to exquisite pendants and custom settings, peridot permits us to carry a spirit of August wherever we go. Whether you're harmonizing any special event, celebrating a birthday or simply embracing the charm of this vibrant month, peridot jewelry makes an ageless and perfect choice. So, indulge in the green majestic beauty of peridot, and let its elegance mesmerize you.
Explore our website and grab your perfect piece of peridot jewelry at best deals.