The Oscars hit us hard this year and no, we are not referring to 'slapgate' but to the ethereal red carpet looks that have us swooning. The gemstone jewelry game was particularly strong this year so we bring to you: The most iconic celebrity gemstone jewelry moments from the 2022 Academy Awards.
Jessica Chastain's Diamond and Spinel earrings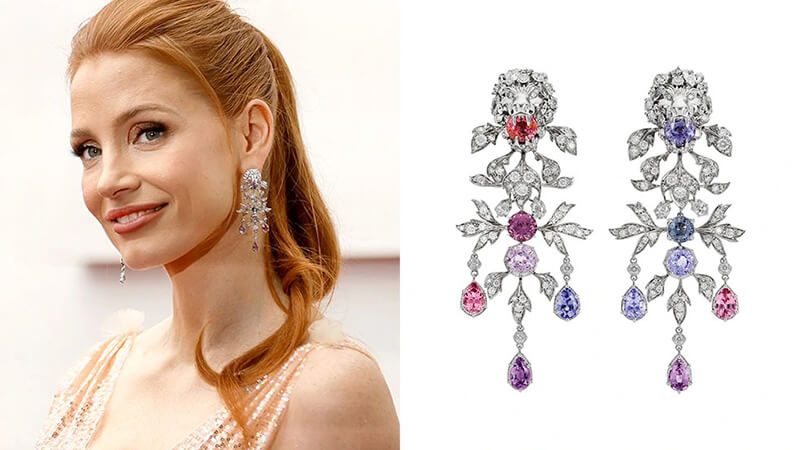 Draped in Gucci from head to toe, Jessica Chastain's coral-pink look was punctuated by the high-jewelry pieces from the brand's Hortus Deliciarum or 'garden of delights' collection. The earrings, rings and bracelets featured diamonds and pink, lilac and light blue spinels that were set in white gold. 
The lion's head earrings had a round cut spinel in a miniature lion's roaring mouth while the rest of the earring dropped in a delicate floral motif. Dressed for success, Chastain went on to win Best Actress for her portrayal of Tammy Faye.
H.E.R.'s Diamond and Emerald Necklace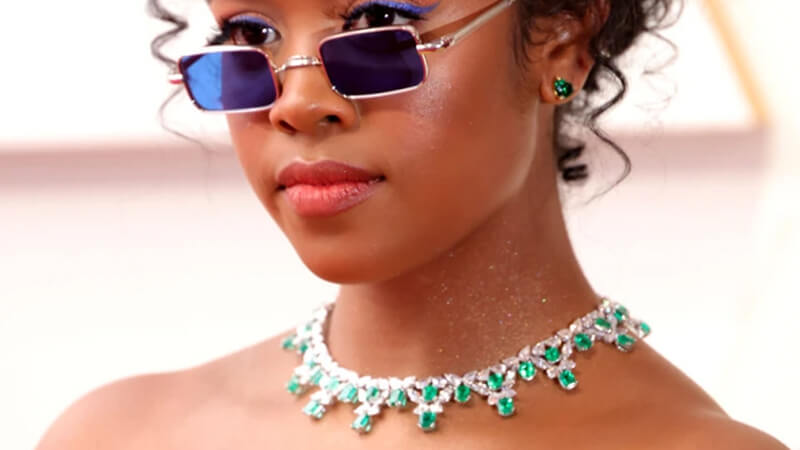 The Academy Award-winning R & B singer styled her neon yellow minidress with the Chopard high-jewelry necklace crafted with 49.24 carats of emeralds and 62.15 carats of white diamonds, set in 18-karat white gold. The necklace was accompanied by solitaire emerald studs. The juxtaposition of timeless sophistication and camp style was heightened by H.E.R.'s choice of electric blue eyeliner. Chef's kiss!
Nicole Kidman's Eagle Yellow Diamond Necklace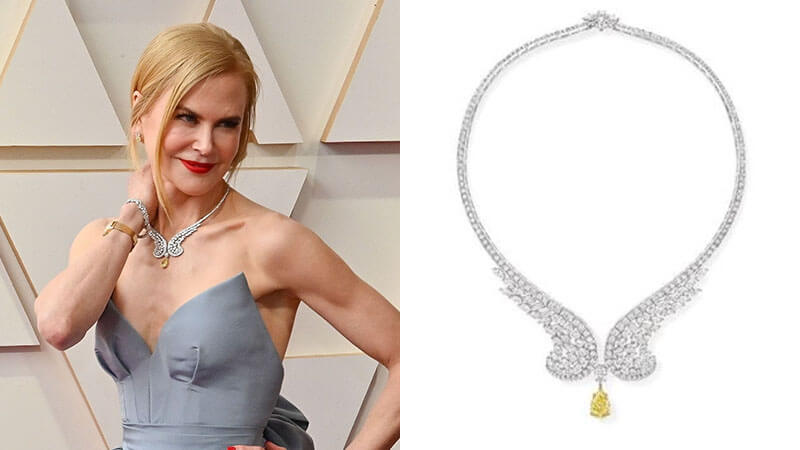 Kidman brought the old-Hollywood aesthetic to life in her powder blue Giorgio Armani Privé gown. However, the look would not have been complete without the scintillating Harry Winston Eagle Yellow diamond necklace that graced the Academy Award winner's elegant neck. 
The diamond necklace featured a 5.87-carat pear-cut fancy yellow diamond that was framed by 205 round and marquise cut diamonds that collectively weighed 27.55 carats. The white diamonds were shaped like wings with the yellow diamond dropping from their center. The necklace was set in platinum and 18-karat yellow gold and was accompanied by matching earrings and bracelets.
Kristen Stewart's 'Ganse Noire Spinelle' Necklace
The Spencer nominee kept it cool in her custom Chanel satin tuxedo-shorts and an upside down smokey eye. But the most striking feature of her ensemble was the Chanel high-jewelry "Ganse Noire Spinelle" necklace. The off-beat piece featured a vivid red spinel and diamonds that were set in 18-karat white gold. 
The long piece hung down her unbuttoned white shirt and often got lost in the fold of the clothes, but this wasn't a wardrobe malfunction. Instead, Stewart meant to wear this extraordinary piece of jewelry as a makeshift boho tie. Needless to say, it worked.
Lupita Nyong'o's Fancy Color Diamond Rings and Earrings
It was hard to keep one's eyes on Lupita Nyong'o's Jewelry as she shone like a celestial being in her pink and gold Prada dress, but the DeBeers pieces stole the show anyway. The 'Reflections of Nature: Motlatse Marvel' earrings featured fancy deep orange, pink, and white diamonds that were set in 18k white, yellow, and rose gold.
Lupita's stylist, Micaela Erlanger chose the earrings from the De Beers' 2021 Reflections of Nature high jewelry collection and paired them with an art Deco ring with a fancy vivid orange center stone.
Zendaya's Serpenti Necklace and Bracelets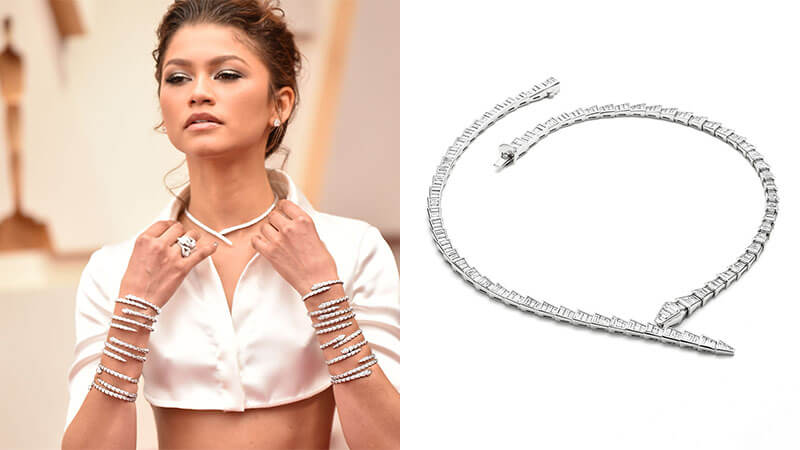 No fashion blog in the multiverse is complete without a shoutout to Zendaya. Her glamorous two-piece custom valentino outfit was graced by statement pieces from Bulgari's Serpenti collection. The sleek high-jewelry Serpenti necklace was paired by layers of coiled Serpenti diamond bracelets that covered most of Zendaya's forearm. The entire set featured approximately 218 step-cut diamonds that collectively weighed 13 carats and were set in 18-karat white gold. 
Jessica Chastain's lionhead necklace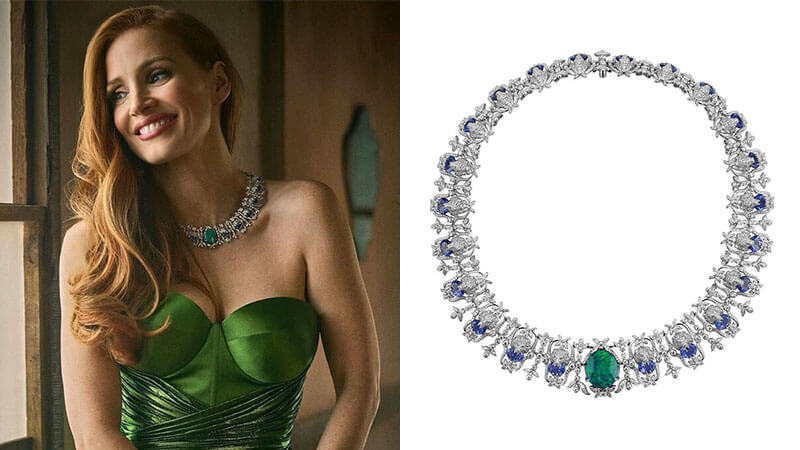 The night belonged to Jessica Chastain. The Best Actress swapped the pinks for an emerald green lamé strapless Gucci dress for the Vanity Fair after party. She also donned a Gucci high jewelry lionhead necklace which was embellished with an Opal, tanzanites and diamonds and set in 18k white gold. The necklace was accompanied by a green garnet and diamond Gucci high jewelry ring also set in 18k white gold. 
Feeling inspired by these celebrity gemstone jewelry looks? Turn the whole world into your red carpet with our preset gemstone jewelry collection!