Introduction
A wedding is a beautiful occasion and a special day for the bride and groom. It is a day of celebration that marks a new start in the couple's life. While wedding vows are a significant part of the ceremony, exchanging wedding rings has also become a common ritual practiced by many.
Not only does a wedding ring serve as a constant reminder of timeless love and commitment, but it is also a fancy way of saying 'I do.' While most women love rings that are too dazzling and glamorous, men generally prefer a simple yet elegant wedding band. 
Finding the perfect wedding band for him that truly reflects his unique personality can be daunting. Worry not! That's why we are here for you. Here are a few stunning wedding band designs for every style and taste.
Timeless Men's Wedding Bands Designs
A Classic Gold Band
The number one on our list is the timeless and traditional gold wedding band. It looks simple yet alluring and is versatile. Moreover, when we say gold, we just don't mean the yellow-colored metal. You can also choose from white gold as well as rose gold! Each shade has a distinct appeal, meaning you can pick a shade of gold that matches the personality of your groom-to-be the most!
Gold wedding bands are comfortable to wear and offer a timeless look. Here are a few wedding band designs with a manly appeal in yellow gold, white gold, and rose gold!
Solitaire Wedding Band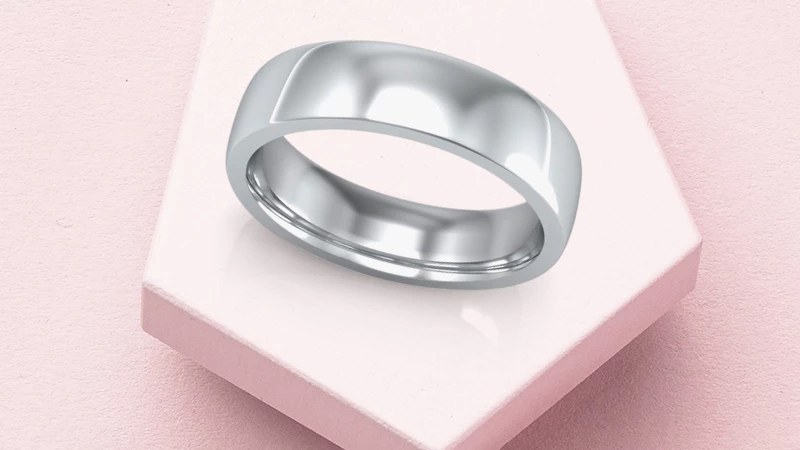 If your man doesn't mind a bit of sparkle, a solitaire wedding band will be a perfect choice. Not only is this band more stylish than the others, but it also has a unique appeal. 
You can go for a round-cut diamond or any gemstone of your choice as the center stone of the wedding band on a platinum or white gold setting. It will add some flair to the typical wedding band designs while maintaining a manly appeal.
Platinum Wedding Band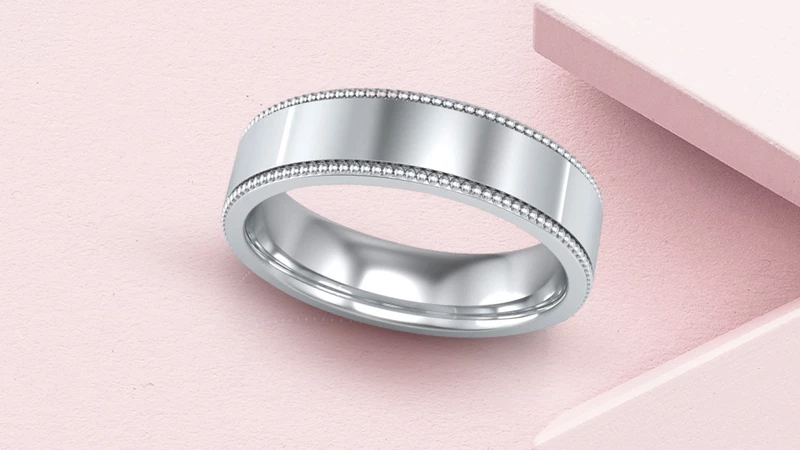 If our list doesn't include a platinum wedding band, is it even complete? 
Platinum is one of the most sought-after and popular choices for men's wedding bands. It is a prized and rare metal and is also well-known for its durability. Not to forget, platinum had an incredible luster. Wouldn't you agree with that? 
Moreover, did you know that the color of platinum never fades or changes? It is a naturally occurring white metal that doesn't require much maintenance. You can opt for a platinum wedding band with a sleek appearance, which will be perfect for any groom with a minimalistic yet classy taste in jewelry.
Engraved Wedding Band
You can find plenty of simple and plain designs for a ring. However, a wedding day is a memorable occasion, which calls for an equally special wedding band. You don't have to go overboard with sparkles, but you can take the minimalistic aesthetic up a notch by opting for a band that is a bit more stylish.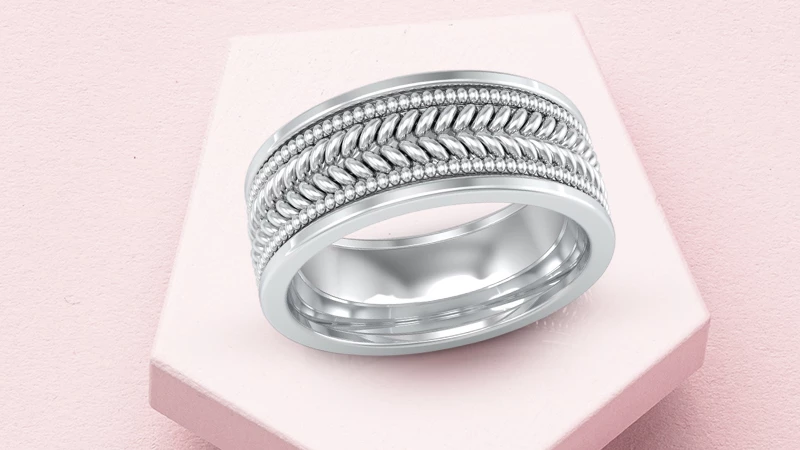 Have you considered an engraved wedding band yet? If not, you might as well now! These bands come in different styles, ranging from engraved patterns, like blocks and spirals, to words or numbers! If you and your partners are die-hard romantics, you can have his wedding band engraved with a special message or a memorable date to add a personalized touch. Isn't this incredible?
Bohemian Wedding Band
Does your man have a laidback and free-spirited personality? You need a wedding match that truly captures and represents his aesthetic. What's better than a bohemian wedding band? These bands have a stunning texture, a comfortable fit, and a manly aura, making them an ideal choice.
Put a smile on his face as you place this amazing wedding band on his finger!
Eternity Wedding Band
An eternity ring is a metal band embellished with stones. While diamond-encrusted eternity bands are quite popular, you can also find one or get one custom-made featuring other gemstones. 
The round design of an eternity band represents perfection, equality, and everlasting love. It is a classic and ideal wedding band choice to represent your eternal love and commitment to your man.
Parting Thoughts
It's not easy to find the perfect wedding band for your man, especially when there are so many options available. You want something that has a manly appeal and matches his personality and tastes. You can find stunning men's wedding band designs at GemsNY!