It's not every day that you stumble upon something unique and valuable by accident. This is precisely what happened to Mr. Gamage in Sri Lanka.
It was in the mid 2020 when a workman, who was digging a well in the backyard of Mr. Gamage's house reported that while digging he came across a big stone. When Gamage looked at the stone he realized that his lady luck was smiling on him.
Mr. Gamage who is a third generation gem trader, didn't take long to look through the layers of mud to know that what is in front of him is not an ordinary stone but a cluster of star sapphire weighing a whopping 510 kilograms or 1125 pounds. After a painstaking process of cleaning the rock he got hold of some loose gemstones, which confirmed his earlier assessment.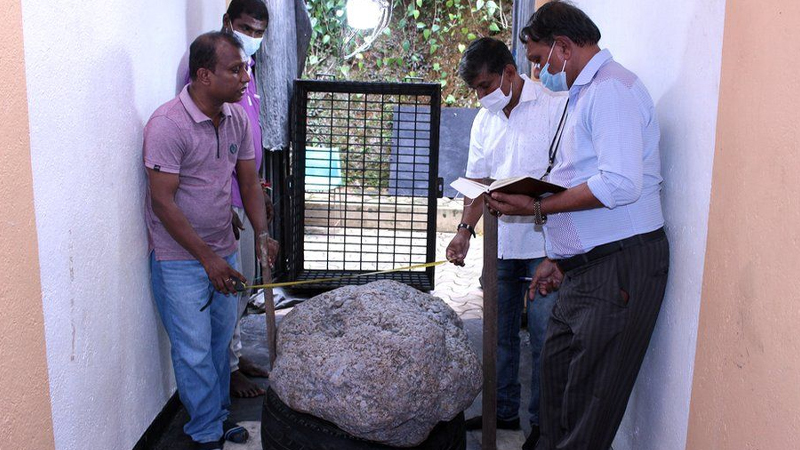 Later, the 2020 find was secretly reported (due to safety reasons) to Sri Lanka's National Gem and Jewellery Authority (NGJA) only in the last week of July 2021. The officials confirmed that the stone belongs to Mr. Gamage because it was found in his private property. Since it was found with a stroke of serendipity, it was named the 'Serendipity Stone'.
The stone has the dimensions of 100 cm in length, 72cm in width & 50cms in height, making it the biggest ever find of its kind. The approximately 2.5 million carat cluster stone is supposedly valued between $72 million and $100 million.
Blue Sapphire is the national gemstone of Sri Lanka and the area where this particular stone was found is called Ratnapura. In Sinhalese – the age old Sri Lankan language, Ratna means Gem and pura means town or city. The area, Ratnapura, is known for the sapphire deposits in Sri Lanka and it truly lived up to its name. 
In a later development reported by Xinhua news agency, the Gubelin Gem Lab in Switzerland certified the cluster as the largest star sapphire cluster ever to be discovered, earning a place for itself in the Guinness Book.
The true value of the stone is yet to be known. It's only after an intense analysis and careful dismantling of this pale blue stone is done that we will really know how many and how large truly clear gems it is hiding though BBC has reported its value to be over a 100 million dollars. As per some news sources, Serendipity Stone will probably be auctioned in Britain and only then we'll come to know its true worth.
What would you do if you found such a thing in your own backyard??