Wedding is definitely a word that gets us excited -from planning it smoothly to inviting our friends and loved ones to celebrate the occasion of togetherness forever between the couple. Have you picked out your dress yet? We are sure you will look stunning at your wedding, but what adds more sparkle to your whole wedding look is accessories!
Accessories add a glam factor to your already stunning self! But have you decided what to pair your gorgeous wedding dress with? Will you go the traditional way and wear flawless diamond pendants or will you choose a pop of color to accentuate your neckline? Whichever route you take, GemsNY has you covered with our wide array of gemstone necklaces.
We have made a list of necklaces/pendants that will add a little sparkle, and a whole lot of elegance that's sure to complement your appearance on your special day.
1. Solitaire Pendants
Are you the bride who believes that minimalism and simplicity are the way to go with accessories? If yes, then solitaire pendants are the best choice for you. The simple design attached to a thin white gold chain is absolutely going to make you look like the bride of the year. This design will keep the focus on the dress, yet it will still make a statement.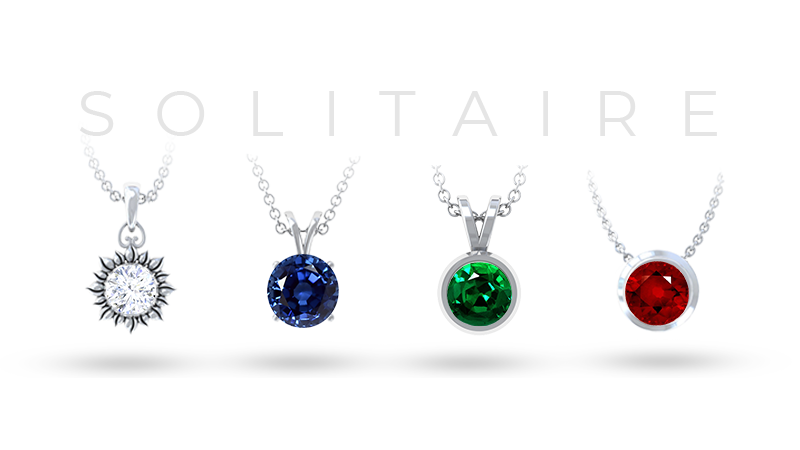 GemsNY has a huge selection of traditional yet modern designs to choose from or you can customize your wedding necklace and get your dream accessory designed. From diamonds to color gemstones like sapphire pendants, ruby pendants, and emerald pendants, etc. to elevate your whole look, we've got them all! Explore our wedding pendants.
2. Three Stone Pendants
Do you like extravagant jewelry? I am sure you do! A Sapphire gemstone in a Three stone pendant setting is exactly the statement piece you need. Three stone design means exactly what its name suggests – there are three beautiful gemstones on the pendants which sometimes hold significance for the wearer. Like a three-stone ring, this could represent the past, the present, and the future. You can choose from among a sapphire, emerald, or ruby, a center stone to add a pop of color and a lot of luck! 
GemsNY has a wide collection of three stone pendants that will make you blossom in front of your loved ones. Accentuate your neck with customized pendants from GemsNY. Click here to explore more splendid designs.
3. Side Stone Pendants
Classy, elegant, and glamorous- if these are the adjectives you're looking to get for your accessories then a sapphire pendant in the side-stone setting is the right choice to make. With diamonds as the side stones and color gemstones such as aquamarine, tanzanite, or morganite as the center stone, this piece will definitely win the hearts of the crowd. Choose a rose gold chain for a truly romantic piece.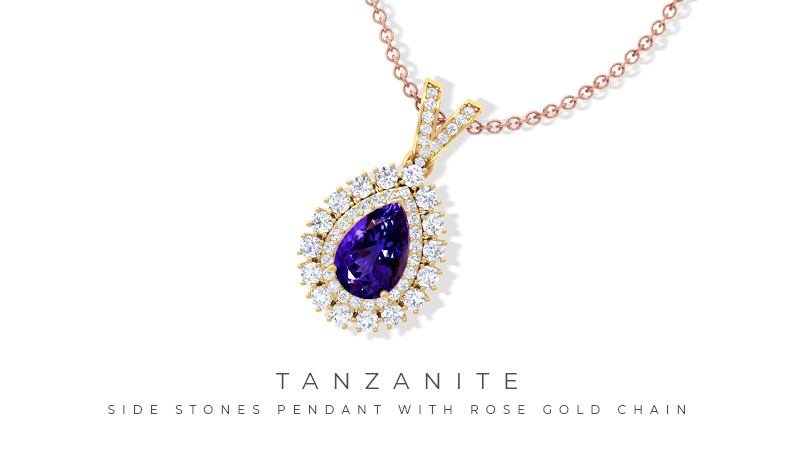 GemsNY has very charming and elegant side stone pendants you wouldn't want to miss checking out, you can design your own pendant by using the flexible interface on our website.
4. Designer Pendant
Pendants having a unique and intricate design are the perfect choice for the bride who likes to think out of the box. These designer pendants are the show stealers that would pull a spotlight on you, and as the bride, we want that don't we? Tsavorite, emerald, sapphire, peridot, amongst other gemstones, will be the highlight of your look.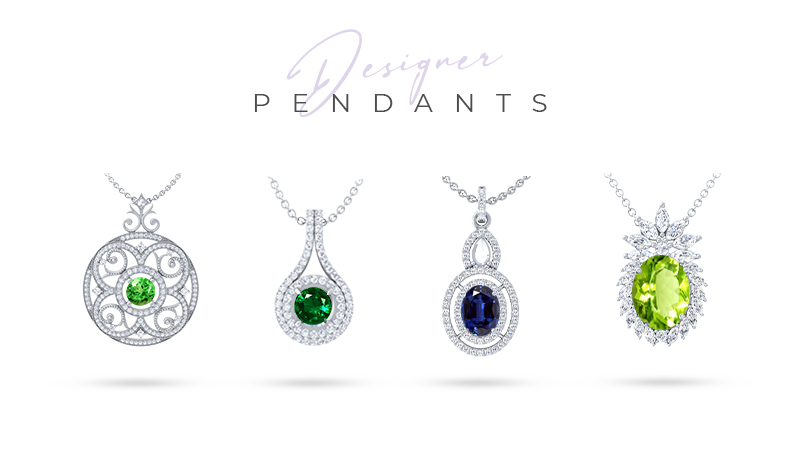 GemsNY has the perfect range of designer pendants to complement your entire wardrobe. We have more than 50,000 natural gemstones and a huge collection of jewelry that can be customized by you. Click here to build your designer pendant piece now!
If you can't find your fanciful design in our collection and you want to make your pendant exquisitely unique, then you must speak to one of our experts who will make your imagination see the light of the day.