Marriage is an institution where 2 people come together to share a bond of love and happiness forever! If you've spent 16 years or more in your marriage, a hearty best wish from our end! Living together for 16 or more years is a huge milestone in one's life and so we've curated a list of the perfect anniversary presents for each year of togetherness from the 16th to 20th.
In previous articles, we discussed gifts fitting for the 1st -15th anniversary gemstone gifts. So if you're still in that phase, please feel free to visit those articles! 
For married couples, buying the perfect anniversary gift 16th – 20th years can be a great way to celebrate a lifetime together. The official jewelry anniversary list, endorsed by countless organizations including Jewelers of America, contains the gift types for each year of marriage. To view the full list, click here. 
Year 16 – Peridot
16 years of marriage brings in the good luck associated with the beautiful stone, peridot, the brilliant green variety of the mineral olivine. Known for its exceptional color and natural brilliance, peridot is also one of the most affordable gemstones in the market.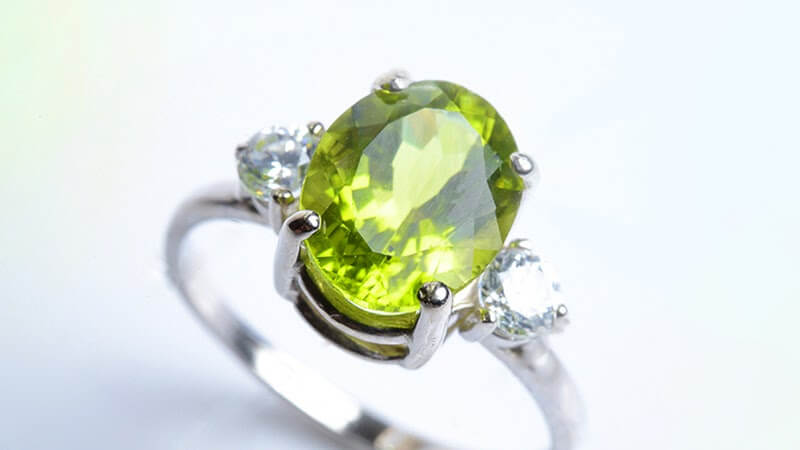 Due to its relative hardness and durability, peridot is also a very suitable choice for all types of jewelry. Since it is so economical, peridot makes a great choice for gifting on any occasion let alone the 16th anniversary!
To make your 16 years of togetherness more special, you can design a stunning three-stone peridot ring flanked with diamonds on both sides. This ring will symbolize the past, present and future of your relationship. Also, the three-stone peridot ring will remind her of your eternal love for her whenever she looks at it.
GemsNY has a substantial inventory of peridots at very affordable prices, and setting options for every style. To begin building your next peridot piece, click here.
For more information on peridots, visit our Peridot Education Section here.
Year 17 – Watches
Watches are a simple yet versatile gift for everyone. Watches are also the preferred gift for the 17th marriage anniversary. The range of products available in the market is very high; there are a lot of options to choose from at nearly any price point. Watches can be found in various metal types, such as yellow and white gold, rose gold, platinum, and leather.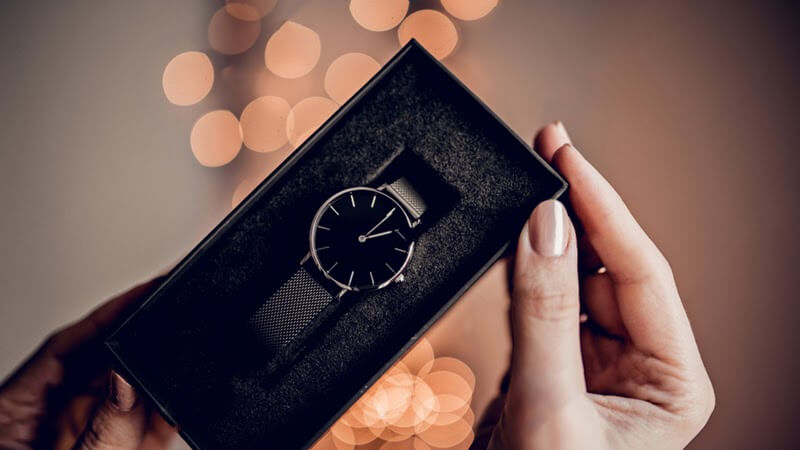 They can either be very plain or adorned with several gemstones such as diamonds and sapphires. Watches are always in style,  so we'll never have to worry about them being a trend or a passing phase.  Let's give a gift that commemorates how valuable time spent together is. 
So if your man or woman is fond of watches, then this anniversary, gift the warmth of your love in the form of a stunning watch to your significant other.
Year 18 – Cat's Eye
Cat's Eye is one of the most unique gemstones in appearance and is also the gift inspiration for year 18 of marriage. While it is known to most in the market as a cat's eye, geologically it is known as cymophane, the yellow-green variety of the mineral chrysoberyl. It shares the same mineral family as its very famous cousin, the alexandrite.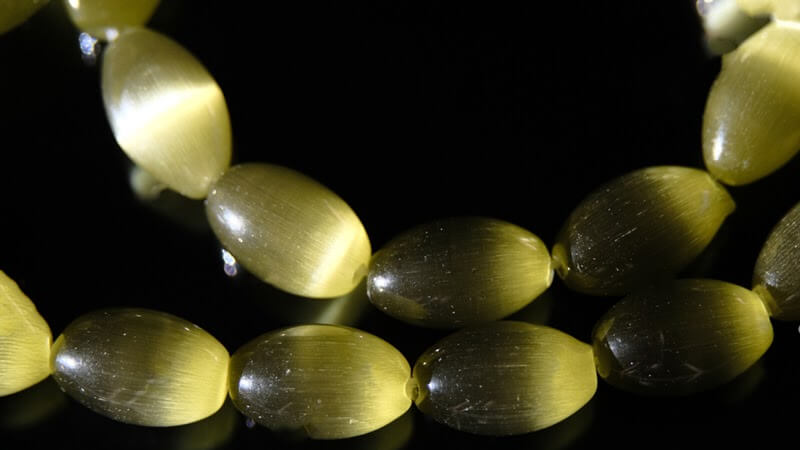 The minute inclusions and trace elements within a cat's eye gives it both its rich color as well as the light strip of color that creates the cat eye effect. On the Mohs scale of hardness, cat's eye ranks an 8.5 out of 10, making it one of the most durable gemstones in the world and very suitable for any type of jewelry. It is quite affordable, allowing for larger stones to be used for necklaces and rings.
Year 19 – Aquamarine
For centuries mankind has been captivated by the natural beauty of year 19's gemstone – the aquamarine. It's brilliant blue and blue-green hues are reminiscent of tranquil sun-kissed beaches and the sea. Roman fishermen aptly gave the name aquamarine, translating to "water of the sea".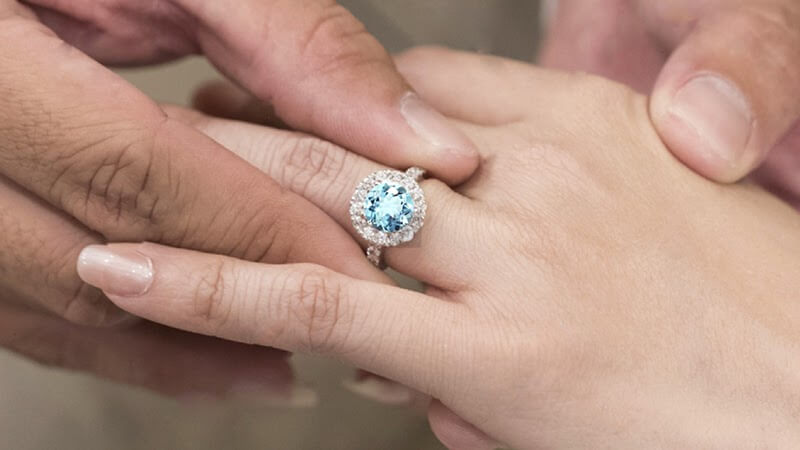 It should come as no surprise that this prized gemstone has remained one of the most popular gemstones for generations. Unlike many other gemstones like sapphires and emeralds, aquamarine is relatively affordable and available in bigger sizes.
GemsNY has an extensive selection of aquamarines, as well as various settings to suit any gemstone. To begin building your next aquamarine jewelry with GemsNY.
Click here For more information on aquamarine
Year 20 – Emerald
Emerald is another gemstone which needs no introduction. For thousands of years emeralds have been one of the world's most sought after gems. People from all walks of life have been drawn to their deep, rich green color, and mystified by its rarity. Due to its relative hardness (7.5-8 on the Mohs scale) it has always been a preferred gemstone for any type of jewelry, however, depending on the setting, an emerald will require a bit more care.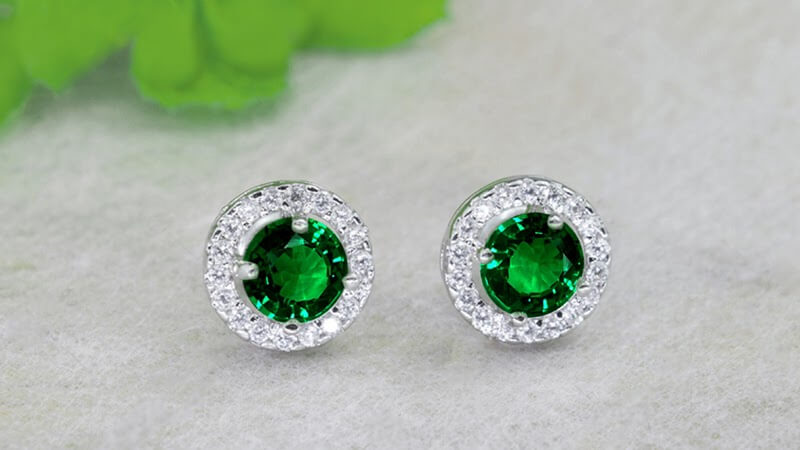 GemsNY has one of the largest emerald collection in the nation, along with an extensive preset collection of emerald jewelry as well. To begin building your next emerald piece, click here.
For more information on emeralds, visit our Emerald Education Section here.