Every woman deserves to have a jewelry piece that makes her feel confident and stylish when wearing it. Do you have any jewelry that makes you feel that way? If not, then take this as a sign to get one!
What better way to exude your confidence and style than adding a pop of red to your ensemble with a ruby necklace? There is something enchanting about its vibrant red hue and the way it reflects light that makes ruby so appealing. Whether you are looking for something minimalist or bold, a ruby pendant offers it all to you. It is safe to say that most of us can agree that a necklace featuring ruby is a must-have in our jewelry collection!
There is a ruby necklace for everyone and every taste. But before we get into that, let's delve into the charming and beautiful world of a ruby gemstone!
Ruby Gemstone: Beauty in Red
Ruby is one of the four precious gemstones, with diamond, emerald, and sapphire being the other three. It is a member of the corundum mineral group. Does this mineral name ring a bell to you? That's right! Sapphires also belong to the corundum mineral family! The trace element, chromium, gives ruby its famous red color, which can range from dark red to an orangish or pinkish red.
Ruby has an exceptional score of 9 on the Mohs scale, which makes it durable and a desirable jewelry stone. So, if you plan on getting a ruby necklace, you don't have much to worry about scratching or breaking the gemstone!
In addition to being a beautiful gemstone, ruby is also the July birthstone! In other words, you have all the more reason to get yourself a ruby pendant, as wearing your birthstone brings you good luck. Moreover, if you know someone who is July-born, giving them ruby jewelry will make an excellent and meaningful gift.
Ruby Necklaces For Every Style
The diversity in ruby necklace designs means there is a necklace for every person and every preference. If you are looking for the perfect natural ruby pendants or necklaces, check out these marvelous designs!
A Solitaire Ruby Pendant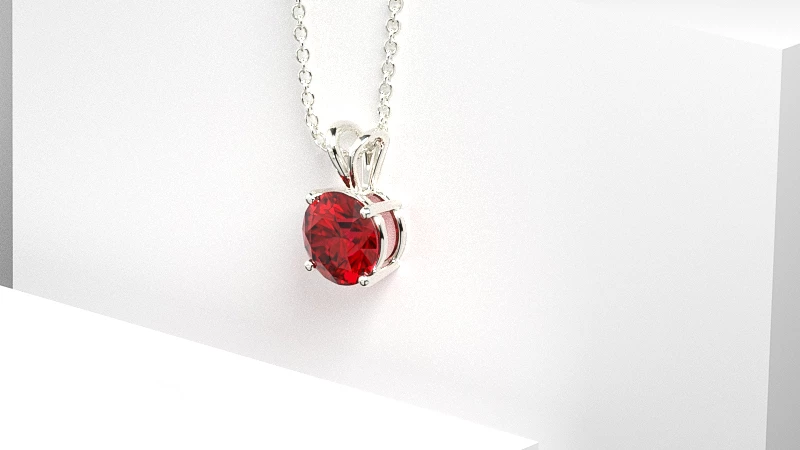 Are you looking for a pendant that isn't too flashy but is still chic? A solitaire ruby necklace is perfect for your taste. It is a simple and classic choice and ideal for you to wear with all outfits and for every occasion!
While solitaire ruby pendants come in all sorts of shapes, ranging from pear, marquise, oval, and more, the ideal and most sought-after choice is a round ruby pendant. It is simply elegant and looks great with a yellow-gold chain. Get this pendant in your collection today if you love wearing minimalist jewelry.
A Halo Ruby Pendant
In a halo-setting pendant, tiny diamond accents elegantly envelop the center stone, ruby, and draw attention to it. It is the perfect necklace choice for anyone with a bubbly personality, as they are the center of attention, just like the ruby gemstone.
Halo ruby pendants are popular among women thanks to their remarkable beauty. It is the ideal necklace choice if you want to wear something fancy and elegant to a dinner date, party, or work conference.
Among the different cuts, a natural emerald cut ruby is a sleek and radiant choice for a halo setting, as it will bring out the vibrant hue and brilliance of the center stone.
A Heart-Shaped Ruby Pendant
Finding a gift for your significant other can be daunting. You want to surprise your girlfriend/wife with something meaningful that will bring a beautiful smile to her face. While chocolates and flowers may sound great, they are quite a common gift choice. If you want to make a special gesture, then what better way than to do that with a ruby necklace?
Red is the color of love, and so is ruby. And you can make things extra romantic and cheesy by choosing a heart-shaped pendant for her. This jewelry piece will always be special to her, as ruby symbolizes love and commitment. So, what's the wait for? Get her a beautiful heart-shaped ruby pendant today!
A Ruby Birthstone Necklace
People born in July are lucky to have Ruby as their birthstone! It promotes the feeling of confidence, creativity, and courage. It offers wisdom and luck to the wearers. If you were born in July, a ruby birthstone necklace is what you need.
A Three-stone Ruby Pendant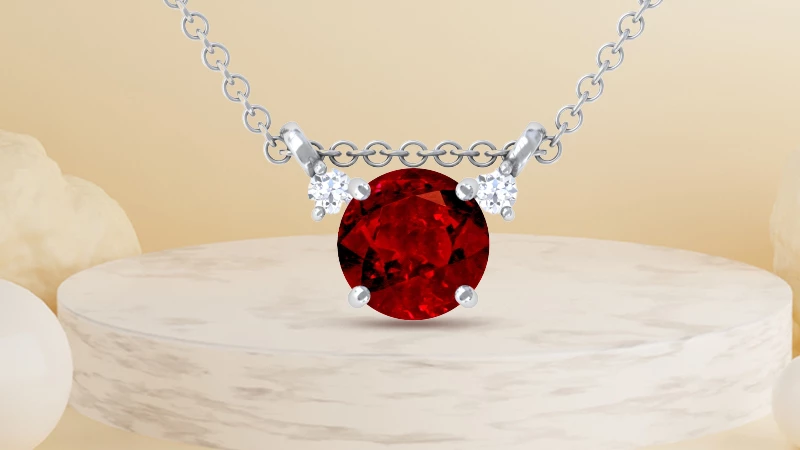 Have you ever wondered what the three stones in a three-stone ruby pendant symbolize? They represent the past, present, and future in a single string. This pendant style makes up for a perfect gift for the special someone in your life.
Additionally, ruby is the ideal stone to celebrate 40 years of marriage. If you and your beloved are about to complete 40 years of togetherness, get her a three-stone ruby pendant! It will perfectly represent the time you have spent together so far and will also serve as your promise to stay together in the years to come.
Even if you have already celebrated your 40th wedding anniversary, it is never too late to surprise your lovely wife with this beautiful jewelry piece.
Wrapping Up
If you are looking for a jewelry piece that is not only meaningful but also stylish, your search ends here. A ruby pendant is all you need to add a pop of stunning red hue to your style and show off your charming and bold side. Here, at GemsNY, we bring you a collection of gorgeous and top-quality jewelry. Check out our website and make your own dream ruby pendant!