Get ready to be dazzled, as GemsNY takes you on a whirlwind tour through the fabulous universe of Margot Robbie's jewelry! This Hollywood powerhouse has not only stolen our hearts with her incredible acting chops but she's also caught our attention with her jaw-dropping jewelry game. From lighting up the screen in "The Wolf of Wall Street" to her upcoming role in "Barbie" alongside the dashing Ryan Gosling, Robbie has always been a shining star, bedecked in the most stunning natural diamonds you can imagine. So, grab a cup of coffee, sit back, and get ready to be swept away into Margot Robbie's iconic jewelry moments, where elegance meets pure enchantment.
1.  Barbie-Inspired Delight: Margot Robbie's Glamorous Diamond Choker
Margot Robbie just left us speechless at the world premiere of Barbie! She walked onto the red carpet at the Shrine Auditorium, looking like a vision in black. Her strapless trumpet gown, peep-toe kitten heels, and opera gloves pay homage to the iconic doll's style. But here's the real showstopper—the diamond choker. Oh, my bling! This stunning masterpiece features not one, not two, but four layers of pure diamond richness. It's like a symphony of sparkle that leaves us in absolute awe. Margot Robbie's celebration of Barbie just reached a whole new level of fabulousness with this mesmerizing diamond jewelry. Get ready to be dazzled as we dive into the world of Margot Robbie's jewelry journey.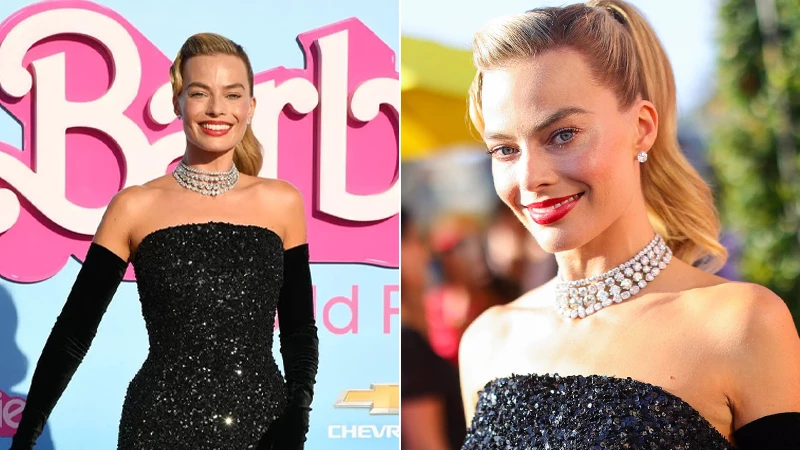 2. A Sparkling Affair: Margot Robbie's Natural Diamond Engagement Ring 
This beauty takes center stage in Robbie's dazzling diamond jewelry collection, and it really steals the show! Her engagement ring has a pear-shaped diamond stunner, perched on a radiant gold band, sparkling with all its might. Since its debut in 2016, this mesmerizing ring has been a regular on Robbie's finger, whether she's strutting down the red carpet or just enjoying a day out. It's a symbol of timeless love, and she knows just how to make it shine even brighter—by pairing it with a gorgeous gold pave wedding band. With her choice of a natural diamond engagement ring, Robbie shows us she's all about embracing the rare and precious. 
3. Red Carpet Glamor: Robbie's Love for Diamond Earrings 
When Margot Robbie struts down that red carpet, it's a sight you won't want to miss! This superstar has a serious crush on diamond earrings that'll leave you speechless. Whether she's rocking a stunning crawler, a jaw-dropping chandelier, or a delicate drop-style earring, she knows how to make heads turn. These sparkly accessories take her natural beauty to a whole new level, drawing everyone's gaze to her radiant smile and graceful presence. Trust me, once you catch a glimpse of Robbie flaunting her dazzling ear bling, you won't be able to look away. These diamond earrings are an absolutely irresistible display!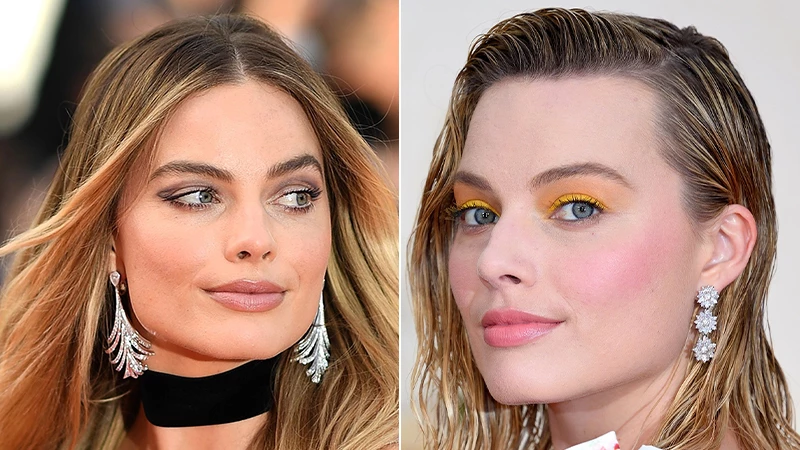 4. An Evening of Elegance: Robbie's Mesmerizing Chandelier Earrings 
Picture this: a flowing black Celine gown that oozes luxury, and then, BAM! Robbie takes it up a notch with those mesmerizing chandelier diamond earrings. Talk about a showstopper! The cascading diamonds gracefully flowed down, adding a touch of drama and pure glam to her already stunning look. It was as if she had a secret superpower of effortlessly blending fashion and luxury, leaving us all in awe of her grace and poise.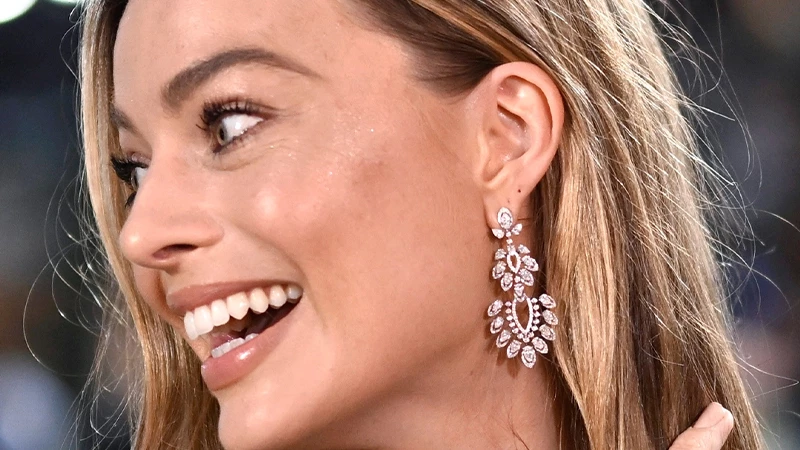 5. The WSJ Magazine Cover: Robbie's Brilliant Diamond Rings 
When Margot Robbie sashayed onto the cover of WSJ Magazine's "Innovator Issue," she left jaws dropping faster than you can say "bling!" All eyes were immediately drawn to her fabulous fingers, bedecked with the most dazzling diamond rings you've ever laid eyes on. Talk about a power move! The sheer brilliance of those gems perfectly matched her magnetic presence. Her choice of diamond rings is a testament to her impeccable taste, an ode to craftsmanship and the epitome of exquisite design. It's no wonder she's earned her rightful place as a true style icon.
6. Oscar Night Glamor: Robbie's Diamond Necklace and Studs 
One of the most glamorous nights in Hollywood history—the 2014 Oscars! Margot Robbie didn't just stun us with her gorgeous new brunette hair; she also made sure to flaunt her undeniable love for diamond jewelry. As she gracefully strutted down the red carpet, elegance dripped from her every step, thanks to the classic diamond necklace adorning her neck. It added that extra touch of sophistication to her already jaw-dropping ensemble. And let's not forget those diamond studs, twinkling like stars in the night sky. Now, that's what I call versatility! Robbie effortlessly proved that diamonds are the ultimate accessory, with the power to transform any look into pure red carpet magic.
7. Goodbye Christopher Robin Premiere: Robbie's Playful Drop Earrings 
For the premiere of "Goodbye Christopher Robin" in 2017, Robbie chose a playful yet elegant look. She wore diamond drop earrings, which perfectly complemented her bold orange eyeshadow. The combination of whimsical charm and classic sophistication reflected Robbie's ability to experiment with her style while maintaining an air of grace.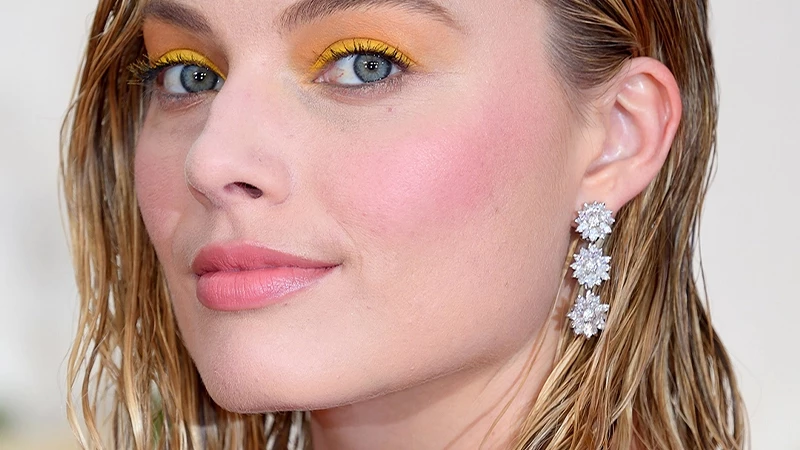 8. The Camellia Flower Motif: Robbie's Chanel Diamond Earrings 
Let's imagine ourselves at the BAFTAs in 2020, where Margot Robbie is rocking the red carpet. And guess what? She's wearing a pair of Chanel diamond earrings that are absolutely stunning. But what makes them extra special is the cute little design of camellia flowers, which is Chanel's signature. With just a simple twirl of her hair, Robbie effortlessly shows off her love for both fancy jewelry and high-fashion. These earrings add a touch of delicate femininity to her whole look, making her natural beauty shine even brighter.
Barbie's Bling Ending
Margot Robbie's journey from Barbie to the red carpet has been a testament to her impeccable style and love for natural diamonds. Her choice of jewelry, from her captivating engagement ring to her enchanting earrings, has set her apart as a true fashion icon. With each red carpet appearance, Robbie continues to showcase the timeless allure and elegance of natural diamonds, leaving us eagerly anticipating her next jewelry masterpiece.
In the upcoming Margot Robbie film "Barbie, "we can only imagine the stunning jewelry moments that await us. Just as Barbie has always been synonymous with elegance and beauty, Robbie's portrayal of this beloved character is bound to be a treasure trove of glamorous jewelry inspiration.
At GemsNY, we understand the power of jewelry to transform and captivate, just like Margot Robbie's unforgettable red carpet-appearances. Whether you're seeking a statement-making engagement ring, breathtaking earrings, or a show-stopping necklace, our collection of precious and colored gemstones is your gateway to achieving that Hollywood allure. With GemsNY, you can embrace your inner Barbie and shine bright like Margot Robbie, turning heads and stealing the spotlight wherever you go.
P.S- Let GemsNY elevate your appearance and let the magic begin!