Mother earth bestowed humankind with the precious gemstone- Ruby. All of us have appreciated this wonderful gift with much love and we have been using it to adorn ourselves for a very long time; it has become one of the most popular gemstones. The legacy of this gemstone is from ancient times. Well, if you want to invest in imperial ruby but have some questions tickling your mind, then we have answered some frequently asked questions about ruby to make your decision well informed.
The lustrous red allure of ruby has been associated with ancients. They believed that ruby is a symbol of power, status, and glory and as such, they used rubies to bedeck their crowns and swords. They also honored the gemstone by calling it "King of Precious Stones".
In recent years also, ruby has gained huge popularity among other gemstones. Ruby jewelry has become a favorite of people, and they are now preferring rubies to diamonds. You must have a lot of questions in your mind about ruby.
Frequently Asked Questions About Ruby Gemstone
Ruby Gemstone FAQs
01. Where does the word 'ruby' come from?
The trace of the word 'ruby' is found in the period as far back as the 1300s. The word is derived from the Latin word 'Ruber' meaning 'Red.'
02. What is the mineral composition of ruby?
Ruby is a member of the mineral family-corundum which is made up of aluminum oxide. The presence of chromium in the mineral corundum is the reason behind the red shade of rubies. A high proportion of chromium in the corundum renders intensity to the red color of ruby.
03. Why are rubies red?
Rubies are red due to the presence of chromium in the base mineral corundum. The strength of the chromium drives the intensity of color from orange-red to deep red. Chromium is also responsible for the fluorescence that a ruby gem exhibits.
04. What are the different shades of rubies?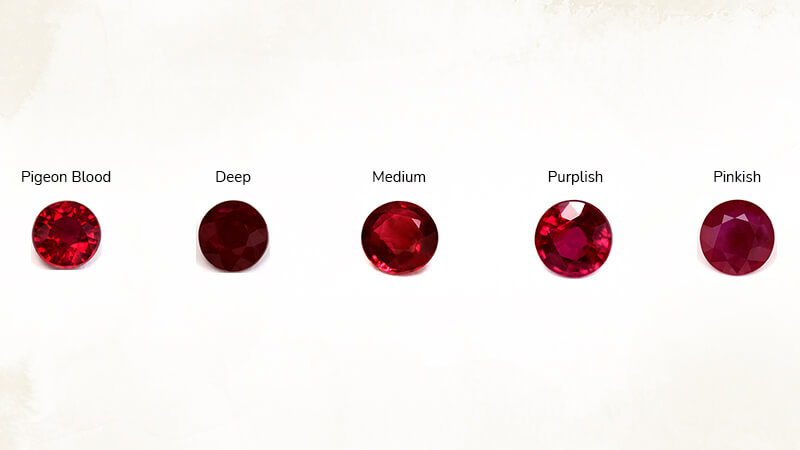 Usually, rubies are red, but their color and tone may vary from pigeon blood red color to deep red, medium red, purplish-red, and pinkish red. The price and value of the ruby are dependent on its color.
05. Is it normal to have inclusions in ruby?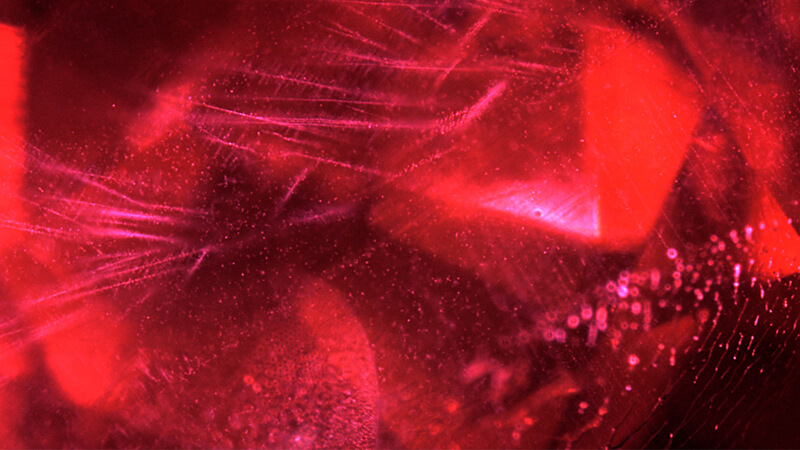 Ruby is one of the greatest gifts of mother earth to us and it is absolutely normal to have inclusions in rubies. In fact, inclusions are the evidence of rubies being natural. Rubies without inclusions are very rare and highly valued.
06. How do the grades of ruby affect its value?
Jewelers use a grading system to determine the quality of gemstones. GemsNY has made it easy for the customers to know the quality of the gem with an easy grading system. We segregate gems based on the grading scale given below:
AAAAA (Untreated Heirloom) – These rubies are untreated and highly sought after. This is the highest graded type of ruby known for its rich color, outstanding clarity, and transparency.
AAAA (Heirloom) – These rubies exhibit a rich red color and have undergone heat treatment. These rubies barely have inclusions and display decent transparency.
AAA (Excellent) – These rubies have a medium color saturation with good eye clarity. AAA grade rubies have very few inclusions that are impossible to see with the naked eye.
There are two more grades viz. AA and A which represent lower quality gemstones due to presence of significant inclusions and low color saturation. We usually do not recommend buying such rubies even though we also keep some of those in our inventory.
Instead, you should check out our collection of untreated heirloom rubies, which have almost no inclusions, great transparency, and incredible clarity. You can visit our education section to learn more.
07. Where are the deposits of fine ruby located?
Though there are many places in the world where rubies are mined, the deposits of the finest quality rubies are in Myanmar (Burma). Burmese rubies are the most valuable and expensive rubies in the world. Apart from Myanmar, other deposits of rubies are in Australia, Tanzania, India, Madagascar, Sri Lanka, Thailand, etc.
08. Is ruby a rare gemstone in the world?
Rubies are mined in various places of the world, but the Burmese rubies are believed to be the rarest type of rubies due to their deep red color and exceptional clarity.
09. Are synthetic rubies fake?
Synthetic rubies are not fake. The only difference between synthetic and natural rubies is that synthetic rubies are created in labs while natural rubies are formed naturally under the surface of the earth. Both synthetic and natural rubies share the same chemical and physical properties. However, synthetic rubies are more affordable than natural rubies.
10. Is ruby a precious gemstone?
Yes. The category of precious gemstones has four members viz. Diamond, Sapphire, Ruby and Emerald. Since ruby belongs to this family, it is a precious gemstone. Ruby is also called the sister stone of sapphire as they both have the same base mineral and the only differentiating factor is the color.
11. How much does a ruby score on the Mohs Scale of Hardness?
Ruby is one of the hardest gemstones after diamond; it scores 9 out of 10 on the Mohs Scale of Hardness. Being a tough gemstone, it is highly resistant to scratches.
12. Is ruby tougher than diamond?
Rubies are a bit softer than diamonds but still are highly scratch resistant. The relative softness makes it somewhat easier to work with while faceting and polishing but not that much to compromise its integrity.
13. How much do rubies cost?
The price of the ruby may vary according to the quality. Deep red Burmese ruby may vary between $8000 to $10,000 per carat.
14. What is the most expensive ruby jewelry in the world?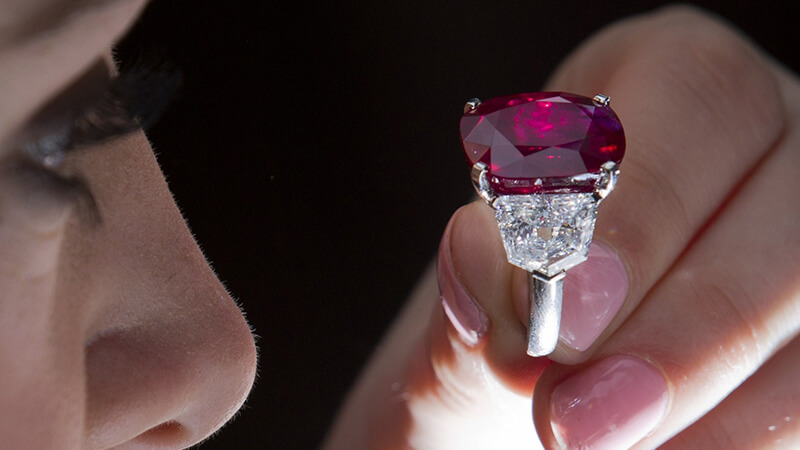 'The Sunrise Ruby and Diamond Ring' by Cartier is the most expensive ruby ring in the world. The auction of this ring left the world surprised when it was sold for a whopping $30.4 million USD in May 2015. Ruby in the Sunrise ring is a Burmese ruby weighing around 25.59 carats. The pigeon blood-red color of the ruby is the finest color with no traces of heat treatment.
15. What does a ruby symbolize?
Ruby is known as the 'King of Precious Stones' and a symbol of wealth and prosperity. Earlier, the ruling class used to decorate their crowns with rubies. People considered ruby a sign of good fortune. Apart from that, ruby also symbolizes romantic love and devotion. So, it is a perfect gift for someone you love.
16. Why are rubies so popular?
There is no doubt that the red color of ruby is simply romantic and lovely. Trends are taking a turn now, where ruby jewelry has become the most adorable choice, especially for engagement rings. Besides, rubies are jewelry stones for a lifetime due to their toughness. This is the second hardest stone after a diamond making it an ideal choice for special occasions like engagement.
17. Which month does a ruby represent?
Ruby is a July birthstone. So, if your birth month is July, then you're one among those lucky people who have ruby as their signature stone. Ruby is also a perfect gift for the 15th and 40th anniversaries. So, if it's your 15th or 40th anniversary, you may go for a beautiful ruby ring for your partner.
18. Are rubies used in engagement rings?
Nowadays, rubies have become the traditional choice for couples when it comes to designing an engagement ring. You can buy a preset ring or make your own ruby engagement ring and anniversary rings at GemsNY. You can outshine any occasion with a stunning ruby ring.
19. How should I take care of ruby jewelry?
Taking care of your jewelry is not rocket science. You really don't need to have some complicated tools to clean your ruby jewelry. You can get it done very easily. Just bring warm water, a soft brush, and a decent detergent. Dilute the detergent in water, leave your jewelry in the mix and soak it in for a few minutes. Then clean it with the soft brush gently, rinse it with clean water and wipe it dry with a lint-free cloth. Your jewelry is clean now.
20. Why should I consider buying a ruby instead of a diamond?
The bold color and magnetic appearance of ruby make it unique and trendy. If you love to try out colored gemstones and love the vibrant red color, ruby is undoubtedly a great option. However, diamonds are also charming and one of a kind, and you can choose both ruby and diamond to adorn yourself. If you feel monotonous to wear a diamond alone, then you can combine it with the passionate ruby to make your jewelry look more appealing.
Rubies with exceptional color can direct prices high in the market and might be more expensive than diamonds. Usually, rubies cost less than diamonds, and their radiant appearance makes a better option for jewelry such as engagement rings, pendants, bracelets, etc.  By now, we hope that you have made up your mind to invest in ruby. Check out our enormous collection of exceptional quality ruby gemstones.