See the 20 Trending Gemstone Engagement Rings (1 to 10)
11. Marquise-Cut Halo Ring Setting with Pave Set Round Diamonds (0.22cttw)
Trending engagement rings of the year?
Marquise-Cut Halo Ring Setting is one of the new designs that the brides of today are falling in love with. With a halo of diamonds around the ring, the center stone looks highlighted and sparkle-like stars.
Peridot is a very rare gemstone and is known for its one and only shade of color – green. It ranges from a pale yellow-green to dark olive green. Not only can you find this gemstone on Earth, but peridot can also be found in space. Peridot is a very exquisite gemstone. 
Is your SO an August-born?? Peridot is an August birthstone, if your SO is an August born then, believe it or not, peridot will bring all the luck on her side! This stunning ring will make her the talk of the town. What do you think of this ring?
12. Ring Setting with Pave Set Round Diamonds (0.24cttw)
If your betrothed is a lover of sophisticated accessories, then she will definitely love the bling on the wedding band ring – Ring Setting with Pave Set Round Diamonds (0.24cttw). The engagement ring with the exquisite spinel gemstone as the center stone is one of the deal-breaker gemstone engagement rings that we are sure she will fall in love with!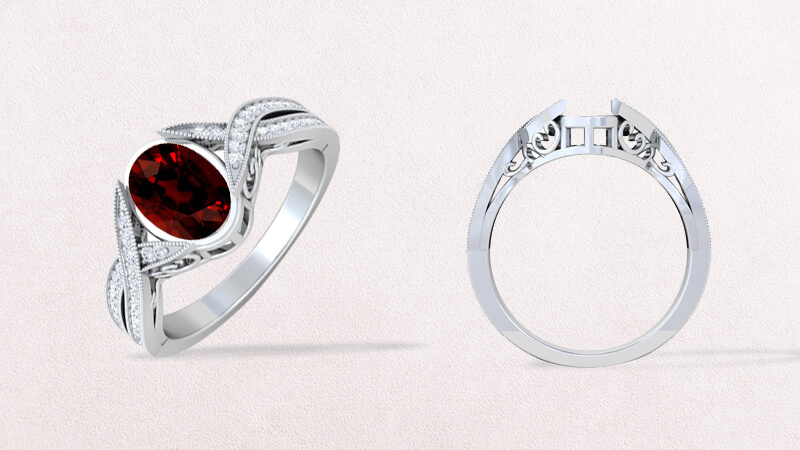 Spinel is one of history's most popular yet unknown gemstones. It comes from a mineral variety of spinel groups. Just like sapphire, spinel also comes in rainbow shades! Out of all the colors, red spinel has received a lot of appreciation. Red spinel was often confused to be a ruby and was hence recognized in history more than any other color gemstone!
If red is her favorite color and you find a ruby ring a little expensive then red spinel is the best alternate gemstone! The striking red spinel as the center stone with diamonds around it would make your engagement ring the talk of the town! What do you think of this impeccable trending gemstone engagement ring?
13. Matching Set Setting with Bezel Set and Prong Set Round Diamonds (0.97cttw)
Looking for a ring that shows off her hands just like a queen? Then here's your chance to accentuate your finger with the engagement ring of dreams. Morganite has become the stone that can substitute for diamonds in an engagement ring.
The subtle color of morganite has won hearts all over the world. The morganite gets the sensational tone of color due to the presence of the trace element manganese in the mineral beryl.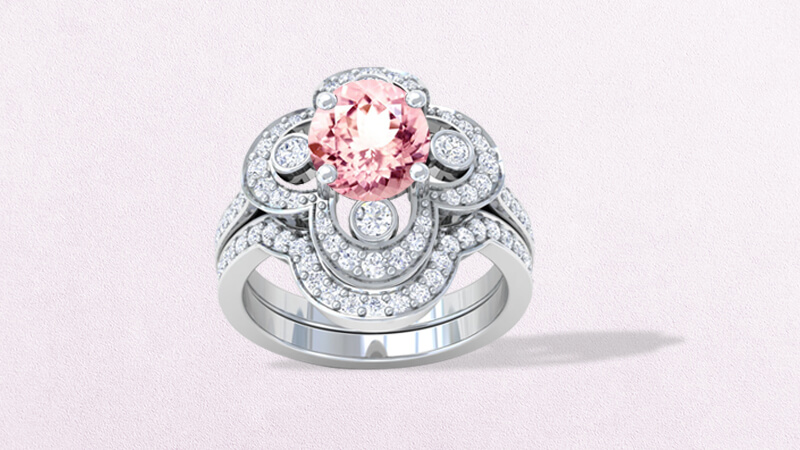 The wedding ring band along with the magnificent Morganite gemstone is sure going to make a lot of heads turn! Looking for an engagement ring that is in high demand? Matching Set Setting with Bezel Set and Prong Set Round Diamonds (0.97cttw) has made it to the list of top 20 trending gemstone engagement rings that everybody wants to show off!
This is the ring for your beloved if she loves her glistening diamonds and gemstones!
14. Matching Set Setting with Pave Set Round Diamonds (0.89cttw)
The vivid rich color, incredible rarity, and durability for everyday jewelry are the major factors that make the versatile Paraiba gemstone the go-to engagement center stone. Just like a sapphire, a tourmaline also comes in a variety of colors. Paraiba shade of tourmaline is the hue that looks like ocean blue.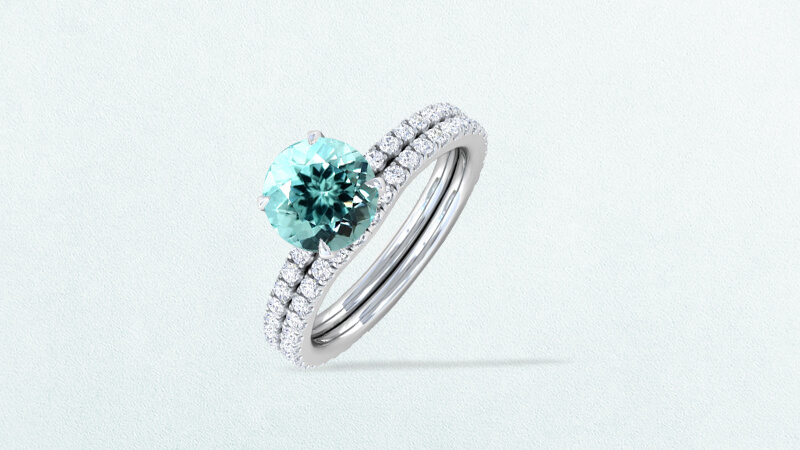 If your to-be-wife has beautiful blue eyes or loves the ocean as much – Paraiba tourmaline is the gemstone that you should invest in! The electric blue gemstone represents peace, calmness, equanimity, and serenity. It is rendered as the stone of gods.
The engagement ring that you're looking for speaks about the charm and the charisma that your to-be wife exudes. The wedding band has made its way to the top 20 trending gemstone engagement rings and has garnered a lot of adoration from many people. If you're looking for a head-turner engagement ring then look no further, because this is it!
15. Ring Setting with Prong Set Round Diamonds (0.45Cttw)
Diamonds – the name is enough!
Diamonds are iconic gemstones that women adore because of their scintillating shimmer! A girl's best friend, diamonds, is known to have acquired a place in everyone's heart and are usually the go-to gemstones when one is choosing their engagement ring. These iconic gems score a 10 on 10 on the Mohs scale of hardness, making them the hardest gemstone in the world! This means nothing can scratch a diamond unless it's another diamond. Diamonds can truly stand the test of time, just like a marriage.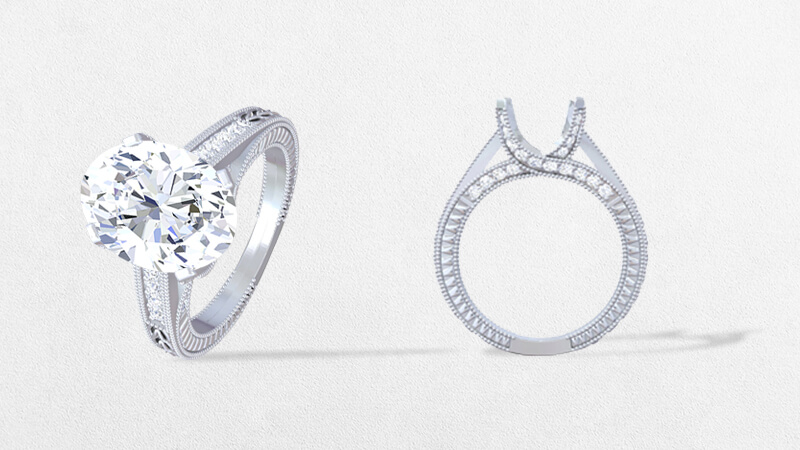 The ring setting with prong set round diamonds is all about details. This ravishing ring has diamonds on the sides and with a big diamond as the center stone, this ring will be all about the bling-bling. More the glam, the more pleasing the engagement ring looks, don't you think? This ring is the Adonis of the engagement rings. Have you decided on her engagement ring yet?
Looking for a trending gemstone engagement ring that she will fall in love with? THIS IS IT.
16. Pave Set Round Diamonds Ring Setting (0.16cttw)
You're already familiar with the advantages that a sapphire gemstone brings to its wearer. The popular gemstones have been collected by gem aficionados all over the world because of their timeless grace and elegance. Sapphire is the gem that one can give their partner on the 5th and 45th – anniversary milestones.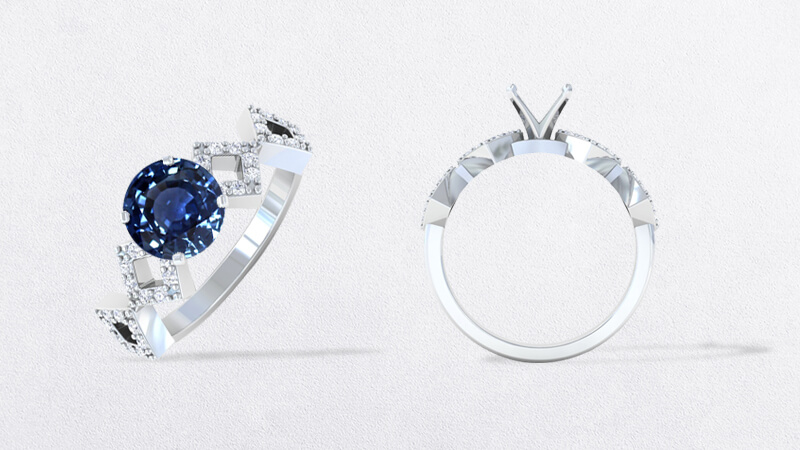 Are you still looking out for an engagement ring? You can consider a pave set round diamonds ring setting not only because this ring is super stylish but also because it is ethereal, elegant, and chic at the same time. Top 20 trending gemstone engagement rings are a collection of engagement rings that any woman would be happy to have on her finger!
The icy blue shade of sapphire is here to please, especially when it is set in a glittery ring setting with diamonds around it! What are you waiting for?
17. Prong Set Solitaire Ring Setting
It's all in the details!
If your lady love is all about the design, style, and details in an accessory then a prong-set solitaire ring setting is the best engagement ring you can get her! Solitaire rings have acquired a reputation among the bride-to-be as 'the no-fuss, will love' engagement rings!
With an emerald center stone, this ring looks like a million bucks! The beautiful design on the circumference of the ring makes the ring stand out from the crowd. Getting engaged to your beloved is a big deal and we want this ring to be the real matchmaker for you! This ring has made its way to the most trending gemstone engagement ring of 2022!
Let's get you engaged!
18. Pear Shape Three Stone Ring Setting with Round and Kite Shape Diamonds (1.47cttw)
Looking for a uniquely brilliant and stylish ring that speaks all about your love for her? Then my friend, you're at the right place! The pear-shaped three-stone ring with diamonds around it is a treat to the eye. Not only that but when this ring is set with a morganite center stone, this ring looks fabulous.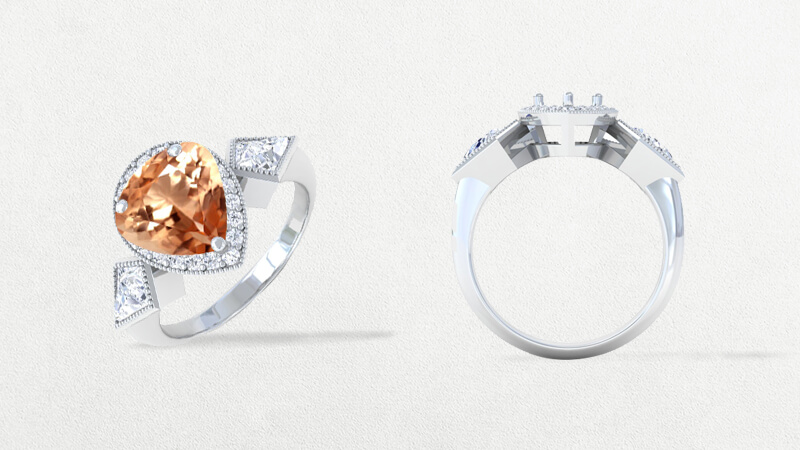 The salmon pink gemstone has been loved by us all and has definitely made its place in the industry as a substitute for diamond for an engagement ring. The kite-shaped pattern on the ring is a one-of-a-kind design that is definitely the show stopper.
You were looking for a trending gemstone engagement ring for your significant other? Well, look no further… Isn't it dazzling?!
Looking for a delicate elegance, and a graceful ring? The Hidden halo setting ring is the one for her. The delicate, minimalist design of this ring will add grandeur of charm to her fingers.
Ruby, the red gemstone of passion as the center stone will only tell your story of love to your friends and family. The hidden halo setting with diamonds as an engagement ring serves all purposes of looking rather magnificent. Diamonds and a little splash of vibrant red go extremely well together. The ring is highly fashionable, looks luxurious, and will make her hand appear slimmer and the stone bigger!
Magnificent, isn't it?
20. Round Diamonds Bar Set Ring Setting (0.18cttw)
The top 20 list of trending gemstone engagement rings is now coming to an end. We hope you must have come to a conclusion about the "which ring should I buy for her?" dilemma already! If not, here's the last but not the least – one of our favorite designers' rings with diamonds in a bar setting. The glittering ring with gorgeous tanzanite will make her feel precious! The vivid hues of the gemstone will turn on the charm that she won't be able to resist.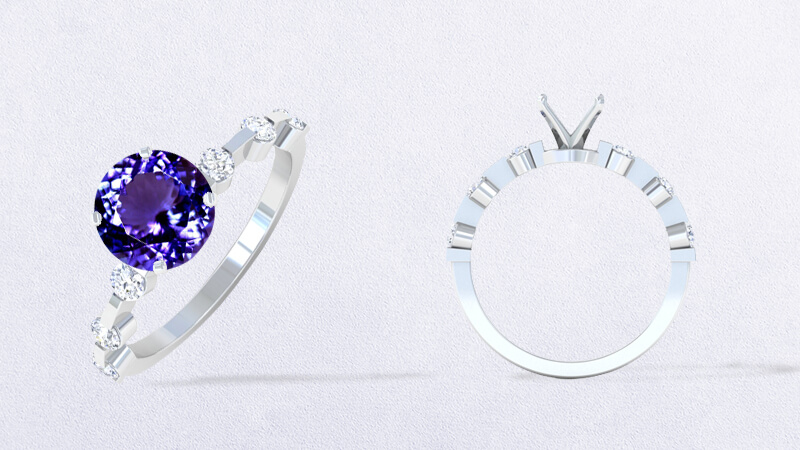 Choose a tanzanite ring for the love, warmth, loyalty, and wealth it brings to its wearer!
Engagement is all about – loyalty, companionship, and compassion towards your partner. An engagement ring binds the two souls together. Each person is different with different likings and personality traits. Each of the gemstones portrays and enhances different qualities of a person if worn correctly!
These top 20 trending gemstone engagement rings are truly the most beautiful rings you'll ever find. And you know what the best part about it is? You can choose your favorite center stone gem with any setting you like! Tell us all about your engagement story and the ring that you finally went ahead with on our Instagram!