2022, the year of the tiger has a lot of surprises left to bring in! For some, it might be excelling and achieving career goals and for some announcing the big engagement to their forever partner.
Thinking of popping the question to your significant other? Saying "Will you marry me?" to your special person is indeed nerve-wracking, but choosing an engagement ring that she will adorn for the rest of her life is another task altogether! The millennial couples love everything personalized, so why not their engagement rings too. The trend of everything personalized has given rise to color gemstone engagement rings.
Here's a list of the top 20 trending gemstone engagement rings that you can consider committing your life to your significant other! Let's get started.
1. Three-Stone Round Untreated Blue Sapphire ring with Round Side Diamonds and Pave Diamond Accents (1.54cttw)
The ring of a queen!
Blue sapphire is known to be the gemstone of royalty. The Duchess of Cambridge, Kate Middleton adorns the infamous 12ct. blue sapphire ring, which is a legacy of her mother-in-law, Princess Diana! Since the engagement of Prince William and Kate Middleton, sapphire has become a very popular gemstone among millennial brides.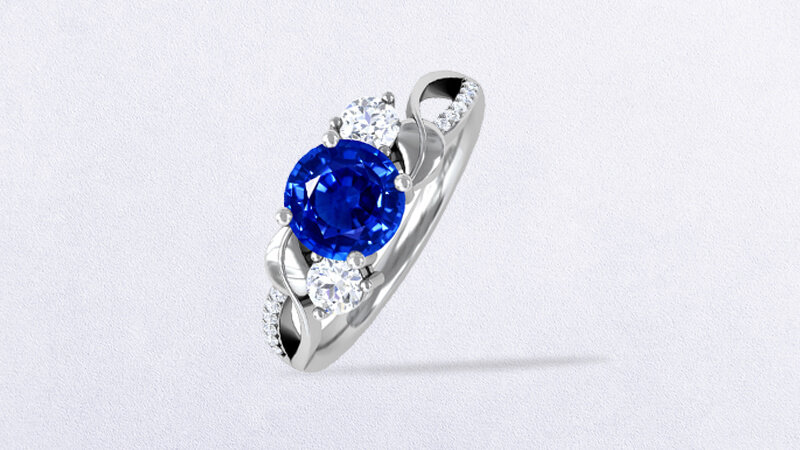 The three-stone ring with diamonds on the side looks ethereal and is recognized as one of the best-trending gemstone engagement rings of 2022. The ring with blue sapphire center stone is one of a kind. Pave diamond accents with round side diamonds contribute to the bright blue of the sapphire, doesn't it look enigmatic?
2. Prong Set Round Diamonds Ring Setting (0.26cttw)
If you're looking for a different ring design that is intricate, and elegant at the same time then my dear your search is over! The artistic ring design will entwine around her finger like it was made just for her! Accentuate her beautiful hands with this stunning gemstone engagement ring with a pink sapphire center stone., compassion, and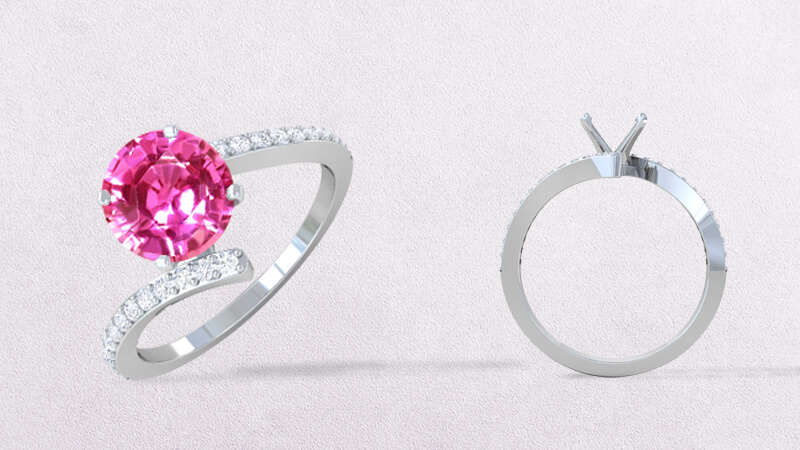 Pink sapphire is a gorgeous gemstone that scores 9 out of 10 on the Mohs scale of hardness just like other sapphires, which means it is highly durable, and a sturdy gem that can be used on a daily basis! Pink sapphire symbolizes good fortune, intense love elegance. This precious pink sapphire is a significant gemstone that helps its wearers enhance their personalities. Pink sapphire with diamonds on the sides is the best combination and your SO will surely love to show off her engagement ring!
3. Halo Ring Setting with Prong Set Round Diamonds (0.66cttw)
Yellow – The sparkly bright shade of sapphire is lovely. If you're looking for a trending gemstone of the year then it has to be a yellow sapphire. The bright yellow shade of sapphire as the center stone with a halo of diamonds surrounding the ring looks like an accessory for angels!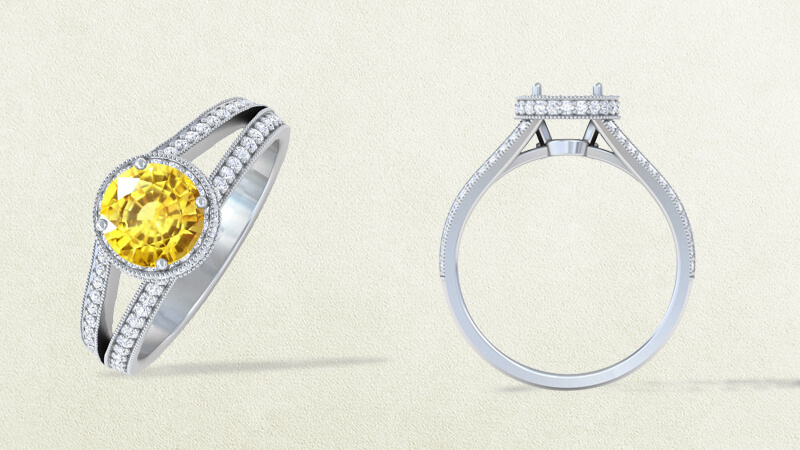 The split shank in the ring is a one-of-a-kind design that has round diamonds around it emphasizing the center stone just perfectly! The yellow gemstone has a huge significance in the astrological world too. Yellow sapphire is said to be the gemstone of knowledge and divine grace. If you're looking to boost your inner peace, and spiritual knowledge then yellow sapphire is for you. The Halo ring with diamonds is one of the most trending gemstone engagement rings that she will love for sure!
4. Tapered Cathedral Solitaire Ring Setting
Looking for a diamond alternative? White or colorless sapphire makes for the best substitute in case a diamond ring is a little out of budget. Solitaire means one center stone that is the main highlight of the whole ring! Solitaire rings are minimalist, basic engagement rings that women love! These rings focus more on the size of the gemstone that you choose. The fewer elements in the ring, the more stunning it looks!
White sapphire is usually colorless and sparkles like diamonds. Diamonds are usually more expensive in comparison to other gemstones. If you have a budget constraint and want a similar-looking gem then choosing a white sapphire engagement ring is the right way to go!
5. Bezel And Prong Set Round Diamonds Ring Setting (0.51cttw)
Intricate design – YES
Elegance – YES
Diamonds – YES
The above-mentioned three elements are the true calling for the best rings. The bezel ring with side diamonds makes for the most trending gemstone engagement ring.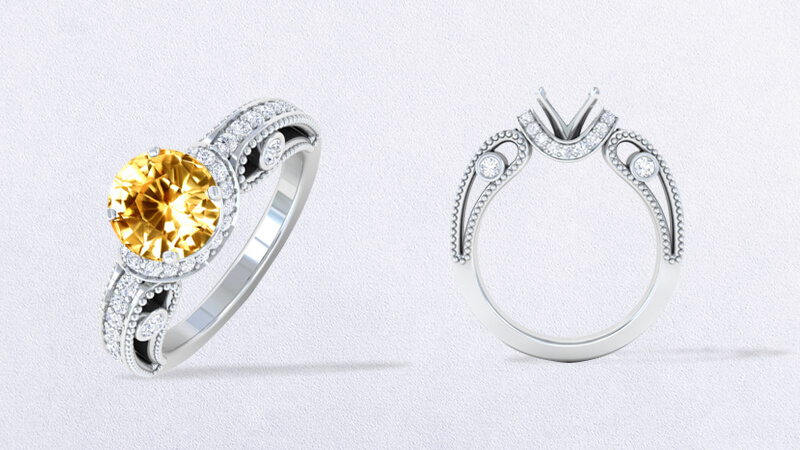 Padparadscha sapphire is one of the rarest sapphires in the world. The salmon-colored sapphire is recognized for its stunning color. Padparadscha sapphire is known to have no sign of treatments to enhance its color or fill its fractures or inclusions! Padparadscha receives its name from the Sanskrit word "Padma Ranga" which means color like a lotus flower.
If you're looking for something unique and extraordinary then a bezel ring with side diamonds is the one for her!
6. Half-Bezel Set Round Diamond Three Stone Ring Setting (0.30cttw)
Three stone rings are the ultimate go-to rings if you're confused about what to get for your to-be wife! This ring specially designed half-bezel set with round diamonds makes sure that each of the side stones is placed safely and nothing happens to the diamonds. Ruby three-stone ring is one of the top-selling and trending gemstone engagement rings that you can definitely consider getting your girl!
With a stunning pigeon blood red ruby as the center stone, this ring glistens like the sun's rays on the water! Ruby is known as the sister stone of sapphire because it comes from the same mineral corundum. Ruby also scores a 9 on 10 on the Mohs hardness scale, making it a highly durable gem alongside sapphire. The king of gemstones, Ruby, is known to be the stone of passion, love, and wealth. It is the official gift for the 15th and 40th wedding anniversary!
7. Round Ring Setting with Prong Set Diamonds (0.075cttw)
Enigmatic and mysterious in its own way, Emerald has gained quite prominence among celebrities and royalties! The glimmering green gemstone is a highly sought-after gem by collectors around the world. Emerald scores an 8 out of 10 on the Mohs scale of hardness. The green gem is quite durable and sturdy to be used on regular days. The soothing green color of the gemstone as the center stone of an engagement ring speaks about the resolute nature of its wearer.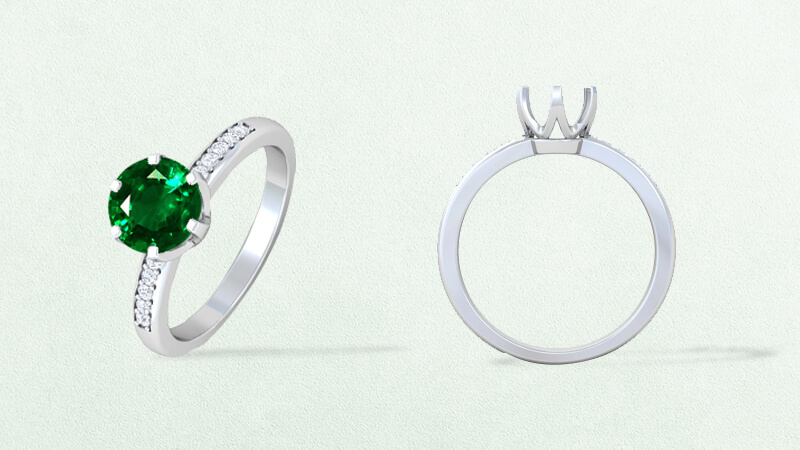 The gorgeous ring setting with prongs set diamonds has made it to the list of trending gemstone engagement rings of 2022! This engagement ring is basic yet chic and your girl would love it on her finger!
8. Ring Setting with Pave Set Round Diamonds (0.12cttw)
What comes to your mind when we say antique?
Its dictionary meaning is – a relic or object of ancient times! An antique ring design is a unique, one-of-a-kind timeless design that never gets old.
Looking for extraordinary bling? – A ring setting with a pave set of diamonds is the trending gemstone engagement ring that you must consider for your significant other. With an alexandrite as the center stone, this ring will glow extra bright!
Alexandrite is a mystical gemstone. This gem comes from a mineral called a chrysoberyl. Alexandrites are well-known for their vibrant hue and spectacular color variations when examined in various lighting conditions. Emerald by day and ruby by night, alexandrite is quite a popular gemstone among gem aficionados of the world. It scores 8.5 out of 10 on the Mohs scale of hardness making it a solid and most durable gemstone that can be used on a day-to-day basis.
Antique ring with the chameleon gemstone is a match made in heaven, just like you and your sweetheart!
9. Bezel Set Solitaire Ring Setting
Solitaire ring settings are the most elegant engagement ring settings in the world! But are you looking for a little stylish, and fancy, yet elegant and graceful ring design for your better half? Bezel set solitaire ring setting with 2 shanks around, it is the answer to your ring dilemma! With an exquisite gemstone like tanzanite as the center stone, this ring will look marvelous.
Tanzanite, the violet-colored gorgeous gem is a recent discovery in the gemological universe. Tanzanite can be found only in one location in the world – Tanzania and hence it received its name tanzanite! Due to its rarity, tanzanite has become the go-to gem for engagement rings of modern women.
If you were looking for something exclusive and classy – we'd say – your search is over!
10. Princess Diana Replica Setting (0.27cttw)
Do you want her to feel like your queen every day?
You can win her heart with a Princess Diana Replica setting!
Princess Diana wore a 12ct blue sapphire with diamonds around it, this ring is infamous because she chose this particular engagement ring from Gerrard, the royal jeweler's catalog that was also available to the common people. Just like a blue sapphire, here's another blue gemstone that is surely going to make her fall in love with the ring and you – aquamarine!
The light blue of the gemstone is very eye-pleasing and calming. It is an emblem of tranquility, clarity, and harmony and if your significant other is looking out for these elements then the aquamarine Princess Diana ring is the one for her.