Get ready to take a glam-packed plunge into the world of 2023's hottest jewelry trends! From jaw-dropping gemstone rings to pendants dripping with elegance, and engagement rings that redefine romance – we've got all the deets to make your style shine bright! So, what are you waiting for? Let's dive into the world of sparkling trends and elevate your bling game. Ready to slay? Explore now!
1. What's Hot in the World of Rings?
Let's talk about the shimmering rings in 2023. They've been a real showstopper. We're not talking about ordinary rings; we're talking about rings that shine with colorful gemstones. The real shining stars? Sapphire engagement rings. They've taken the lead this year, and it's not hard to see why. With their deep, mesmerizing blue color, they represent loyalty and commitment. No wonder they're a hit with couples in love.
But hold on, the spotlight doesn't end there. Natural ruby rings and ruby diamond engagement rings have been turning heads, too. Rubies are all about passion and vitality. If you want your jewelry to make a bold and timeless statement, these are the way to go. They're not just accessories, they're your personal style statement. Ready to add a touch of regal charm to your collection?
2. Necklaces That Speak Volumes
Necklaces are big in 2023, and you've got endless options. You can go for elegant and delicate ones or bold statement pieces – whatever floats your style boat.
Now, let's talk about the real gems—gemstone pendants, especially those stunning sapphires. These mesmerizing blue beauties bring a touch of nature's charm and sophistication to your outfit. But there's a catch – people are going crazy over the trend of layering pendants and chains. It's a surefire way to make your style uniquely yours. Mix and match sapphire pendants with your favorite chains or other gemstone necklaces for a look that's as distinctive as you are.
And if you're all about classic elegance with a sprinkle of sparkle, don't forget diamond pendants. They're back and adding a touch of star power to your style. It's all about rocking your own style and appreciating the beauty of different metals. Whether you're into white gold, silver, or classic yellow gold, there are plenty of options to match your personal taste. How's that for a fashion upgrade?
3. The Dazzling Delight of Diamond Tennis Bracelets
Oh, behold the treasure of 2023's jewelry trends—the Diamond Tennis Bracelet! This little beauty is more than a piece of jewelry; it's an adventure in elegance. With a row of meticulously set diamonds, it's a non-stop, sparkling sensation that dances on your wrist with every move you make.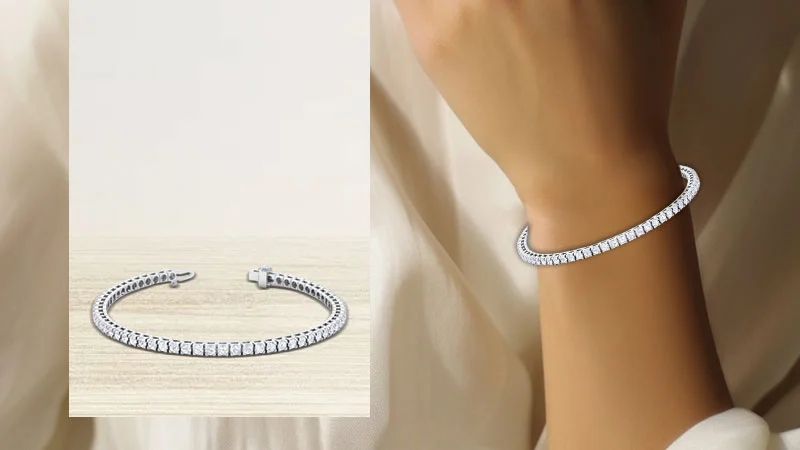 Wear it with jeans, wear it with a ballgown – the Diamond Tennis Bracelet doesn't discriminate. It's your VIP pass to timeless luxury, and it's ready to elevate your style to new heights. Have you unlocked the full potential of this diamond-studded delight in 2023 or is it an experience still waiting to happen?
4. Emerald Extravaganza
In the world of jewelry, 2023 has been all about emeralds. These gorgeous green gems not only catch the eye but also symbolize growth, harmony, and renewal. Whether it's necklaces, rings, or the star of the show—emerald earrings, there's no denying the charm of these precious stones.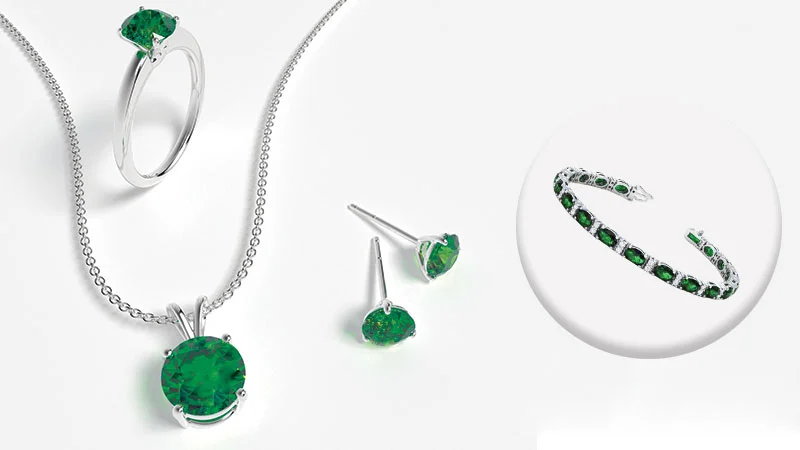 Emerald necklaces have brought sophistication and a breath of fresh air to countless ensembles. But when it comes to emerald earrings, it's all about the allure of hoop earrings that have stolen the spotlight. They dangle like glistening drops of morning dew, framing the face beautifully and elevating any outfit to a whole new level. And as for the metals that make these emeralds shine, the timeless combination of white gold or platinum has been the crowd-pleaser when it comes to enhancing the rich green hues of these precious stones.
So, as we gear up for 2024, could emeralds be your lucky charm for the year ahead? These captivating gems might just be the green light to a stylish and fresh start.
5. The Enigmatic Alexandrite
Now, let's talk about a gem that's often called the "emperor of gemstones" – Alexandrite. This magical stone changes colors like a chameleon! In the sunlight, it's a mesmerizing green, and under indoor lights, it transforms into a lush purplish-red. No wonder it's been the talk of the town this year.
Whether you prefer rings, pendants, or earrings, owning something with alexandrite is like having your very own slice of magic. And here's the exciting part – this year, everyone's been head over heels for it! It's not just because it's charming and mysterious; it's also because it looks amazing with various metals. White gold and rose gold have been the top choices, giving alexandrite jewelry a trendy, modern touch.
Have you ever thought of adding a hint of magic and elegance to your collection? Try alexandrite, It's a game-changer!
6. Men's and Unisex Jewelry
Let's talk 2023, where men's jewelry got a fresh makeover. You've got to check out the star of the show – white gold bands for men. These bands are like a time machine to classic, timeless elegance. And here's the thing, they come in all sorts of styles. You can go with the trusty classics or try something more modern – they go with whatever outfit you're thinking of wearing.
But here's the exciting twist: diamond studs, once reserved for the ladies, are now for everyone. These little earrings may be small, but they're like tiny beacons of everlasting sparkle for both men and women. Guys, they're a classy touch for your style. And for the ladies, they're like your best pals, fitting right in with your everyday or fancy outfits. These diamond studs are all about celebrating the timeless allure of diamonds, and they're an amazing choice for anyone who appreciates the finer things in their jewelry.
What's in Store for 2024?
Get ready for a whole new year of jewelry trends – it's going to be a real dazzler! Imagine this: gemstone rings that twinkle like they've captured a bit of the night sky, pendants that tell stories of timeless beauty, and engagement rings that redefine the meaning of love. You won't believe the treasures that lie ahead.
As we wrap up the fantastic journey of 2023, it's been nothing short of a magical ride. Those gemstone bracelets, the elegant necklaces, and the love-packed engagement rings have all played a part in this enchanting story. And where's the best place to get in on the action? It's GemsNY, the go-to spot for all things precious and lovely.
GemsNY is like the wizard of gemstones, and we're inviting you to join our world where the latest trends mingle with timeless classics, and elegance gets a fresh twist. With each sparkle of a gem and every graceful necklace swish, we're shaping up for a 2024 that's truly one of a kind. So, are you ready to step into this sparkling wonderland? Your personal invite awaits, where style, elegance, and a sprinkle of magic come togethe
Ready to dazzle in 2024? Explore now!