Blog Outline
Introduction
The Eiffel Tower isn't the only thing that France is famous for. It is also popular for its influence in the fashion world.
The Cannes Film Festival is back for its 76th annual celebration, which started with a bang on May 16 and is there to keep us hooked till May 27.
Celebrities from around the world flew to Europe to celebrate the newest films, documentaries, and other media. The opening ceremony took place on May 16 at the premiere of "Jeanne du Barry," a historical drama by Maïwenn starring Johnny Depp.
And, like every year, the A-list attendees didn't disappoint us with their impeccable taste in fashion and jewelry!
As the 11 days of Cannes have begun, we are in for a lot of sparkling drama and glamor. Let's check out some of the beautiful and chic jewelry moments caught on the red carpet.
Elle Fanning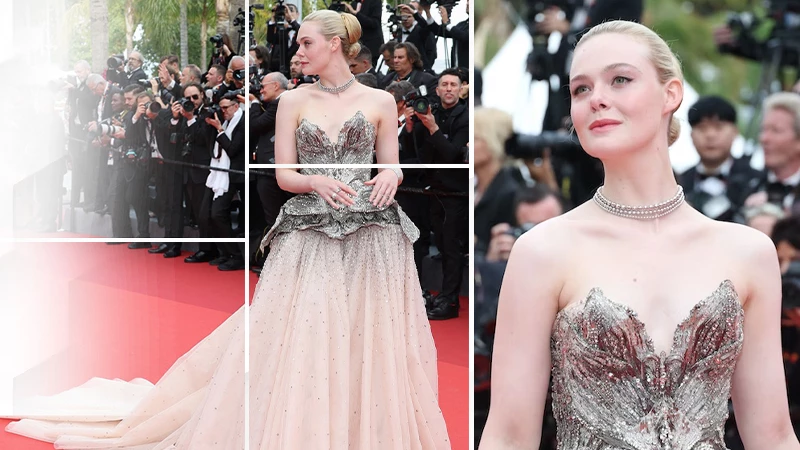 The first on our list is Elle Fanning, who is well-known for her amazing fashion sense. And it is safe to say that she once again stole the hearts of many with her beautiful appearance on the 2023 Cannes red carpet. She wore a stunning strapless gown by Alexander McQueen and complemented her outfit with jewelry from modern and vintage collections of Cartier.
Catherine Zeta-Jones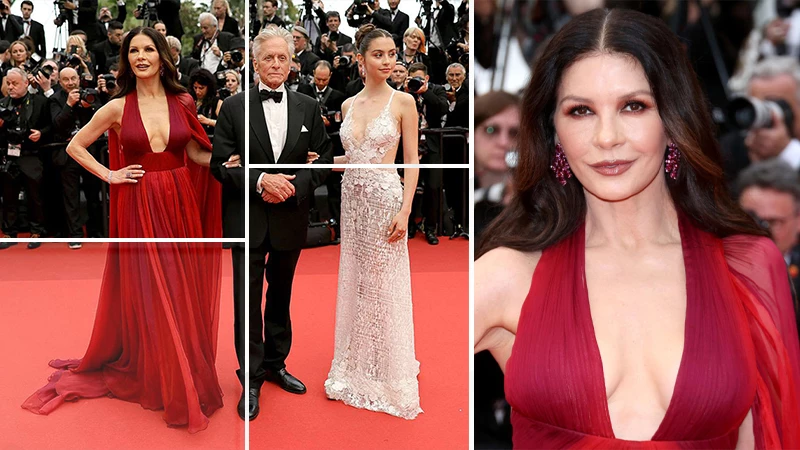 Catherine Zeta-Jones, who played the role of Morticia Addams in the series Wednesday, walked the red carpet at Cannes Festival 2023 with her husband, Michael Douglas, and daughter, Carys Zeta Douglas.
She wore a fiery red Elie Saab SS22 Couture dress with a plunging neckline and a single-sleeve flowing cape. She paired her outfit with Sarah Flint shoes and Chopard jewelry, which included a pair of stunning pink and ruby chandelier earrings, a matching ring, and a diamond bangle.
Carys Zeta Douglas
Carys Zeta Douglas made her appearance on the red carpet with her mother and father. She looked gorgeous in a white semi-sheer lace gown. Like her mother, she accessorized herself with Sarah Flint Shoes and Chopard jewelry.
Alessandra Ambrosio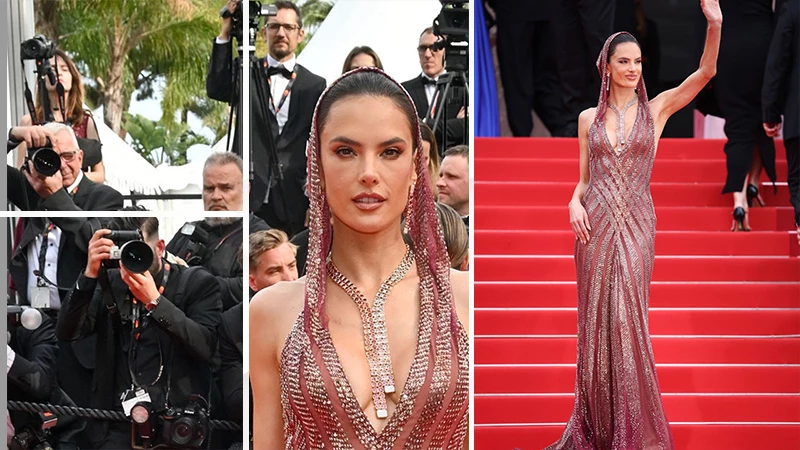 Next on our list is the Brazilian model Alessandra Ambrosio, who set a stunning example of impeccable fashion on the red carpet. She wore a deep plum gown with a hooded neckline that seamlessly transitioned into a plunging neckline.
She captured the attention of many in this vintage Elie Saab gown that was adorned with sequins.
She was also seen wearing Pomelleto's Skyline necklace and earrings set, a piece inspired by Milan's architectural landscape. It was studded with 128 rare, bezel-cut spinels in hues ranging from crimson to azure blue and had paved diamond accents.
Urvashi Rautela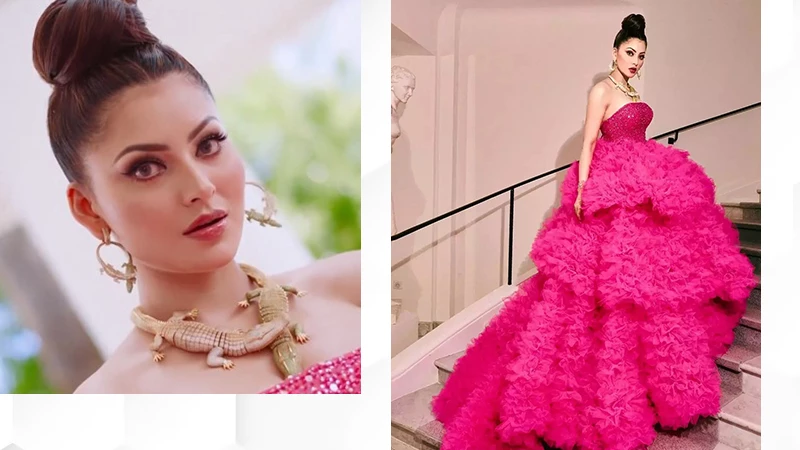 Bollywood actress Urvashi Rautela made a gorgeous entrance at the 2023 Cannes Festival's opening ceremony. It was her second time walking the red carpet, and she was one of the many Indian celebrities to attend the opening ceremony.
Urvashi showed off her exceptional taste and left everyone in wonder as she wore a stunning pink tulle gown designed by notable Parisian designer Sima Couture and accessorized the outfit with Cartier alligator jewelry, which featured a bold necklace with two intertwined alligators and matching earrings.
Helen Mirren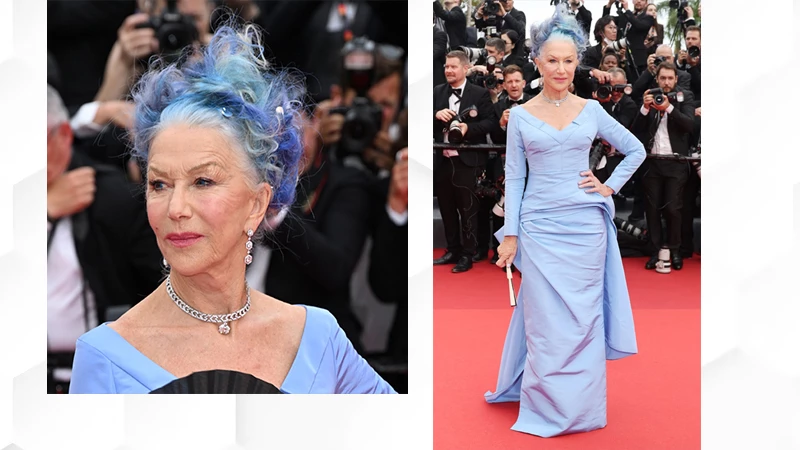 Helen Mirren took us all by surprise as she made a dramatic appearance on the 2023 Cannes red carpet, wearing a stunning ice blue Del Core gown, which matched her blue hairdo!
She completed her look with a sparkling necklace and a pair of gorgeous chandelier earrings.
Guan Xiaotong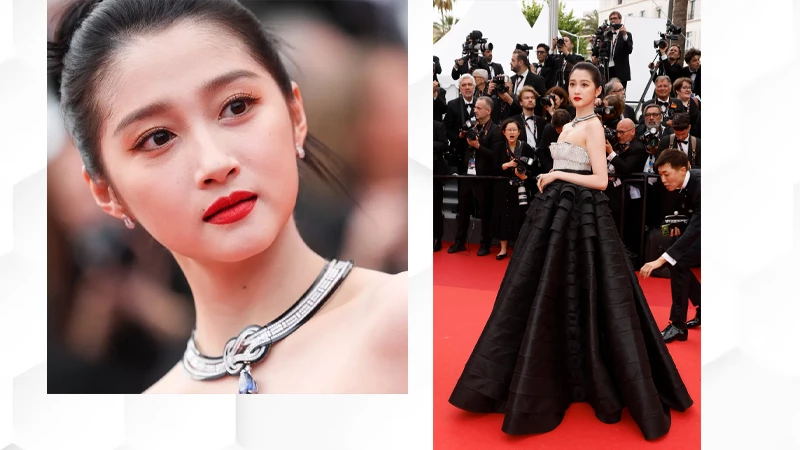 Chinese actress and singer Guan Xiaotong looked beautiful in her black and gray satin Valentino Spring 2023 Haute Couture gown. She wore a statement necklace and ring to complete her Cannes red carpet jewelry look.
Naomi Campbell
Campbell also walked the red carpet to attend the opening ceremony of the 2023 Cannes Film Festival and the screening of Jeanne du Barry.
She wore a breathtaking floor-length gown by Celine that was embellished with silver sequins and had a plunging neckline. The stunning Chopard bracelets and earrings served as the finishing touch to her ensemble.
Pom Klementieff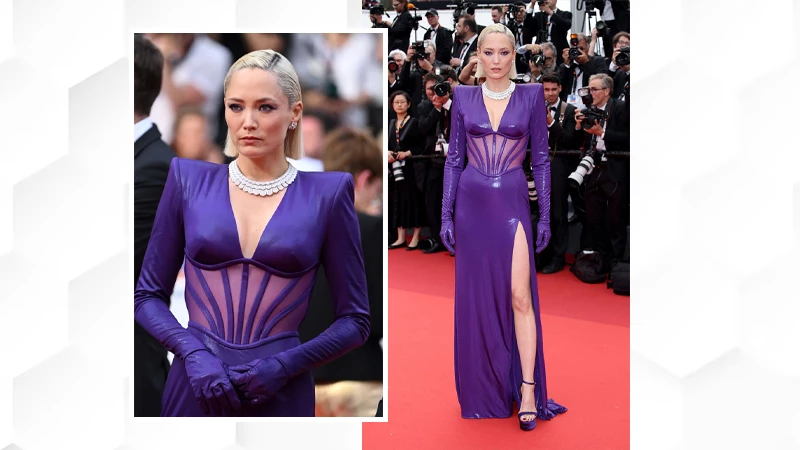 Known for her famous role of Mantis in MCU's Guardians of the Galaxy, Pom Klementieff also made a bold appearance on the red carpet! She wore a vibrant purple floor-length gown with a thigh-high slit and accessorized with a dazzling diamond Cartier choker.
Parting Thoughts
The 2023 Cannes Film Festival has just started. The above-stated are just a few of the many stunning fashion and jewelry looks we witnessed on the first day of the event on the red carpet.
You can recreate these impeccable jewelry looks with the beautiful pieces available at GemsNY!
*Credit Source –
Image 1st – https://cdn.justjaredjr.com/wp-content/uploads/2023/05/elle-cannes/elle-fanning-looks-royal-while-attending-cannes-film-festival-22.jpg
Image 2nd – https://imgix.bustle.com/uploads/getty/2023/5/16/11a2a106-307e-43b2-995f-17519a574d72-getty-1490697557.jpg?w=414&h=621&fit=crop&crop=focalpoint&auto=format%2Ccompress&fp-x=0.416&fp-y=0.2329
Image 3rd – https://people.com/thmb/XmhnSllUtm3J8aO5kiEqP4CYA-Q=/1500×0/filters:no_upscale():max_bytes(150000):strip_icc():focal(749×0:751×2)/Catherine-Zeta-Jones-Michael-Douglas-and-Carys-Zeta-Douglas-0516202344-1b58d1e29fbb4b328c55da5169d60aff.jpg
Image 4th – https://parade.com/.image/t_share/MTk3OTk3NTUxMDM3NzE5NzEz/jeanne-du-barry-screening–opening-ceremony-red-carpet—the-76th-annual-cannes-film-festival.jpg
Image 5th – https://pagesix.com/wp-content/uploads/sites/3/2023/05/NYPICHPDPICT000011188989.jpg
Image 6th – https://cdn1-production-images-kly.akamaized.net/K_d_Gpr8SKh6r0MhXYnud1_Qo6I=/1231×710/smart/filters:quality(75):strip_icc():format(jpeg)/kly-media-production/medias/4430939/original/059379400_1684301994-AP23136715267901.jpg
Image 7th – https://celebmafia.com/wp-content/uploads/2023/05/alessandra-ambrosio-76th-annual-cannes-film-festival-opening-ceremony-red-carpet-05-16-2023-0.jpg
Image 8th – https://footwearnews.com/wp-content/uploads/2023/05/alessandra-ambrosio-cannes-film-festival-2023.jpg
Image 9th – https://static.tnn.in/photo/msid-100289684/100289684.jpg
Image 10th – https://www.storypick.com/wp-content/uploads/2023/05/1-5.jpg
Image 11th – https://akns-images.eonline.com/eol_images/Entire_Site/2023416/rs_634x1024-230516103831-634-helen-mirren-cannes-2023.jpg?fit=around%7C634:1024&output-quality=90&crop=634:1024;center,top
Image 12th – https://tomandlorenzo.com/wp-content/uploads/2023/05/Helen-Mirren-Cannes-Film-Festival-2023-Jeanne-Du-Barry-Red-Carpet-Fashion-Del-Core-TLO-1.jpg
Image 13th – https://images.livemint.com/img/2023/05/17/original/France-Cannes-2023-Opening-Ceremony-Red-Carpet-118_1684303230740.jpg
Image 14th – https://www.thewrap.com/wp-content/uploads/2023/05/Cannes-2023-Guan-Xiaotong.jpg
Image 15th – https://focus.ua/static/storage/thumbs/x600/8/69/a7912468-7768a0737339127331de72b1f4429698.jpg?v=1495_1
Image 16th – https://wwd.com/wp-content/uploads/2023/05/naomi-campbell-cannes-film-festival-2023.jpg?w=225&h=225&crop=1
Image 17th – https://www.redcarpet-fashionawards.com/wp-content/uploads/2023/05/Pom-Klementieff-Wore-Atelier-Versace-To-The-%E2%80%98Jeanne-du-Barry-Cannes-Film-Festival-Premiere-Opening-Ceremony.jpg
Image 18th – https://preview.redd.it/pom-klementieff-wearing-versace-at-cannes-film-festival-2023-v0-3in1wql6wc0b1.jpg?width=640&crop=smart&auto=webp&s=34a8ecc9e618fe69f789cba9bd2c0436efa913b3