The holiday season is a magical time of year, filled with warmth, love, and togetherness. It's a time to create beautiful memories with your loved ones, and what better way to do that than with a beautiful piece of holiday jewelry for her?
Whether it's a sparkling pair of earrings or a delicate necklace, a thoughtful piece of holiday jewelry is the perfect gift for the special woman in your life. In this 2023 holiday jewelry gift guide, we'll help you find the perfect piece of jewelry to show your love and appreciation this holiday season.
So, let's add some sparkle to your holiday season and make your special woman feel loved and appreciated with the perfect piece of holiday jewelry!
Timeless Treasures: Classic Jewelry She'll Love Forever
When it comes to buying holiday jewelry, timeless pieces like pearl necklaces and diamond stud earrings never go out of style. They go well with practically any ensemble and are ageless and adaptable.
A beautiful gift for the important woman in your life is a pair of diamond studs. They complete every ensemble with a touch of not only elegance and beauty but also sophistication. Diamond studs are a wonderful addition to your girlfriend's or wife's holiday jewelry collection, whether she's going to the office or celebrating a special occasion.
On the other hand, a pearl necklace is another timeless accessory that is always appropriate. For your mother, sister, or friend, it's the ideal present. Due to their straightforward yet attractive form, pearl necklaces have been a popular choice for generations and will likely always be so.
Whether it's a formal function or a casual trip, they are ideal for all occasions. Pearl necklaces combine well with many different outfits and give a classic, sophisticated touch that will never go out of style.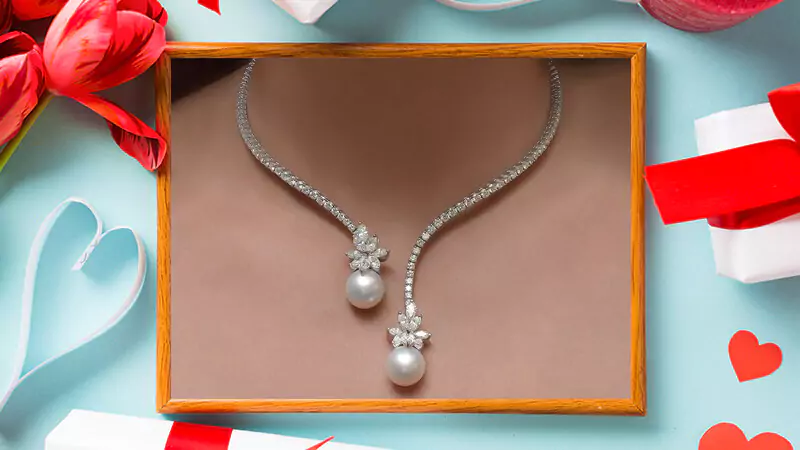 Whether you choose pearl jewelry or diamond stud earrings, either of these timeless pieces of jewelry will leave a lasting impression on the important woman in your life.
In light of this, if you're having trouble finding the ideal present this holiday season, think about giving her a timeless piece of classic jewelry that she will treasure for years to come.
Also Read: Anniversary Gift Ideas (Year 21 to 25)
Make a Statement with Dazzling Gemstone Jewelry
A statement piece of jewelry can be the ideal holiday jewelry present for the fearless and bold women in your life. A statement piece of jewelry can take many different shapes, such as large earrings, eye-catching necklaces, and chunky bracelets.
Not only do they add a splash of color to an outfit, but they also create conversation. For your stylish girlfriend or sister who isn't afraid to take risks and stand out from the crowd, statement jewelry is the perfect gift.
They can add a touch of excitement and sparkle to their dresses and let their personality shine by adding a statement piece.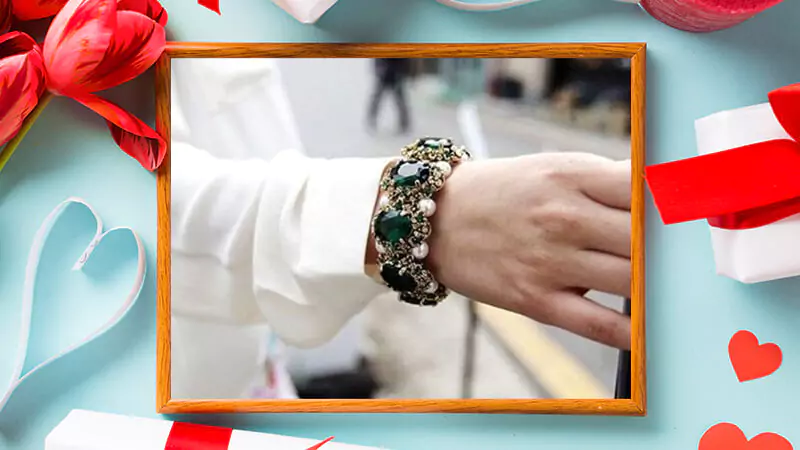 For example, a statement emerald bracelet with large, high-quality emerald stones in a dramatic, solid design can add a bit of sparkle and sophistication to any outfit.
The rich green color of the emerald contrasts well with the gold or silver metal elements, making it the ideal accessory for a special occasion or elegant evening wear.
Celebrate Her Birth Month in Style with Birthstone Jewelry
Birthstone jewelry is a sentimental and unique holiday jewelry gift that will make the important woman in your life feel genuinely appreciated.
For instance, if your loved one was born in January, you may give her a garnet, which is thought to stand for protection, companionship, and trust. Amethyst for February, which symbolizes calm and peace, and emerald for May, which stands for love and rebirth, are two further examples of popular birthstones.
There are many different birthstone jewelry alternatives available, including rings, necklaces, and bracelets, so you can find something to suit her style. Birthstone jewelry is ideal for any celebration, including birthdays, and anniversaries.
You may always ask her or quickly check online to find out what her birthstone is if you're unsure.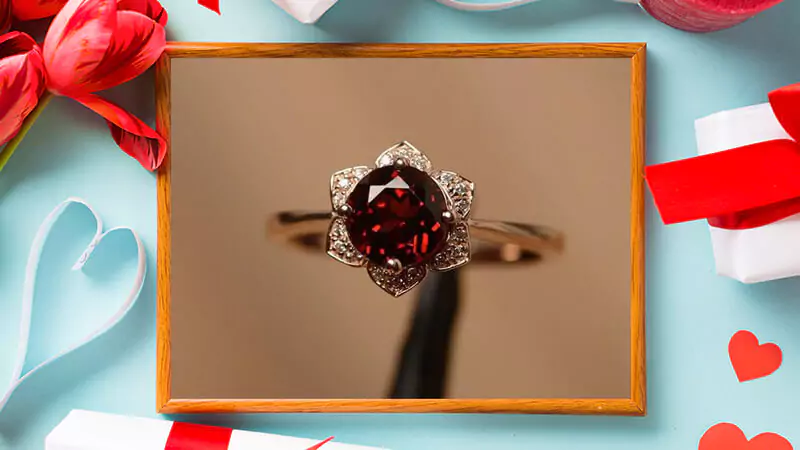 All things considered, birthstone jewelry makes the ideal holiday jewelry for women. The important woman in your life will love it and it will undoubtedly become a valuable addition to her jewelry collection. It is a beautiful way to express your love and admiration for her.
You May Also Like: Holiday Jewelry Gift Guide For Men
Seasonal Sparkle: Holiday-Themed Jewelry
Holiday-themed jewelry is a perfect way to add some festive cheer to your girl's outfit, whether it's for the winter holiday season or the summer months. There are plenty of options to choose from for both seasons, so let's explore some examples of both:
Frosty Finery Jewelry: You can select from a variety of holiday-themed jewelry for the winter holidays, such as snowflake earrings, reindeer necklaces, or Christmas tree brooches. These accessories are ideal for adding some festive cheer to her outfit and are guaranteed to make the receiver smile.

Other popular choices include red and green jewelry, as well as items with brilliant diamonds or crystals that are ideal for enhancing her outfit with a holiday jewelry sparkle.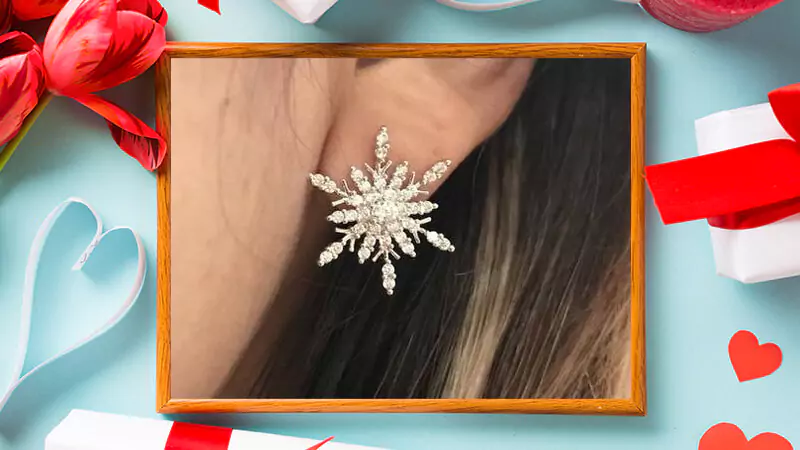 Beachside Bliss Jewelry: For summer, you can choose from a variety of beach-themed jewelry, such as seashell necklaces, starfish earrings, or aquamarine gemstone jewelry.
These jewelry pieces are great for adding a touch of the sea to her look and expressing love for the beach. A sunset-inspired pendant or tropical floral earrings are also popular choices to add a splash of color to your summer ensemble.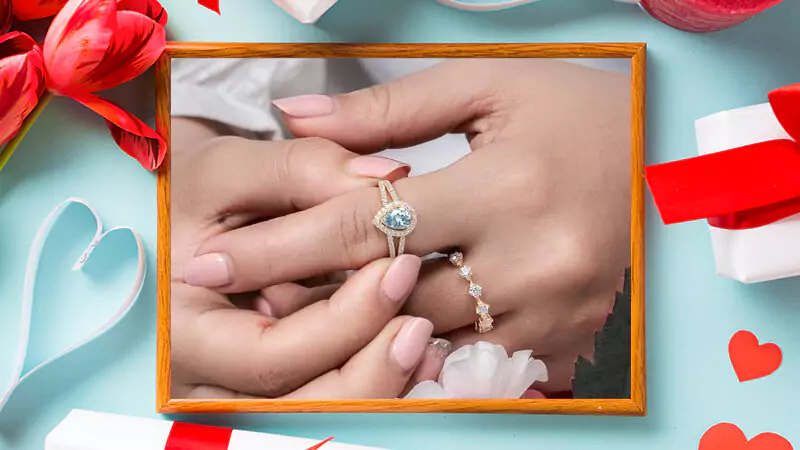 Therefore, jewelry with a holiday theme is ideal as a gift throughout the year. So why not surprise your special someone with a lovely piece of holiday-themed jewelry or add some festive joy to your own jewelry collection?
Custom Jewelry: Crafted Just For Your Girl
Jewelry serves as a symbol of love, affection, and appreciation in addition to serving as an accessory. While timeless pieces like pearl necklaces and diamond stud earrings are always in style, custom jewelry adds a special touch that elevates the holiday jewelry gift idea to a whole new level.
The ideal way to convey your thoughtfulness and care for the special woman in your life is through custom jewelry. It's a chance to make her feel loved and cherished by creating something special and meaningful.
Popular examples of personalized jewelry include engraved bracelets and customized necklaces. You can include her name or initials, or even a memorable day that has special significance for the two of you.
A nameplate ring is an additional choice that is both fashionable and significant. In addition to being stunning, these pieces of personalized jewelry serve as a constant reminder of your love and admiration for her.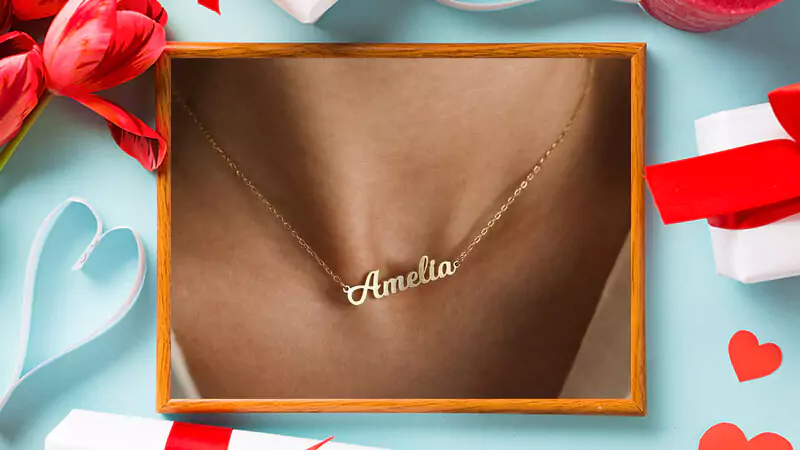 Custom accessories are the ideal holiday jewelry gift for a woman who values sentimental and significant presents. She will understand how much she means to you and how well you know her if you do it wisely.
Custom jewelry offers countless options to create a unique and memorable gift that she will always cherish, from a pendant necklace with a special message to a ring with a nameplate and her initials.
Also Check: 1 – 5 Year Jewelry Anniversary Gifts
Sleek and Sophisticated: The Appeal of Minimalist Jewelry
Let's face it, sometimes less is more. In the fashion world, the trend toward simplicity is growing, and minimalist jewelry is no exception. This style is all about clean lines, subtle details, and quality materials.
It's the perfect way to enhance an outfit without being too flashy, making it a popular choice for women who prefer understated elegance. Whether it's a delicate necklace, a simple bangle, or a pair of stud earrings, minimalist jewelry can add a touch of sophistication to any look.
For example, you can gift her a delicate rose gold chain necklace with a single small morganite gemstone in a simple setting that can be a beautiful minimalist option. The subtle pink hue of the morganite is complemented by the soft tone of the rose gold, creating a gentle, elegant look.
For a minimalist take on drop earrings, a pair of morganite studs with a small stone in a simple setting that dangles from a thin chain can be a unique and stylish option.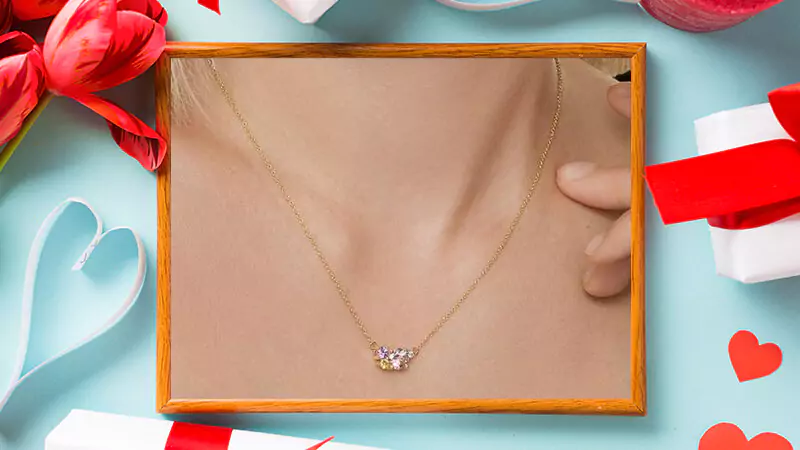 The beauty of minimalist jewelry is that it's versatile and can be worn on any occasion, from casual brunches to formal events. And with its high-quality materials and timeless design, it's a gift that will last for years to come.
So, if you're looking for the perfect holiday jewelry for your girl, you can't go wrong with minimalist jewelry. Whether it's for your mother, sister, or friend, minimalistic style is sure to become a cherished part of her jewelry collection.
Last Piece of the Puzzle:
As the holiday season approaches, finding the perfect gift for the special woman in your life can be a daunting task. But fear not, as this 2023 holiday jewelry gift guide has got you covered.
With a wide range of options to choose from, you are sure to find the perfect jewelry piece that fits her unique personality and style. You'll find something she'll like whether she's the classic type, the bold and daring type, or the simple and subtle type.
Remember to keep in mind her preferences and make sure the piece is a reflection of her individuality. With these holiday jewelry ideas for her, your gift will not only be beautiful but also meaningful.
So, go ahead and make this holiday season unforgettable with a thoughtful piece of jewelry that will bring a smile to her face. Happy holidays and happy shopping!