Did you know birthstone jewelry is said to bring luck in the life of the wearer?
But, first of all – what is a birthstone?
A birthstone represents a gemstone associated with a person's birth period, usually a month or a zodiac sign. In 1912, the national association of jewelers came together and officially made a list of birthstones for each month of the year which is now followed all over the world!
Birthstones are one of the most meaningful gift items that one can give to the loved ones – mother, father, siblings, and even friends. Each gemstone is said to represent a personality trait and characteristics that one can boost if one wears the gemstone correctly.
Below is a list of gemstones that are significant to each month.
Jewelry and gemstone go hand in hand. Birthstone jewelry has become quite a trend among the new generation and they love to embrace this trend by giving it as presents to their loved ones or buying it for themselves. Here's a list of birthstones and jewelry that you must have in your little happy vanity!
January: Hessonite Garnet Earrings
Garnet is the birthstone of January. Garnet comes in a variety of colors. One of the most famous varieties of garnet is the hessonite garnet, also known as the 'cinnamon stone'. Hessonite garnet has always been a popular choice because of its rich, deep color, historical and religious significance, and excellent value.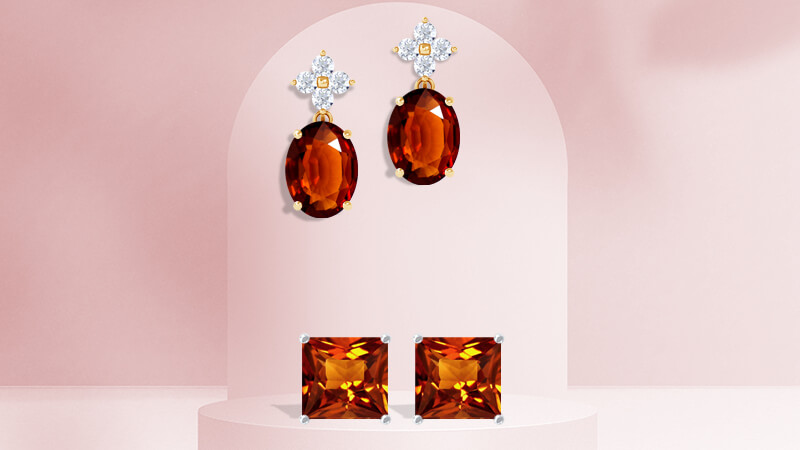 If you're a January born, the gemstone will bring you not only love but also prosperity and good health. Hessonite garnet is an emblem of wealth and success and it also promotes longevity. If you're looking for birthstone jewelry that will boost your chances of getting all the good things in life after wearing it, then you should invest in hessonite garnet earrings. The cinnamon stone is gorgeous and a pair of earrings will brighten your day. What do you think?
February: Amethyst
Amethyst is known to be a violet variety of quartz. It receives its name from the Koine Greek word amethystos which means 'intoxicate', a reference to the notion that the stone would keep the owner safe from being drunk. Amethyst comes in a variety of hues, ranging from light lavender to pastel violet to deep purple. It symbolizes the purity of the spirit and also aids in healing wounds.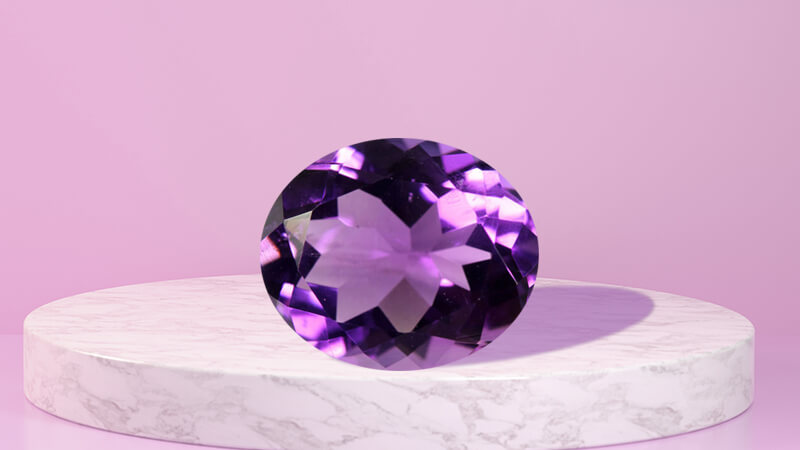 If you're a February born then amethyst will bring all the good luck you need in life to succeed. You can adorn an amethyst ring or a pendant for it to work wonders!
March: Aquamarine Pendants
The spring season calls for a serene, calm, and cool birthstone for the month of March! Aquamarine is the birthstone for March. It is one of the most popular gemstones and has garnered a huge fandom because of its ravishing sky blue hue. It comes from a mineral called beryl and receives its stunning shade because of the trace element iron present in the mineral.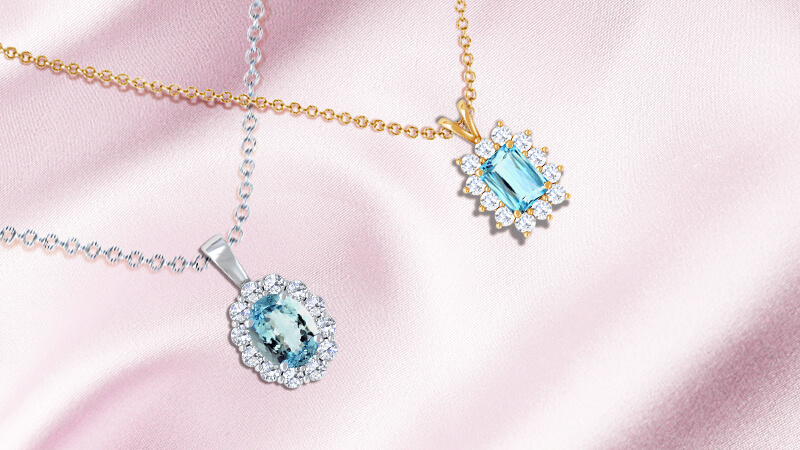 An emblem of serenity, tranquility, and luck, aquamarine jewelry is one of the must-have accessories in your vanity especially if you're a March baby! Aquamarine pendants look beautiful and attract compliments right away! You can wear the dazzling aquamarine pendant with anything and everything you like!
April: Diamond Ring
Twinkle twinkle little star, like a diamond in the sky!
Diamonds are a girl's best friend as Marilyn Monroe said. Lucky are those born in the month of April because they can show off their diamonds and call the sparkling rock their birthstone! Diamonds and jewelry are a match made in heaven. The hardest rock in the world has received a lot of love and everyone wants it in their vanity.
Diamond ring is one accessory that every woman wishes to own and have in her vanity. Diamonds bring strength, love and health to its wearer. Diamond is also an emblem of companionship and loyalty. If you're an April born then you should definitely wear diamonds to get all the benefits the sparkling gem has to offer and more!
May: Emerald Bracelet
The month of May calls for a refreshing birthstone: it's the stunning emerald. Emerald is one of the most precious gemstones in the world. It comes from the same mineral that aquamarine comes from which is beryl. Emerald receives its beautiful deep green shade due to the presence of vanadium and chromium.
If you're a May baby then an emerald bracelet would be a nice pick. Bracelets are the most underrated accessory of all but they make one's hands look beautiful. When you choose the power of the green, there is no going back. The emerald bracelet will make you look fabulous and you can pair it with any of your attire – be it a glam event or a casual meeting with friends!
June: Alexandrite Earrings
The chameleon gemstone, alexandrite, is the June birthstone. Why chameleon, you might ask? The gorgeous gemstone can change its colors under different lightings. Ruby by day and emerald by night, alexandrite, the ravishing gemstone offers two beautiful gemstones in one.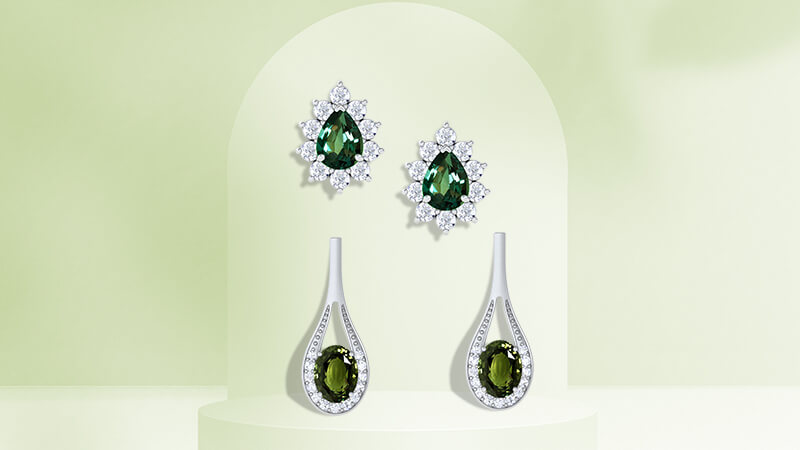 If you're a June born, then you're one lucky person because you can call alexandrite your lucky birthstone. Alexandrite earrings are a phenomenal accessory that you can pair up with any glamorous outfit! Investing in a pair of alexandrite earrings will surely make you look gorgeous!
July: Ruby Ring
July borns: brace yourself because red hot ruby is your birthstone
The red hot rubies come from the mineral corundum and get their extraordinary shade of red from the presence of chromium in the mineral. One of the hardest and most durable color gemstones, ruby, can be used on a daily basis in the form of jewelry.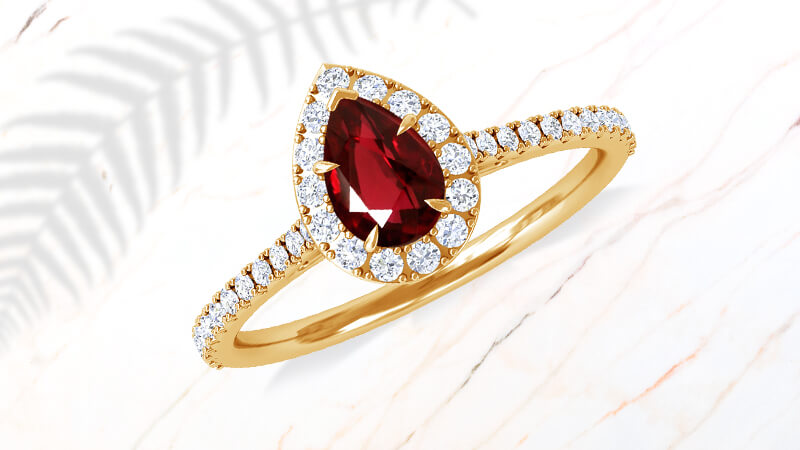 The king of all the gemstones is the July birthstone and all the July babies can show off the red gem. Ruby symbolizes love, passion, success, wealth, and energy. A Ruby ring is the perfect accessory that you should invest in to boost the above-mentioned characteristics.
August: Peridot Pendants
The olive-green gemstone is the birthstone for the month of August! It is a magnificent gemstone that is made up of the mineral olivine. Peridot is one of the few jewels in the world that is found in molten rock in the upper mantle of the Earth, rather than the crust. Peridot comes in only one shade which is olive green.
August birthstone – Peridot is the birthstone for you.  If you're considering investing in your birthstone then we would recommend the accessory that stays near your heart, literally! A Peridot pendant will not only bring you luck, wealth, and peace but also play an important role as a fashion accessory. You can wear a Peridot pendant and pair it up with casual fittings to go with and look super sophisticated! Now, who wouldn't want to look pretty and attract luck at the same time!
September: Sapphire Bands
Mirror mirror on the wall, which is the September birthstone of them all?
It is sapphire, dear lord!
Sapphire, one of the most sought-after precious gemstones is a sapphire. The natural blue sapphire comes from the mineral corundum and is a sister stone to ruby! It comes in a variety of rainbow colors. It is the official birthstone for the month of September. Sapphire is an emblem of wealth, spiritual knowledge, and attracting abundance.
Are you a September born? Then you're lucky enough to get yourself a sapphire band that will speak all about your personality! The gemstone of the royalty would bring all the good things that you deserve!
October: Opal and Tourmaline
October represents not one, but Two: Opal and Pink Tourmaline birthstones! Aren't you a little too lucky to get a choice to choose your favorite birthstone? One of the most versatile gemstones in the world is the tourmaline. Opal is the queen of all gemstones. Both gemstones come in a variety of shades and hues that you can choose for yourself.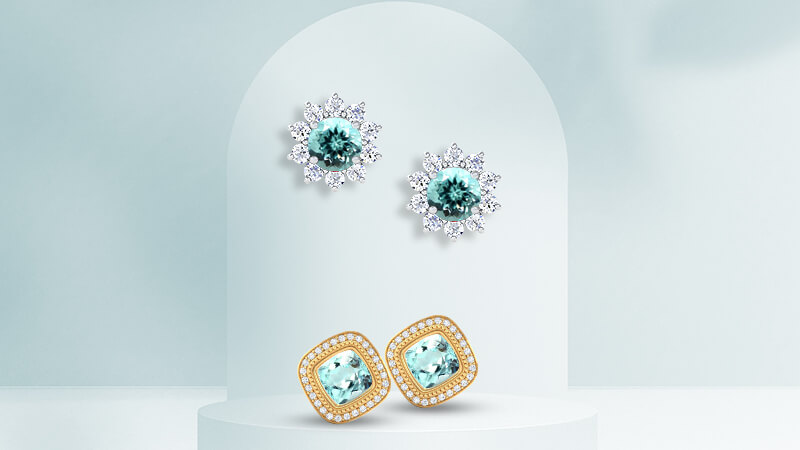 If you're an October baby, then between these two birthstones and the myriad of color spectrums they offer, you can definitely find a gem to suit your personal taste, then set in your preferred jewelry. Investing in a tourmaline ring will definitely help you to pursue all the great things in life. Which is your favorite?
November: Topaz and Citrine
November, just like October, brings in two remarkable gemstones – Topaz and citrine.
Topaz is unique among gemstones because it occurs in a rainbow of colors, ranging from blue to pink to green. The name topaz comes from the Sanskrit word "tapas," which means "fire."
Citrine, a gemstone admired for its golden brilliance, with hues that range from Amalfi coast lemons to the brilliant midday sun, and is reminiscent of the summer months. With its gentle earthy tones, citrine tends to ignite the sparks of enthusiasm in those who wear it.
Both gemstones are stunning in their own ways.
Which one would you choose to transform into gorgeous jewelry for yourself?
December: Tanzanite, Zircon, and Turquoise
Why is it that some people don't get to choose their preferred birthstone? Maybe, due to the fact that some months only have one birthstone. December babies, on the other hand, have a lot of options to choose from! Tanzanite, Zircon, and Turquoise are the three most exquisite gemstones aka December birthstones.
Tanzanites, which are rarer than diamonds, have captured our hearts with their velvety purple tone! In comparison to other colored gemstones, Tanzanite is a relatively new discovery. Tanzanite is an emblem of purity, dignity, and truth.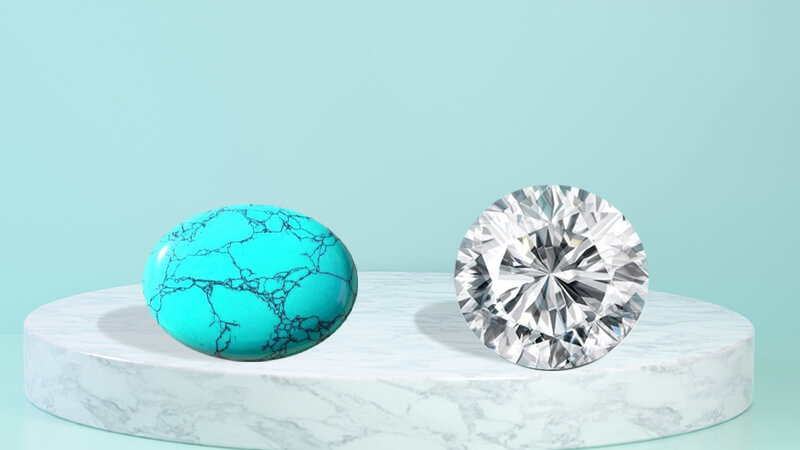 Zircon get its name from the Persian word "zargun" which means gold-hued. Zircon can be found in a lot of different colors. It is said to bring prosperity, honor, and wisdom to its wearer.
Turquoise is a remarkable blue-green gemstone that has been around for over 3000 years and has a special place in people's hearts due to its stunning color palette. The gemstone is said to bring luck, peace, and protection to its wearer
You can wear any of these gemstones in the form of rings, pendants, or earrings and it will look just as gorgeous as you are!
Birthstone jewelry is now a trend and we think that you should also jump on the bandwagon and order your birthstone jewelry now!