Jewelry and Boring… we don't think these words go together in one sentence, Right?
What's green and has our heart?
We hope that the first word that strikes your mind is – Emerald.
Precious gemstones have a special place in our hearts, especially the natural green gem – Emerald! Many drools over emerald jewelry because of how mesmerizing and elegant they appear! The beryl mineral when mixed with trace amounts of chromium or vanadium helps in giving this stunning mineral the most exquisite tone of color – green! The May birthstone is the traditional gift for the 20th, 35th, and 55th wedding anniversary. 
Emerald jewelry has been a favorite adornment for kings, queens, princesses, and commoners too. With the stunning shades of greens, everyone wants to have the May birthstone in their vanity. One of the most sought-after gemstones in the world, emerald scores a 7.5 – 8 out of 10 on the Mohs scale of hardness, sturdy, and durable enough to be used on a regular basis.
Do you have the shades of green in your vanity yet? Here's a list of 5 beguiling emerald jewelry that is a compulsory must-have accessory in your vanity!
Emerald Jewelry Edit – Rings
Bling, bling with an emerald ring!
Any ring aficionados here? Rings are the most gorgeous accessories that accentuate one's fingers gloriously! An engagement ring with emerald, or a stylish ring, can make a woman feel confident about herself and empowered to speak her mind. The emerald jewelry is here to win hearts!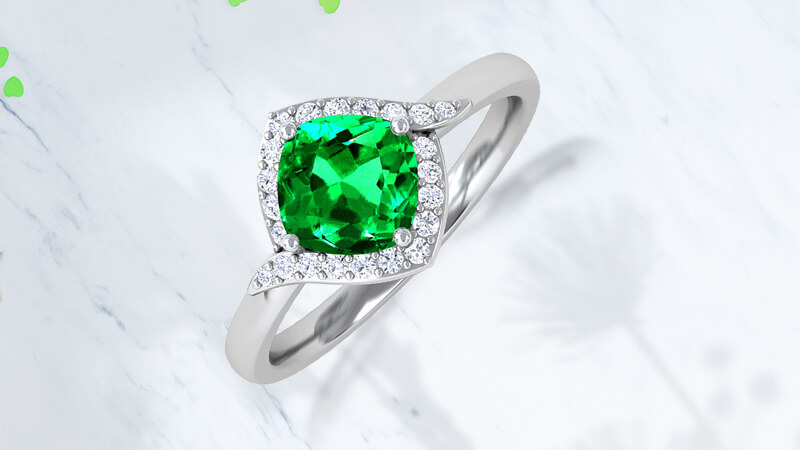 Rings with an emerald as the center stone speak all about the wearer's personality. It is believed to bring luck, prosperity, and health to the May-borns as it's the official gemstone of the month! Glam up for a girl's day-out plan or an evening out with your significant other!
Emerald Jewelry Edit – Earrings
Shimmering with an emerald earring!
Looking to spice up your day with a stunning accessory that makes your face glow? Emerald earrings are your calling! Earrings are one accessory that can make you look lit without adorning any other accessory. The bright and gorgeous emerald jewelry is an enticing option for everyday use.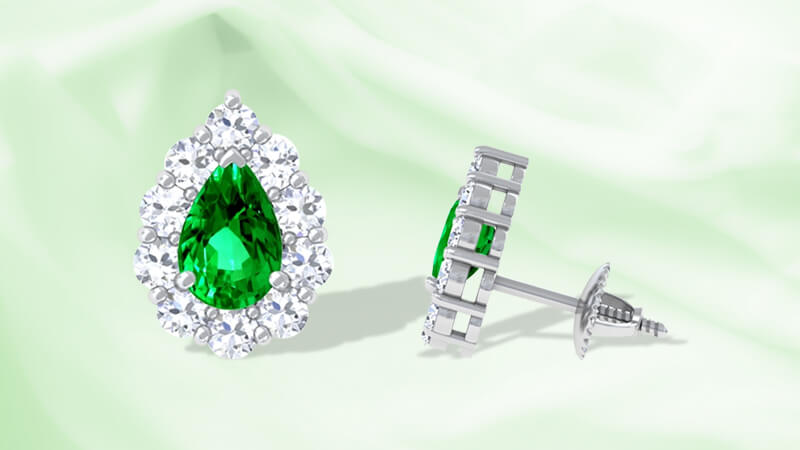 To stand you out of the crowd with a captivating and elegant stance in front of others, Emerald jewelry, especially emerald earrings, play an incredible role. it will give you a boost of confidence to charm others. With different types of earrings to choose from – emerald jewelry should surely be your go-to accessory!
Stud earrings
These earrings are small and can be worn on a day-to-day basis. These gorgeous beauties will make you look like a dream.
Dangle Earrings
These earrings are long and accentuate all of the gorgeous features of one's face – chin, jaw, and most importantly eyes! The green emerald looks stunning and gleams like a glittering star.
Emerald Jewelry Edit – Bands
Some of the most well-known celebrities who enjoy their emerald engagement rings include Victoria Beckham, Halle Berry, and Jacqueline Kennedy Onassis. Bands have received a great deal of attention from everyone. On the finger, an emerald band resembles a crown. These bands glitter up your whole look! Emerald bands will be the perfect complement to your personality if your notion of accessorizing is to go all-out – bold, funny, and magnificent all at once!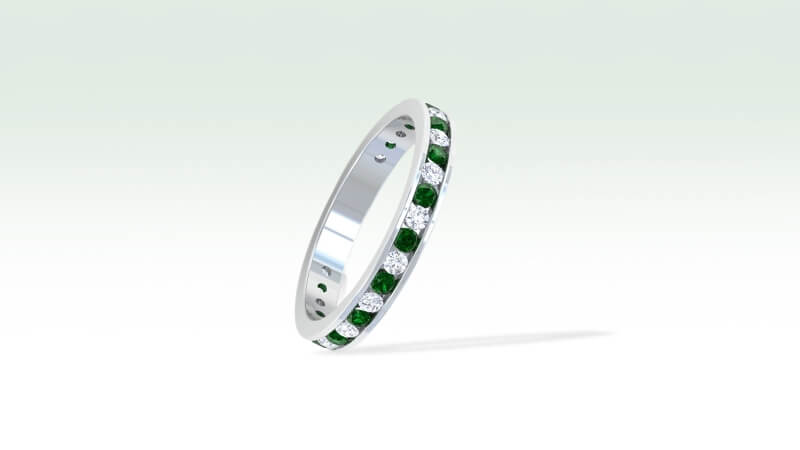 Cleopatra, the iconic and charismatic queen of Egypt, was also passionate about her emerald jewelry and used the green gemstone in her royal adornments. Investing in a rare gemstone will yield wealth in the future too!
Emerald Jewelry Edit – Pendants
What's closest to the heart? Emerald pendant – quite literally, don't you think?
The intoxicating greens of the emerald will transport you to a happy place. Emerald jewelry has a way of making people fall in love with the green gems accessory. Pendants aren't given much attention when it comes to accessories, yet they elevate your entire 'glam look'!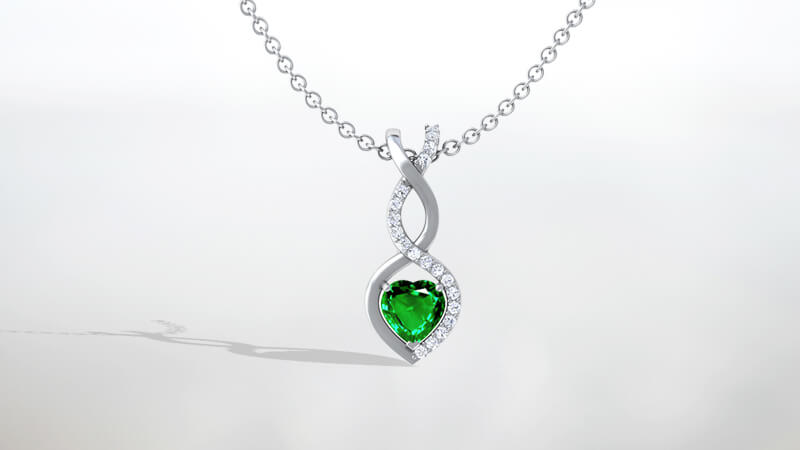 The number one accessory that people notice when they look at you is an emerald pendant, which is likely to attract a lot of attention! Investing in an emerald pendant is one step closer to attracting attention and receiving compliments from everyone! Emeralds are thought to provide good luck and help you grow, therefore if you want to advance in your work, emerald is the stone for you.
Emerald Jewelry Edit – Bracelet
A bracelet on the wrist shouts sheen and beauty!
Do you think bracelets are an overlooked accessory category?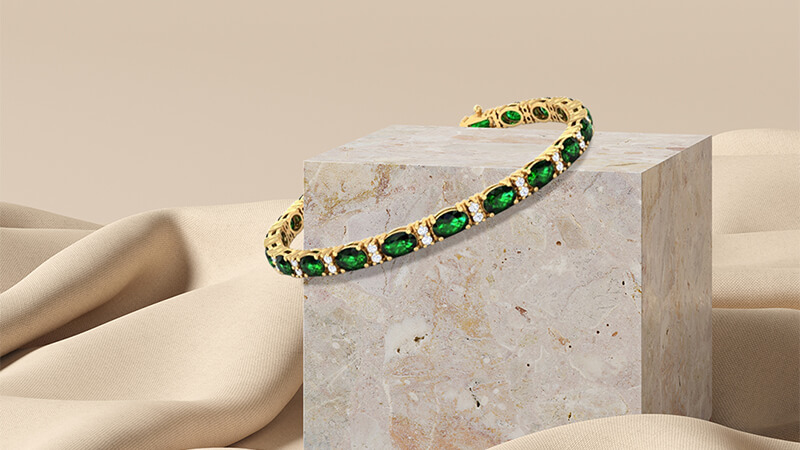 It emphasizes one's wrist quite gracefully. May born's accessory list definitely has bracelets in the top 5 emerald jewelry must-haves! Emerald is the gemstone to wear on your wrist if you want success, subtle elegance, spirituality, and the strength to tackle life's challenges! This miraculous gem offers you good luck in style! Wouldn't it be fun to stake your claim on this mystical stone?
If you're looking for a charismatic charm in the form of an accessory – Emerald jewelry is what you need in your vanity. These gorgeous varieties of May birthstone jewelry are truly anything but boring and can be paired with different types of attire that will make you look sophisticated and stylish at the same time!