An engagement ring is a symbol of love, loyalty, and commitment toward your significant other. Today's couples love things that are personalized and that speak about their fairytale relationship, and so should their engagement rings! Traditional off-the-rack rings have significantly taken a back seat and everyone wants to showcase their own unique stories hence color gemstones have been trending among the to-be brides!
Out of all the color gemstones, ruby is one of the most loved and appreciated gemstones. The pigeon blood red shade of ruby is magnificent and most sought after by the gem aficionados of the world! Ruby symbolizes love, passion, success, prosperity, health, and wealth. These factors are ideal for a successful marriage, don't you think? With such strong pillars of strength, ruby surely makes up to be the best gemstone for any engagement ring!
Here's a list of reasons why ruby engagement rings make for the perfect way to promise each other love, forever.
1. Hardest color gemstone
When investing in an expensive ruby engagement ring, you must have thought about the durability of the gemstone! Ruby scores 9 out of 10 on the Mohs scale of hardness making it one of the most durable and sturdy gemstones. Well-known for its hardness and endurance, it can be used on a daily basis.
The who's who of the fashion industry, from Victoria Beckham to Katy Perry to the queen of England, love their ruby ring and like to flaunt it. People prefer to invest in these jewels because these jewels are ideal accessories that can be passed down as a family heirloom.
2. Colors and hues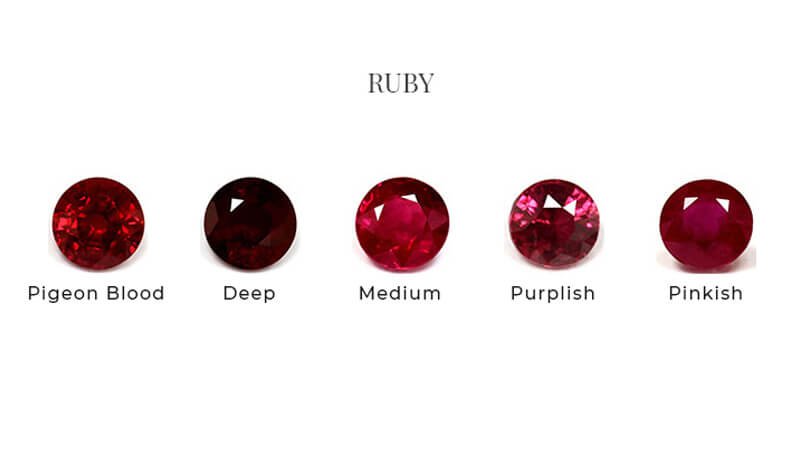 Unlike most other gemstones, rubies appear in one color only- red. It's no surprise that the name "ruby" comes from the Latin word "ruber," which means "red." The color of the gemstone is the most important factor in deciding its primary value. When the mineral corundum is mixed with the trace element chromium, it gives the gorgeous red hue that we all love.
Rubies are well-known around the world for their gorgeous red tones. All those who have fallen in love with this gemstone are drawn to it because of its hue. Pigeon blood red is a renowned shade of ruby among collectors throughout the world because it has the richest red color without being overly dark.
Also Read: A Perfect Guide to Ruby Engagement Ring
3. Symbolism
The king of all the gemstones is a symbol of authenticity and uniqueness because of its stunning red shade. Ruby is believed to represent spectacular beauty, love, passion, health, wealth, and success. Many ancient cultures considered the July birthstone to be extremely powerful because it is one of the twelve stones mentioned in the Bible. In ancient times, it embodied the value of beauty and wisdom. Rubies were regarded as lucky not just in ancient times, but also during the medieval period. The red gem was utilized by European royals to display their wealth, health, and power.
4. Precious and Rare
Diamonds are said to be rare, but did you know it's a carefully thought-out marketing strategy to keep diamond prices high? High-quality natural rubies are rarer than diamonds. The rarity of a gemstone is one of the important factors in driving its value.
A ruby engagement ring is a precious way of conveying the love of your life whom you want to spend your forever with!
5. Popular among Celebs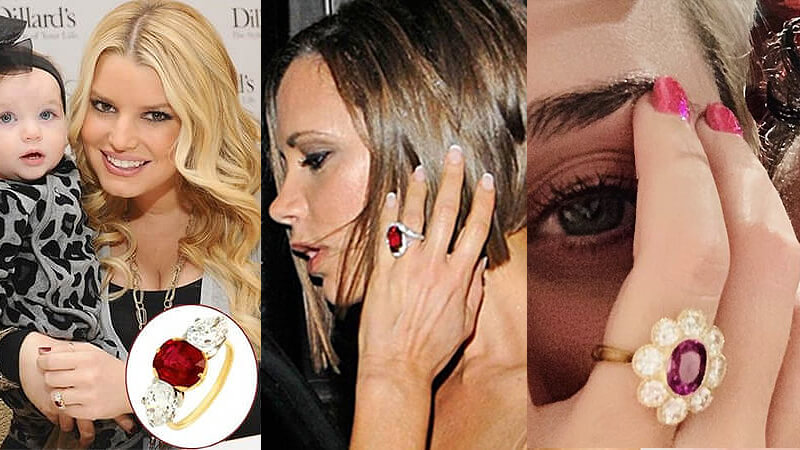 Celebrities are the fashion icons that set the ball rolling for setting a trend. There are so many gorgeous celebs that adorn beautiful designer ruby engagement rings that you can take inspiration from. Major celebrities like Jessica and Ashlee Simpson, Victoria Beckham, Katy Perry, and many more are known to adorn this beautiful gemstone.
Take inspiration from the stunning divas and get your unique engagement ring designed!
Ruby engagement ring will definitely win her heart!! We hope the list of reasons has helped you to make an informed decision! All the best in advance, we know it's going to be a YES! After all, who can say no to a ruby!