For an engagement is a promise meant forever, it ought to be marked with a ring that symbolizes love and passion. And being the epitome of love and courage, ruby engagement rings set hearts aflame with intense feelings of togetherness.
What Is Ruby?
Ruby is a bold gemstone incontestably known as the 'king of gemstones'. It's the most valuable variety of the mineral conundrum that also includes sapphires. Ruby makes a perfect centerpiece for engagement rings because the gemstone has it all, from color shades that are too hot to describe to an aura of utter solidity and to historical adulation.
Perhaps there is hardly any quality that rubies aren't endowed with. The lore of this gemstone knows no boundaries as well. Out of the 12 stones created by God, ruby is known to be the most precious one. Rubies are even mentioned four times in the Bible. There's more to rubies than meets the eye.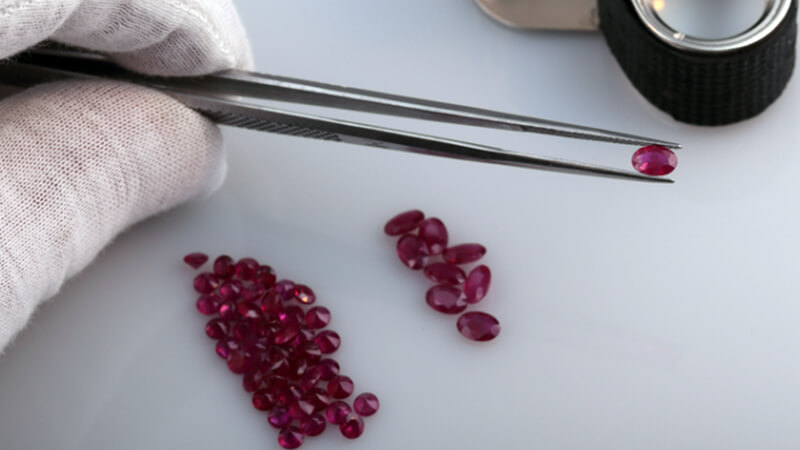 Things To Look For In Your Ruby Centerstone
The most important part of your ruby engagement ring is its centerstone, the captivating ruby of your dreams. So, before we begin mulling over the other important aspects of your engagement ring, let's first get you a ruby that you've always dreamt of.
Every gemstone is graded on the basis of its color, clarity, cut and carat weight – popularly known as the 4Cs. All these four quality and grading factors determine the value of a gemstone. Understanding the 4Cs of a gemstone is crucial for you because it will give clarity about your favorite gemstone. You can also use this information to better describe to a jeweler the type of ruby you want for your engagement ring.
What Color Ruby You Should Choose?
The most significant factor responsible for the value of a ruby is its color. So, you should definitely not sneeze at this aspect of your ruby engagement rings. High-quality rubies have striking red to a bit purplish red color. While vibrant red color rubies fetch the highest prices, rubies with slightly purplish or orange tones are valued relatively low. So, if you're thinking of getting a vibrant red ruby for your engagement ring, be ready to push the boat out.
The color of ruby needs to be apt, neither too dark nor too light. If the color of ruby is too dark, it'll have a negative effect on its brightness and on the contrary, rubies that are too light in color appear as pink sapphires. So, the color needs to be just right.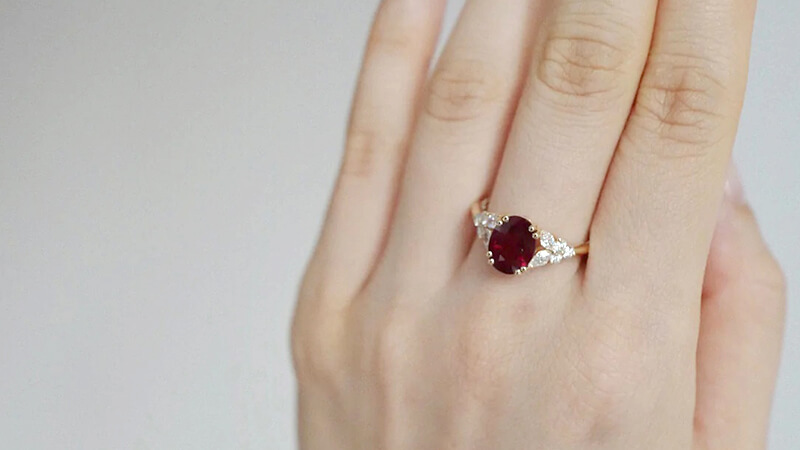 At GemsNY, we have our own color grading system for the various ruby color types. From pigeon blood color rubies to rubies with deep, medium, purplish, and pinkish tones, GemsNY has it all. But there are no rules when it comes to color. If you want your ruby engagement ring to exhibit a deep red color with slight oversaturation and no pinkish hues, you should go for that with all your confidence. After all the engagement ring is yours, fashion it the way you like.
How Do Inclusions Make A Difference?
While obvious inclusions or those that reduce the transparency of ruby affect its value, people in the trade customarily accept rubies with some inclusions. It's mainly because rubies without any inclusions are only imaginary. However, large and noticeable inclusions under the table facet dramatically diminish a stone's brilliance, transparency and value. Such inclusions can also drastically affect its durability. Therefore, you should avoid choosing a ruby that has large and noticeable inclusions.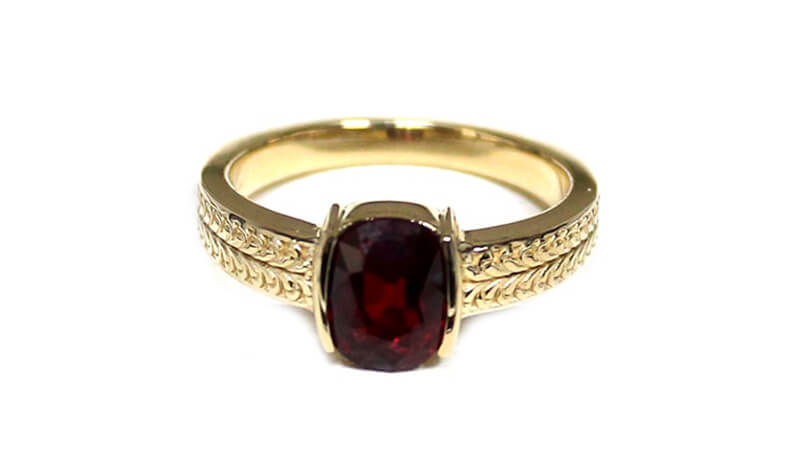 Which Is The Best Cut For Your Ruby?
Well, quite frankly, the best cut is the one that tickles your fancy. If you like a certain cut, you should go with it. While cushion and oval are the most popular shapes of customized rubies, round, pear, marquise, etc., are also there. However, sizeable higher quality fashioned rubies with such shapes are rare to find. Ruby rough is quite expensive, and thus, greatly affects the gemstone's cut. As cutters understand the value of ruby rough, they try to conserve it to the maximum.
Another significant factor that influences the cut is pleochroism – a property found in certain gemstones due to which they exhibit different colors under different lighting conditions when viewed at different angles. Though cutters can orient the gemstone to get the ideal color as per precise inputs, it can eventually lead to a massive loss of weight.
What Should Be The Ideal Carat Weight?
There's no such thing as the ideal carat weight. It all depends on you. Although top-quality rubies over a carat in size are exceptionally rare, you can easily find commercial-quality rubies in an array of sizes. However, as I said, the carat weight of the gemstone should entirely depend on your personal choice and preference.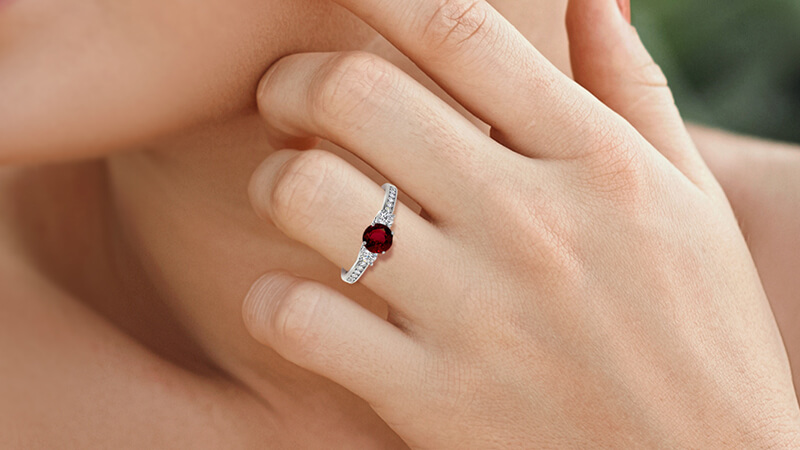 Which Ring Settings & Metals Look Good With Rubies?
The setting and metal are two crucial aspects of your ruby engagement ring that will dramatically add to its brilliance. While the former of the two ensures that not only the gemstone is secured in its place but also its shimmer remains in the limelight, the latter focuses on enhancing the style of the ring. Scoring 9 on the Mohs hardness scale, ruby is quite a sturdy gemstone, able to easily withstand the wear and tear of daily life. Therefore, rubies can rock numerous ring settings, so you don't need to put much thought while choosing a ring setting.
However, when it comes to the metal, it's your skin that needs to be the basis. And there's just one rule regarding choosing the ring's metal – it should be comfortable on the skin. Certain types of metal alloys cause skin allergies, whether chronic or sudden and hence should be avoided.
Engagement rings with rubies are all about never-ending passion, love and commitment. Still, ruby engagement rings shouldn't be snapped up without delving into their various facets. While the complete guide emphasizes enlightening the readers about the technicalities encircling ruby engagement rings, feel free to reach out to us here at GemsNY for all your unsettled queries and confusions. And above all, cheers to new beginnings!
Take a look at some of our ruby engagement rings listed below:
Ruby Halo Engagement Ring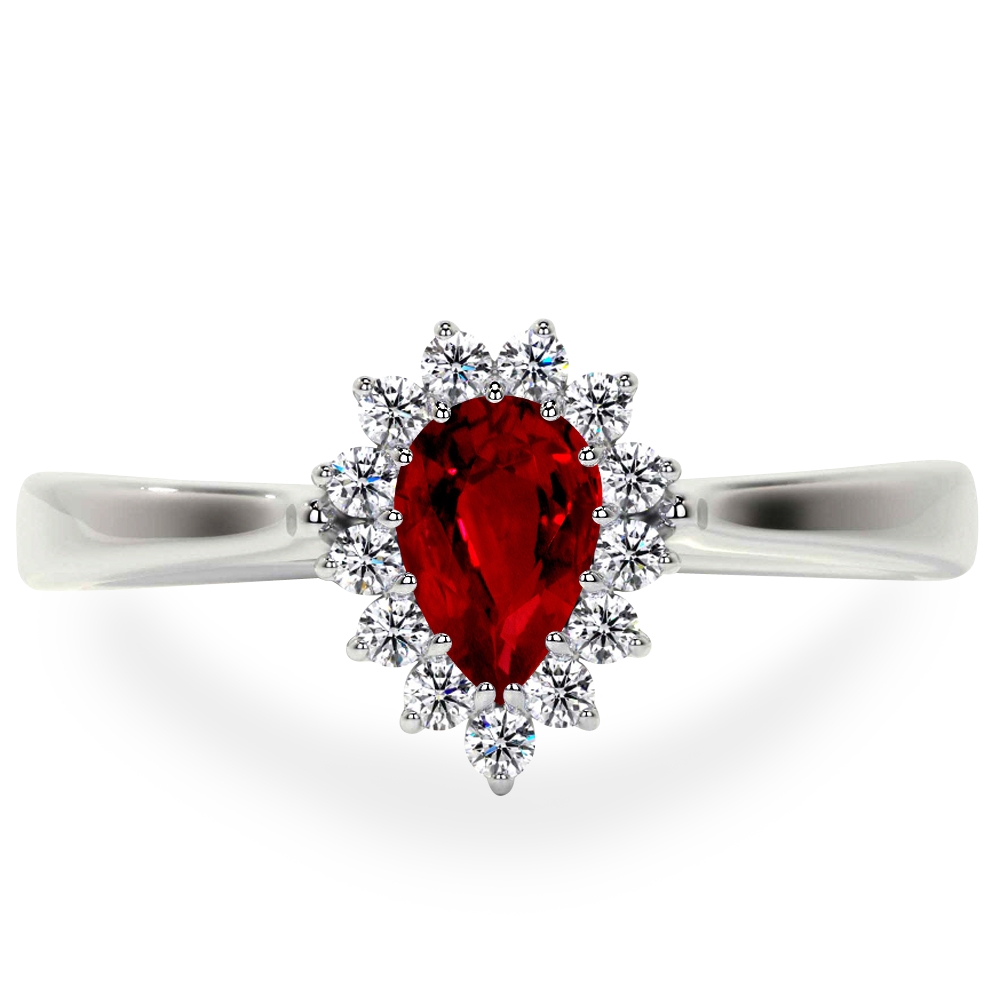 A satiating display of appealing ruby in a dazzling halo of small accent stones, this ruby engagement ring will never fail to catch the light. Inspired by a floral design and crafted in glittering 14k white gold, this beautiful ring has elegance written all over it.
Three Stone Ruby Engagement Ring
Studded with two beautiful diamonds that add to the appeal of the king of gemstones, this ruby engagement ring is all love. Embellished with 4 classic prongs and the three stone setting that symbolizes the past, present and future of your unique relationship, this ring speaks a thousand words.
Classic Ruby Halo Princess Diana Replica Engagement Ring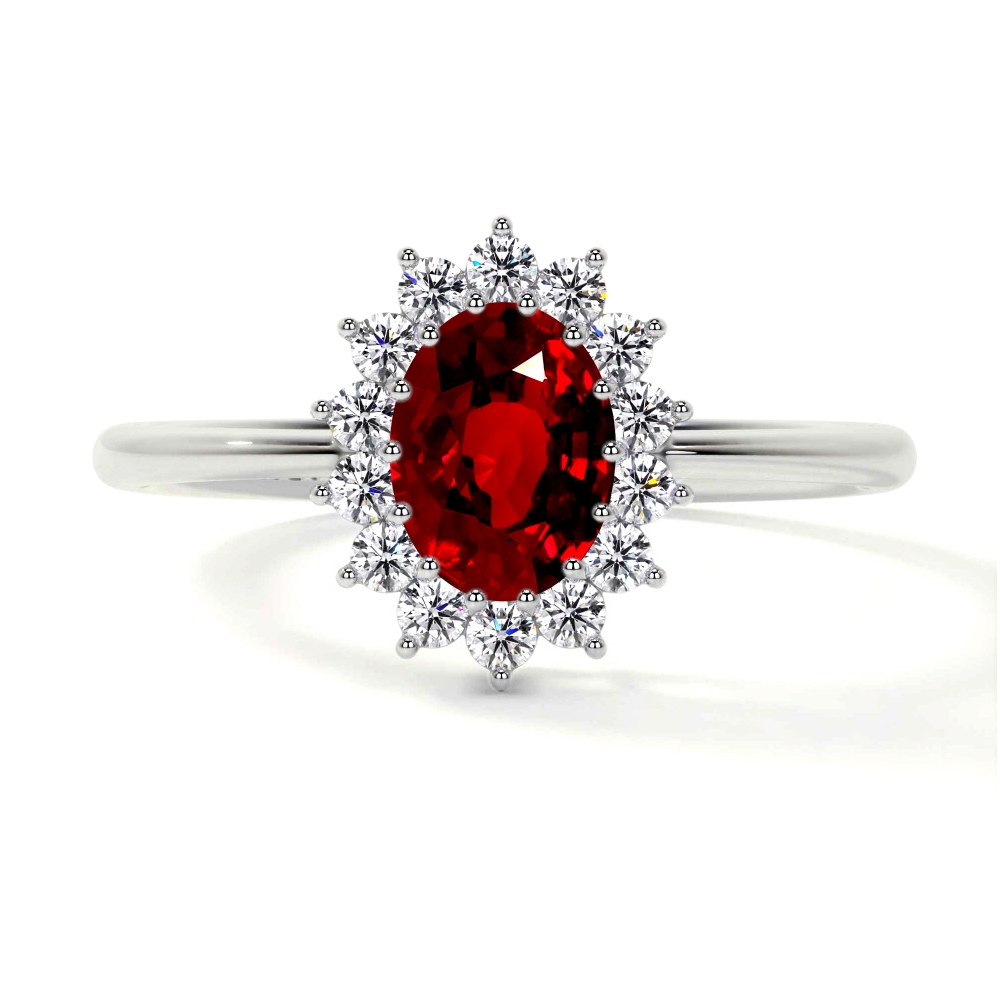 Make a bold statement with this classic ruby engagement ring that's nothing but an example of impeccable, hearty craftsmanship. Encircled by a halo of diamonds that never fail to accentuate the beauty and character of the ruby centerstone, this ring is all that you need to commemorate your togetherness.
Five Stone Ruby Engagement Ring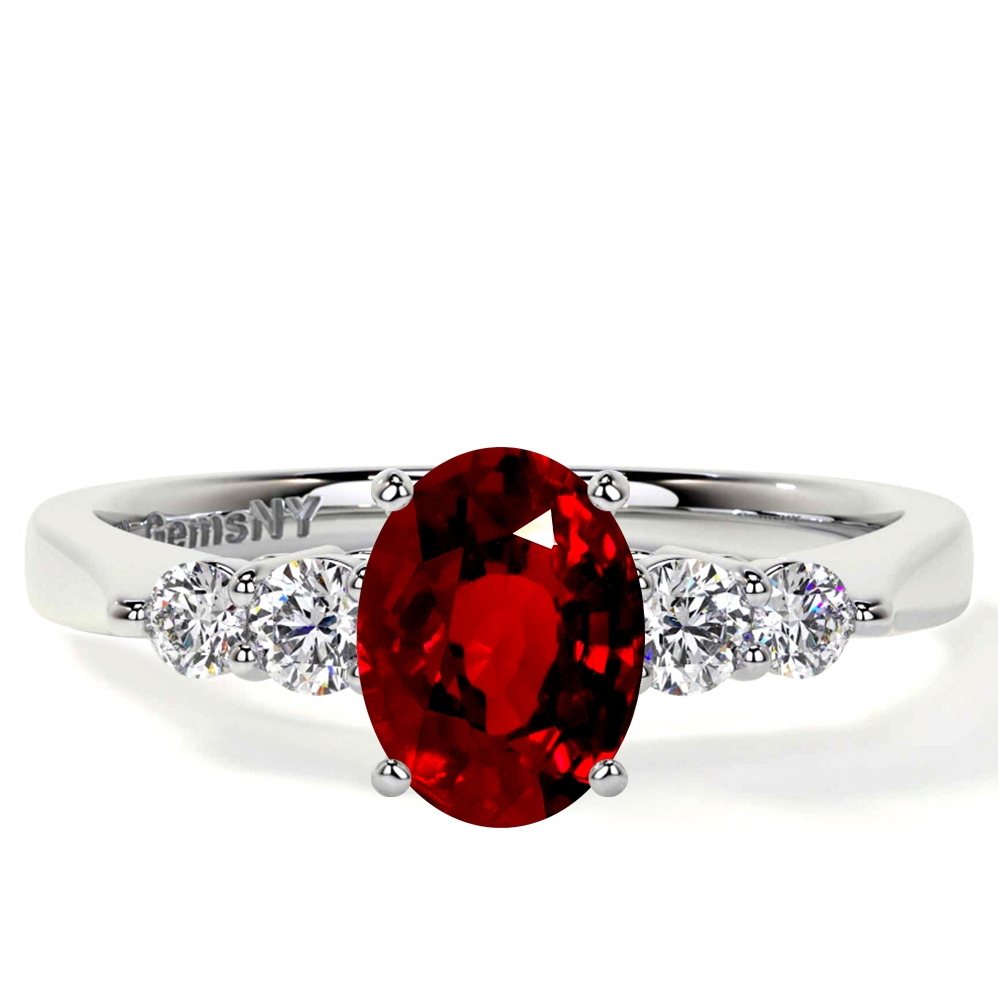 Symbolizing five beautiful qualities of your relationship – love, commitment, trust, communication and empathy – this ruby engagement ring is handcrafted with skill, love and thoughtfulness. Not to forget the four accent stones that enhance the oomph of the already sparkling and captivating ruby centerstone.
Square Cut Ruby Halo Engagement Ring
Best showcasing the enigma of ruby, this square cut halo ring is a perfect fit for those who don't mind a pinch of extra shimmer. Surrounded by glitzy diamonds, this mindfully crafted engagement ring is the epitome of luxury.
4 Prong Ruby Engagement Ring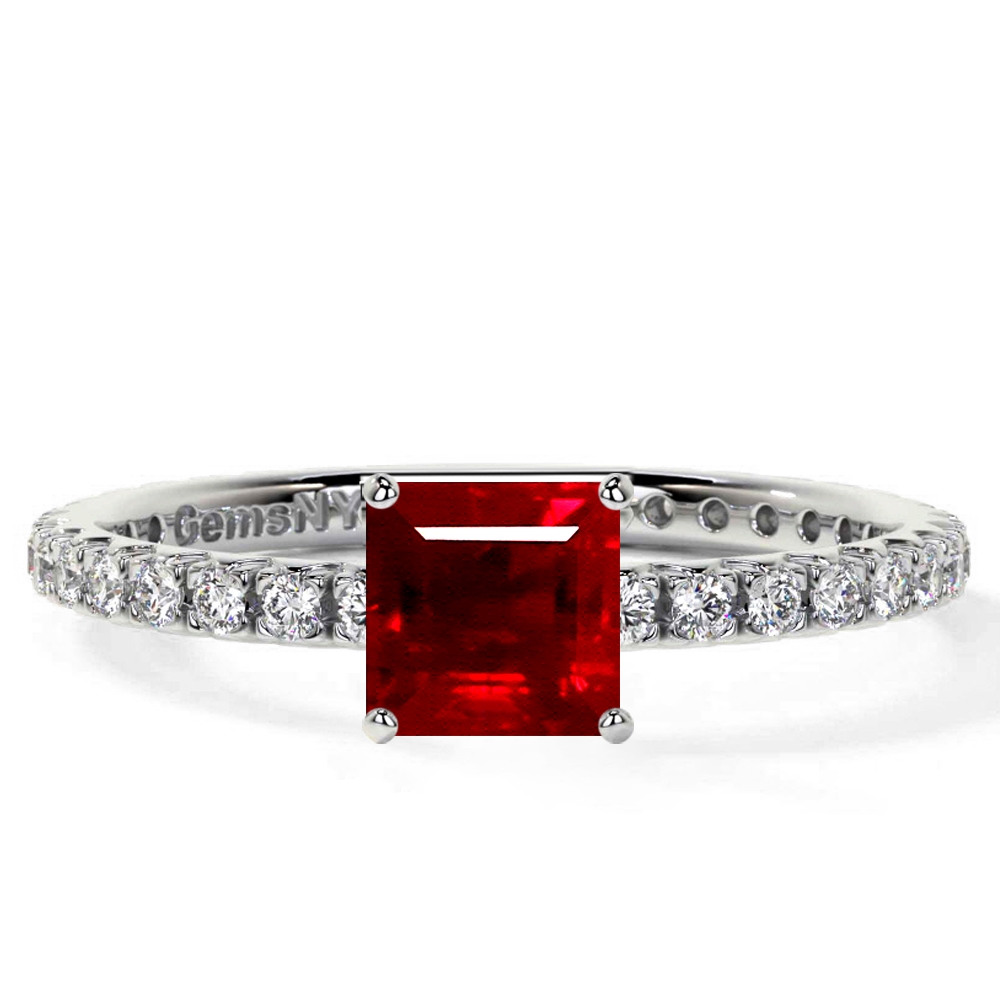 A potent punch of romance and statement, this prong set ruby engagement ring with pave set diamonds is a perfect blend of fire and brilliance. Adding radiance to the centerstone, these pave set diamonds emphasize the beauty of the ring by providing a touch of continuous sparkle.
Cushion Cut Double Halo Ruby Engagement Ring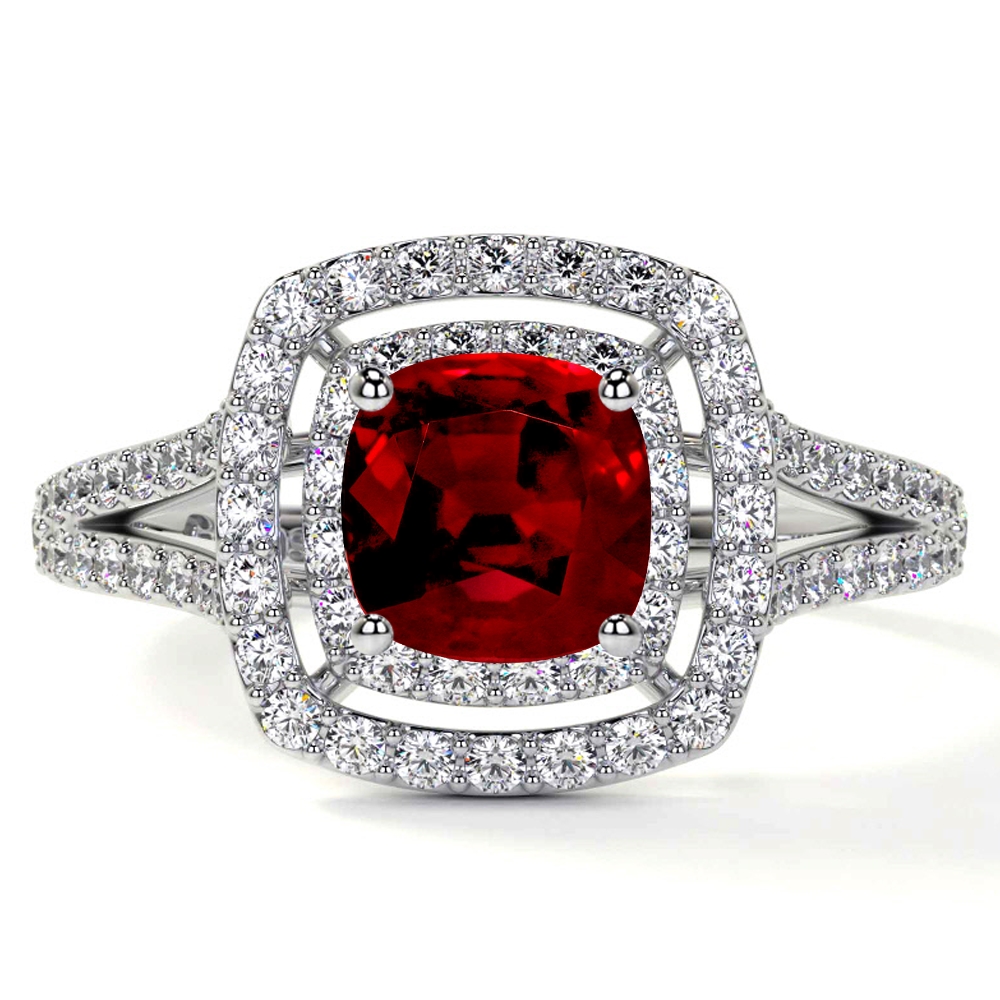 Mark this special occasion of your life with a splash of double opulence and elegance with this cushion cut ruby engagement ring. Embellished with a double halo of diamonds accentuating the centerstone by mirroring the sparkle of each other, this ring will always remind you of the heavenly memories that you've created together and will continue to do so.