Life is still full of adventurous and joyous events even if there are several moments of hardships to endure. One such event that happens to bring good luck and happiness in every person's life is marriage. It is conventionally a union for lifetime between two people and is governed by legal rights and social obligations of the lives of the couple as well as that of their children and respective in-laws. 
The institution of marriage is recognized in every country's law and every society's culture through a wedding ceremony which is performed as per local practices, religious rituals, or family traditions among different social and ethnic groups. While discussing wedding rituals and norms followed around the world is beyond the scope of this text, we have shared below some interesting facts regarding wedding customs and marriage traditions practiced in the USA. 
"Something Old, Something New…." Still Rhymes Well in the Modern Era
One of the most religiously followed wedding traditions by modern American couples is to carry "something old, something new, something borrowed, and something blue" on their wedding day. This age-old rhyme aims at keeping the newlyweds close to their respective family & friends while receiving best wishes from them on the couple's big day. Some of the accessories that a bride could choose for this purpose include her mother's wedding dress, wedded sister's veil, grandmother's jewelry, etc. A groom may carry his grandfather's pocket handkerchief, father's wedding suit, or wedded brother's bow/ necktie.
Traditional USA Bride Draped in White
If you have attended traditional US weddings, then a bride wearing a white wedding dress is an extremely common yet breathtaking sight. The tradition of brides donning a white gown at her wedding has been popular since the mid 19th century when Queen Victoria became the first one to appear in a white silk wedding gown for her wedding ceremony. However today, modern brides prefer selecting other warm and bright colors for their wedding dress instead of going for the classic white base which is in fact daring yet sizzling.
Traditional US Wedding Ceremony
Typically, USA weddings are performed either as civil or religious ceremonies, or rather in both forms. A traditional religious wedding ceremony is attended by close relatives and friends from both parties. The bride is accompanied by her maid of honor selected amongst her bridesmaids and the groom has his best man by his side from his team of groomsmen. A typical American wedding processional includes wedding guests walking down the aisle in a definite order taking their respective positions on both sides of the altar with the bride and her father being the last ones to enter.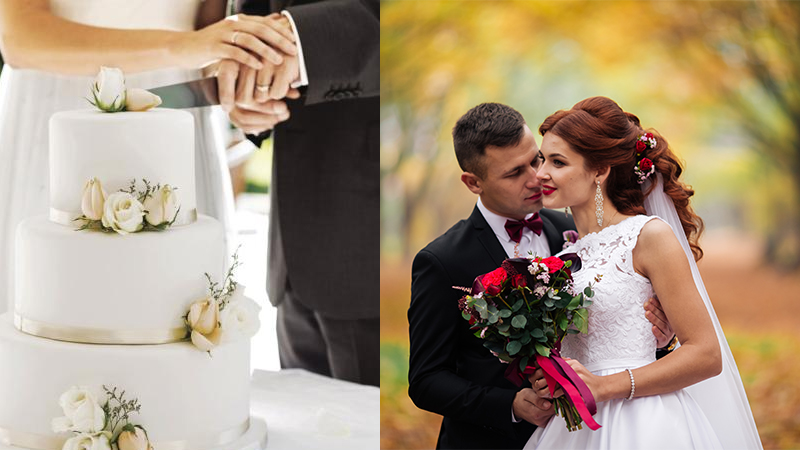 Married Couple's First Dance & Wedding Cake Cutting
This particular event is the highlight of the wedding ceremony where the newlyweds are introduced as a married couple on the dance floor to perform their first romantic dance together among their family and friends. This tradition is influenced by the European custom followed back in the 18th century where grand parties organized by noblemen were kickstarted by the guest of honor performing the first dance.
Since in a wedding ceremony, the newly wedded couple is the center of attraction, they have the honor of being the first ones to commence the show. A traditional American wedding ceremony is also incomplete without a wedding cake-cutting ritual which is a celebrated wedding festivity. To show the mutual & unwavering support, the couple cuts the cake together as the first thing after getting married and offers each other a sweet bite to commence their new love relationship.
Preparing For Wedding Gifts for the Newly Weds
The newlyweds in a traditional American wedding receive congratulatory wedding gifts from their close relatives and friends at their wedding reception. While these gifts are prepared keeping in mind the new couple's preferences and their life ahead, the couples themselves may intervene in the process of selecting the right gift for themselves to avoid getting unwanted or duplicate gifts. The couples would curate the items themselves on behalf of their family and friends who would buy them for the couple later.
Sending Off the Bride
Another tradition you would find exciting in American weddings is that of providing a splendid farewell to the new bride. While in the olden days, guests would see the couple off by throwing rice grains at them to ward off evil and to wish them good luck, the modern ceremonies have evolved and the idea of throwing away rice has been replaced by ringing bells, blowing bubbles, tossing dried lavender petals, or waving sparklers at the couple as they exit the doors to bless them with good fortune and prosperity as a married couple.
Marriage Liberations in the United States
The Respect for Marriage Act gives the citizens of the United States a right to legalize same-sex marriages and commit to interracial marriages under US law. The peer marriage culture is also gaining popularity in modern society where both the partners in the marriage share equal rights and responsibilities in their household including rights over parenting and financial earnings of either partner. However, wedding statistics over the past few decades have shown a decline in marriage rates and a rise in divorce rates. While many couples are preferring to cohabit, love is increasingly becoming the driving factor for them to get married. Love is also the reason for couples going for same-sex marriages, remarriages, and intermarriages, the graph for which has also risen significantly in the past decades.
Parting Words
USA weddings are truly spectacular, not only because of their Westernized settings and modern touch but also because of their wedding traditions and cultural practices. In modern times, both bride and groom actively participate in wedding planning and preparations, right from wedding shopping to handing over invitations to selecting a venue to taking care of the marriage registry.  
Keeping yourself updated with modern wedding trends and at the same time abiding by the wedding rituals can create moments of eternal bliss and remembrance for you, your to-be-life partner, and your respective families. Since weddings are all about happiness and sparkle, you need to look your best, either as the bridesmaid or even more if you are the bride for the day. To make it possible, GemsNY would be more than happy to share with you our splendid collection of wedding jewelry, engagement rings, and gemstone range exclusively designed keeping in mind a bride's ideal look.