When we talk about gemstones, one gem always draws the attention with its lush green hue, rich history and profound symbolization- the Emerald gemstone. Regarded as the birthstone for May, this gorgeous gemstone has been treasured for centuries and has captivated the hearts of several people with its dazzling beauty and profound meaning. In this blog, we'll embark on the adventure to discover the fascinating history, and symbolism of emeralds, and unveil the secrets that make it a sought-after gemstone. Read more!
The History of the Green Beauty
Emeralds carry a rich history, dating back to over 4,000 years to ancient Egypt. The Egyptians used to believe that emeralds are a token of rebirth, renewal, fertility and abundance. The famous queen of Egypt, Cleopatra, was quite fond of emeralds and used to wear various jewelry pieces bedecked with these gorgeous gemstones.
Mythologies about Emeralds
Emeralds have paved their path into endless myths in different cultures across the globe. According to Roman mythology, the green stone was linked with a celestial power named the goddess Venus and was said to spread love and devotion. Whereas, as per Indian astrology, the emerald gemstone is associated with the planet Mercury and is inter-alia believed to enhance communication skills and intelligence.
Famous Emeralds in History
For centuries, various astonishing emeralds have gained popularity for their peerless beauty and heritage. One of the most famous is a 37-carat Colombian gemstone, the "Chalk Emerald", which was once owned by Indian royalty, and now it is displayed at the Smithsonian National Museum of Natural History in Washington, D.C., captivating onlookers with its enchanting hue. Another legendary emerald is the "Mogul Emerald", a remarkable 217.80-carat gemstone with a unique Islamic naskh script engraved on it. This gem has been carrying its history since the 17th century and is regarded as one of the largest emeralds in the world.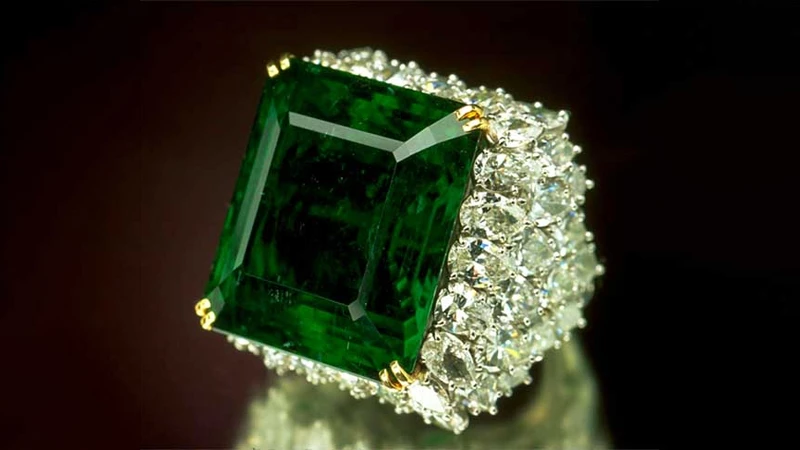 Profound Symbolism, Meaning and Metaphysical Properties
Apart from their aesthetic beauty, the captivating green color of emeralds represents nature and renewal. Its color symbolizes hope, joy, and prosperity, making it an ideal gift choice for those who are born in the month of May. Wearing an emerald is said to deliver harmony and balance, promoting emotional feelings and overall well-being. 
Emerald gemstones are also linked with unique metaphysical properties. In ancient times, people used to believe that emeralds could enhance eyesight. The gemstone was also said to sharpen memory and intelligence, making it a cherished gemstone for scholars and intellectuals. 
Jewelry Bedecked with Emerald Gemstone
For centuries, the allure of the emerald has motivated several craftsmen and jewelry designers. Emerald rings, earrings and studs have gained much popularity and become ageless pieces, treasured for their glamor and enchanting glow. These gemstones are quite versatile and can be paired with dazzling diamonds or set in precious gold or platinum to elevate their excellence.
A Glimpse of Emeralds in Today's World
In the contemporary world, emeralds persist to captivate gemstone lovers and collectors. Their ageless beauty have made them an ideal choice for engagement rings, symbolizing evergreen love and promise. Emerald jewelry is also treasured as a significant and heartfelt gift for various occasions. 
The Mysterious Mines of Emerald
Emeralds are predominately mined in countries such as Colombia, Zambia, Brazil, and Zimbabwe, each boasting their distinctive geological settings. Colombian emeralds, regarded for their vivid green tone and extraordinary clarity, have been found in the Chivor, Muzo, and Coscuez regions for ages. The picturesque Kagem and Grizzly mines of Zambia have been known for their premium quality emeralds since the 1980s. Belmont and Itabira mines of Brazil are also famous for their emerald deposits, while Sandawana mine in Zimbabwe generates a unique type of emerald famously recognized for their greenish-blue shade. 
Maintenance of Emerald
With the Mohs hardness score of 8 on a 10-point scale, emeralds are considered considerably hard. But in spite of this remarkable score, the gemstone requires careful handling and maintenance due its naturally occurring fissures called jardins (French for garden). As such you should keep away your emerald jewelry from others to avoid scratching and should not use chemical or ultrasonic cleaning agents. Rather, periodically clean it with a mild soap solution, rinse with clean water and pat dry.
Summing Up
As we explored the fascinating history and profound meaning of the emerald gemstone, we unveiled the captivating tale of this green wonder. From ancient civilizations to the contemporary world, emeralds persist to maintain a special place in the hearts of gem collectors. Whether worn as a ring, earrings, bracelet, or necklace, emeralds are worn for their ageless allure. 
Grab your best deals at GemsNY, where you can find a plethora of options available for rings bedecked with emeralds or other precious or semi-precious gemstones. Explore the website now!